Print This Post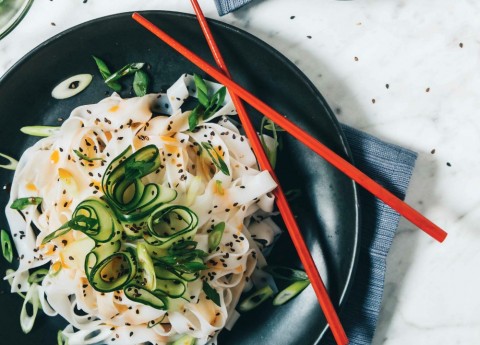 Chewy, wide rice noodles and refreshing, crunchy cucumber ribbons are dressed simply with sesame oil and chile oil. Throw on a few sesame seeds and green onions and you have a side dish that just might become your favorite thing. Ever.
Spring wants to sproing so hard…we can feel it here, peeking out in early-blooming freesias, warm days and longer daylight hours. I'm delighted, and it puts me in a mind for all things bright and springy. My latest discovery is a light, refreshing cucumber noodle salad that could be a side dish, could make a wonderful lunch salad, or just a snack as you're standing in front of the open refrigerator door with a fork in hand. Not that I would ever do that.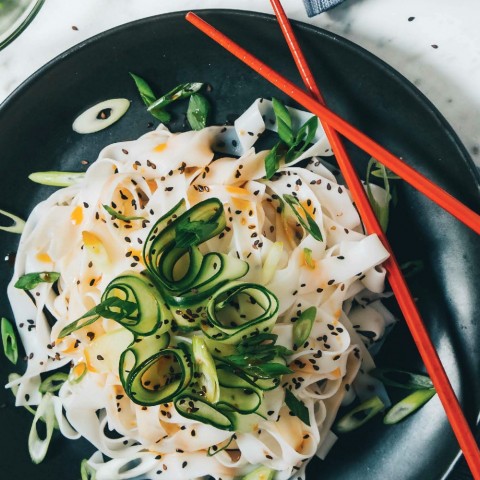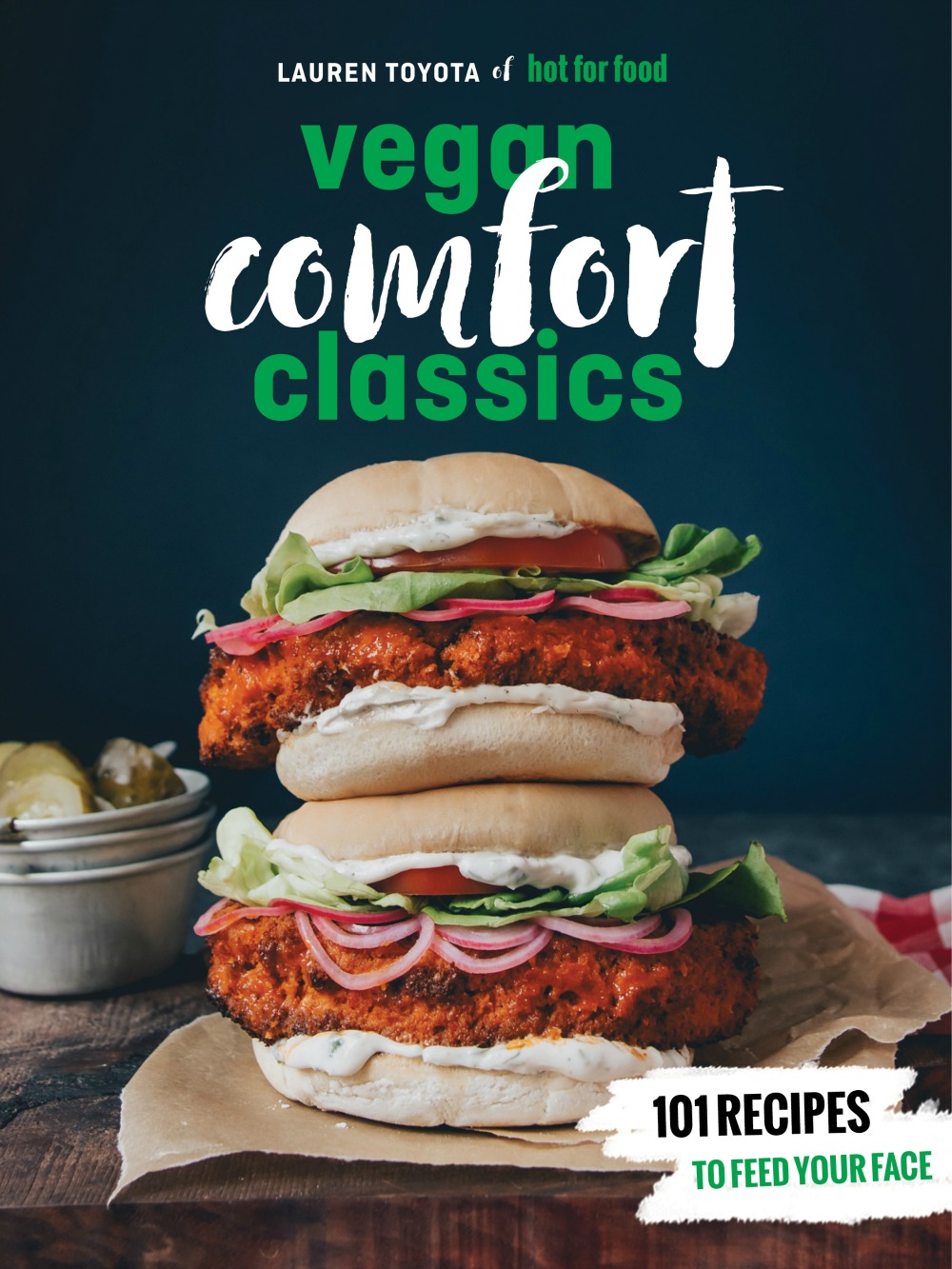 It's vegan, which means it is plant-based and contains no animal products. You won't miss them, I promise. It's from a brand new cookbook called "Hot for Food Vegan Comfort Classics," by Lauren Toyota, who writes the vegan food blog Hot for Food. If you're toying with going vegan, or simply want to add more plant-based meals into your diet, you'll want to pick up this book. She puts the lie to the idea that vegan food is boring and bland. In fact, she has a rep for making food that's saucy, sweet, sassy and most definitely craveworthy. One of her fans calls her "above the law." I like that in a vegan! 😉
Listen up to what she says about this recipe:
"I tend to add megaflavor to everything I cook, but in this dish I embrace the minimalist trend and really like the simplicity of green onions with spice, sesame, salt and refreshing crunchy cucumber. It was inspired by something I ate a couple of years ago at Xi'an Famous Foods in Brooklyn. A friend claimed this menu item, known as A-1, was her favorite thing ever, which I mistook for hyperbole. But I was curious. Well, after ordering it and taking one bite, I was in love and certainly wasn't prepared for a long-distance relationship with this noodle dish so I made my own version!"
Let's get to it, shall we?
(You can ribbon-up the cucumber with a vegetable peeler or mandolin, whatever you have. Shaving it this way makes great cucumber noodles!)
Cold Cucumber-Chile Noodles
Vegan Cold Cucumber-Chile Noodles: Chewy, wide rice noodles and refreshing, crunchy cucumber ribbons are dressed simply with sesame oil and chile oil. Throw on a few sesame seeds and green onions and you have a side dish that just might become your favorite thing. Ever.
Ingredients
1 pound thick flat rice noodles
2 English cucumbers
2 green onions, white and green parts, finely sliced diagonally
2 tablespoons toasted sesame oil
2 tablespoons sesame seeds
1/4-1/2 teaspoon sea salt
4 tablespoons chile oil
Directions
Bring a large pot of salted water to a boil. If your rice noodles already contain salt, do not add salt to the water. Cook the noodles until al dente, approximately 6 minutes.
Meanwhile, cut the cucumber into ribbons using a vegetable peeler or slice very thin using a mandolin.
Drain the noodles, rinse under cool water, and place in a large bowl. Toss with the cucumber ribbons, green onions, sesame oil, sesame seeds (reserving 1 teaspoon for garnish), and 1/4 teaspoon of the salt (more to taste, if necessary). Divide among serving plates.
Drizzle each portion with 1 tablespoon of the chile oil (or use more sesame oil if you don't want spice) and garnish with the remaining sesame seeds. You can also toss the noodles in only the sesame oil, salt, and sesame seeds, leaving the cucumber ribbons and green onions to place on top of the noodles in each serving. I think this looks prettier!

LEFTOVERS:

If you have leftovers, soften the noodles by heating them with a bit of water in a covered pan or heat in a microwave. Drain any excess water before serving.
Serves 4-6
Notes
Recipe source: Reprinted with permission from "Hot for Food Vegan Comfort Classics," copyright 2018 by Lauren Toyota. Published by Ten Speed Press, an imprint of Penguin Random House LLC.
Photography copyright ©2018 Lauren Toyota
https://www.shockinglydelicious.com/cold-cucumber-chile-noodles/
Copyright Dorothy Reinhold | ShockinglyDelicious.com. All rights reserved.
Wasn't that easy? And #shockinglydelicious?
What else is in the book?
I have bookmarked a bunch of other recipes in the book, including…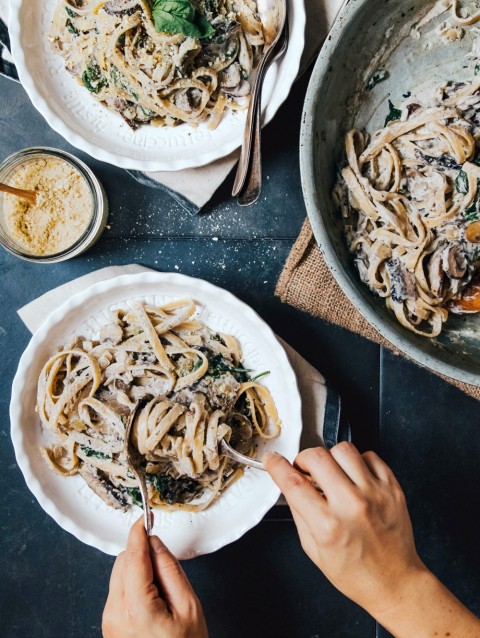 …Mushroom Fettuccine Alfredo…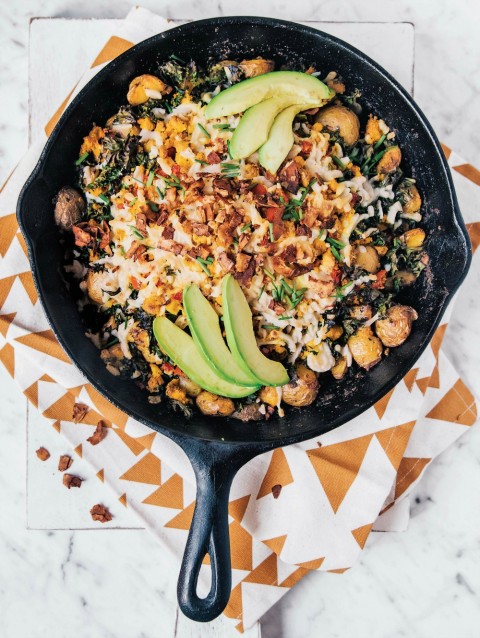 …Big Brekky Skillet…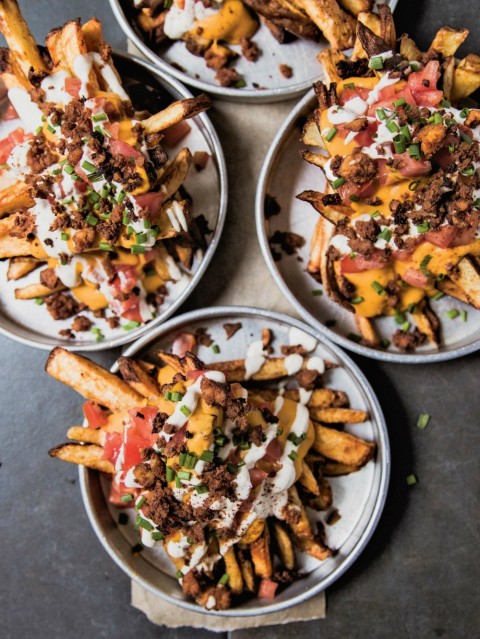 …and Loaded Fries Supreme. She has vegan recipes for Parmesan cheese, cheese sauce and other usually-dairy delectables that I will be trying, for sure. I want to try her recipe for vegan Parm on this classic Pasta Aglio e Olio from the movie "Chef." The photography is beautiful (with a picture for every recipe, which I appreciate), the recipes have style and personality, and the dishes are hearty and satisfying. Lemony Parm Green Beans, watch out, I'm coming for ya!
Pin the image below to your Pinterest board to save this recipe.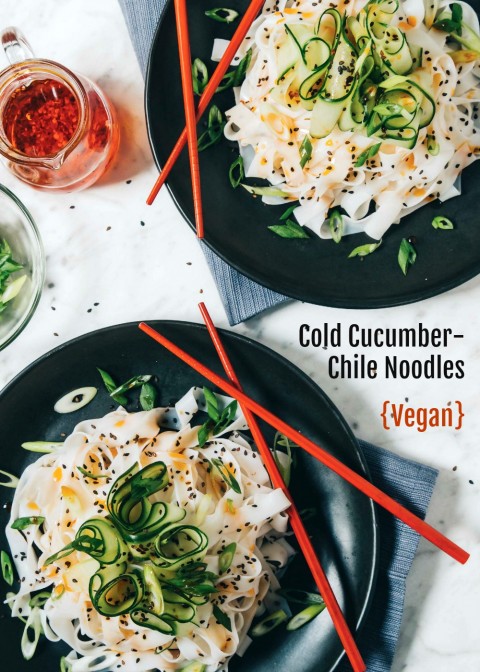 Thanks for visiting…are you hungry for more? Follow Shockingly Delicious on…
FACEBOOK | PINTEREST | INSTAGRAM | TWITTER
…for all the latest recipes, ideas and updates!
This post may contain affiliate/referral links. It is a way for this site to earn advertising fees (at no cost to you) by advertising or linking to certain products and/or services.


Disclosure: The publisher sent a copy of the cookbook for review.