Print This Post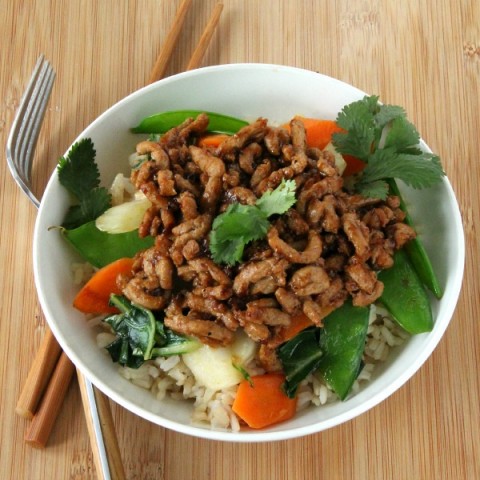 If you have a big skillet and a couple of ingredients, dinner is pretty much done.
I pull out my 12-inch non-stick skillet every single day for one thing or another — quesadillas, an amazing lamb-spelt dish, cheesy gnocchi, weeknight shrimp, even granola!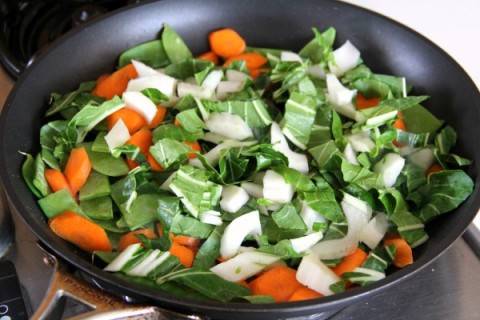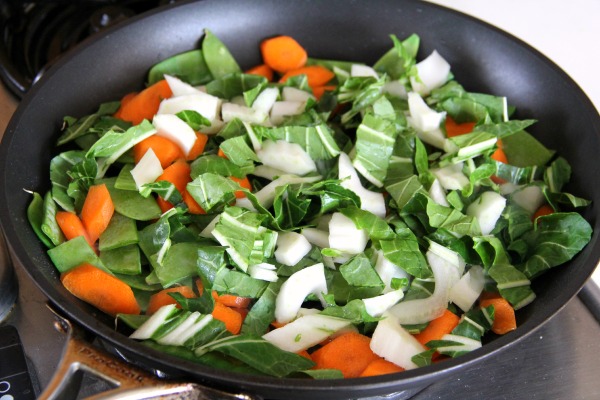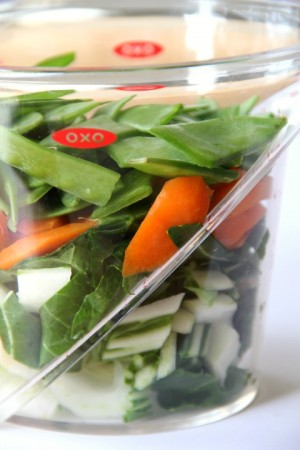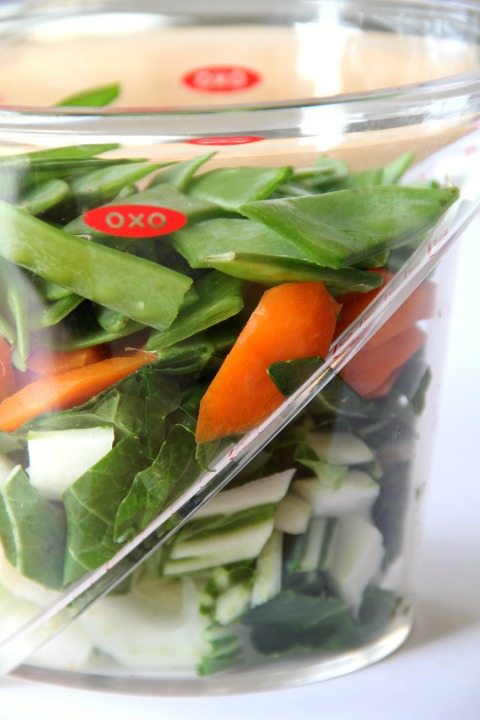 So grab your skillet and get ready to make the easiest weekday supper ever. We're going Asian tonight, with the help of the new McCormick Sesame Chicken Stir-Fry Sauce. We're adding some chopped Asian vegetables (either use a bagged version or chop your own as I did here, using snow peas, carrots and Shanghai bok choy).  I changed it from chicken to pork (just because I had ground pork on sale to use up), and in well under half an hour, we'll have a delicious after-work dinner without having to resort to take-out.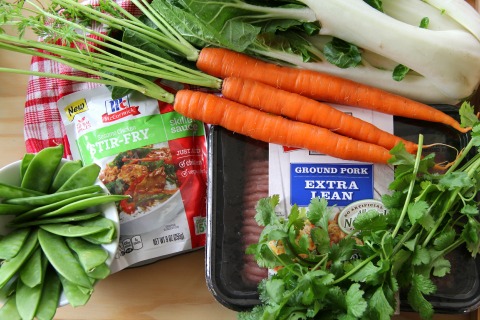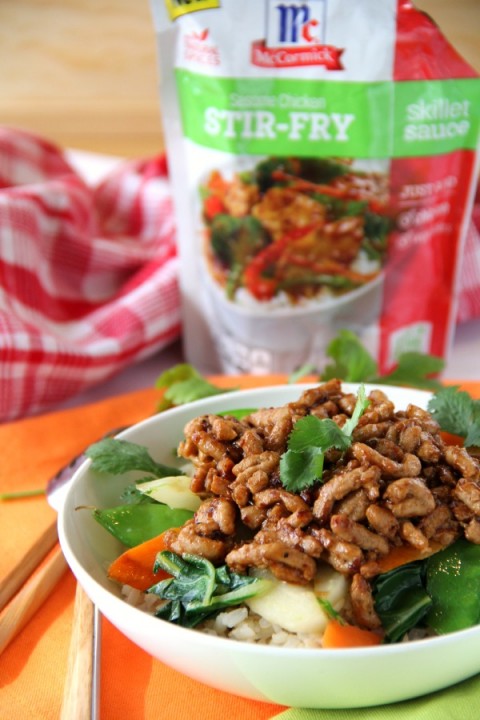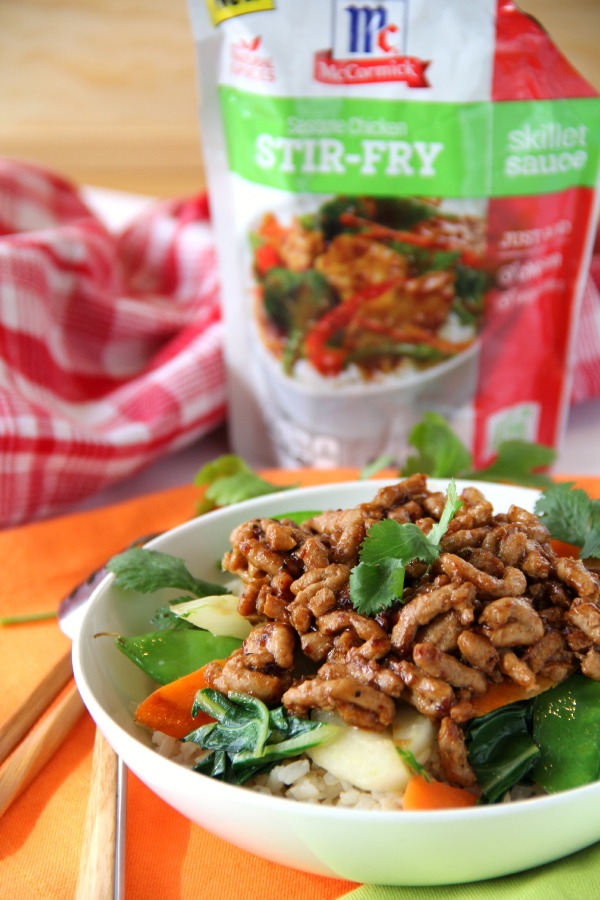 If you don't have leftover rice (you should ALWAYS have leftover rice around!), put the rice on to cook the second you walk in the door, and you'll be all set. If you're lower-carbing it, serve this in lettuce cups.
The key to skillet dinners is big flavors. These packaged sauces allow you to pick your favorite protein, add some appropriate vegetables, and toss in the flavorful sauce for the final touch. This same Chicken Stir-Fry Sauce is versatile for so many things besides chicken (or pork, as I show today). It works like a charm for a Beef & Broccoli Stir-Fry, or I can envision it with some tofu steaks and bok choy.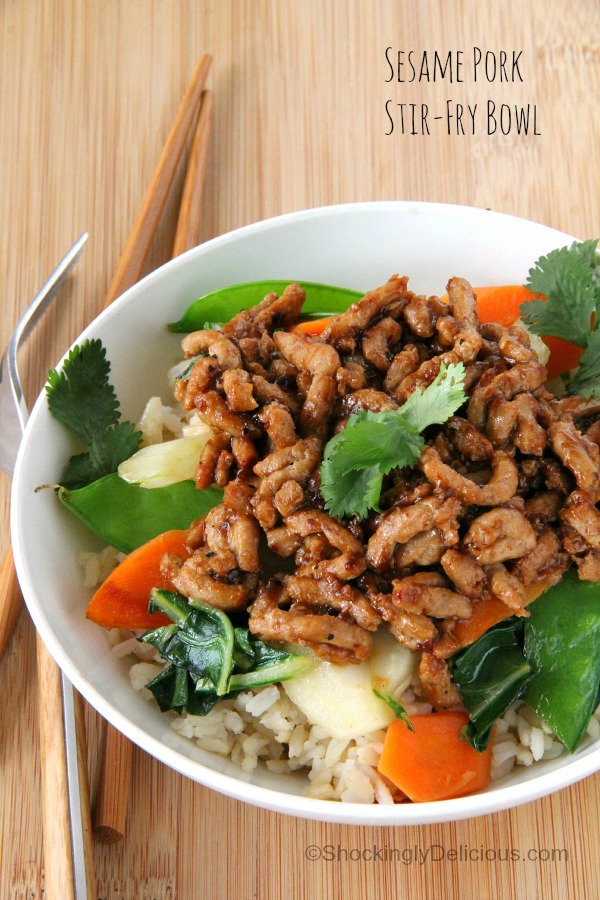 I'm getting the skillet out. Everyone just got home and they're hungry!
Sesame Pork Stir-Fry Bowl
Easy pork and vegetable stir-fry makes a perfect after-work skillet supper. Serve over rice or in lettuce cups if you're going lower-carb.
Ingredients
1 tablespoon vegetable oil
4 cups cut up Asian vegetables (packaged, or slice your own baby bok choy, snow peas, cabbage, etc.)
1 pound lean ground pork
1 (9-ounce) package McCormick Sesame Chicken Stir-Fry Skillet Sauce
Hot cooked rice (enough for 4 people; or use lettuce cups instead)

Garnish:

Chopped fresh cilantro
Directions
Put the rice on to cook the minute you walk in the door if you don't have leftover rice at the ready.
Heat oil in a 12-inch skillet over medium-high heat. Add vegetables and stir-fry for 2-3 minutes, until crisp-tender. Remove from pan into a bowl and reserve.
Add pork to the skillet and cook, stirring frequently, for 3-5 minutes, until cooked through. Add sauce to the pan, stir to combine and bring mixture to a boil. Reduce heat and simmer, covered, 1 minute, until heated through.
Portion hot cooked rice into bowls, top with reserved cooked vegetables, spoon Sesame Pork over the top, and garnish with fresh chopped cilantro if you wish. Dig in!
Serves 4.
Notes
Recipe source: Adapted from the recipe on the back of the package.
https://www.shockinglydelicious.com/sesame-pork-stir-fry-bowl/
Copyright Dorothy Reinhold | ShockinglyDelicious.com. All rights reserved.
This week our Weekday Supper cooks are showing you lots of quick and easy recipes using McCormick's Skillet Sauces (7 flavors available). These handy packaged sauces are family dinnertime savers because they allow you to make a relatively easy skillet supper that still tastes like you fussed. Recipes are on the backs of the packages, but feel free, like I did, to tweak them to suit your family's tastes.


For more ideas on easy meals using these skillet sauces, see this week's recipes below, and follow McCormick's Easy Skillet Dinners Pinterest board. There you'll see all of today's recipes plus many more.
This week's easy Weekday Supper recipes are: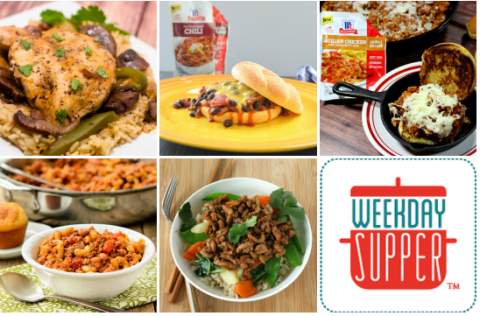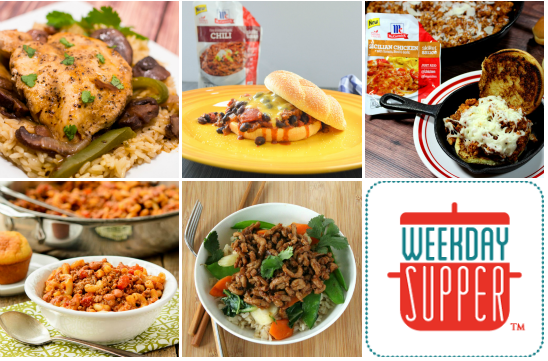 Mon.: Pepper and Garlic Crusted Sicilian Chicken Skillet by Daily Dish Recipes
Tues.: Chili Cheese Burgers by Serena Bakes Simply From Scratch
Wed.: Sloppy Skillet Chicken Parmesan by Kudos Kitchen by Renee
Thurs.: Skillet Chili Mac by Magnolia Days
Fri.: Sesame Pork Stir-Fry Bowl by Shockingly Delicious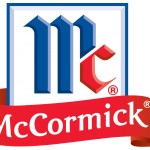 Disclosure: This post is sponsored by McCormick in conjunction with a social media campaign through Sunday Supper LLC. All opinions are my own. Please visit McCormick on their website, Instagram, Pinterest and Facebook. Thank you for supporting the brands I work with and love, which keeps the lights on here at Shockingly Delicious.