Print This Post
Need a comforting, easy-enough dinner that is somewhat familiar yet still special enough to satisfy?
Don't we all?
This skillet gnocchi fills the bill. Pillowy pasta bathes in a tomatoey sauce with extra veggies thrown in, topped with a couple of cheeses and some big olive and basil flavors.
Oh yes, yes please!
(Please forgive the subpar iphone photos. We were hungry!)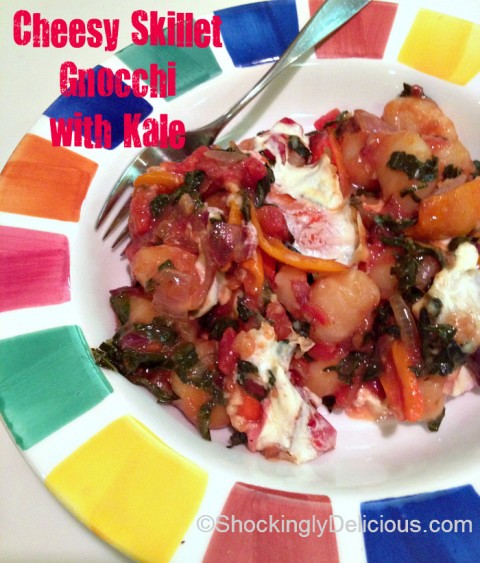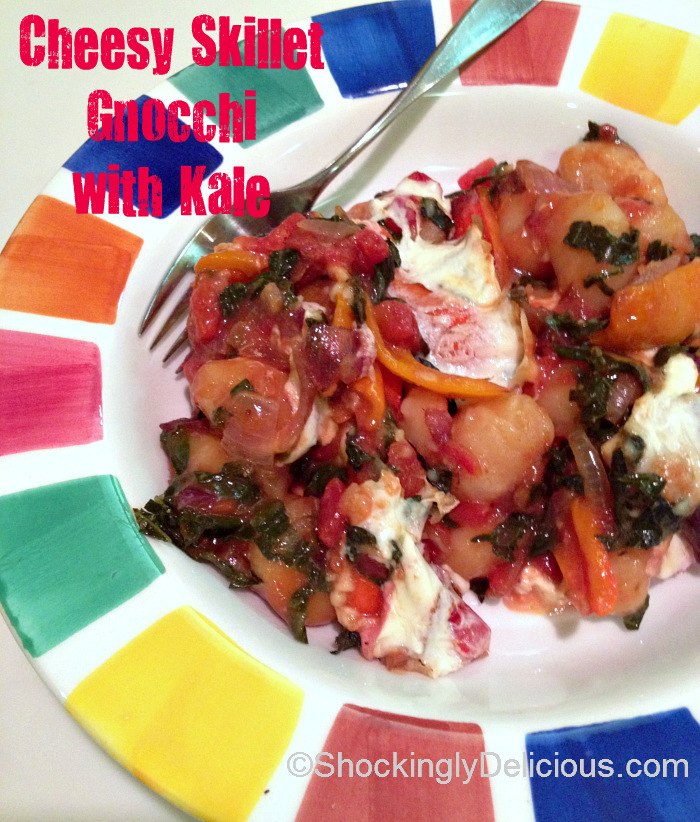 Recipe: Cheesy Skillet Gnocchi with Kale
Summary: Cheesy, tomatoey gnocchi is chock full of veggies and flavor for an easy, comforting, vegetarian skillet dinner.
Ingredients
1 tablespoon olive oil
1 red onion, chopped
Handful multicolored mini peppers (8-10 of them), stemmed, seeded and quartered
3 garlic cloves, crushed
1 (15-ounce) can petite diced tomatoes in own juice
1 (16-ounce) package shelf-stable gnocchi
1 cup water
1 teaspoon Better Than Bouillon Organic Vegetable Base (or use their Organic Chicken Base)
3 Lacinato kale leaves, rib removed and leaves cut into ribbons (chiffonade cut)
¼ cup grated Parmesan cheese
4 ounces fresh mozzarella, cut into thin slices
8 kalamata olives, pitted and quartered
Garnish: Handful basil leaves, cut into ribbons
Instructions
Heat oil in a large non-stick skillet. Saute onions and peppers for about 10 minutes, until the onion begins to color and caramelize. Add the garlic and saute for 1 minute. Add tomatoes and their juice, gnocchi, water, vegetable base and kale. Stir, cover and bring to a simmer. Simmer, covered, for 12 minutes, stirring occasionally, until the gnocchi is soft and the sauce has thickened.
Turn heat off, sprinkle Parmesan over evenly, lay mozzarella slices and strew olives on top. Replace lid and allow to rest for 5 minutes. The cheese will melt as it rests.
Serve in wide pasta bowls, garnished with basil.
Serves 4.
Source
Inspired by a version of this made by Laura Hunter of Small Wallet Big Appetite here; she got the idea from the BBC here.
Preparation time: 10 minutes
Cooking time: 25 minutes
Diet type: Vegetarian
Number of servings (yield): 4
Culinary tradition: Italian