Print This Post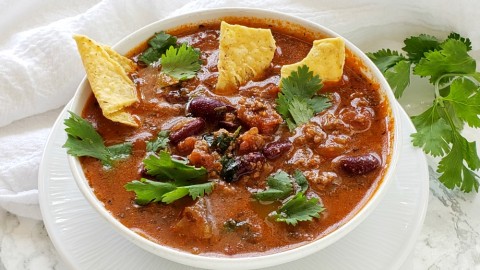 Bison Tortilla Soup in the Instant Pot: Hearty, flavor-filled, meaty, beany soup gets made easily in the Instant Pot. Fling lots of chopped cilantro, cheese and tortilla chips on top for fun!
Did you take your Instant Pot out of its box yet? Are you still afraid of it? Don't worry, it's easy. This recipe will take you through its paces. A friend wasn't using her IP and gave it to me (sans box or booklet), and when I got it home, I just looked at it and said, "You are not that hard! I can conquer you!" Don't we all talk to our appliances?
Let's make some Tortilla Soup for dinner tonight, and instead of my usual ground turkey or beef, let's use ground bison (buffalo meat).
We'll saute the onion and bison in the pot first, then add the beans, tomatoes, herbs and spices, and set it to pressure cook while we go and check email. We'll come back to a steaming pot of delicious, hearty soup. Continue Reading…
{ 30 comments }