Print This Post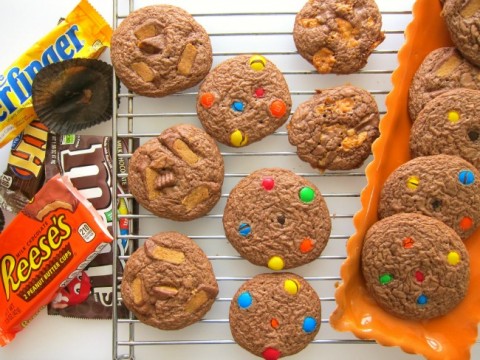 Scouring the interwebs for kooky, funny, weird, scary or disgusting Halloween recipes is an October guilty pleasure. There are so many fun ideas to try for yourself, adapt to your own needs, and experiment with.
Over the years, I have had some wacky Halloween fun, including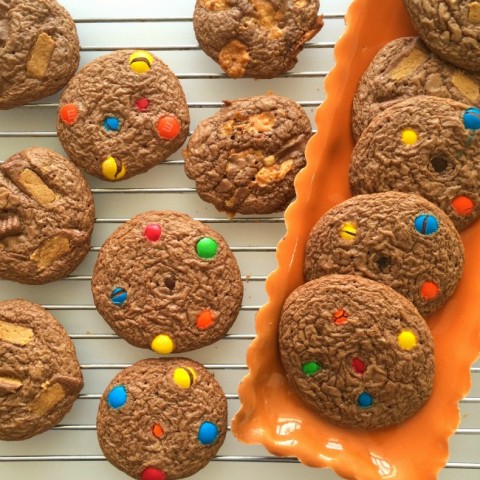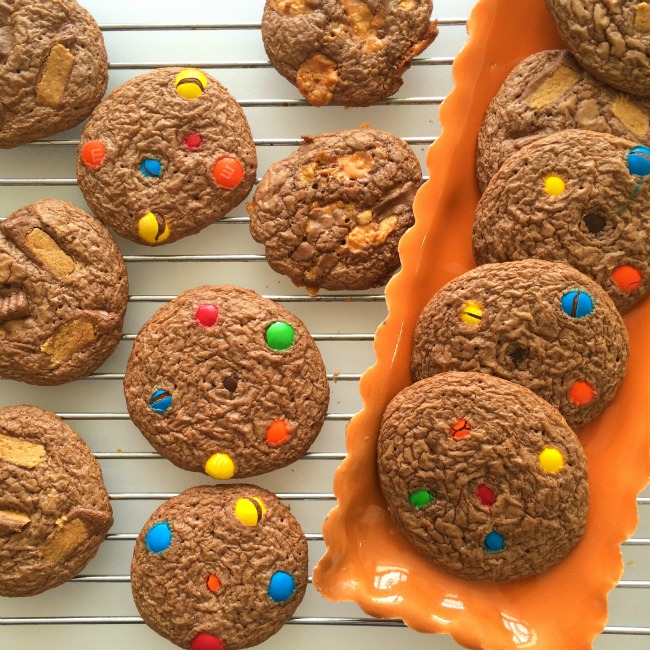 Let's add some cookies, and this year they're practical. They'll help you use up your leftover Halloween candy.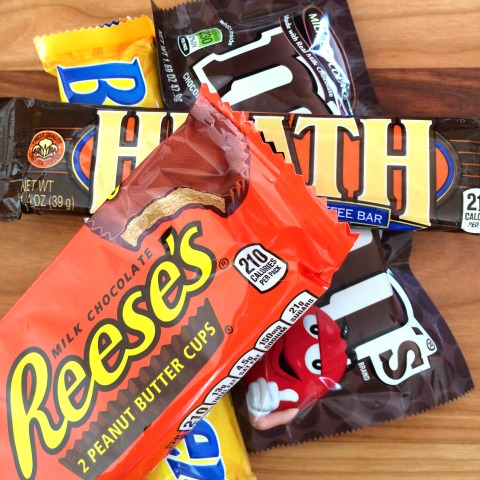 Go wild, trick-or-treaters. Go out and hunt down the big game, and bring it home to me. I know what to do with it.
Leftover Halloween Candy Cookies
A chewy and crispy, deeply rich chocolate cookie is the vehicle to convey leftover Halloween candy to its final destination.
Ingredients
3/4 cup all-purpose flour
3/4 cup whole-wheat pastry flour
3 tablespoons unsweetened cocoa powder
1/2 teaspoon baking soda
1/2 teaspoon salt
6 large egg whites
3/4 cup granulated sugar
1 1/2 cups packed dark brown sugar
1 teaspoon vanilla extract
3 ounces unsweetened chocolate, chopped and melted
1 cup or more leftover Halloween candy (make sure to cut up larger chocolates like Reese's peanut butter cups or Heath bars. M&M's, Reese's pieces, Junior Mints, Mini Musketeers and other candies work great)
Directions
Position rack in the center of the oven; preheat to 350° F. Line a large baking sheet with parchment paper or a silicone baking mat.
Whisk all-purpose flour, whole-wheat flour, cocoa powder, baking soda and salt in a medium bowl. Beat egg whites in a large bowl with an electric mixer until foamy, about 1 minute. Beat in granulated sugar in a slow, steady stream. Scrape down the sides, then beat in brown sugar 1 tablespoon at a time. Beat until smooth, about 3 minutes. Beat in vanilla and melted chocolate. Stir in the dry ingredients with a wooden spoon until just incorporated.
Drop the batter by tablespoonfuls onto the prepared baking sheet, 1 1/2 inches apart.
Add some candies to the top of each cookie. I kept the types of candies separate, but your could certainly mix them all up if you like.
Bake the cookies until flat yet springy, with slightly cracked tops, 10-12 minutes. Cool on the pan for 5 minutes, then transfer to a wire rack to cool completely. Let the pan cool for a few minutes before baking another batch; replace parchment paper if torn or scorched.
Makes 45 cookies.
Notes
Don't want to use candy? You can substitute 2/3 cup raisins, dried cherries or dried blueberries into the cookie batter along with the flour mixture. Or use 1/2 cup finely chopped pecans or walnuts.
Recipe source: Slightly adapted from Leftover Halloween Candy Cookies on Burnt Apple, who got them from "Eating Well."
https://www.shockinglydelicious.com/leftover-halloween-candy-cookies/
Copyright Dorothy Reinhold | ShockinglyDelicious.com. All rights reserved.

I ran across this recipe from Traci, who writes the food blog Burnt Apple, out of Utah. She's on a mission to make recipes over into healthy, great tasting budget-friendly meals, a plan I can really get behind. She's challenged by 3 kids and a husband with diabetes, so she tries to make meals work on many levels.
I was tempted by her Monster Eye Tacos, which look chilling for Halloween, and her Glow in the Dark Drinks (where did I put my black light?), but I must have had cookies on the mind, because these Leftover Candy Cookies stuck firmly in my mind.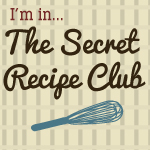 I was assigned her blog as part of Secret Recipe Club, a sort of secret-Santa project for food bloggers. We are to quietly explore and cook for a month from this secret blog, and today is our reveal day of the recipe we have chosen to present.
Thanks, Traci, for a delicious month of reading and cooking!
Meanwhile, browse the photo array below to see what else the Secret Recipe Club cooked up this month.