Print This Post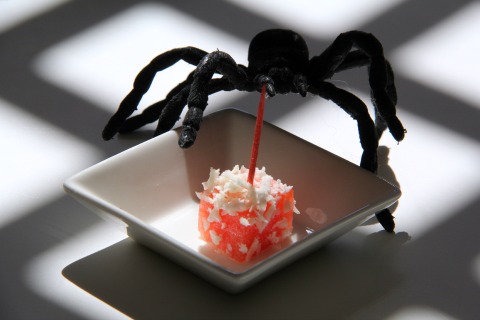 Four days before Halloween, and we're deep into the gore here in the ShockD kitchen. Vampire guts, snake brains, maggot droppings, bug juice…gulp. Are you still with me?
Ah, you might be with me, but are you hungry? How about something to turn your stomach AND delight your kids and/or Halloween guests?
Today I bring you Maggots on Meat. It makes a lovely pre-Trick-or-Treating appetizer, if you can stomach the title. But I say go for it…name it with a big sign, loud and proud. Revel in the revolting. Discuss your disgust.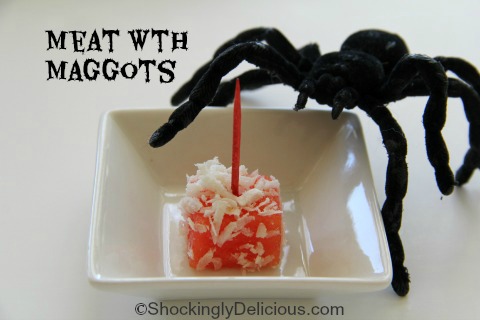 I found the idea for this over on the lovely blog Oh! You Cook, by Dena — a librarian by day, recipe blogger by night — whose motto is "proving kosher and delicious are NOT mutually exclusive."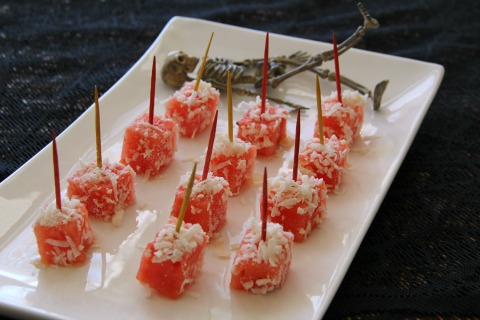 She was very restrained and civilized when she named it last summer, calling it "Lime & Coconut-Kissed Watermelon Bites."  Bah, I thought, when I was exploring her blog as my Secret Recipe Club assignment. Hooey…that looks perfect for Halloween. Let's spice up the name! Let's churn some stomachs!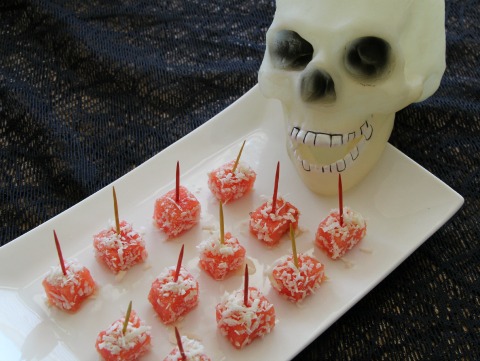 'Tis the season!
Recipe: Maggots on Meat
Summary: Slimy white maggots cavort on chunks of meaty flesh in this disgusting Halloween appetizer sure to gross out your guests in the best way!
Ingredients
1 small (around 2-3 lbs) seedless watermelon
1 lime, juiced (about a tablespoon)
1 tablespoon Heilala Vanilla Syrup
1/4 cup or more sweetened coconut
Instructions
Cut watermelon into 1-inch thick slices and remove rind. Cut watermelon flesh into ½-inch squares or diamonds (if you feel fancy) or 1-inch squares. Alternately, you could tear or break the watermelon into chunks for a more rustic and possibly gross effect.
Put lime juice and vanilla syrup in a small bowl. Put coconut in a small bowl.
Pat watermelon pieces dry with paper towels. Dip each piece quickly into lime-vanilla juice. Allow excess juice to drip off, and then roll in coconut to cover. Don't worry if coconut doesn't stick well; you can gently press it to adhere. Remember, you're going for overall gross effect here.
Place maggoty meat pieces on a funky serving platter, stick a toothpick in each one, and let sit for 15-30 minutes to allow excess moisture to escape onto plate. Use a paper towel to sop up any excess moisture if you like. Refrigerate.
Make a placard or sign to inform guests just what this is, and serve with an evil smirk.
Serves 25+ people, depending on how many chunks of meat you get from the watermelon.
My Secret Recipe Club creations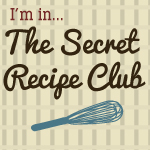 Here is a list of what else I have made for the Secret Recipe Club since I joined the group. Check it out!
Preparation time: 30 minutes
Diet type: Vegetarian, vegan
Diet tags: Gluten free
Number of servings (yield): 25+
Culinary tradition: USA (General)
Thanks, Dena, for a fun — if repurposed — appetizer! I have bookmarked a few of your other recipes to try when I am not so obsessed with Halloween, specifically your Sun-Dried Tomato, Feta & Farro Salad, your easy Eggplant in Hoisin Sauce and your divine looking Almond Apple Cake.
Join us in the Secret Recipe Club this month for some delicious eats, from Dena's blog and many others!
You can see what other cooks in the Secret Recipe Club made this month, right below here in the array of photos. Click any of them to be transported to that particular recipe!