Print This Post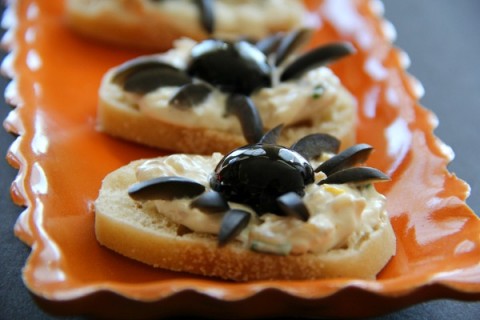 Smoked Trout Pate Spider Bites: An easy but elegant smoked fish pate, topped with spiders…uh…olives. Definitely creepy but delicious. Pair with Spider Blood – aka Merlot or Red Moscato for a memorable Halloween party appetizer.
The creepier the better when it comes to Halloween, right? It's the one night of the year we get to indulge all those fears of the dark, explore our ghoulish depths, and wallow in the macabre.
For Halloween and especially Halloween parties, the hairs on the back of your neck should stand up. You should shiver, more than once.
That includes food.
Ewwwww.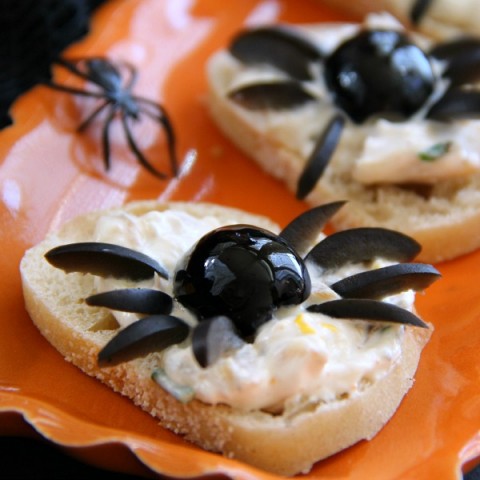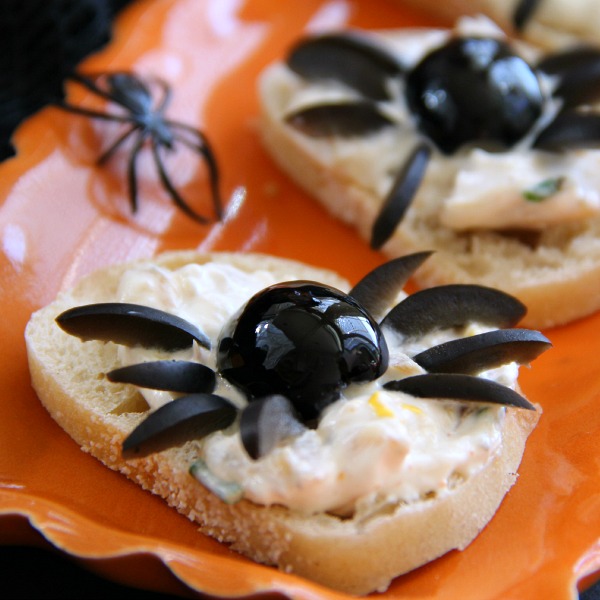 This year, I'm going after the arachnophobes. Those who fear spiders are going to squeal when I walk in to the party with my Spider Bites. Go ahead, wrap your lips around that Black Widow. You had better close your eyes first!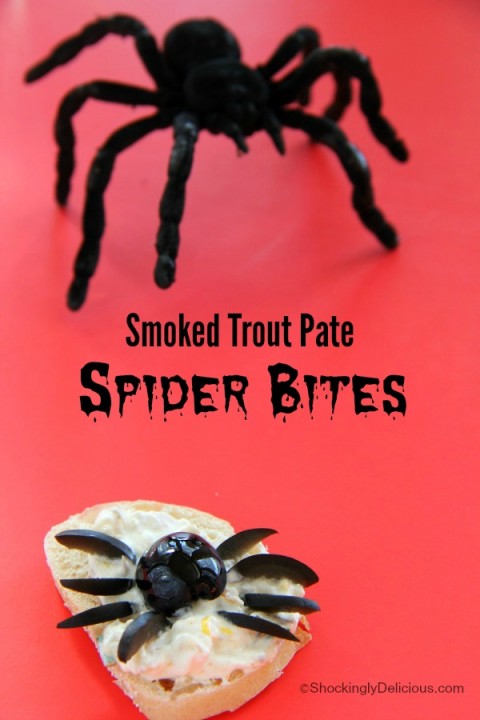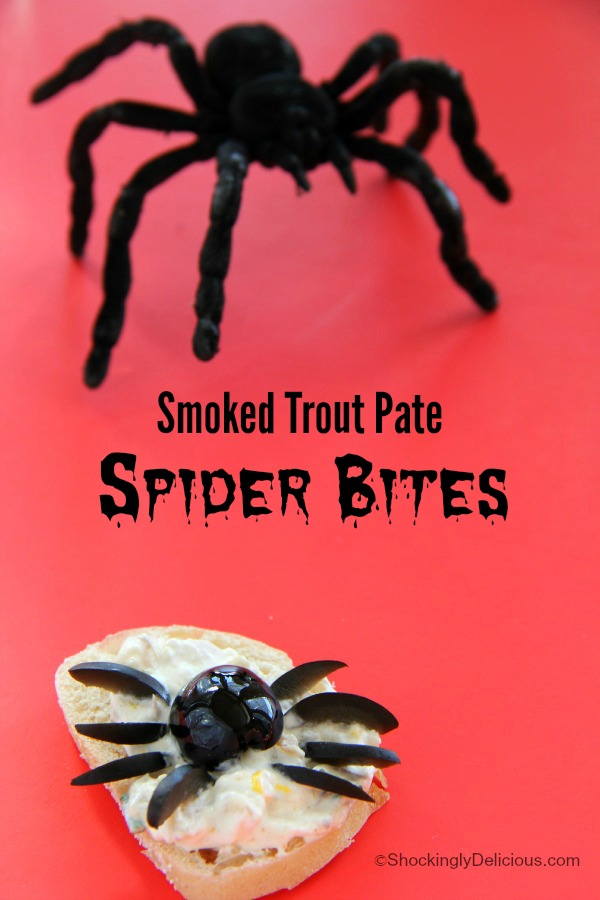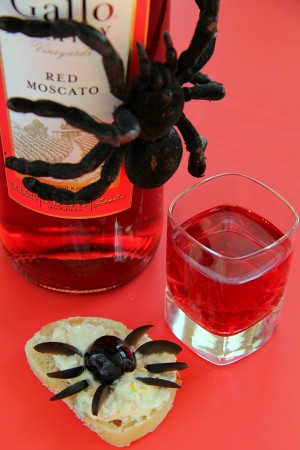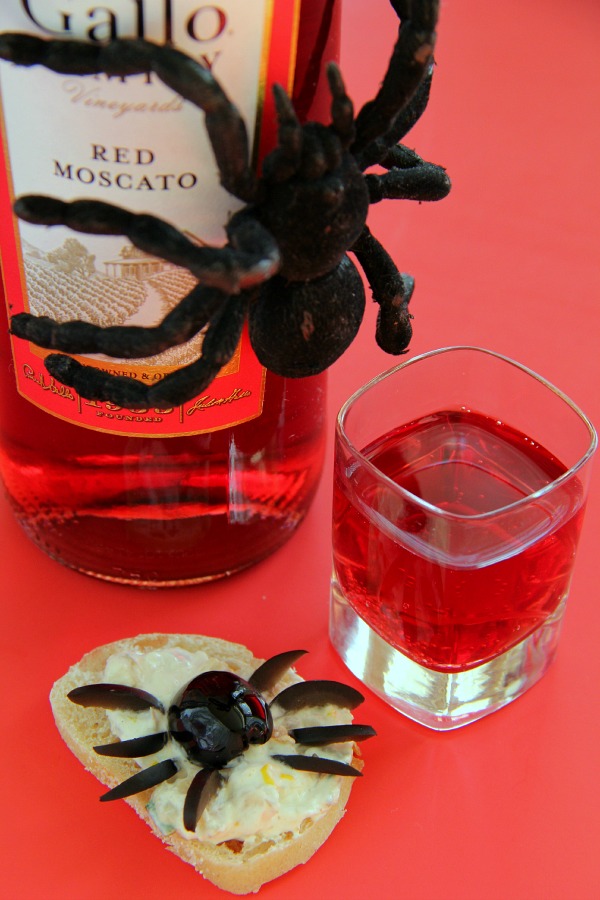 I'll offer sips of Spider Blood to wash it down. Spider Blood, for those who don't know, is better known as red wine. For this party, I'm suggesting Merlot (for those who prefer a drier wine), and Red Moscato (for those who like a fruitier wine). Or mix them together for a half-and-half!
What should you wear as your costume? Black, or course. And a spider fascinator. I got mine online so many years ago. (I'll bet you could make one out of feathers and beads, if you are crafty. Or a craft-store spider that you attach to a headband.)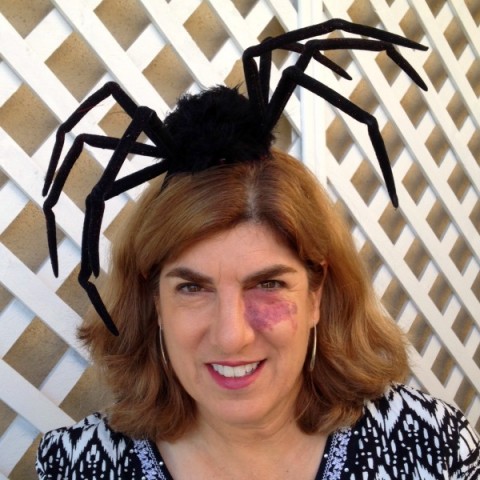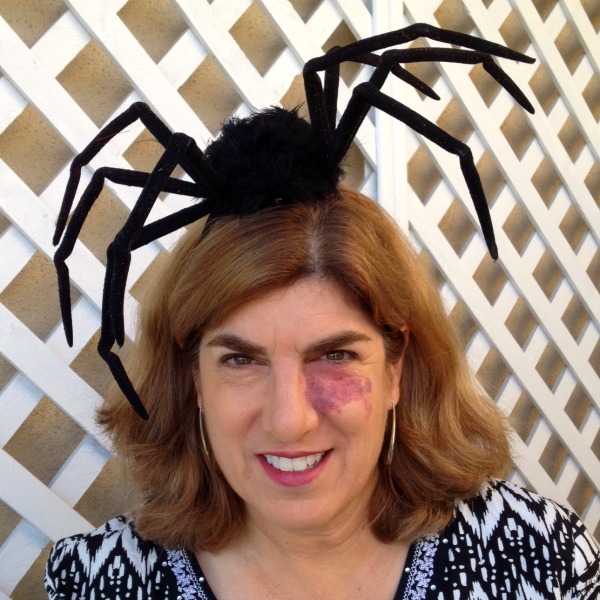 Prepare yourself to be the most popular dark culinary queen at the party.
Smoked Trout Pate Spider Bites
An easy but elegant smoked fish pate, topped with spiders...uh...olives. Definitely creepy but delicious. Pair with Spider Blood – aka Gallo Family Merlot or Red Moscato.
Ingredients
1 (8-ounce) container cream cheese, at room temperature
¼ teaspoon sweet paprika
10 grinds black pepper (to taste)
1 Meyer lemon (we will use zest and some juice)
1 tablespoon chopped fresh chives
1 small lobe shallot, finely minced (about 1 tablespoon)
4-6 ounces smoked trout fillets
Baguette slices or crackers

Spiders

1 can medium-size Ripe Pitted Black Olives (or Pitted Kalamata Olives if you prefer a stronger flavor)
Directions
In a medium bowl beat together the cream cheese, paprika and pepper. Zest the lemon and add the zest, along with 1 teaspoon lemon juice and chives. Mix until combined.
Using your clean hands, remove skin from trout (it should peel right off) and flake it into little chunks into the bowl. If you see any tiny pin bones, discard them, but you don't have to get crazy about looking for them. Gently mix everything together. Taste and add a squirt more lemon juice or more pepper if you like. (Remember, the olives are salty and will add salt to the finished product, so don't be tempted to add salt to this mixture.)
Refrigerate until ready to serve. To serve, spread pate over bread or crackers, and top with Spiders.

To make olive spiders:

you will need 1 whole pitted black olive per egg. Cut the olive in half lengthwise. Place half on the egg as the spider body. Cut the remaining half into 2 vertical pieces. Cut each piece into 4 vertical slices, so you will have 8 legs. (Spiders have 8 legs. If you cut each piece into 3 pieces instead of 4, you will have a 6-legged insect, but it won't be an arachnid. So cut 8 legs!) Poke legs into the pate near the body to adhere them. You don't want any legs falling off.)
Enjoy your Spider Bites with a nice glass of wine, and savor the spine-tingling moment.
Makes 12-16, depending on size. (Possibly more if your crackers are small.)
Notes
Recipe source: Dorothy Reinhold | Shockingly Delicious, with a hat tip to Kathy Hunt for inspiration!
Note on olives: Buy pitted olives, because if you try to pit them yourself, you will mangle the olive, and for this recipe, you need pretty darn nice looking olives.
https://www.shockinglydelicious.com/smoked-trout-pate-spider-bites/
Copyright Dorothy Reinhold | ShockinglyDelicious.com. All rights reserved.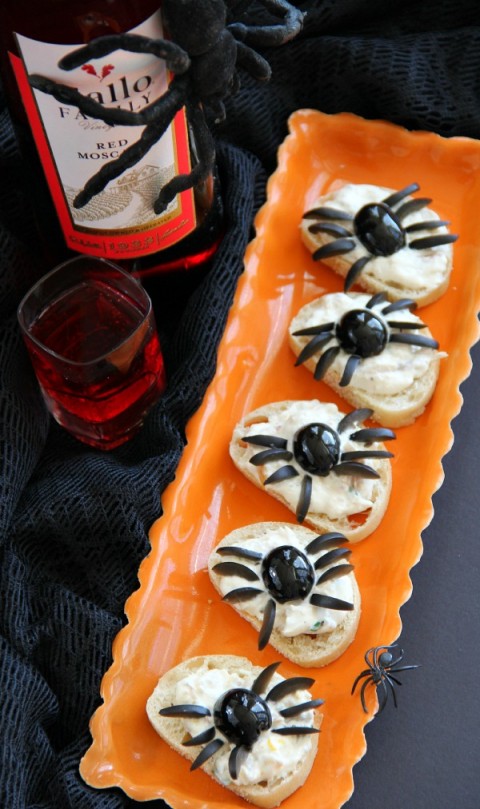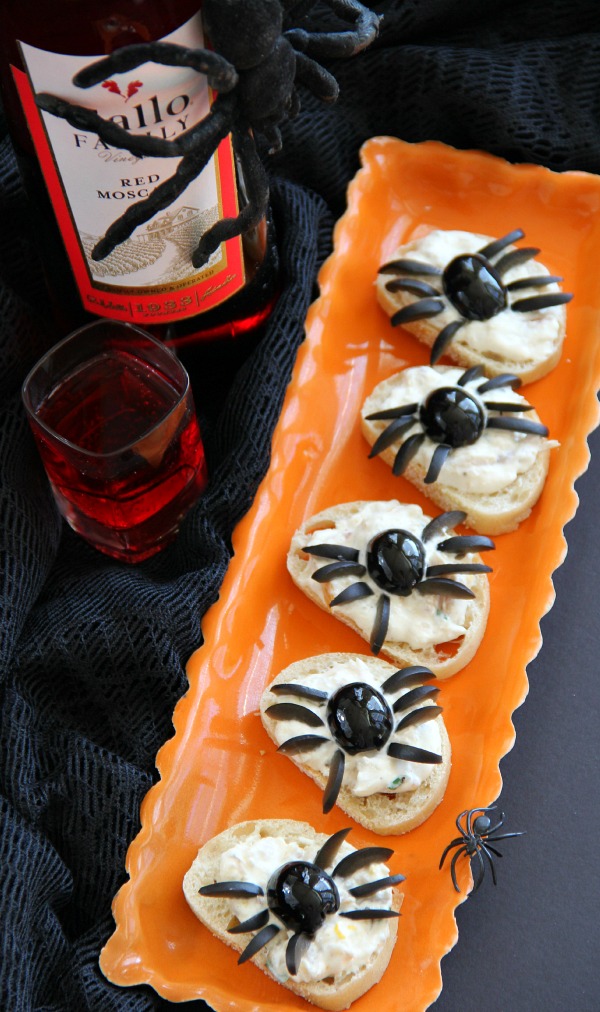 Today's Sunday Supper  recipes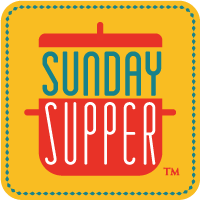 This week our #SundaySupper blogger crew is celebrating Frightfully Fun Entertaining, sponsored by Gallo Family Vineyards.
Check out our collection of 20 recipes we have lined up for you today from the Sunday Supper cooks, and our wine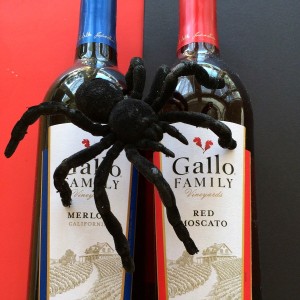 suggestions for each of them. I recommend you try my delicious Spider Bites with some Spider Blood.
Gallo Family Vineyards Merlot makes a velvety, dark red, full-bodied blood, hinting of black cherry, ripe plum and a whiff of oak. Red Moscato is a brighter colored blood, lively with sweet citrus and peach flavors and a hint of red berry.
If you don't want Spider Bites, choose something else from the menu below that makes you shiver.
Disclosure: Compensation was provided by Gallo Family Vineyards via Sunday Supper, LLC. The opinions expressed here are those of the author, and are not indicative of the opinions or positions of Gallo Family Vineyards.
Thanks for visiting…are you hungry for more? Follow Shockingly Delicious on…
FACEBOOK | PINTEREST | INSTAGRAM | TWITTER
…for all the latest recipes, ideas and updates!
This post may contain affiliate/referral links. It is a way for this site to earn advertising fees (at no cost to you) by advertising or linking to certain products and/or services that I approve and prefer.