Print This Post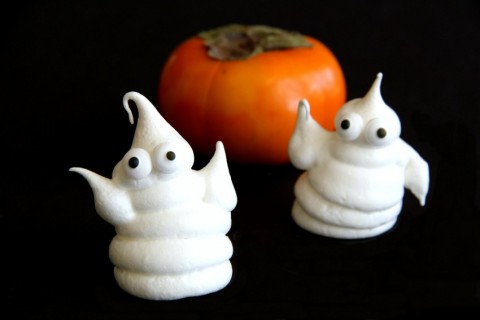 I'm partnering today with Dixie Crystals to bring you this fun, easy Halloween treat.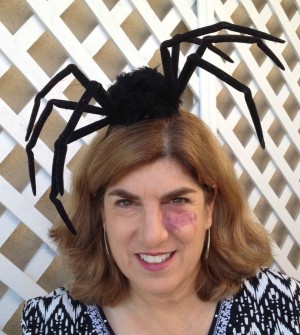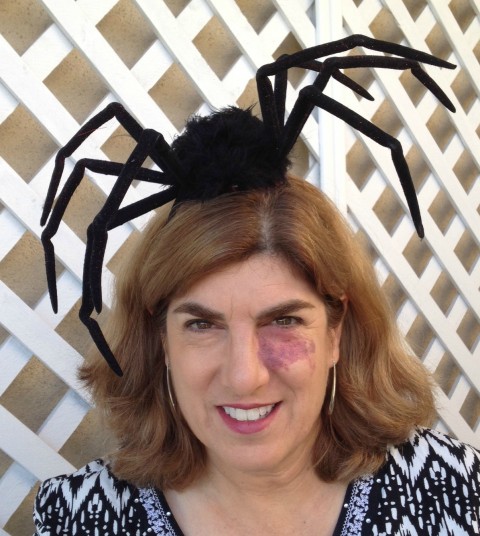 Surely you've picked your costume for Halloween, right? I have a little scary spider hat that I like to wear. It's more of a fascinator than a hat, but it gets the job done — to creep out anyone who is at the door when I answer it.
Even more than my freaky fascinator, though, I'm known for my ghoulish sweets and Halloween foods. I've scared many a classroom party with these…
Not to rest on our past laurels, though, we're back today with the easiest, sweetiest (yes, that can be a word), lightest little Halloween treats ever to hit your party table.
These are going to look so cute scaring the rest of the dessert goodies away.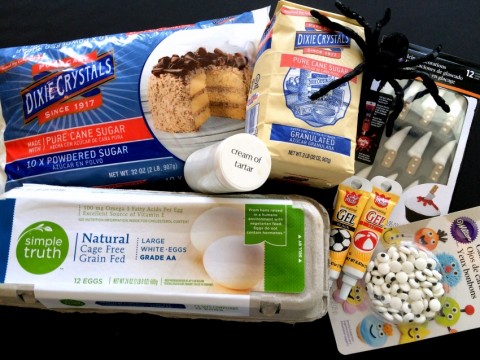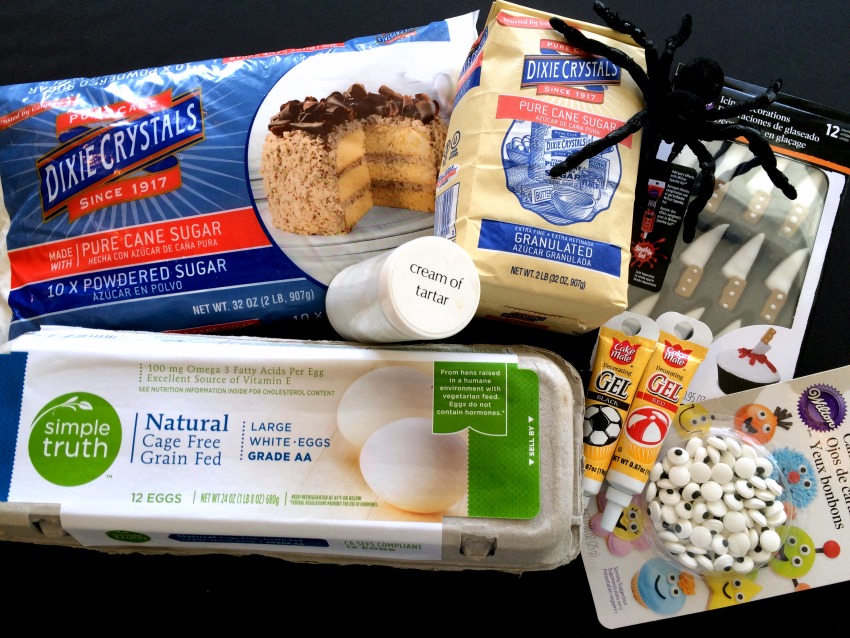 They're so easy to make. Gather your ingredients (chase away any spiders!)…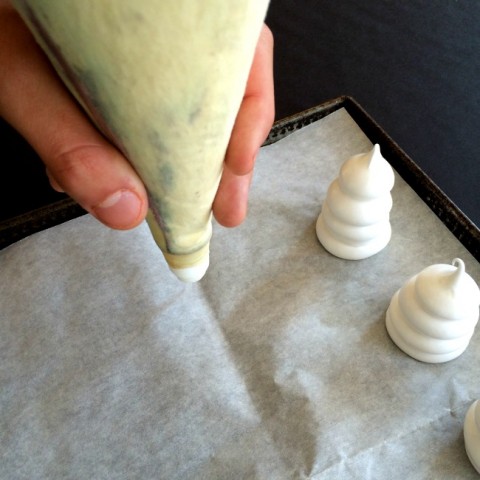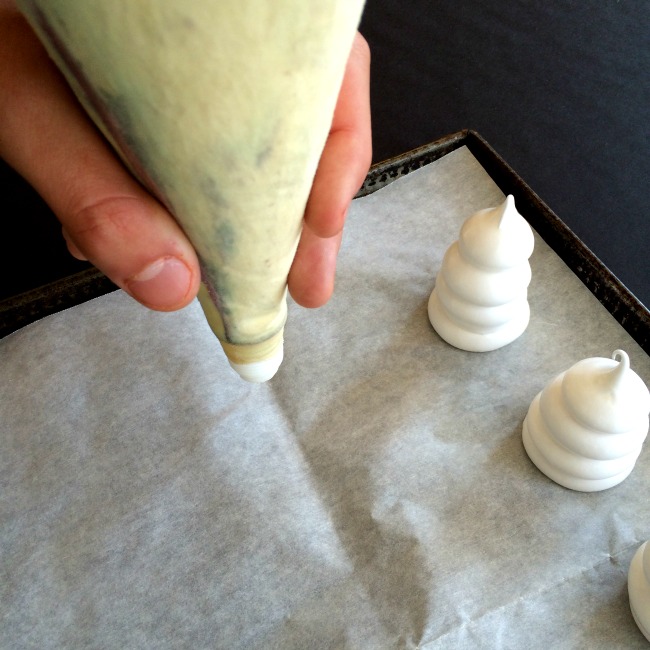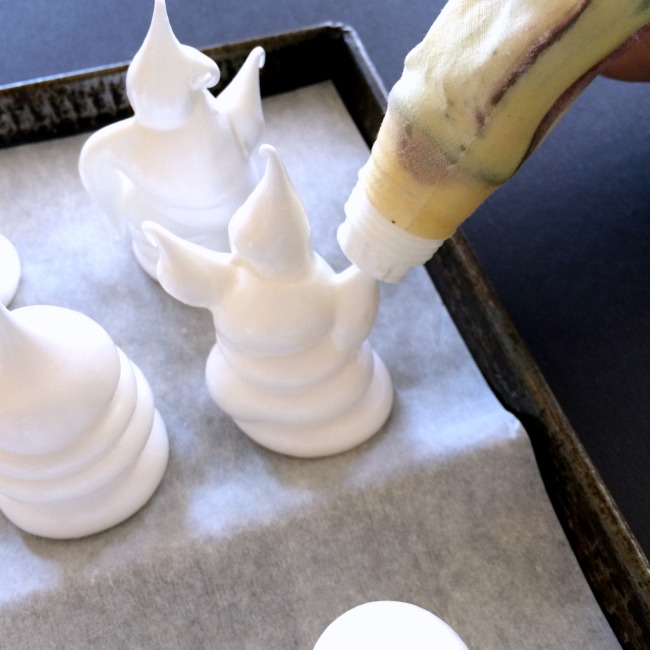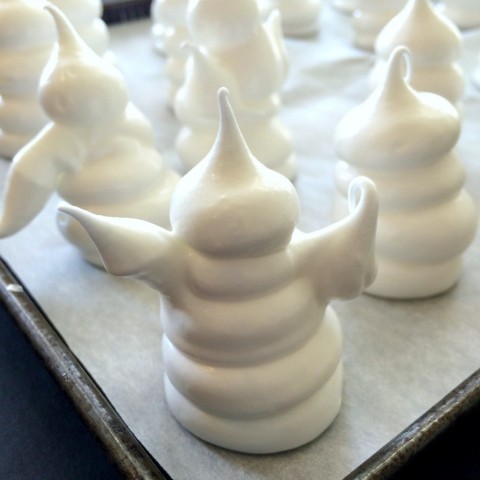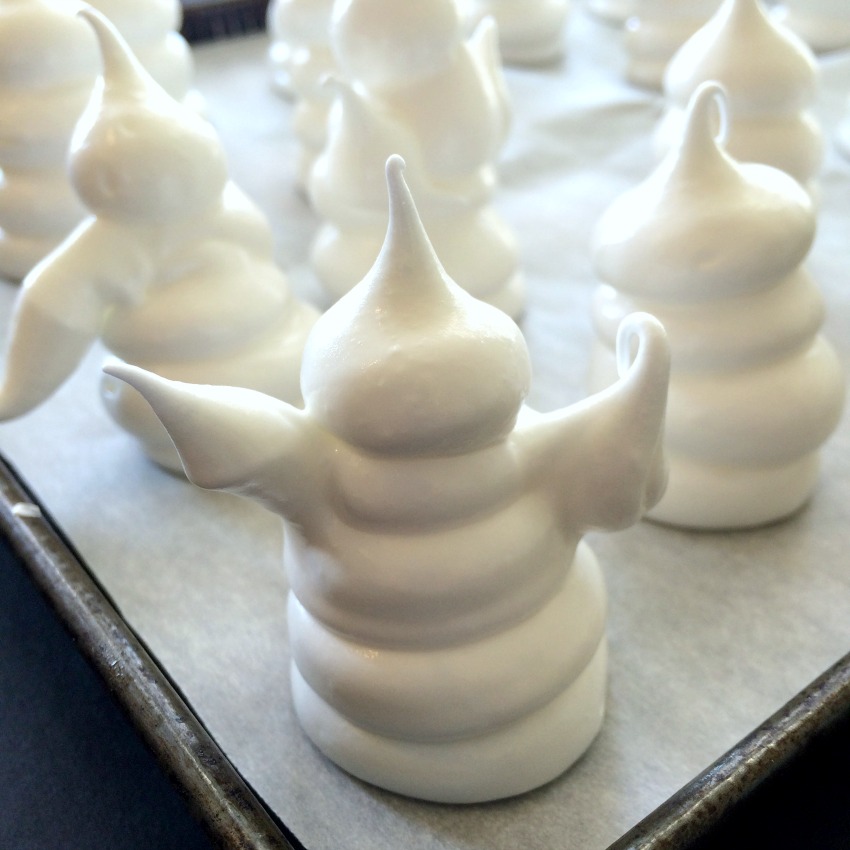 Whip some egg whites to oblivion, sweeten with sugar, mound onto your baking sheet and bake low and slow, so they remain white.
The kids can even get in on the action with placing the eyes or faces, and the older ones can pipe the meringue.
Whether they're for your own family, for the neighborhood block party or your kid's classroom, let's make some Haunted Halloween Ghosts, shall we?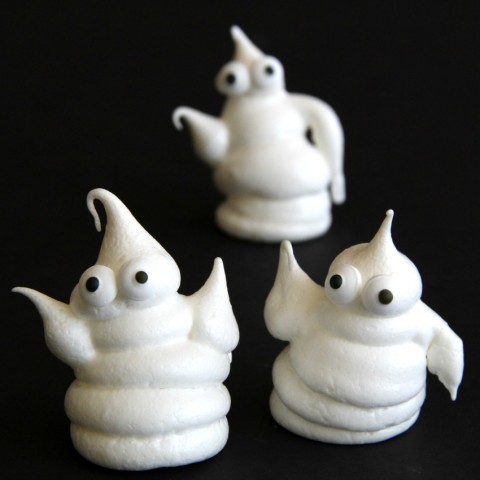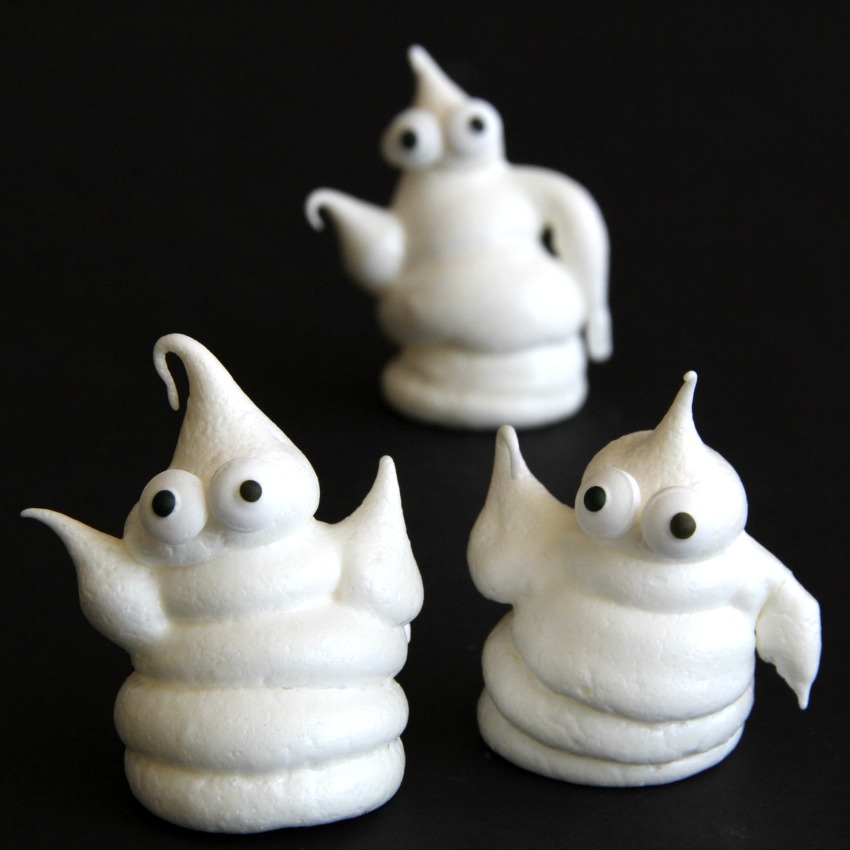 Haunted Halloween Ghost Cookies -- a simple almond-scented meringue piped in the shape of ghosts solves your Halloween party dessert needs. Make them spooky or horror -- your choice.
Ingredients
3 egg whites, at room temperature
1/2 cup granulated sugar
1/4 teaspoon cream of tartar
Pinch of table salt
1/4 teaspoon almond extract (or 1/2 teaspoon vanilla if you don't like almond)
Scant 1/2 cup confectioners' sugar
.

Face makings

Icing gel tubes (black, red, white and any other colors you like)
Candy eyes
Directions
Heat the oven to 200°F (93°C). Make sure the oven rack is in the middle slot. Line a baking sheet (cookie sheet) with parchment paper and set aside.
Add the granulated sugar to a blender and whirl it a bit (5-10 seconds) until it is finely ground but not powdered; this will make it into superfine sugar, which combines easily with the egg whites. Set aside.
For best results, use a stand mixer. Make sure your bowl and beaters are scrupulously clean and dry, for best meringue loft. In a large bowl with an electric mixer on low speed, beat the egg whites and cream of tartar until foamy. Add the salt and almond extract, increase the speed to medium-high, and continue beating until soft peaks form. Gradually add the superfine sugar, 1 tablespoon at a time, and continue beating until the meringue makes stiff, glossy peaks. (You can test this by stopping the mixer and lifting the beater out slowly to see if it makes peaks, and whether they are floppy or stiff. If they are floppy, beat a bit longer and check again. This might take 5-8 minutes.) Stop the beater.
Using a sifter or a strainer, sift the confectioners' sugar into the meringue (this is to remove any lumps). Using a scrupulously clean and dry rubber spatula, gently fold the confectioners' sugar into the meringue only until combined. For puffiest ghosts, do not fold any more than is necessary or overmix it.
Spoon the meringue into a piping bag, or, if you don't have one, DIY with a large zipper-top plastic bag. After filling it with meringue, snip 1/4-1/2 inch off one bottom corner tip of the bag. Voila -- a make-your-own piping bag!
Holding the bag upright, squeeze gently to make a vertical stack of 3 graceful, white blobs of meringue onto the parchment for each ghost. You might try it like this: pipe a base, then atop that a slightly smaller middle, and then atop that a final curled top. It's a bit like constructing a snowman from the ground up. Pipe 24 meringue ghosts onto the baking sheet.
Bake the meringue ghosts for 2 hours, or until crisp. This low-and-slow technique ensures they will get crisp throughout yet remain white. Warning: If you try to speed it up by raising the oven temperature, you'll have brown ghosts. If the meringues start to color, reduce the oven temperature to 175°F (79°C).) When ghosts are crisp, turn the oven off, leave the door closed, and cool the meringues in the oven for at least 2 hours, or even overnight if you can. (I must say here that my husband prefers these NOT dried for the additional 2 hours. He likes them to be a bit chewy in the center. Suit yourself.)
If you are using gel for the eyes, dot them on. If you are using the candy eyes, dot a bit of gel on as glue, and stick the candy eyes on there. There's no rule that says you can't play with your ghost faces, so feel free to use candy eyes AND then make the mouth from gel, or draw a hat on the ghost with gel, or whatever you like! Your kids will delight in this part of the recipe.
Makes 24 ghosts.
Notes
Note: Why are we asking for "scrupulously clean" and dry bowl, beaters and spatula? Any oil residue from a prior recipe will reduce the loft of your meringue. And if we're going to make meringue, we want it impossibly fluffy, don't we?
Recipe source: Dorothy Reinhold | Shockingly Delicious
https://www.shockinglydelicious.com/halloween-ghost-meringue-cookies/
Copyright Dorothy Reinhold | ShockinglyDelicious.com. All rights reserved.
Horror decorations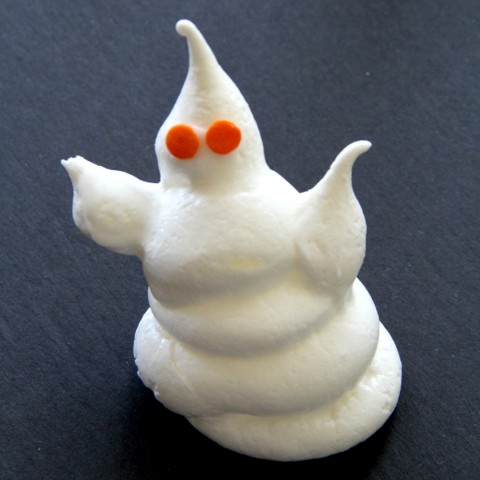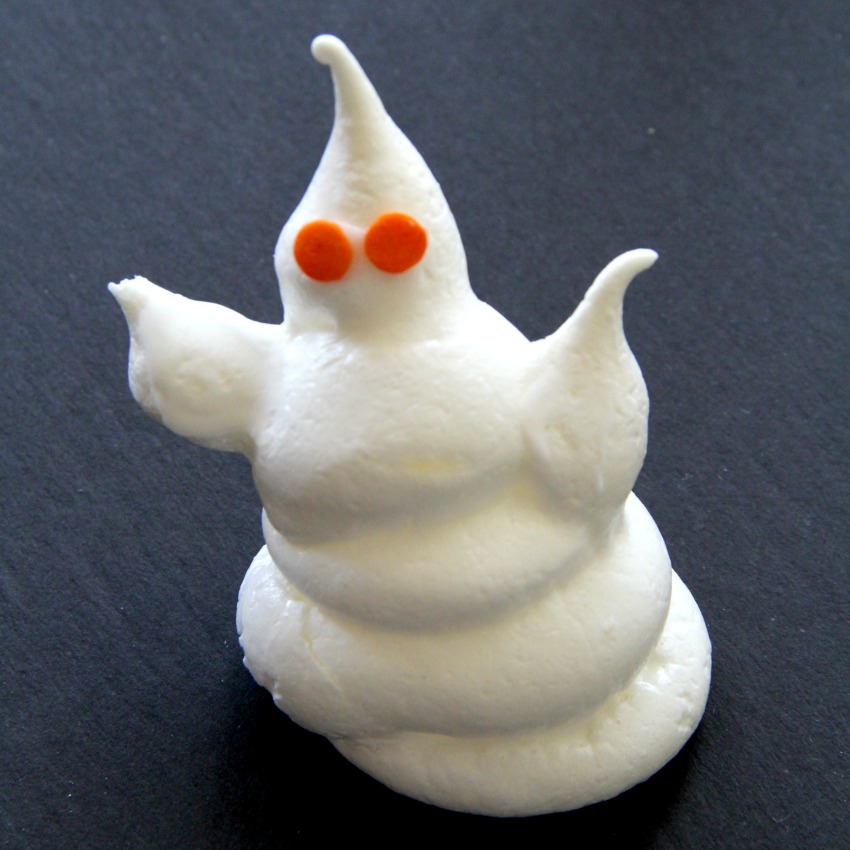 For younger parties, you will want to keep them merely spooky, as above.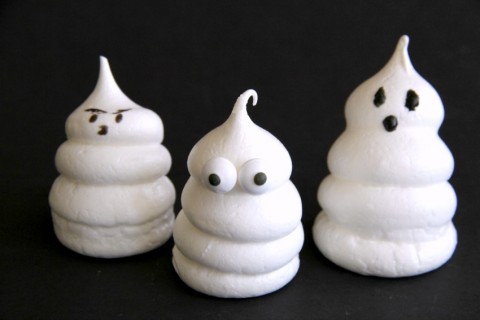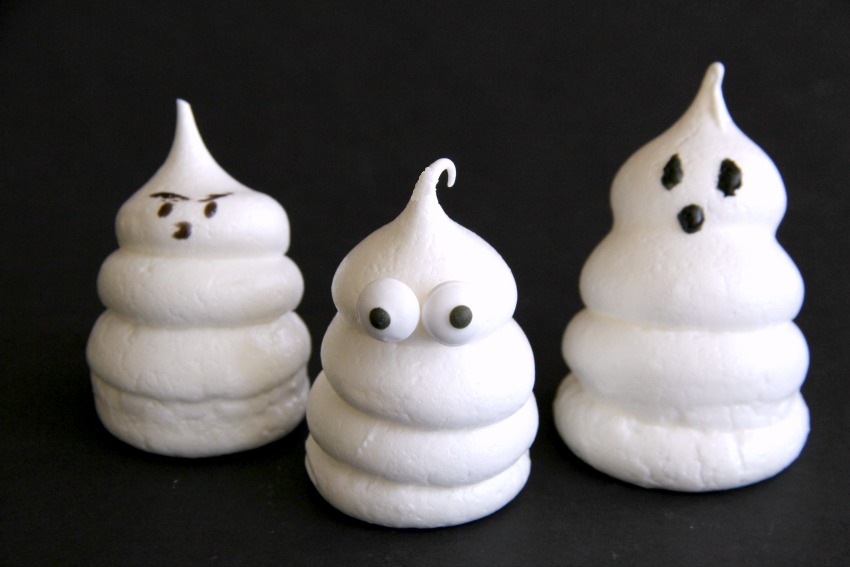 The kids can decide what kind of faces they want, with candy eyes, gel eyes or angry eyebrows.
But for older parties…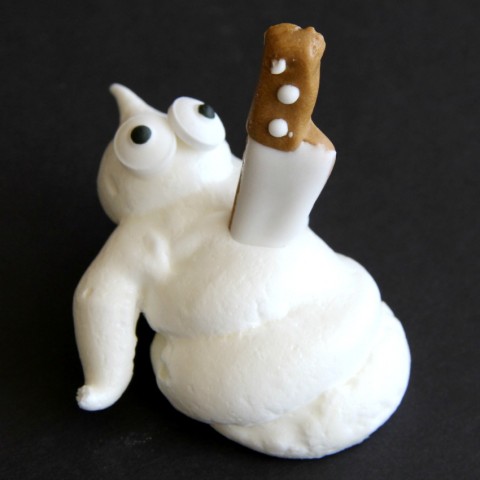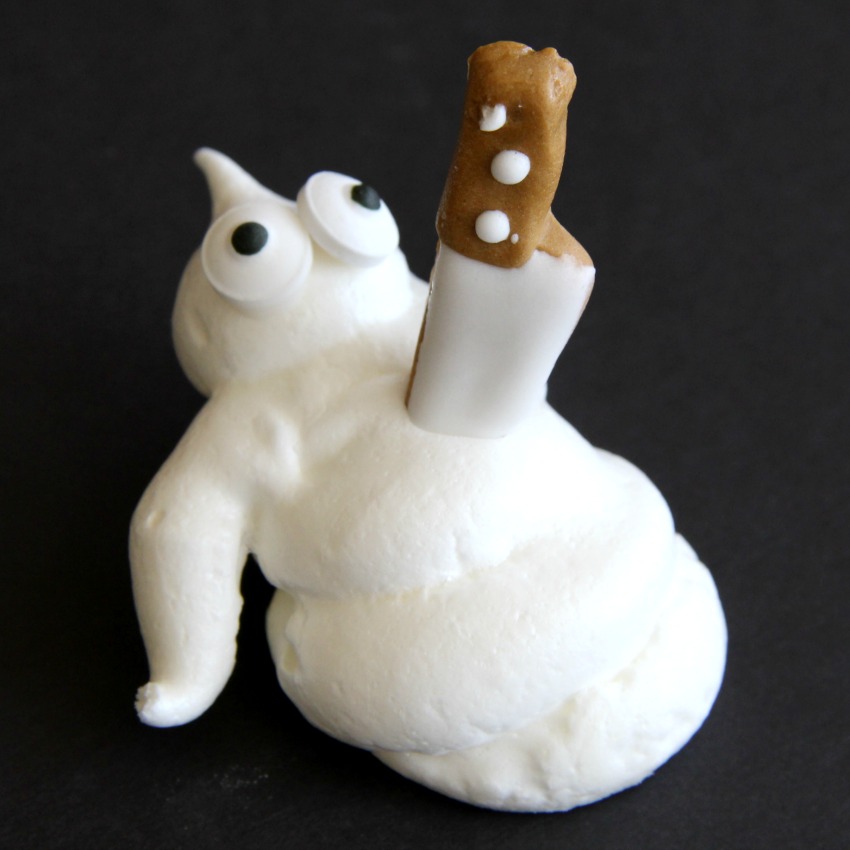 …you could indulge some people's love of horror…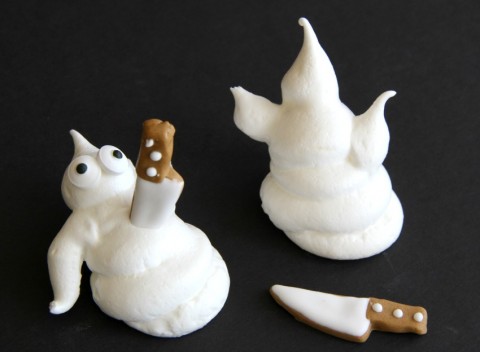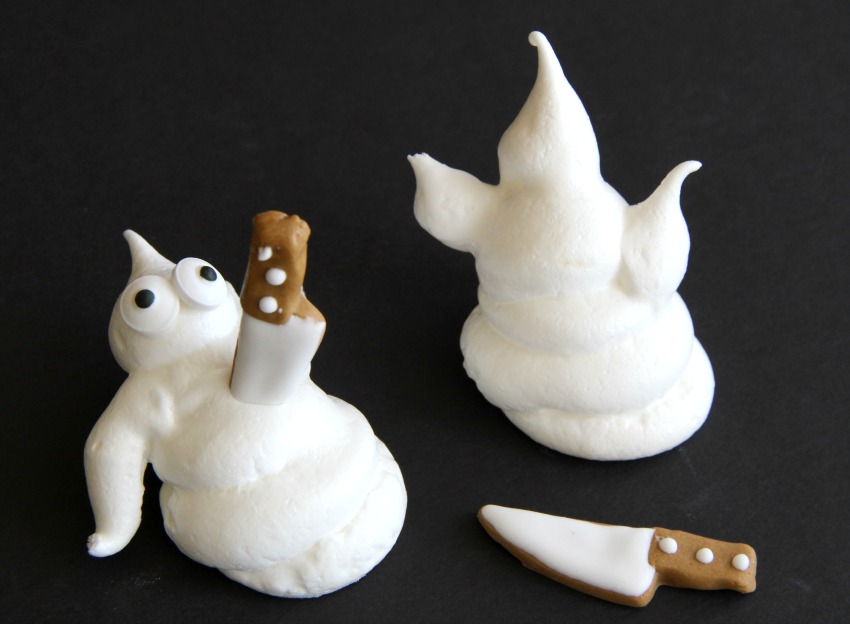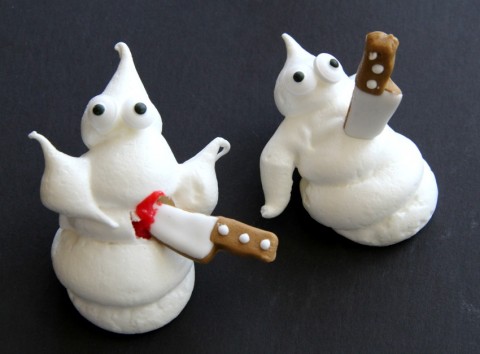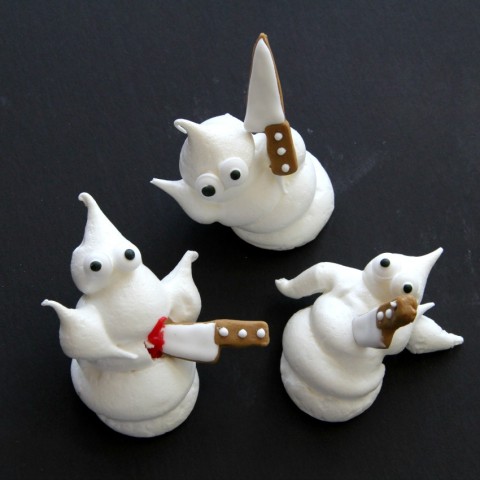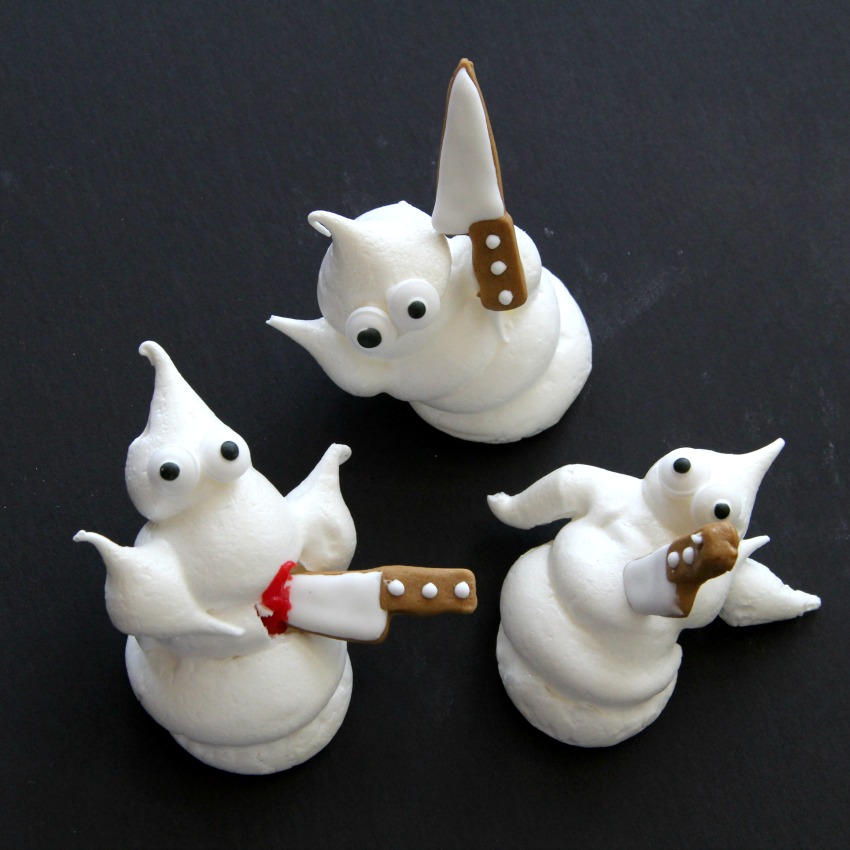 …with candy knives or other decorations that are suitable for a true fright night.
Pin the image below to your Pinterest board to save this recipe.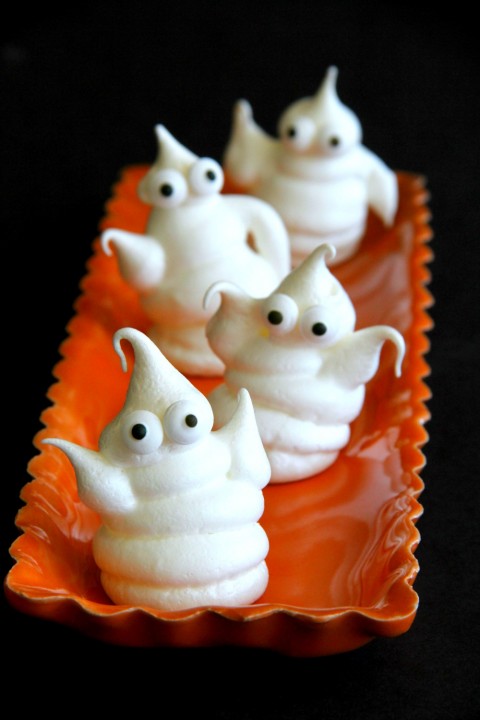 Disclosure: This post is sponsored by Dixie Crystals. Thank you for supporting the brands I partner with, which keeps the test kitchen humming here at Shockingly Delicious.
This post was first published Oct. 15, 2016 and has been updated for new publication.