Print This Post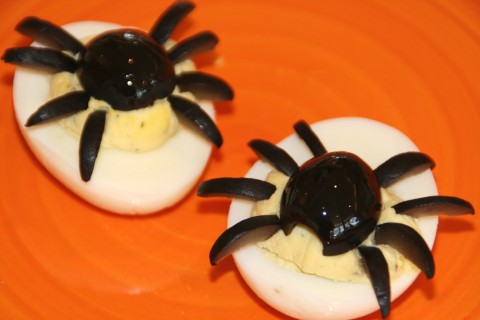 If the question is what should you bring to the office or the party for Halloween, the answer is Halloween Deviled Spider Eggs!
Deviled eggs always disappear first from the appetizer plate, and this decorated version just makes people laugh. Or else it gives them a creepy shiver, which is also worth a chuckle.
Amusement with your food is always a good thing.
Directions are simple
1. Make your favorite deviled eggs. Here's a quick tutorial on the easiest, best way to hard cook an egg.
2. Decorate with olives to resemble spiders!
3. Voila!
A couple of hints on how to do the spiders
1. You will need 1 whole pitted black olive per egg. You can use a regular (boring) black olive, or a more interesting Kalamata olive. Buy them pitted, because if you try to pit them yourself, you will mangle the olive, and for this recipe, you need pretty darn nice looking olives. (Second thought: Use the regular olives for a kid platter, and Kalamata olives for an adult platter. Everyone's happy.)
2. Cut the olive in half lengthwise. Place half on the egg as the spider body.

3. Cut the remaining half into 2 vertical pieces. Cut each piece into 4 vertical slices, so you will have 8 legs. Spiders have 8 legs. If you cut each piece into 3 pieces instead of 4, you will have a 6-legged insect, but it won't be an arachnid. So cut 8 legs and quit arguing with me.
4. Poke legs into the egg filling to adhere them. You don't want any legs falling off (see #3 above).
5. Voila! Spider Eggs are served!

6. Stand around smugly as everyone murmers about how clever you are.
Pin the image below for Halloween Deviled Spider Eggs to your Pinterest board to save this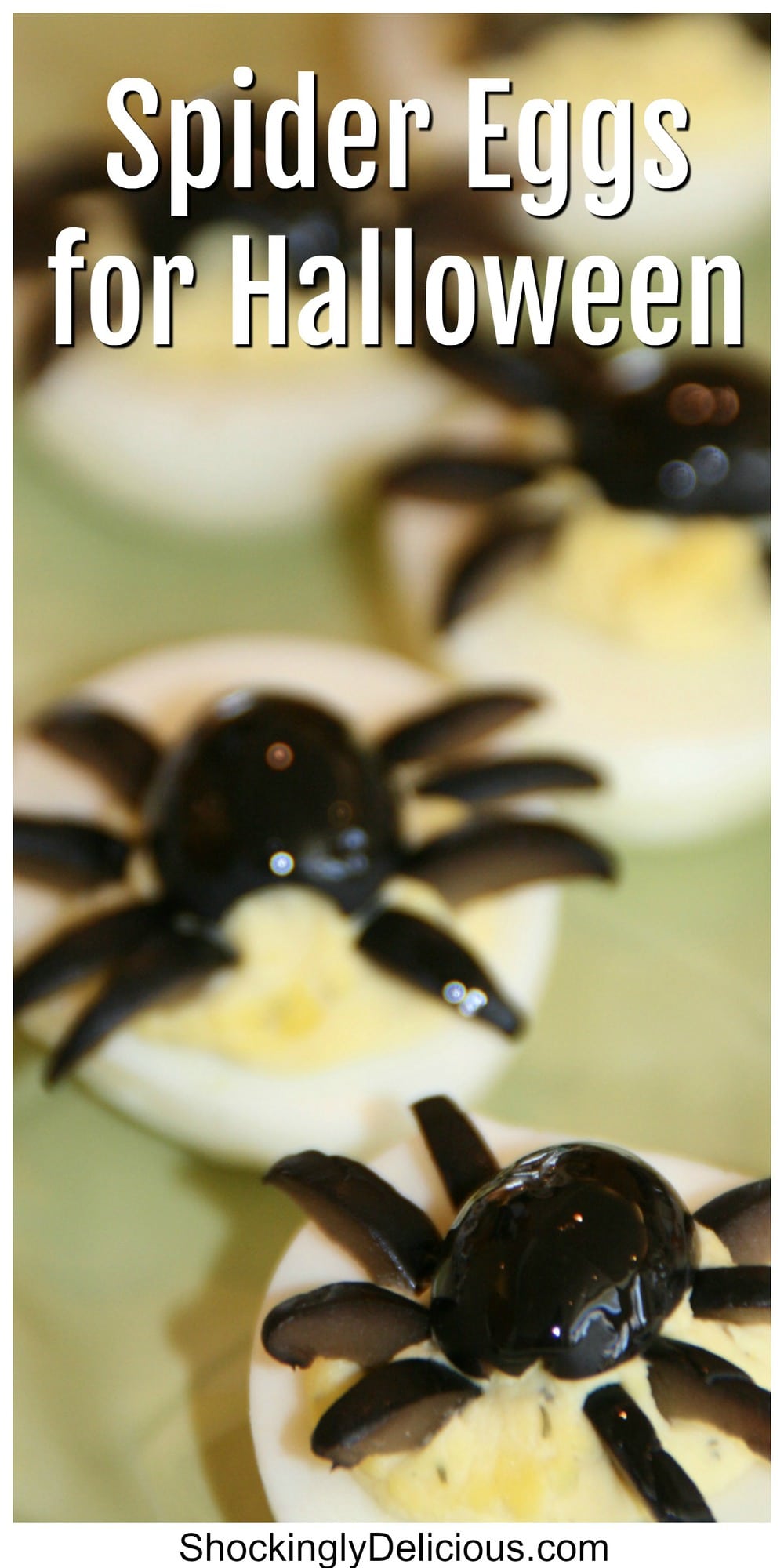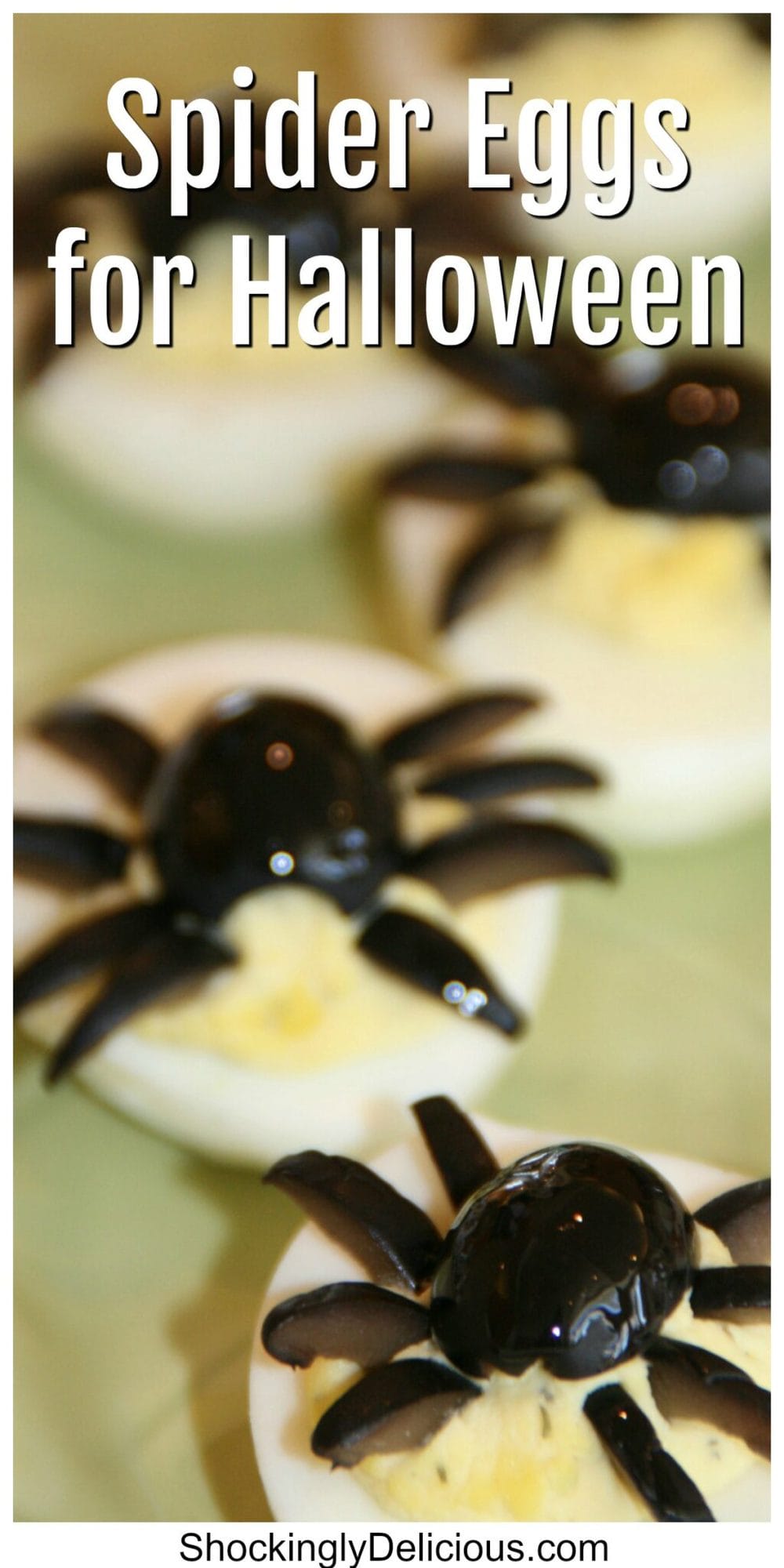 Want another Halloween scary recipe that will have your guests laughing while they munch?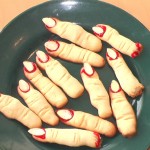 Witches' Digits, the funniest, most deliciously disgusting Halloween cookie of all time!
You can see my Spider Deviled Eggs around the, uh…web (!):
—Family Fresh Cooking
—Foodwhirl
—Foodbeast
—Ediblecrafts at Craftgossip.com
If you like deviled eggs, you might like to try this recipe, too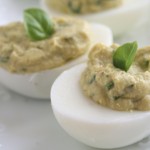 Sweet Basil Deviled Eggs
I have linked this post up with Cast Party Wednesday . and with Make-Ahead Meals for Busy Moms.