Print This Post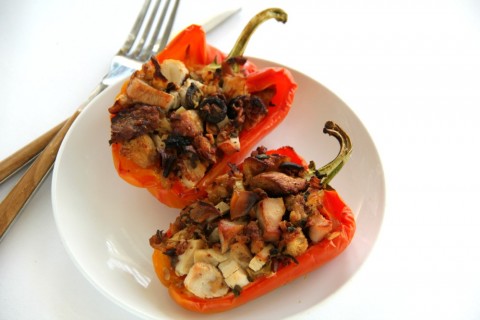 Turkey and Stuffing Stuffed Peppers are a super easy and delicious way to deploy Thanksgiving leftovers, using only 4 ingredients. Use every bit of your leftovers!
Once you've had Thanksgiving, repurposing the leftovers can be as simple as figuring out new ways to enclose turkey and stuffing.
Why not in a stuffed pepper?
Peppers are often stuffed with some sort of meat (here we have turkey) and rice (here we have not rice, but amped up bread cubes).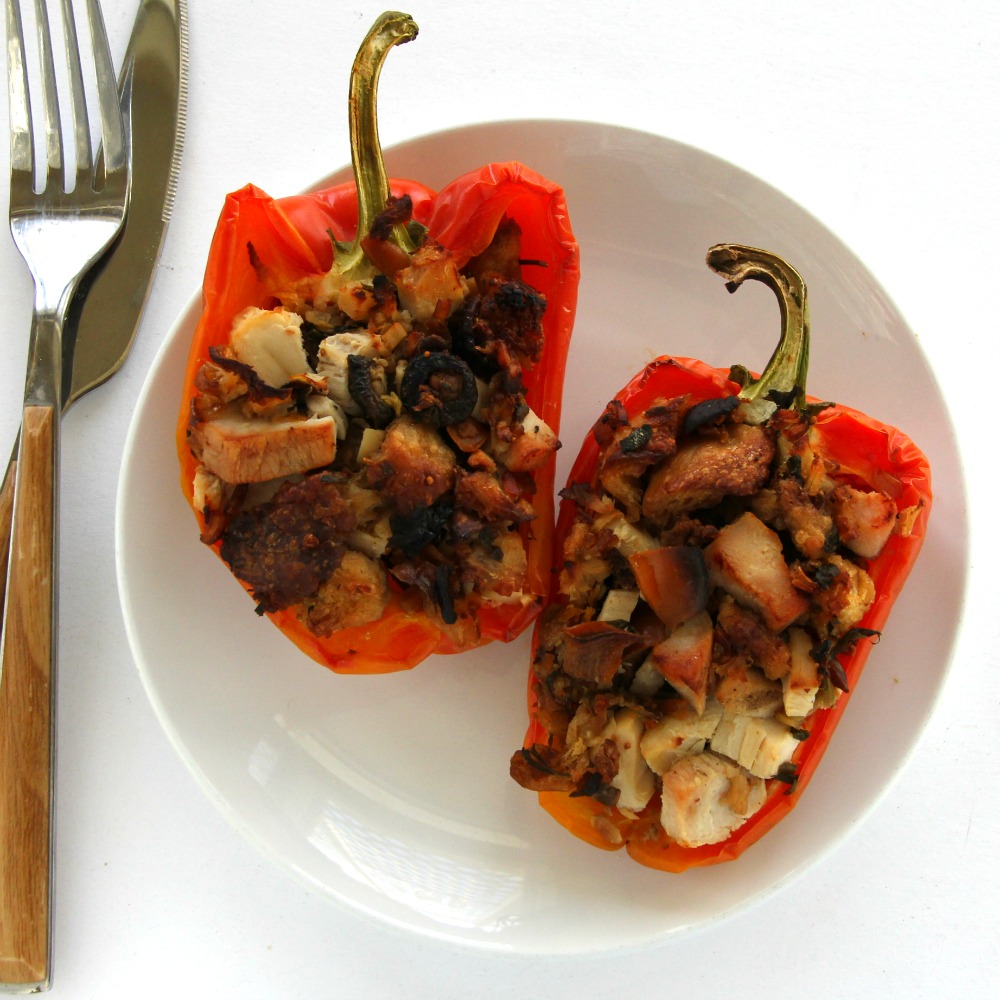 Feel free to use whatever stuffing you used for your Turkey Day feast.
What stuffing to use? My all-time favorite is this Rustic Herbed Stuffing with Greens. It would be so good in here! But I've never met a stuffing I didn't like, so I also like a version with dried figs. And of course, my classic 1st place award-winner Dorothy's Southwest Stuffing.
That said, I won't quibble if you want to use Stove Top (although it is too salty for my taste). I don't judge, but just say "Bring on the stuffing!"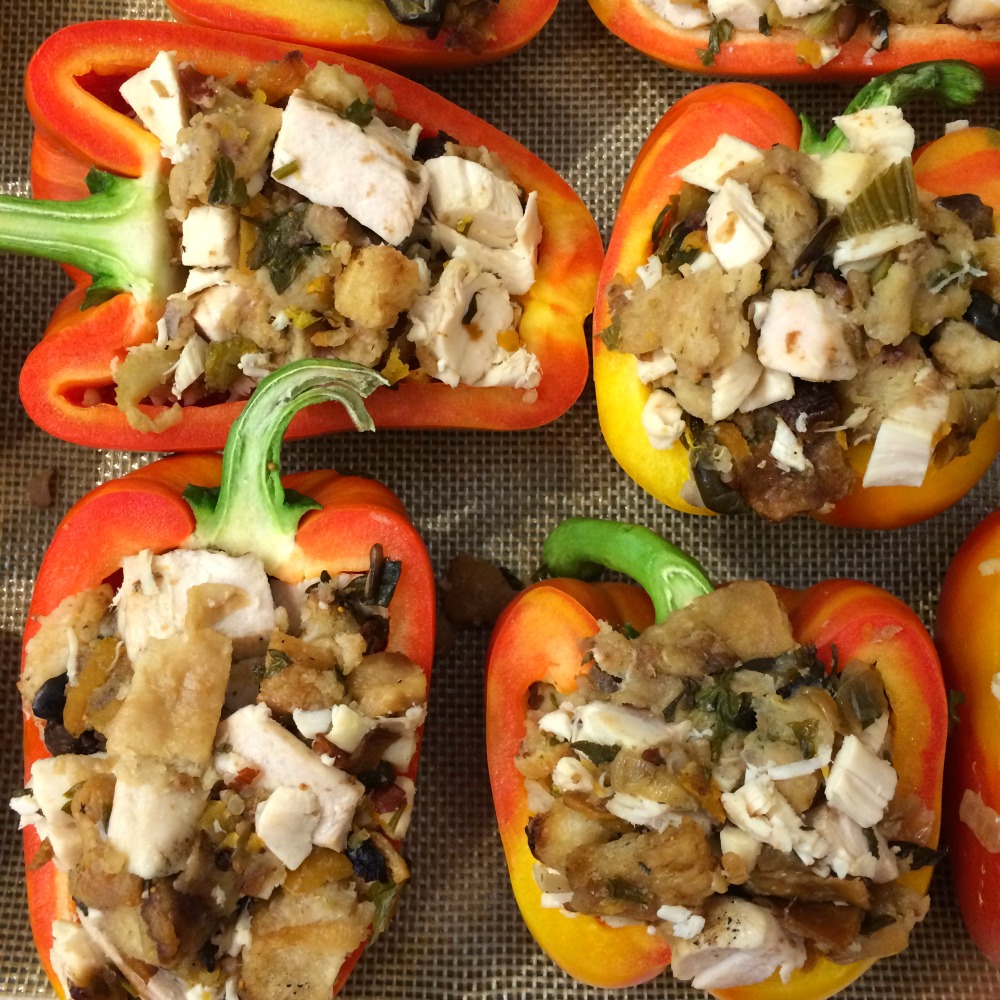 Peppers are stuffed and ready…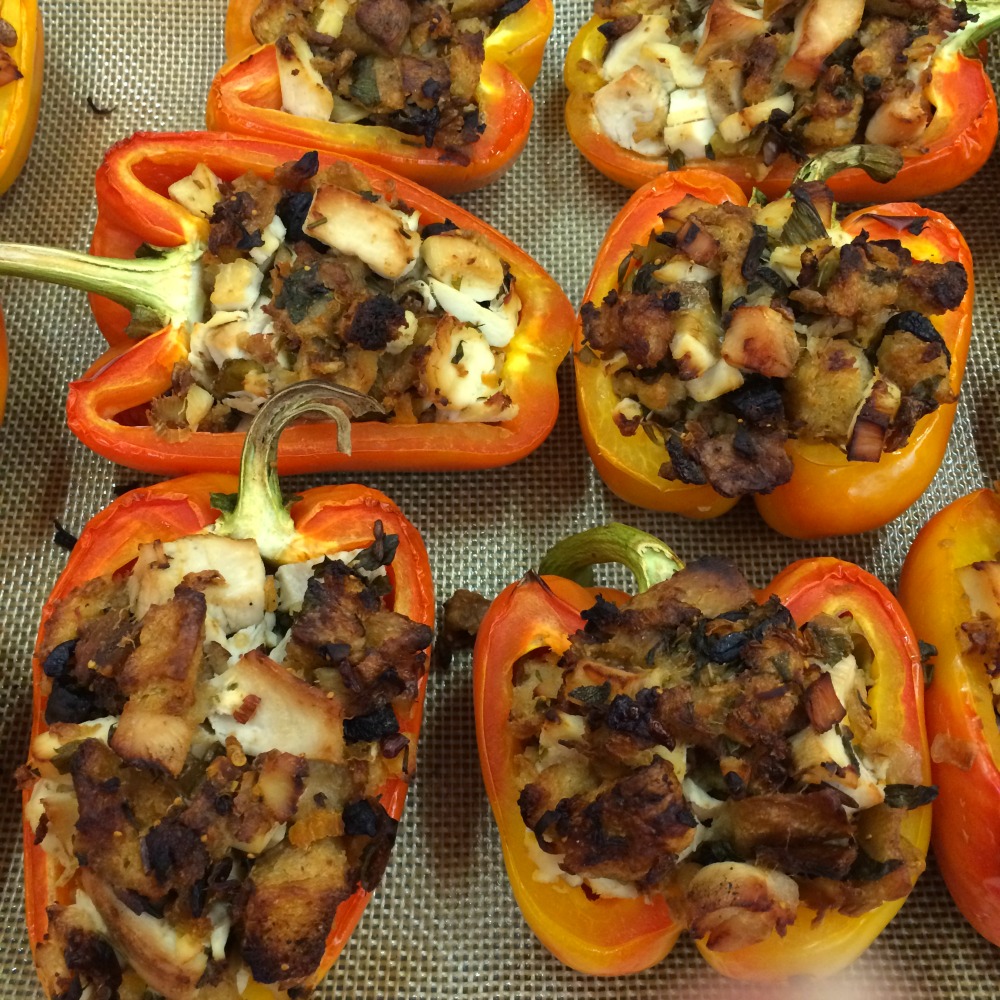 …and they're out of the oven. Perhaps my oven rack was a bit high from a prior recipe, so the pointy edges of the stuffing got a tad charred. I like it this way, but if you don't, make sure your oven rack is in the center.
Four ingredients, a little tanning time in the oven, and turkey has a whole new life. Let's go!
Turkey and Stuffing Stuffed Peppers
Turkey and Stuffing Stuffed Peppers are a super easy and delicious way to deploy Thanksgiving leftovers.
Ingredients
6 bell peppers (I used Enjoya Stripy Peppers, but you can use any red, orange or yellow bell)
2 1/2 cups diced cooked turkey
1/2 cup shredded Provolone cheese (optional)
.

To serve:

Leftover gravy or leftover cranberry sauce (I adore this version)
Directions
Turn oven on to 400F degrees. Line a baking sheet with a Silpat or parchment paper or foil.
Cut peppers in half lengthwise (split them right down the middle, with half the stem on each side), and scoop out seeds and discard. Trim away any large ribs inside, so there is room for stuffing. You may leave stems on if you like; it's sort of decorative. Or remove, your choice.
In a large mixing bowl, mix turkey, stuffing and cheese. I use my hands, and use a light touch. You will be using your hands for the next step, so you might as well get in there.
Once mixed, take a handful and stuff into each pepper half. I pack it in, using all the mixture among the 12 half peppers. Set each pepper half on the prepared baking sheet.
Bake for about 30 minutes. Remove and serve, 1 to 2 pepper halves for each serving, depending on what else goes on the plate.
Serve with a crisp green salad (maybe a spinach salad?), and some cut fruit on the plate, for a very healthy meal.
Serves 6-8.
Notes
Troubleshooting: If your leftover stuffing seems dry, add a bit of chicken broth or vegetable broth to it while in the mixing bowl. You want the stuffing moist, but not soupy. If you forget this, you could always sprinkle each stuffed pepper half with 1 teaspoon to 1 tablespoon of broth before popping into the oven.
To cover or not to cover: Some recipes call for covering the baking dish or tray with foil. I don't like to waste steps, and I find the texture of the peppers is better (to me!) if I don't cover with foil. Wrapping with foil before baking sort of steams the peppers, making them softer and mushier. I like my peppers with a little body left.
Recipe source: Dorothy Reinhold | Shockingly Delicious
https://www.shockinglydelicious.com/turkey-and-stuffing-stuffed-peppers/
Copyright Dorothy Reinhold | ShockinglyDelicious.com. All rights reserved.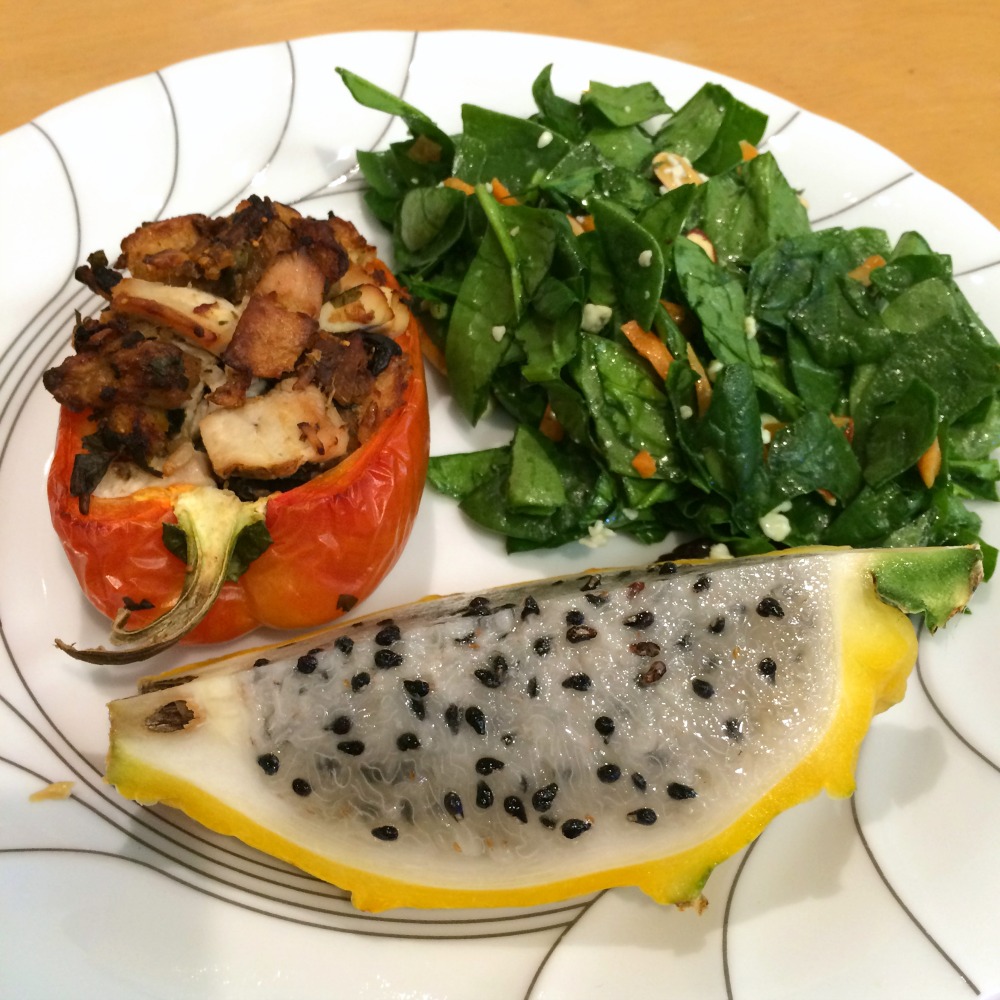 Here's what dinner looked like that night. Add a green salad and some fruit and you're good to go!
What are Enjoya Peppers?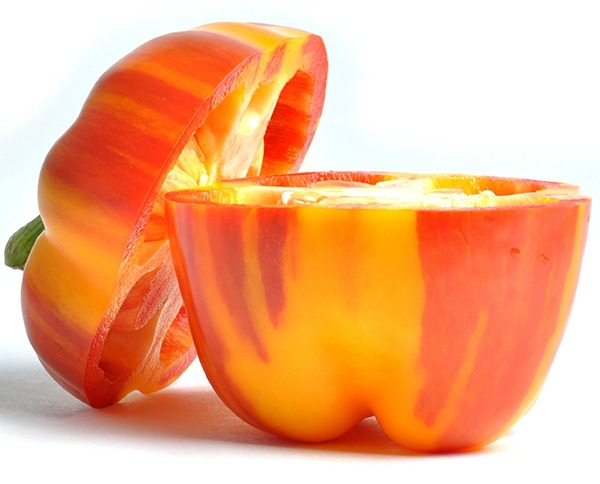 You might not have ever seen these peppers before! They're colored more like a Gala apple than a bell pepper, with a rosy red striping over a canary yellow background. They were developed rather recently. In 2013, Wilfred van den Berg found this beautiful variety, grown by chance, in his greenhouse in The Netherlands. He was impressed with the pepper's unique characteristics, and partnered with a group of other greenhouse growers to develop the strain and produce enough quality and volume to enter the marketplace.
Enjoya peppers are pleasantly sweet, very crunchy, crisp and juicy, like other bell peppers. They are denser than other peppers, and each one can weigh a hefty three-quarters of a pound! Your vegetable dip platter will go from blah to WOW, and of course they do very well stuffed. Enjoyas make it easy to eat a rainbow of colors! (See the way the pepper is cut in the picture above? That's NOT the way you'll cut it for this recipe. For this one, you'll cut it in half lengthwise.)
Pin this recipe for Turkey and Stuffing Stuffed Peppers to your Pinterest board to save it!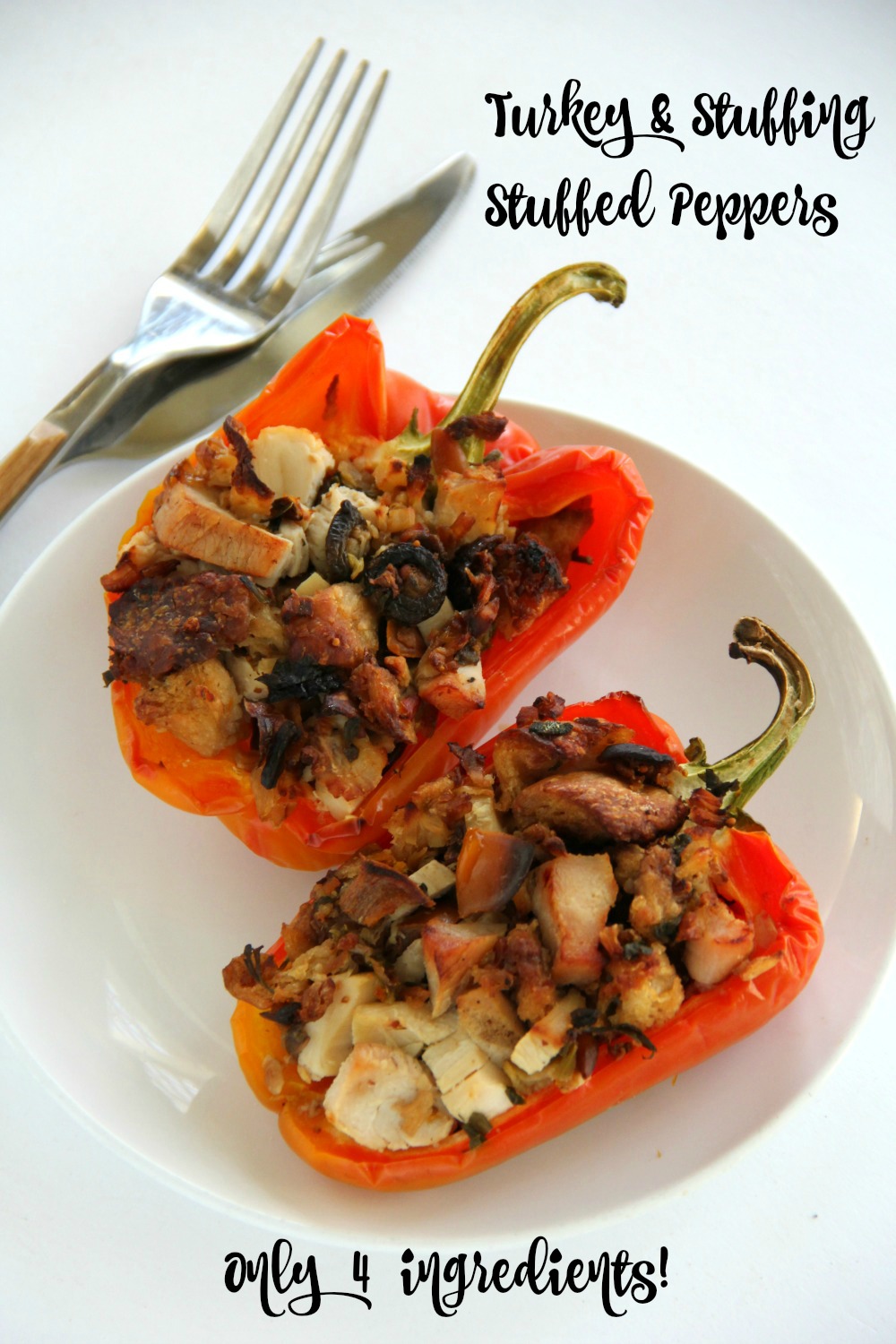 Want more easy stuffed pepper recipes?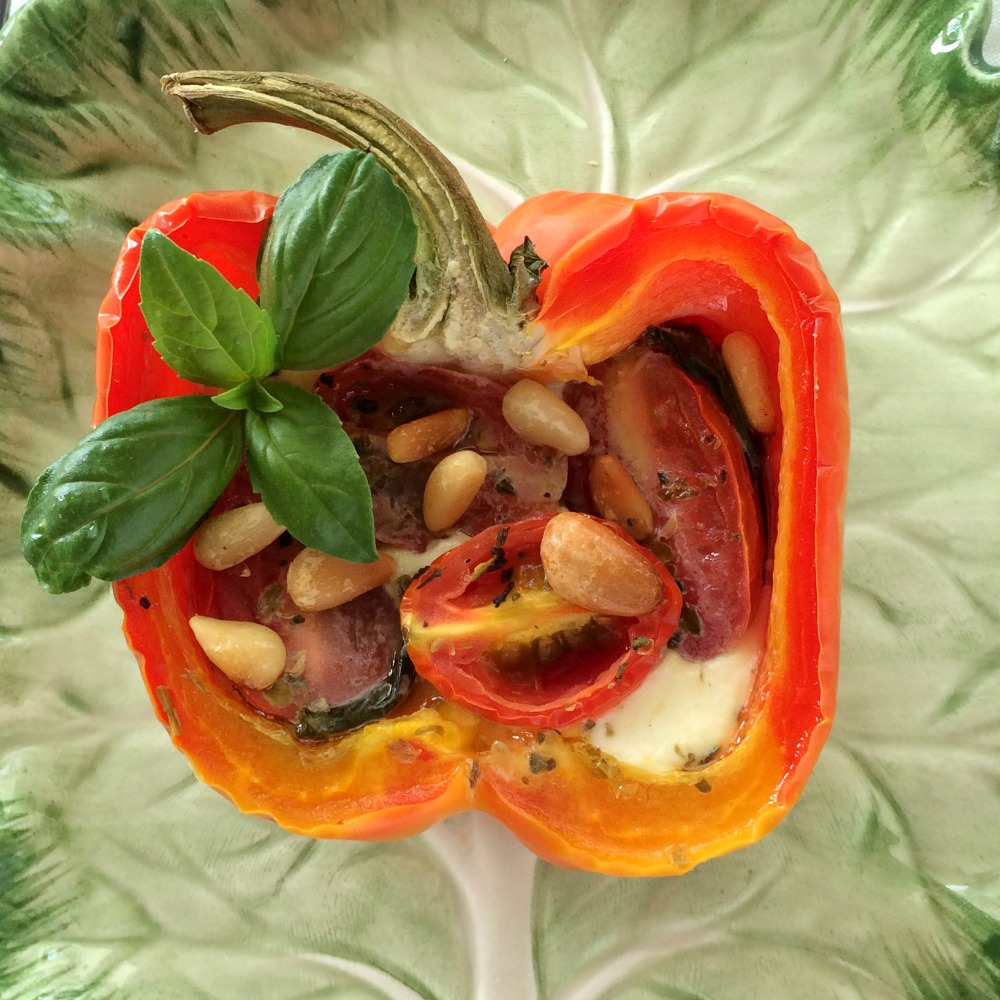 4-Ingredient Caprese Stuffed Peppers (Vegetarian)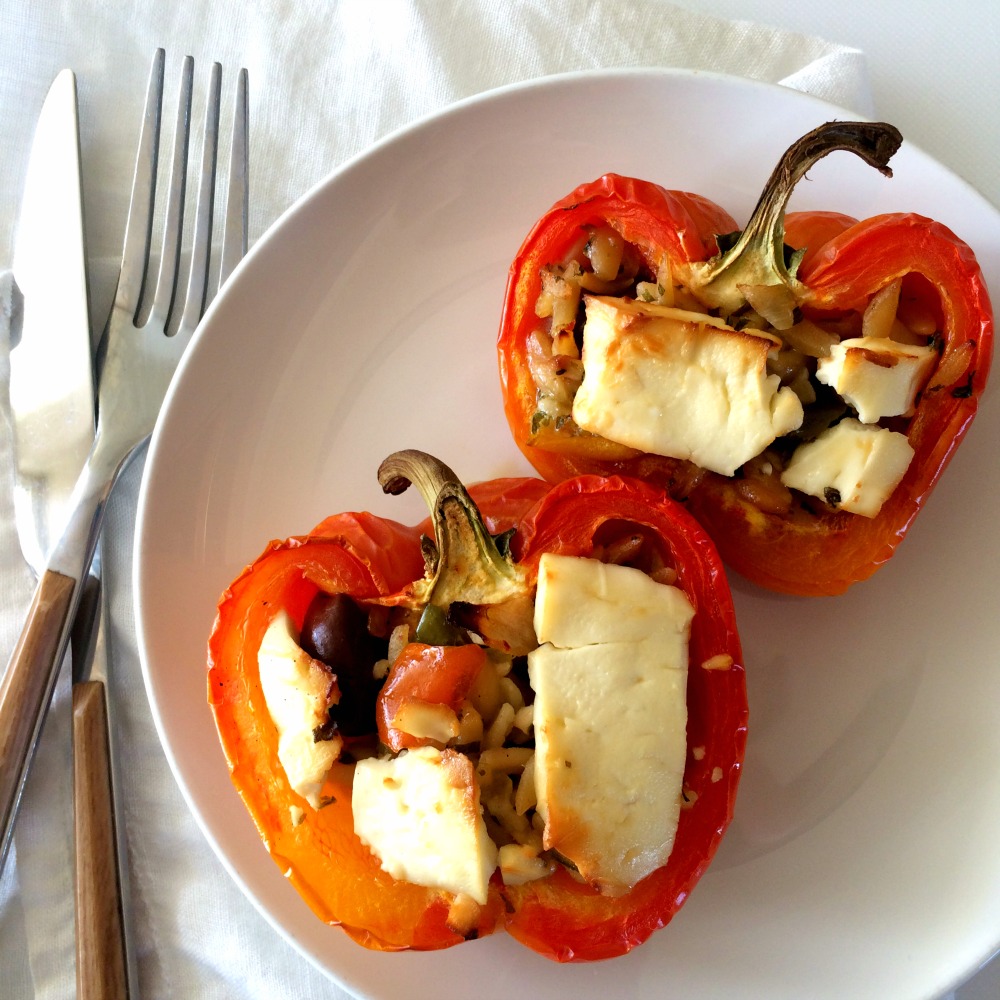 3-Ingredient Greek Stuffed Peppers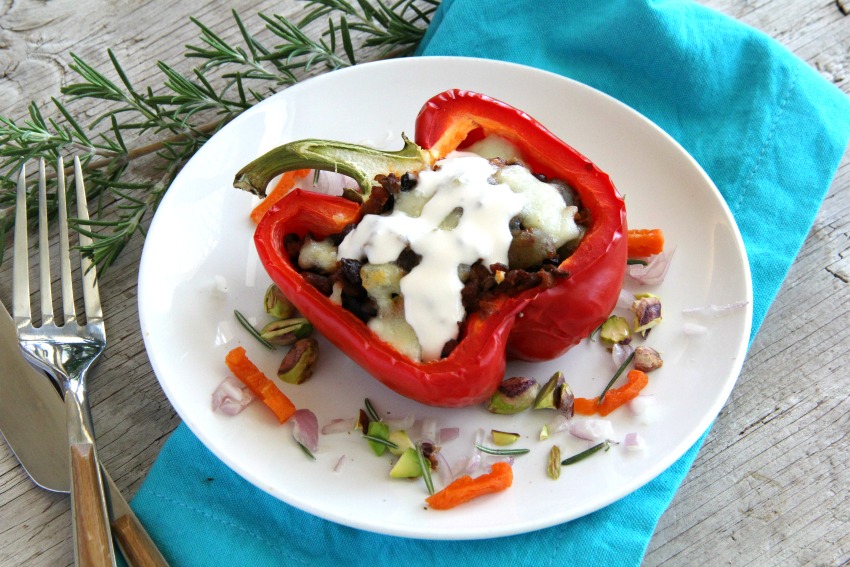 Picadillo Stuffed Peppers with Chorizo, Lentils, Cauliflower and Mushrooms (Vegetarian)
This post was originally published Nov. 19, 2017 and has been refreshed and republished today.
Thanks for visiting…are you hungry for more? Follow Shockingly Delicious on…
FACEBOOK | PINTEREST | INSTAGRAM | TWITTER
…for all the latest recipes, ideas and updates!
This post may contain affiliate/referral links. It is a way for this site to earn advertising fees (at no cost to you) by advertising or linking to certain products and/or services that I approve and prefer. Thank you for using my affiliate link to shop, so I can continue to bring you shockingly delicious recipes!