Print This Post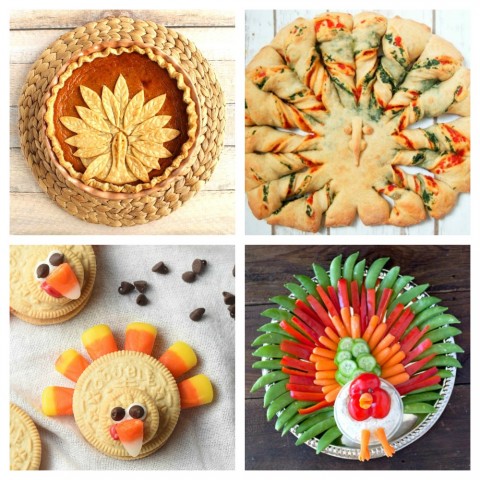 Delicious turkey-shaped foods to amuse and delight for Thanksgiving time (maybe we'll call it holiday humor you can eat!). From appetizers to dessert, and the day-after sandwich, we have it covered!
Let's talk turkey, shall we?
What if you went hog wild, as it were, with your turkey theme for Thanksgiving? Wouldn't that be a hoot?
These dishes are all amusing, delightful and look utterly delicious.
Let the Thanksgiving fun begin, with these turkey-shaped foods!
Adorable, inspired AND delicious. This gives the phrase "stuffed like a turkey" new meaning! From Caroline's Cooking.
Even the kids won't protest eating their vegetables. From Eating Richly Even When You're Broke.
You know that spinach dip in a bread bowl that everyone loves? This is even better. From Kudos Kitchen by Renee.
Personalize this one with your choice of fruits. From Steve Dembo on Flickr.
Get yourself in the mood for what's to come with this favorite dip. From Fork & Beans.
Cheese and crackers just doesn't get any better than this! From Also That's It.
Frozen bread dough rolls make these easy. How cute would these be in the bread basket? From Persnickety Plates. 
My favorite side dish (stuffing!) comes to the table in style! From Fork & Beans. 
Grab and go…that's what everyone will be doing with these cute things. From Belly Full.
You'll have the prettiest pie on the table. A great tutorial from Kudos Kitchen by Renee.
And these, for your day-after meals!
OK how cute is this sandwich? What if you made your day-after turkey sandwich and cut it this way? From Arts & Crackers
Repurpose your leftovers — turkey, gravy, vegetables, stuffed into a turkey-decorated turnover and baked until golden. The Novice Chef shows us the how easy it can be.
Pin the image below to save this article to your Pinterest board!

Permission granted from respective bloggers' websites to republish photos.
This article was originally published Nov. 15, 2016, and has been updated.