Print This Post
These 3-Ingredient Greek Stuffed Peppers seem fancy, but take only about 10 minutes to put together, and 30 minutes to bake. Deli-counter orzo salad is the key to keeping the ingredient list low.
Three-ingredient recipes are my new favorite thing. If I can jam pack a bunch of flavors into dinner using a minimum number of measuring tools, pans, knives and whatnot, I'm a happy camper.
And if it tastes wonderful when it comes out of the oven, then I am #winning. Are you with me in that club?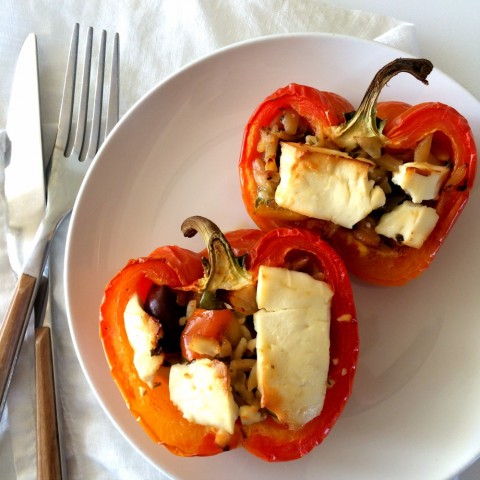 My son's favorite item from the deli counter at the supermarket is a Greek Orzo Salad, with cooked orzo, bell peppers, Kalamata olives, parsley, red onion, sun-dried tomatoes and feta in an olive oil vinaigrette dressing. It's really good, and when I feel like indulging him, I will pick up a container.
If I tell you he is 15, you won't be surprised that he can eat the whole container in one sitting sprawling on the couch. If you have a teenager, you understand.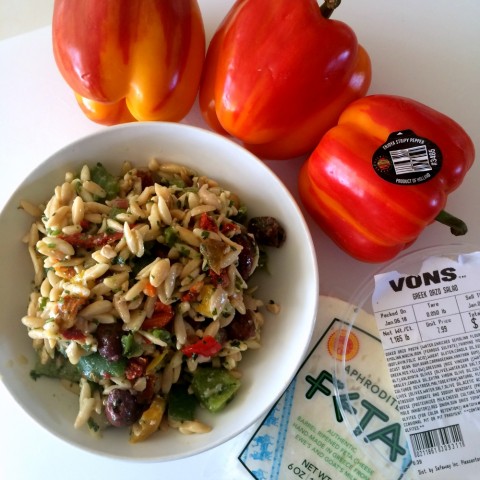 But the other day when I bought a container of it, I looked at the Enjoya Stripy Peppers on my counter, and *bing* (that was the sound of my synapses firing). I envisioned the orzo in the pepper, with some feta on top, to continue the Greek theme.
It's a bit of a cheat to think this only has three ingredients in the recipe since the salad has a dozen things in it. But if I can buy the ingredient with the dozen components, the game is on!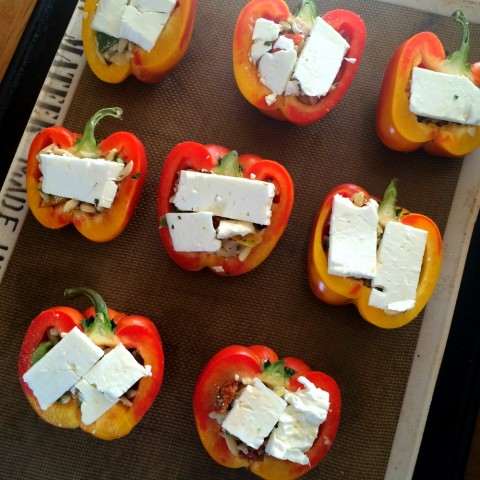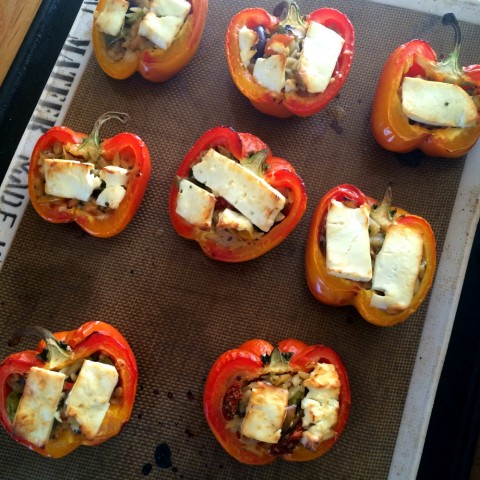 This ended up being was a winner, winner, stuffed pepper dinner.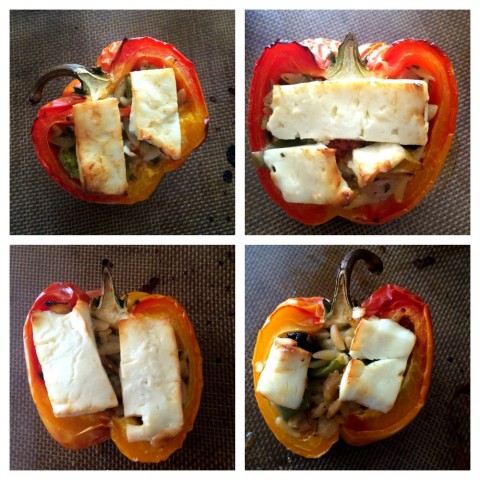 3-Ingredient Greek Stuffed Peppers
Stripy Enjoya Bell Peppers are stuffed with deli Greek Orzo Salad and topped with feta before baking. Easy and delicious! Looks fancy, but takes only 10 minutes to put together.
Ingredients
4 bell peppers (I used Enjoya Stripy Peppers, but you can use any red, orange or yellow bell)
1 1/2 cups deli Greek Orzo Salad (see note below)
3 ounces Greek feta cheese
Directions
Turn oven on to 400F degrees. Line a baking sheet with a Silpat (or silicone baking mat) or parchment paper or foil.
Cut peppers in half lengthwise (split them right down the middle, with half the stem on each side), and scoop out seeds and discard. Trim away any large ribs inside, so there is room for stuffing. You may leave stems on if you like; it's sort of decorative. Or remove, your choice.
Spoon prepared salad into the pepper cavities, stuffing well. Set each pepper half on the prepared baking sheet. Add slices of feta to the top of each pepper, and press lightly to adhere.
Bake for about 30 minutes. Remove and serve, 1 to 2 pepper halves for each serving, depending on what else goes on the plate.
Serve with a crisp green salad, or on a bed of some wilted greens (spinach?), and some cut fruit on the pate, for a very healthy meal.
Serves 4-6.
Notes
Note: I bought my Greek Orzo Salad at the supermarket deli. You could use any grains-based mixture you like. This version has in it: cooked orzo, bell peppers, Kalamata olives, parsley, red onion, sun dried tomatoes and feta in a vinaigrette dressing.
Recipe source: Dorothy Reinhold | Shockingly Delicious
https://www.shockinglydelicious.com/3-ingredient-greek-stuffed-peppers/
Copyright Dorothy Reinhold | ShockinglyDelicious.com. All rights reserved.
If you like this recipe and want to save it, pin the image below to your Pinterest board.

Try these other stuffed pepper recipes: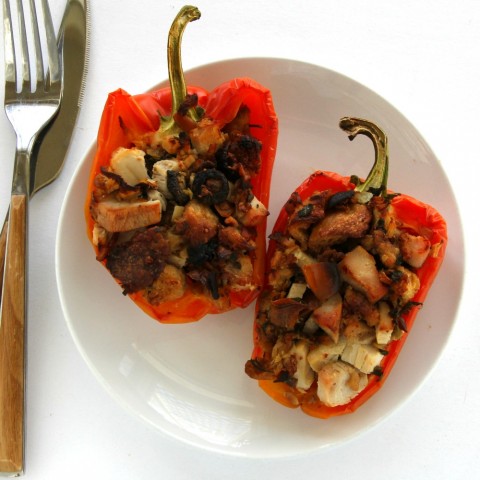 4-Ingredient Turkey and Stuffing Stuffed Peppers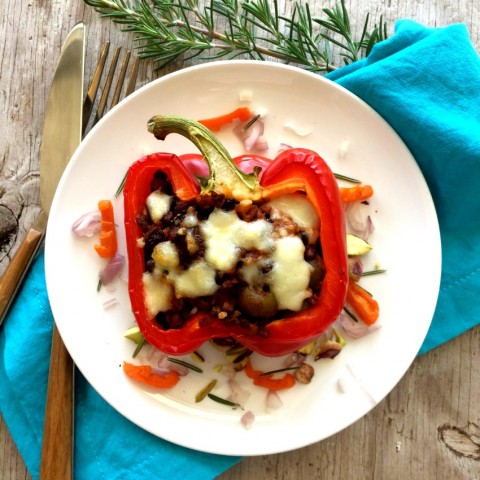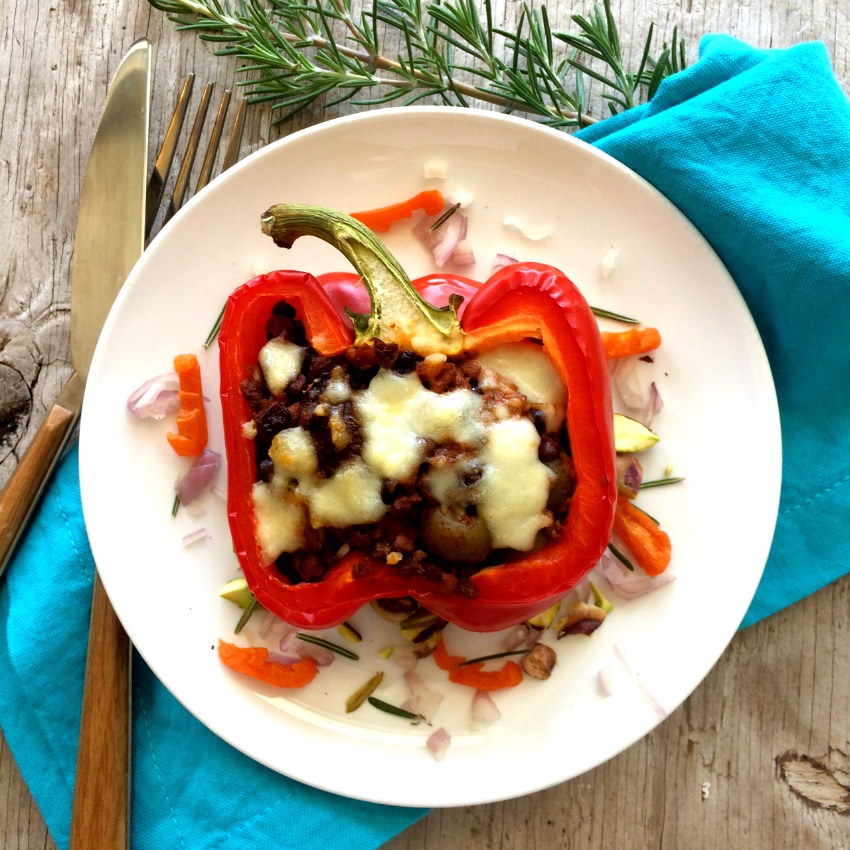 Vegetarian Picadillo Stuffed Peppers 
Disclosure: Melissa's Produce provided the Enjoya Stripy Peppers for recipe development.