Print This Post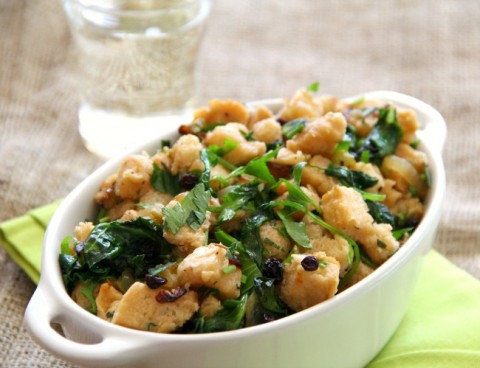 As we head into Thanksgiving time, may we all pause and be grateful for what we have.
That's not a question, I mean it more as a statement. Take a moment, take a breath, take your time, and pause amid the meal-planning, housecleaning, pre-4-day-weekend work frenzy and Thanksgiving anticipation to simply give thanks for what you have.
You'll know the best way to do that, for yourself.
For me, it will mean reflecting on all the family and relationships I have been lucky enough to have, including my mother, whose excellent cooking has ultimately inspired me, my husband and kids, who are enthusiastic diners at the table, and the rest of my family and in-law family, who are game to try anything I come up with.
Even more than the turkey, when I think back to Thanksgivings of my childhood, the dish I always looked forward to was the stuffing. Back then I didn't even care about the mashed potatoes (can you imagine? My now-beloved spuds, rejected?)…just give me double the stuffing and call it a meal. I would even eat stuffing for breakfast the next morning. Cold.
So I've made many a stuffing myself, in my adult life, trying to tame the beast within. I've done it in the Crock-Pot, the oven, the bird. My most famous stuffing — Dorothy's Southwest Stuffing — won 1st prize in a magazine contest a few years ago. The checker at my local market, who saw the article about it, now asks me every November, "Are you making your stuffing this year?"
These days, I'm partial to greens, so I like to chock my stuffing full of not only greens, but fresh green herbs. It's almost like a salad met a loaf of bread and got married. The herbs really enliven it, and the greens provide not only a nutritious boost, but make it pretty.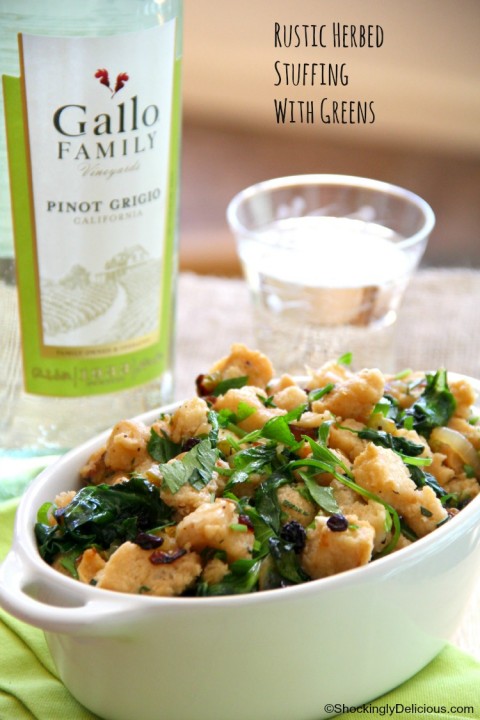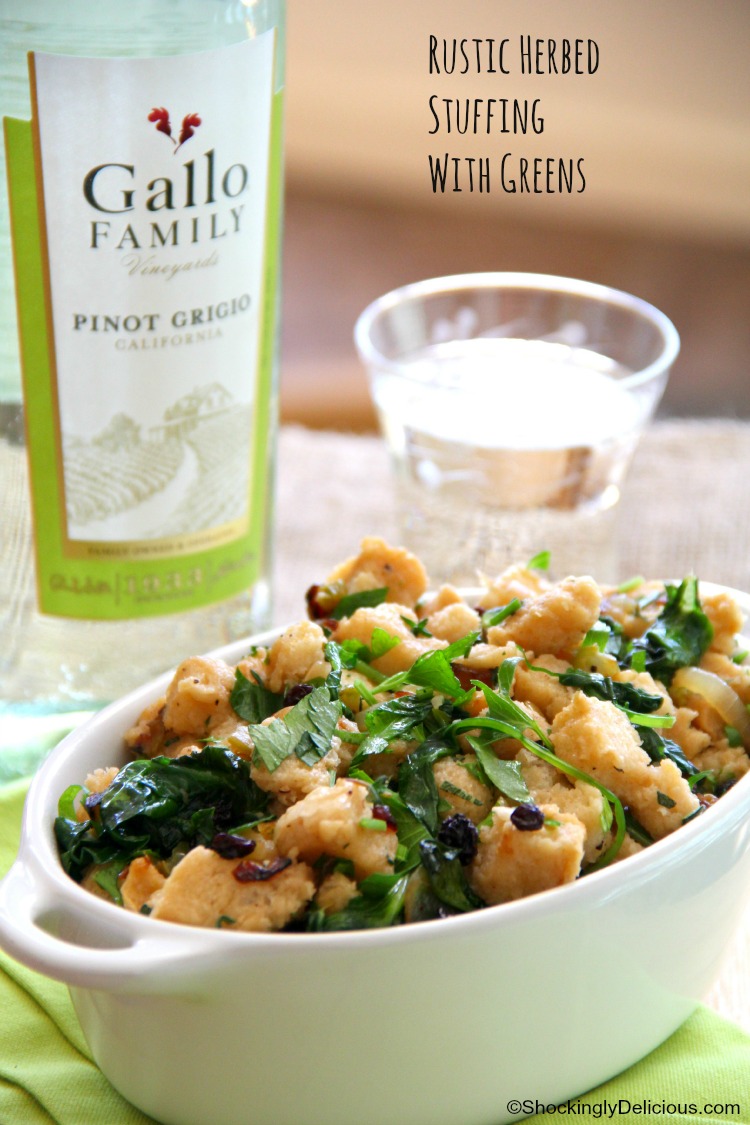 My mom approves. Add that to the gratitude list.
Let's raise our glasses today to all that we have. Gallo Family Vineyards has two Pinots that work well with turkey and all the trimmings, and are both people-pleasing wines. Fill your glass, and join me in my father's classic, to-the-point toast:
"Good bread, good meat, good God, let's eat!"
Rustic Herbed Stuffing with Greens
A good loaf of day-old sourdough is the starter for this seductive stuffing chock full of fresh green herbs and greens.
Ingredients
1 (1-pound) loaf sourdough bread
4 tablespoons olive oil
1 large yellow onion, cut into a dice
2 celery stalks, cut into a dice
3 fat garlic cloves, finely minced
1 (5- to 6-ounce) package cleaned kale or baby kale leaves
1/2 cup chopped fresh Italian parsley leaves
Heaping 1 tablespoon finely chopped fresh sage
Heaping 1 tablespoon finely chopped fresh thyme
Heaping 1/2 cup currants
2 1/4-3 cups low-salt vegetable broth
Kosher salt and freshly ground black pepper
Directions
A day or two before:

Cut the bread into slices, and then cut those slices into small cubes. Arrange on two baking sheets and allow to dry on the counter, overnight (or two nights).

The day of:

When ready to make stuffing, heat oven to 400F degrees.
In a large skillet, heat olive oil over medium heat. When hot, add onion and celery, and sauté, stirring frequently, for about 10 minutes. The onion will begin to caramelize and get brown. Add garlic and sauté for another minute. Turn heat off and add greens, stirring and folding to combine with the onion-celery mixture. As you do this, the greens will wilt down slightly, which will make it easier to combine them into the stuffing in a later step. Take pan off the hot burner and set aside until you need it in a minute.
In a very large mixing bowl, add the dry bread cubes, parsley, sage, thyme and currants. Mix to combine. Pour 2 cups broth over the bread mixture, and using your clean hands, mix and toss the bread until it is evenly moistened. Use additional broth if the bread is still absorbing liquid. You want the bread to be moist through and through, but not soggy. I usually allow the mixture to rest for 15 minutes to allow more even soaking so I can determine if it is wet enough throughout and not just wet on the outside. How much liquid your bread absorbs will also depend on how dry the cubes are, so your mileage will vary from others. For example, I left my bread out to dry for 2 days, and I used 2 1/2 cups broth.
Taste it and see if it needs salt (it probably will if you used a very low-sodium broth; or might not if you used full-salt broth). Season with a pinch or two of kosher salt and 15-20 grinds of black pepper.
Grease a 13- by 9-inch baking dish (or equivalent) with a bit more olive oil, and turn stuffing into the dish. Cover dish tightly with foil and bake about 40 minutes. If you like a bit of a crusty top, remove foil and bake another 15 or so minutes uncovered.
Remove from oven. Serves 10-12.
Notes
Recipe source: Dorothy Reinhold | Shockingly Delicious
https://www.shockinglydelicious.com/rustic-herbed-stuffing-with-greens/
Copyright Dorothy Reinhold | ShockinglyDelicious.com. All rights reserved.