Print This Post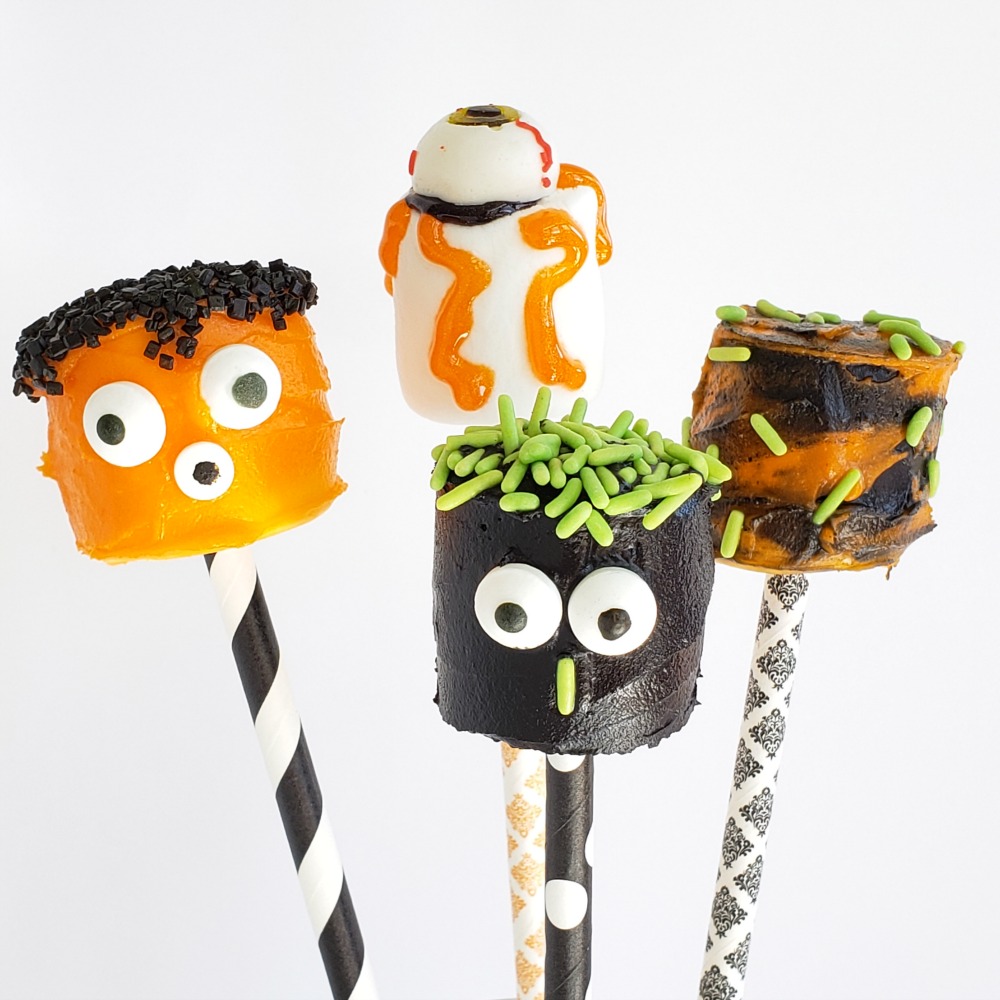 Monster Marshmallows are easy — a little frosting and sprinkles, a fun straw, and they make a big impression at Halloween time. Try making them with kids for a fun family project!
I'm not so much a cute decorated food person as I am a person who gets a delicious, healthy meal on the table every single night. I'm proud of that!
But Halloween time demands we step up the game a bit. We let loose, we celebrate the macabre, we practice spooky things. We'll put sweet things on sticks, we'll swirl some icing, we'll toss sprinkles here and there with abandon…we'll amuse and scare ourselves, and have fun doing it, I promise!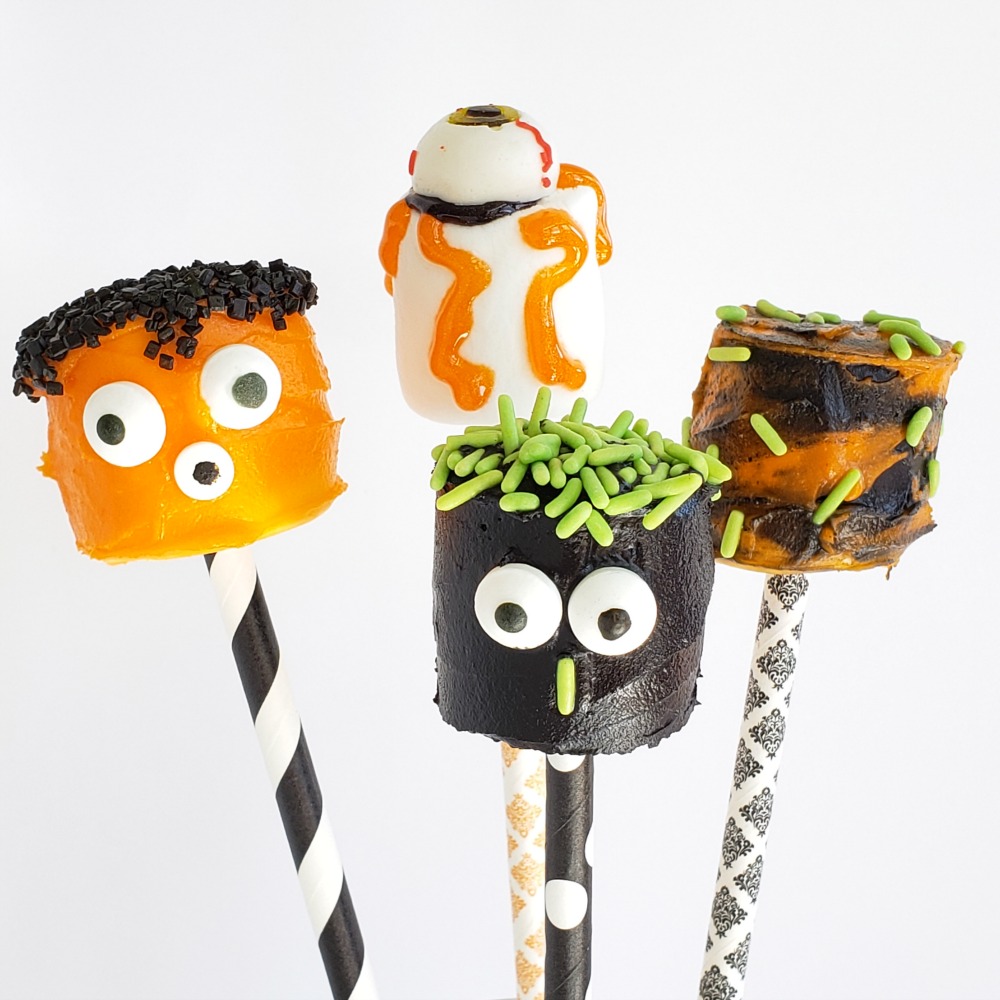 Let's begin with Monster Marshmallows, which over the year have gotten me some mommy brownie points.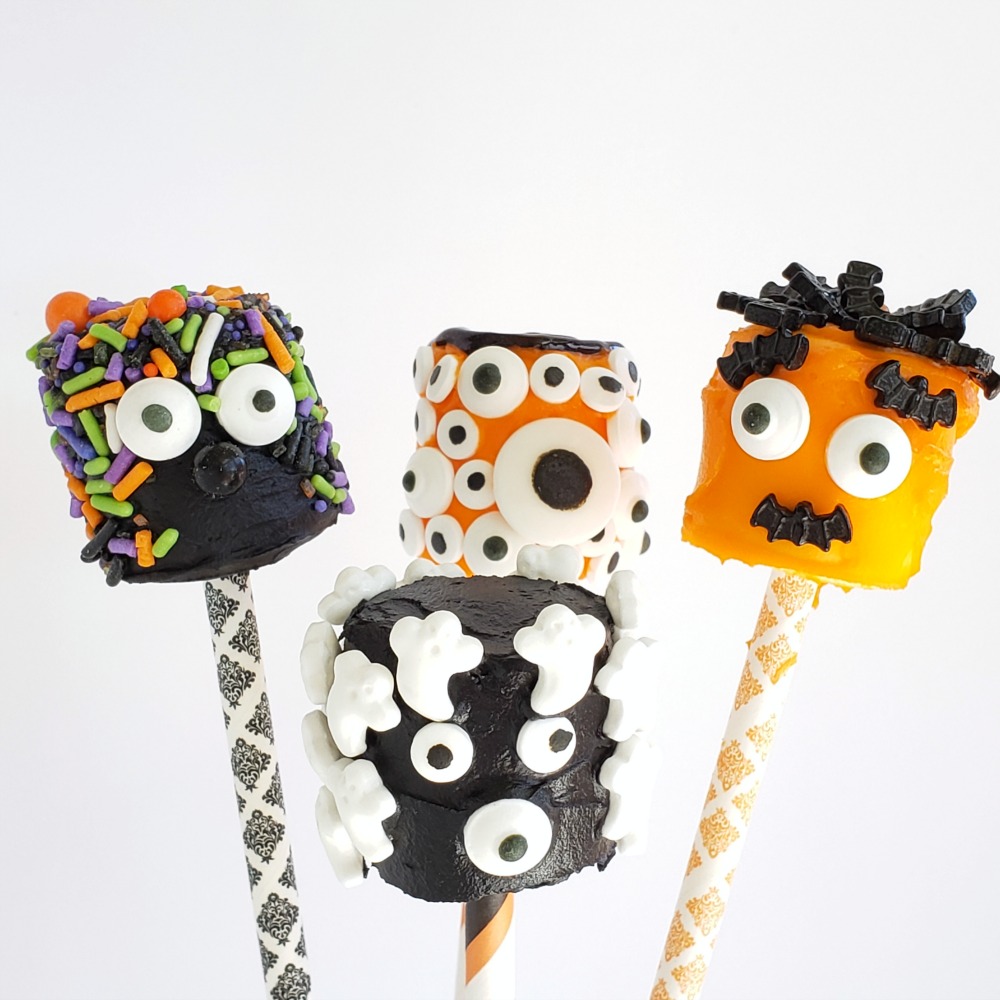 The whole trick of these is to just let your freak flag fly. Once you get started, I promise you, you will feel a creative surge and just go to town with all the decorations and sprinkles.
How to make Monster Marshmallows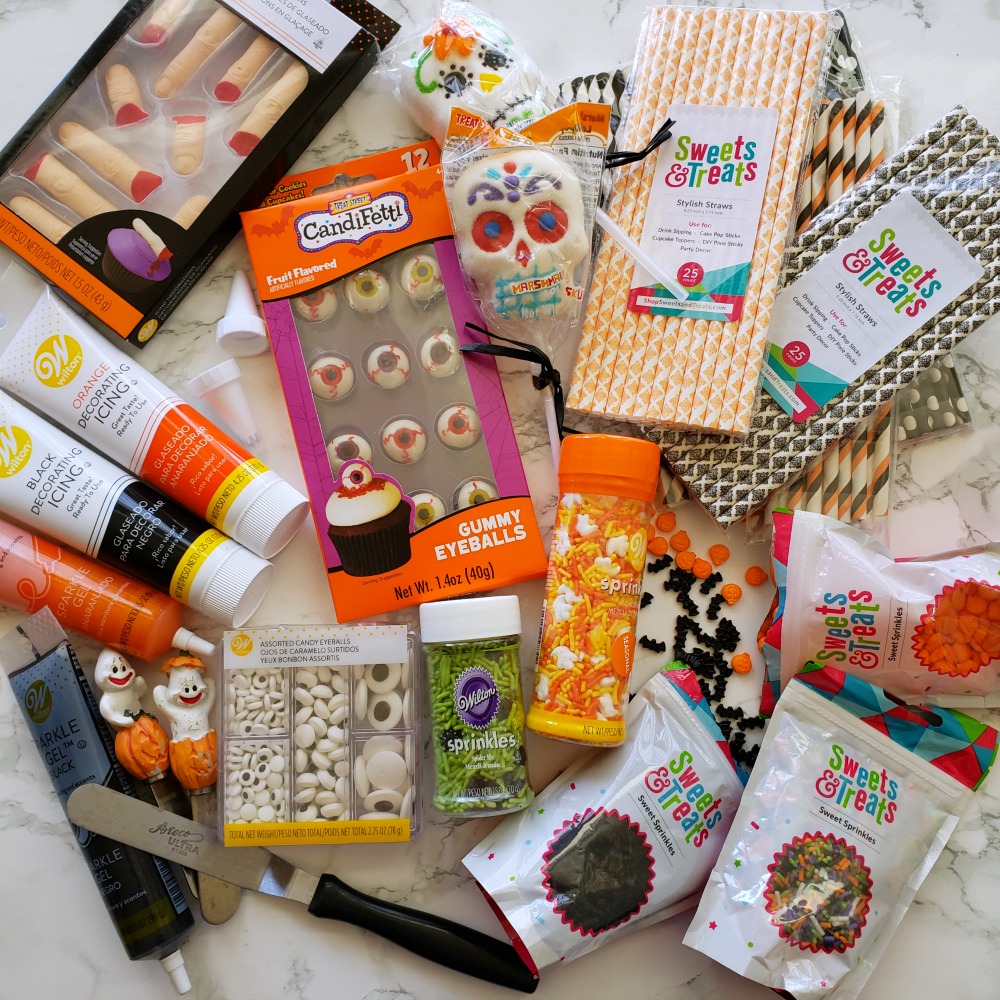 1. Assemble your decorating items. In this case, I used decorating icing, sprinkles and various candy decorations. I used the following items:
Wilton candy eyeballs (this is crucial! Don't go without these…they absolutely make the monsters!)
Gummy eyeballs and marshmallow skulls from Treat Street / CandiFetti (available at Walmart, Party City, Smart and Final, Ralphs, Stater Brothers and The Fresh Market)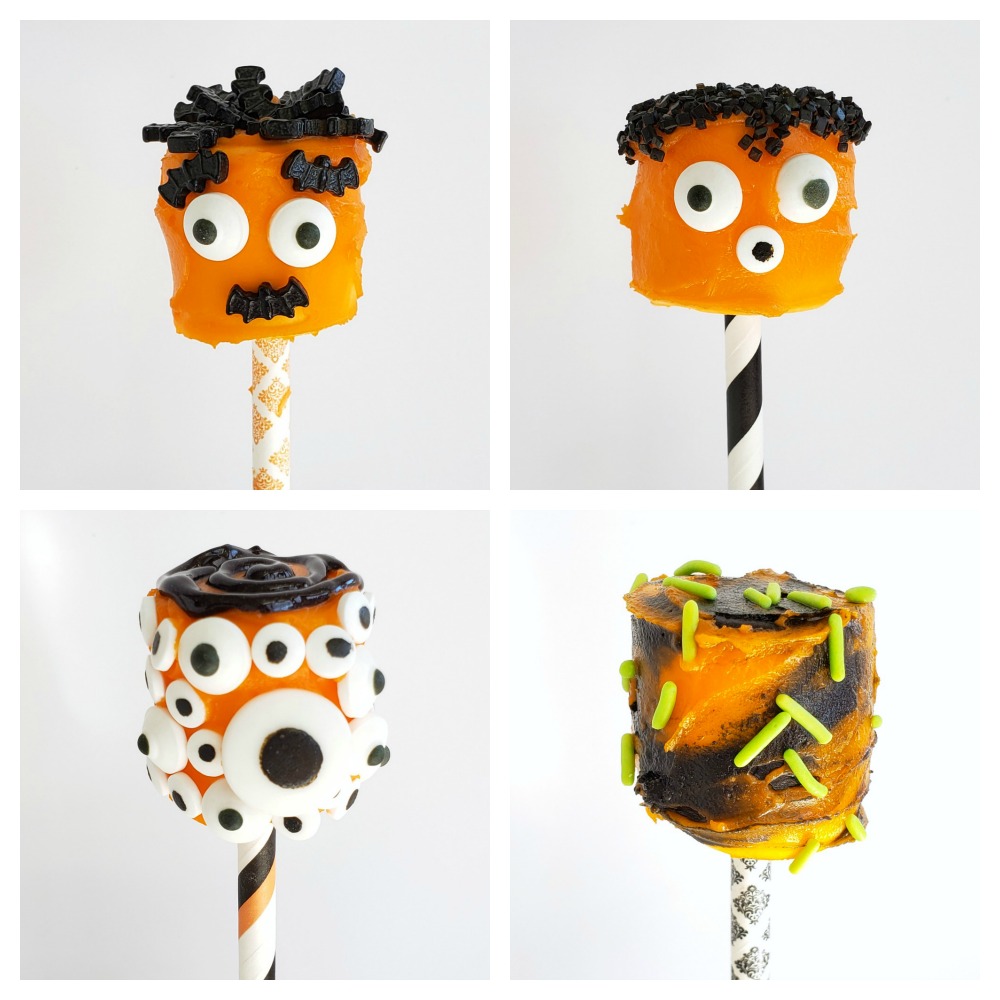 2. Go with your creative flow. Honestly, once you start, you will just experiment and know what to do.
Play. Let the 8-year-old inside you free.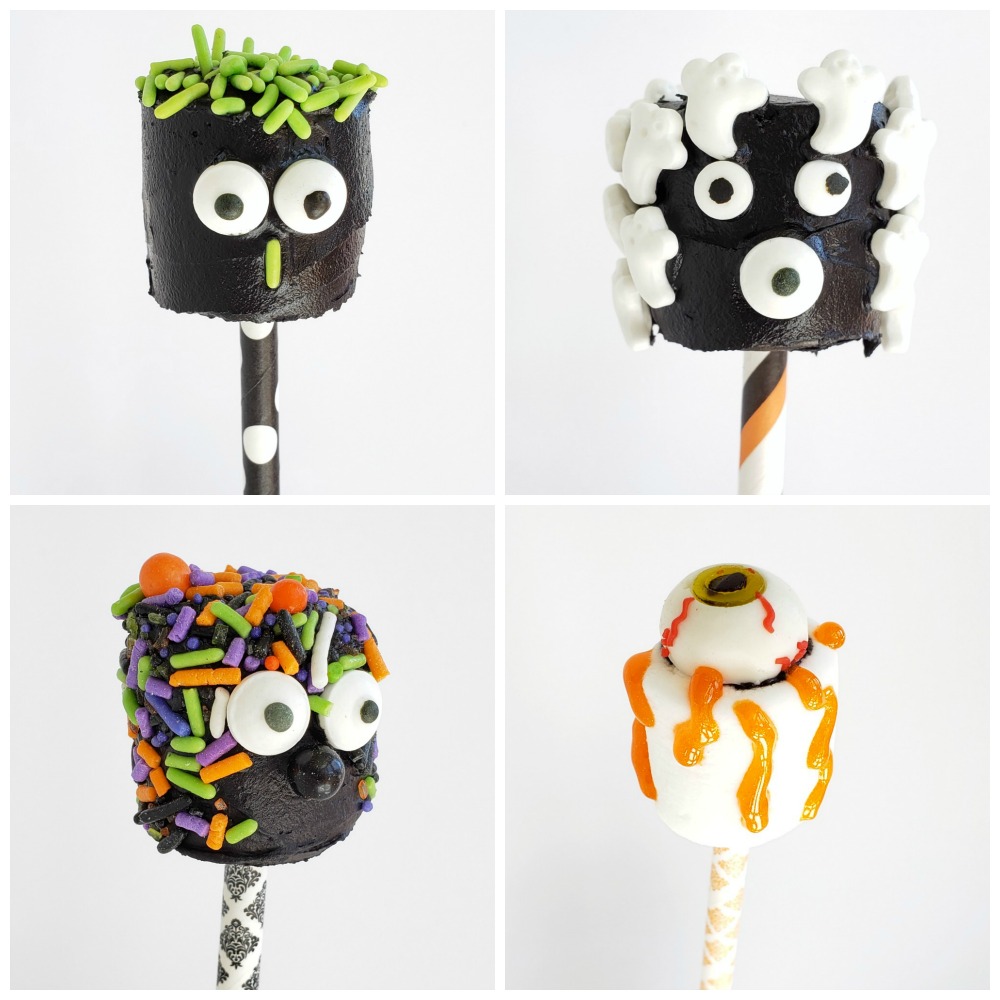 3. Or go noir…dark can be good, too.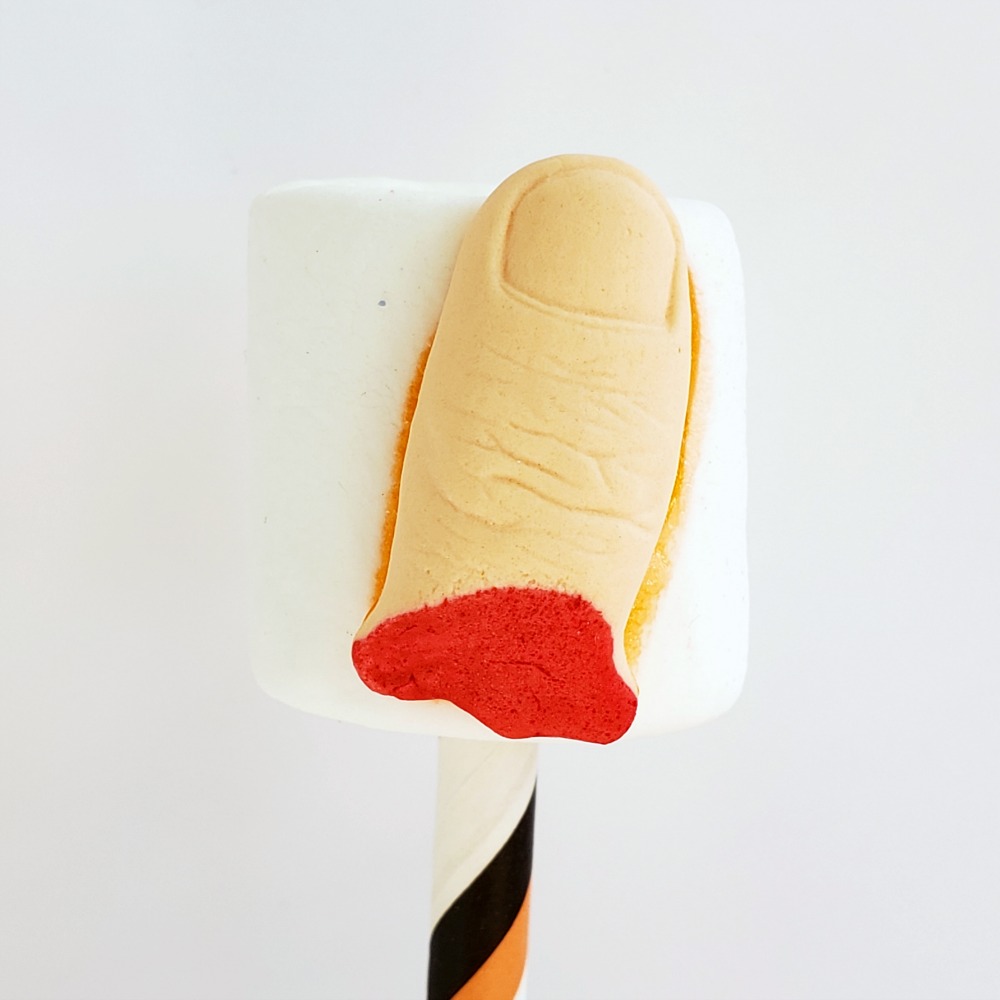 4. And then there is the wild card. Sure, it's gross, but imagine how fun this is for a kid to chomp on! I gave this to my 8-year-old neighbor and he wasn't allowed to eat it until his parents had the video cam turned on so they could record it. Yes, it's epic!
Happy Halloween!
"When witches go riding, and black cats are seen, the moon laughs and whispers 'tis near Halloween.' "
But first, let's make some Monster Marshmallows. Boo, baby.
Marshmallows on a straw become Halloween Monster Marshmallows with a little frosting and some sprinkles -- easy to do and they make a big impression! Try making them with kids for a fun family project!
Ingredients
12 regular marshmallows (not the mini marshmallows, the regular size)
12 paper straws or lollipop sticks
1 tube orange decorator icing (I used Wilton brand)
1 tube black decorator icing (I used Wilton brand)
Assorted sprinkles or other crumbled toppings (I used sprinkles from Sweets & Treats, and Wilton)
Candy eyeballs, gummy eyeballs and severed finger candy decorations, or any other gross things you like.
Directions
Ease the straws into the marshmallows without piercing through the end.
Using an offset spatula or small knife, spread 1-2 teaspoons of the icing over the mallow, covering the sides and top with a thin layer of icing. Immediately apply eyes and any sprinkles you like, and set the marshmallow on the straw, head up, in a tall glass. I sometimes add dry rice kernels to the glass, so the straws have something to grab onto and the mallow heads stay put better.
As soon as you have done 4 or so, place the glass carefully in the refrigerator for 30 minutes or so, so the frosting will harden up a bit. Continue working on the rest. Don't crowd your glass when you finish a mallow. It's always better to give them a lot of "head space." Repeat by putting the second glass of monster heads in the refrigerator to harden. Once they have hardened, they can be removed and kept at room temperature until served.
Makes 12 Monster Marshmallows. Serves....um....that's hard to tell!
Notes
Recipe source: Dorothy Reinhold | Shockingly Delicious
Timing: Does it really take an hour to do this? Maybe, maybe not. Once you begin, you'll find your creativity flowing, and you won't want to rush the process. This is more about fun and less about it being an assembly line.
https://www.shockinglydelicious.com/monster-marshmallows/
Copyright Dorothy Reinhold | ShockinglyDelicious.com. All rights reserved.
Pin the Monster Marshmallows image below to your Pinterest board to save this recipe project

Want to make the Monster Marshmallows with chocolate outside instead of icing?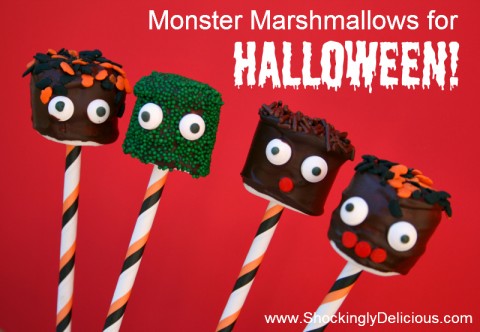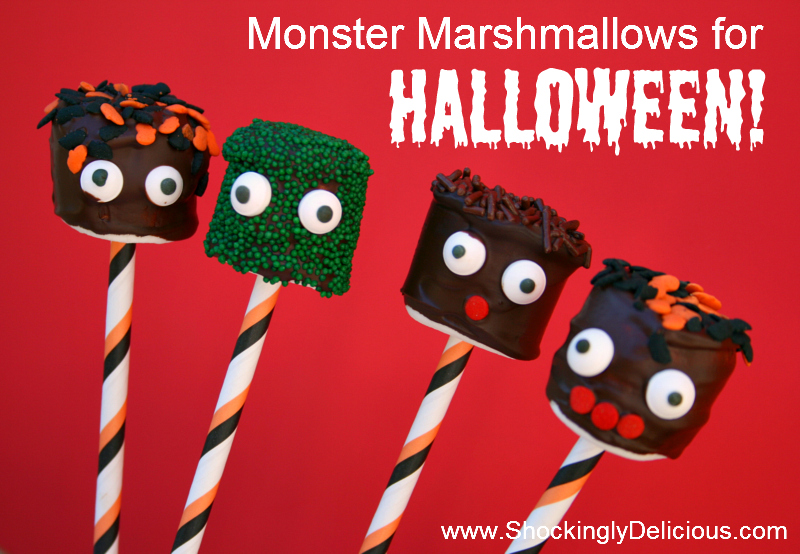 It's easy to adapt them to use a chocolate exterior. Instead of the decorator icing, simply place 1/2 cup semi-sweet chocolate chips in a small glass bowl and microwave them until melted, about 30-50 seconds, stopping to stir several times so you can gauge whether they are melted. (Chocolate chips will hold their shape even when melted, unless you stir.) Carry on with the recipe as directed, dipping the mallow head into the melted chocolate or spreading the chocolate over the mallow using an offset spatula. As with the icing, immediately apply the googly eyes and sprinkles.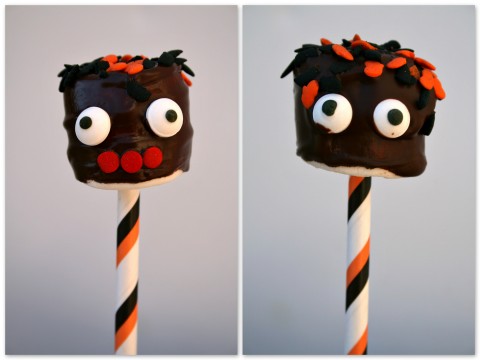 Maybe some Halloween hair colors?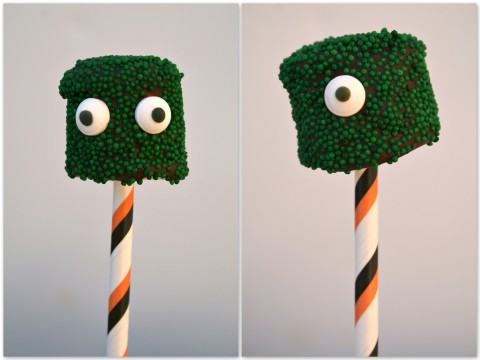 Maybe some hints o' Frankenstein?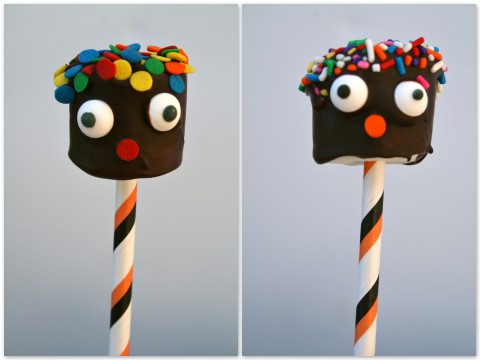 Maybe some crazy colored hair?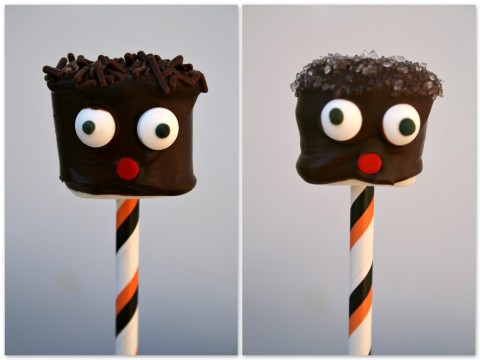 These would be great for a classroom party because they don't take too long to make but they make a big impression, or a neighborhood party if you are throwing one or invited to one.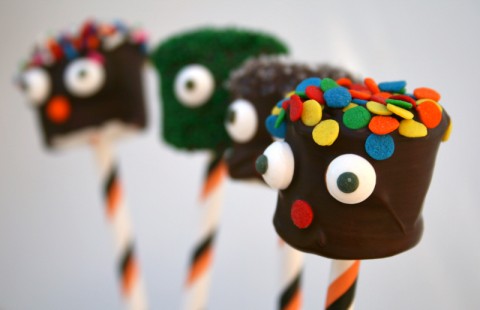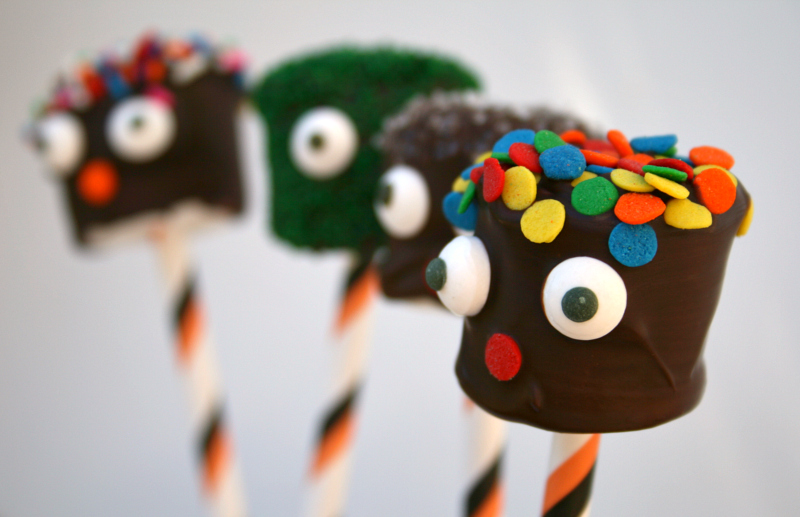 Want more Shockingly Delicious Halloween sweets?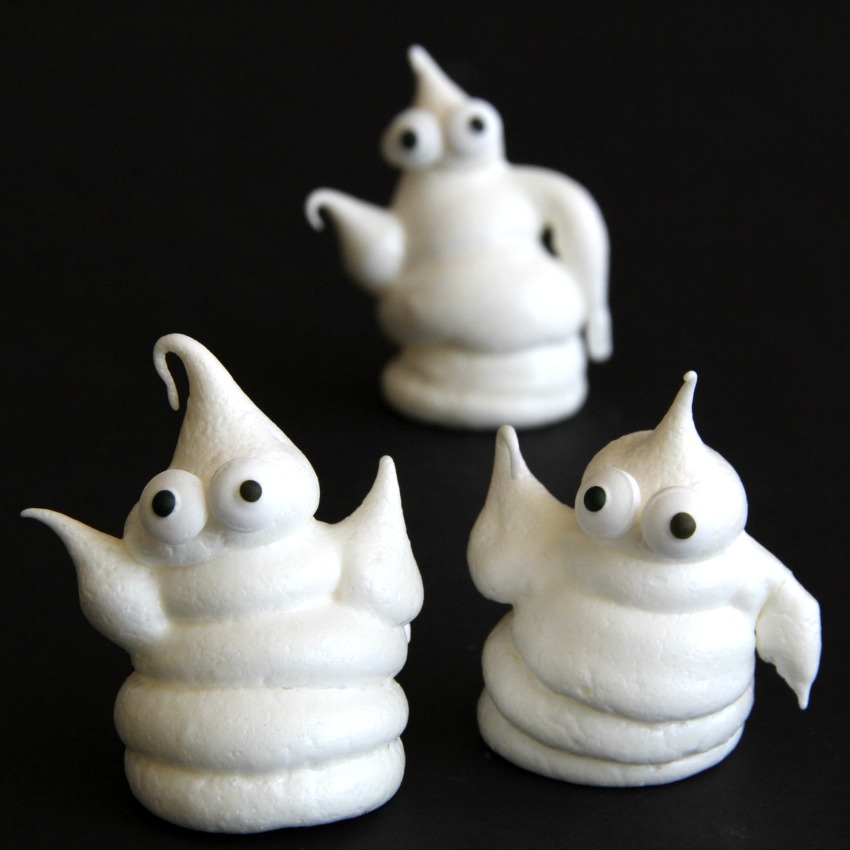 Ghost Meringue Cookies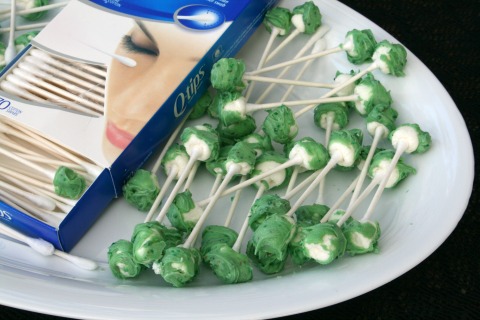 Shrek's Dirty Q-Tips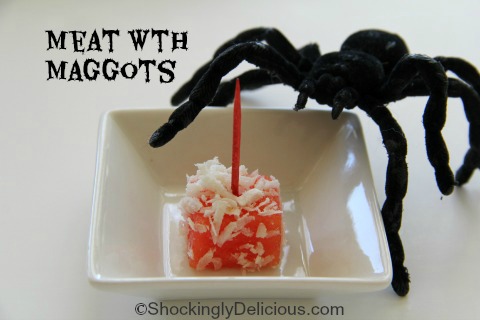 Maggots on Meat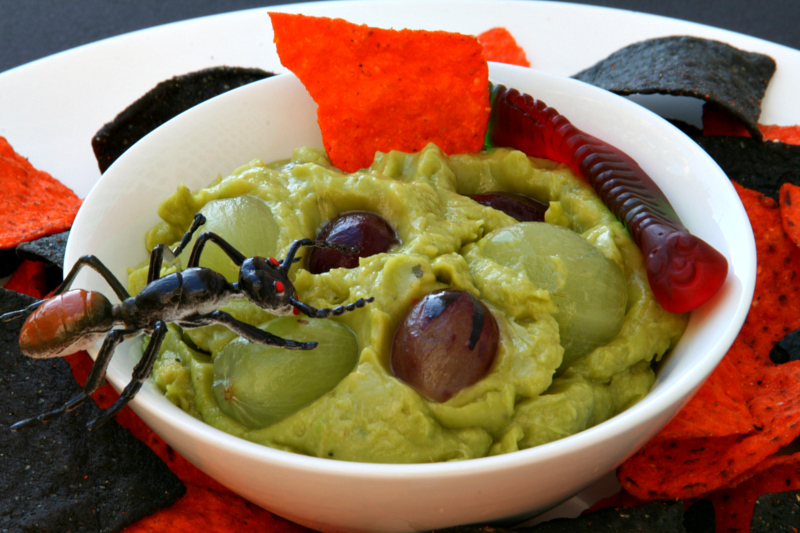 Gory Green Monster Eyeball Dip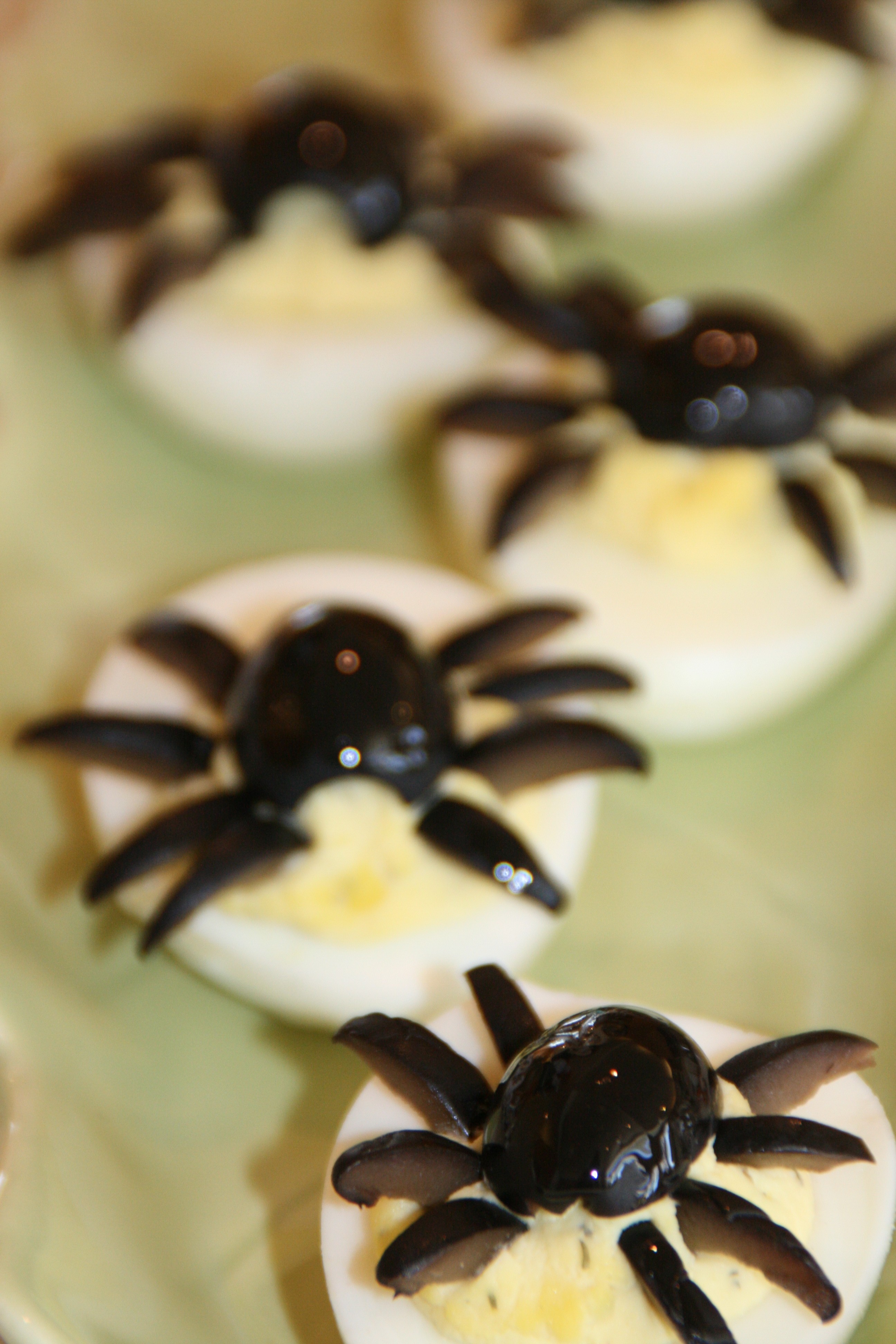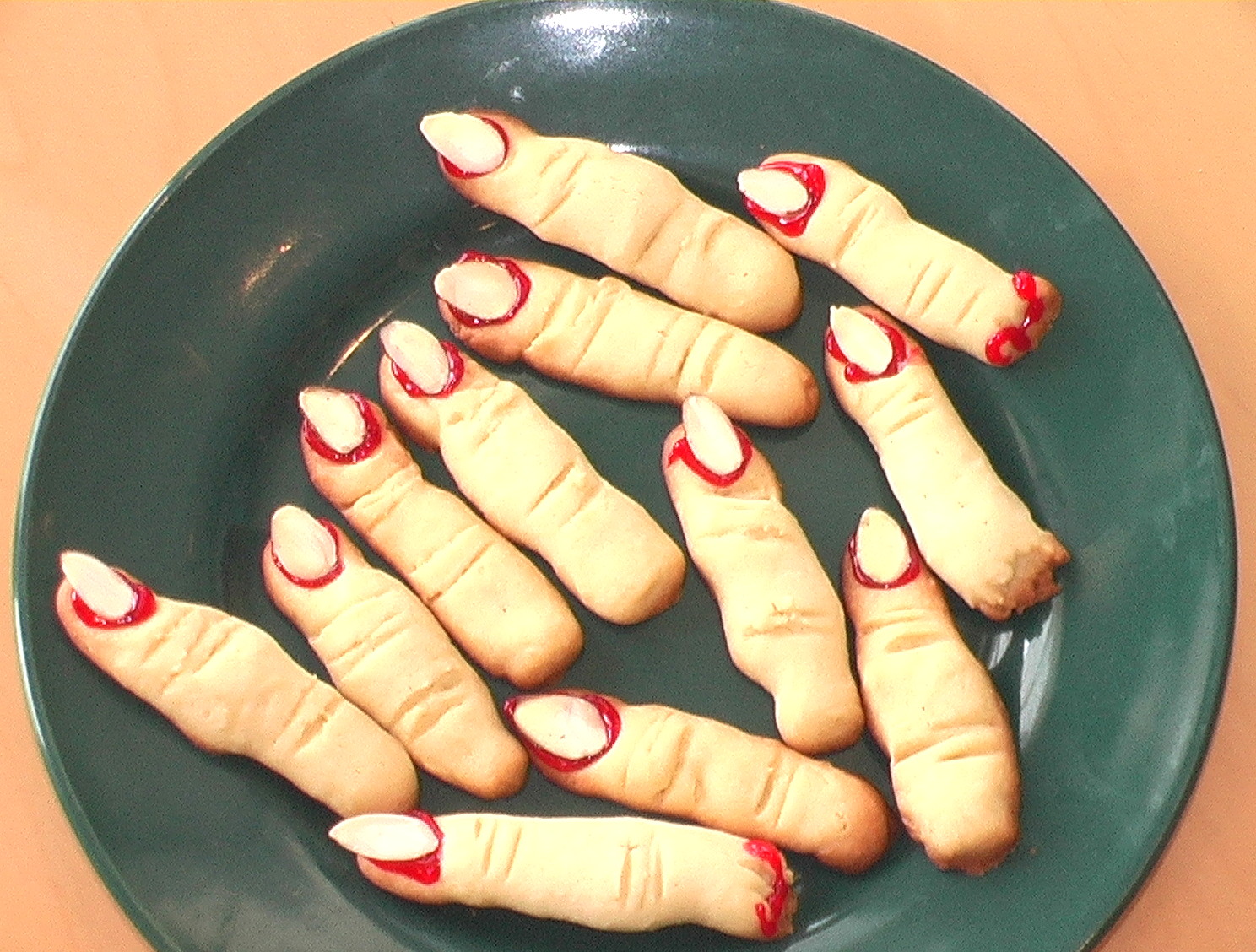 Witches' Digits
Have fun, and Happy Halloween!
A version of this post was published Oct. 29, 2012, Oct. 25, 2014, Oct. 11, 2017 and Oct. 6, 2019. It has been improved, refreshed, rephotographed, rewritten and republished today.
Thanks for visiting…are you hungry for more? Follow Shockingly Delicious on…
FACEBOOK | PINTEREST | INSTAGRAM | TWITTER
…for all the latest recipes, ideas and updates!
This post may contain affiliate/referral links. It is a way for this site to earn advertising fees (at no cost to you) by advertising or linking to certain products and/or services that I approve and prefer. Thank you for using my affiliate link to shop, so I can continue to bring you shockingly delicious recipes!