Print This Post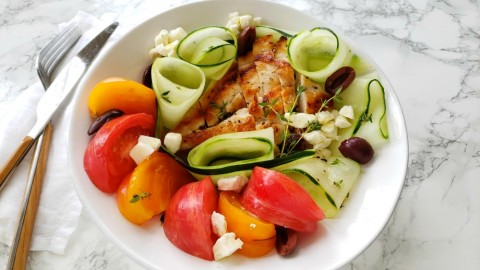 Thanks to Foster Farms for sponsoring this post!
Chicken, Tomato and Cucumber Salad is a winner, winner chicken dinner that the whole family will like. It's lightly dressed, refreshing, easy, fast, healthy and veggie-centric. That hits all the marks for a perfect all-year recipe!
Meet Foster Farms DORI™. She's going to become your new dinner BFF. That's because she knows what's for dinner before you have any idea, or when you are simply bereft of ideas, or when it's 5 p.m. and you're standing in the grocery store aisle and nearly weeping. What's for dinner?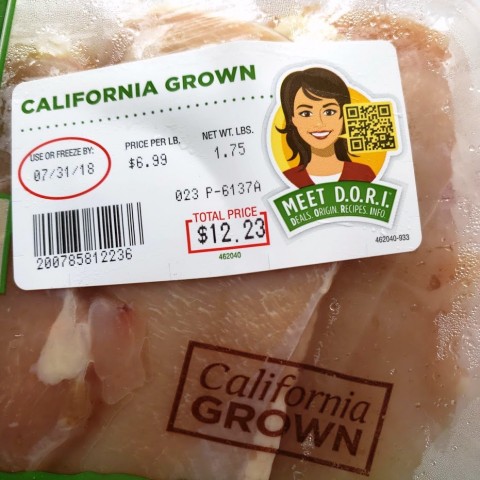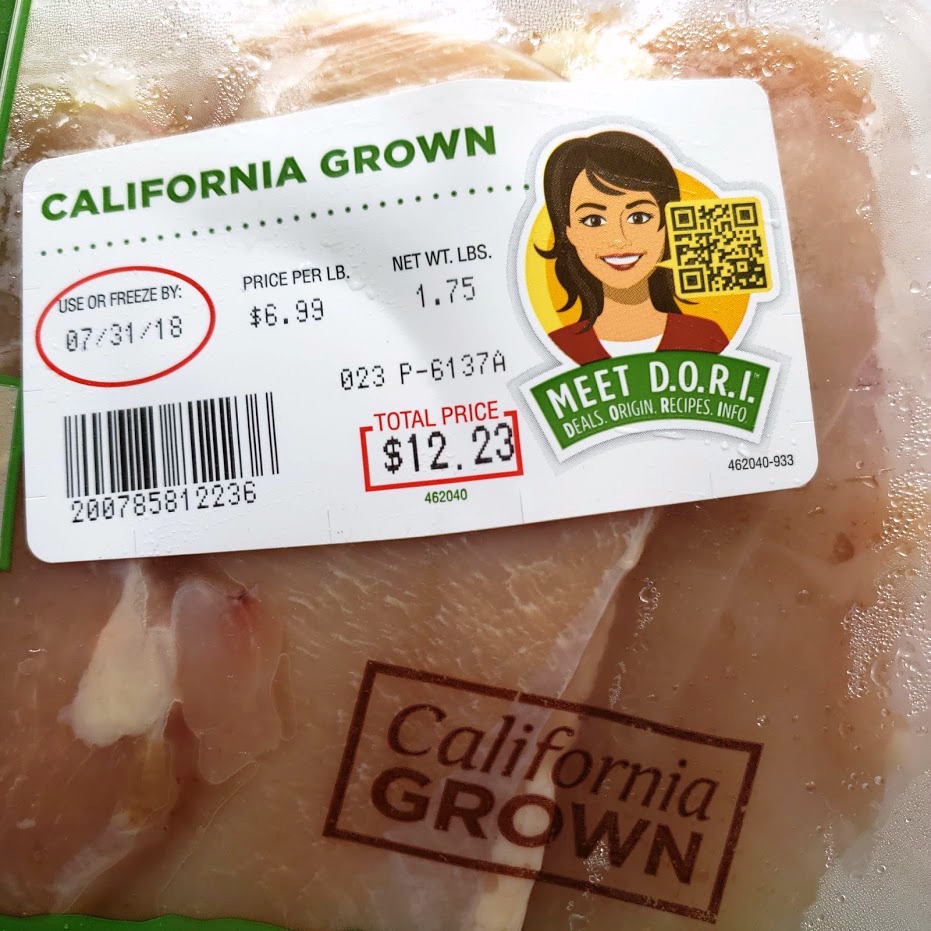 What that means is you can say to yourself (as I did the other day), "I want chicken for dinner, but I'm not sure exactly what I want to do with it."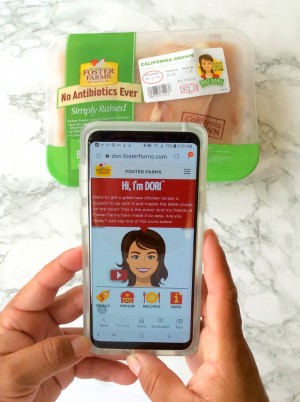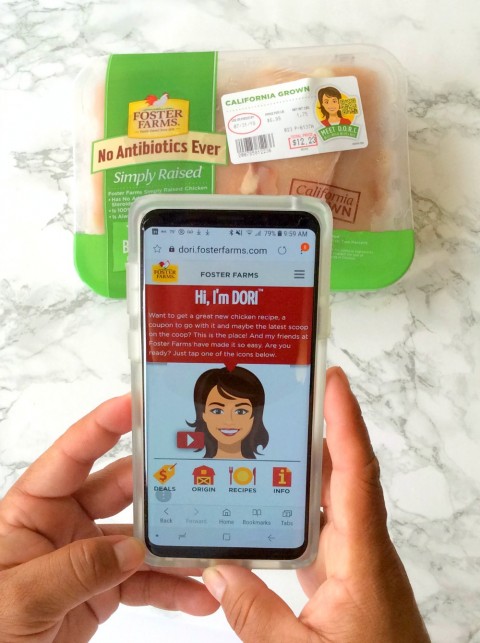 Head to the meat department, whip out your smartphone, open the camera and scan the DORI™ QR code on the Foster Farms chicken package, for access to exclusive coupons, hundreds of original recipes using Foster Farms chicken, a map of Foster Farms' local California and Pacific Northwest chicken ranches, savings, and more.
Scan through the recipes until one catches your eye. Or enter a search term if you know more precisely what you want (thighs, or salad, etc.) and it will hone in on an offering that matches your search.
It's a game changer. Foster Farms just made shopping for chicken a lot easier – and more fun – with the new DORI™ QR code.
Let's start by getting your smartphone ready to access DORI™.
How to use the DORI™ QR code
You will need to set up your smartphone so that it can be used for scanning and accessing information on QR Codes. Below are easy steps to get your smartphone set up.
If you own an iOS Smartphone:
Head to Settings > Camera and toggle Scan QR Codes if it's not already on. (in new iOS 11 updates this function is automatically enabled).
Then, open the Camera.
Once the Camera is open, swipe over until you get into the photo mode and ensure that you are using the back facing camera.
Hold your phone up to the DORI™ QR code.
You'll now get a notification up top, letting you know that the QR code has been successfully scanned. Tapping the notification will open the contents of the QR code via the web browser — like Safari.
If you own an Android Smartphone:
New updates allow you to scan from your camera just like on an iPhone.
Line up the DORI™ QR code in the camera.
Tap OK.
Now you know how your Smartphone accesses QR codes, you can to head into the grocery store, locate the product, and then use your Smartphone to scan the QR code and access DORI™.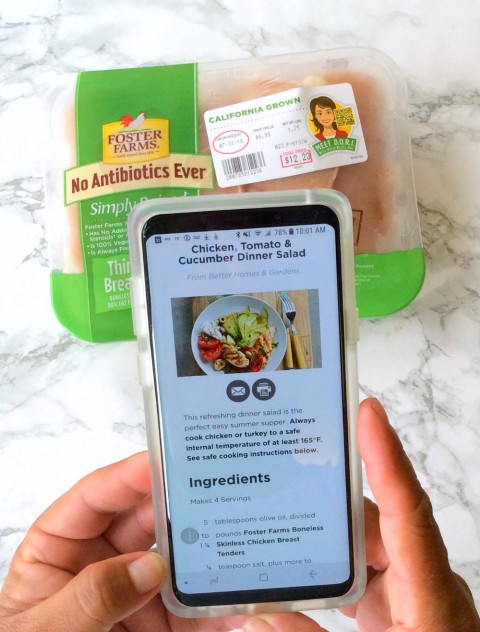 Now let's make the recipe I chose by scanning Foster Farms DORI™.
How to make Chicken, Cucumber and Tomato Dinner Salad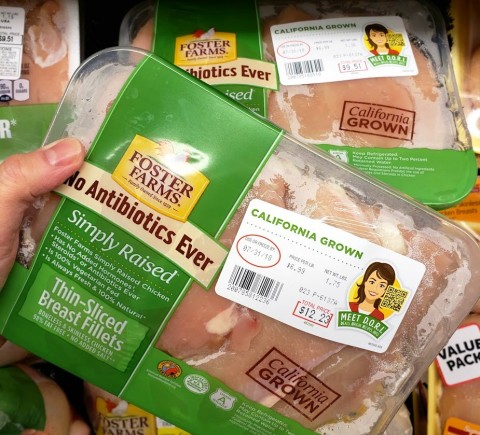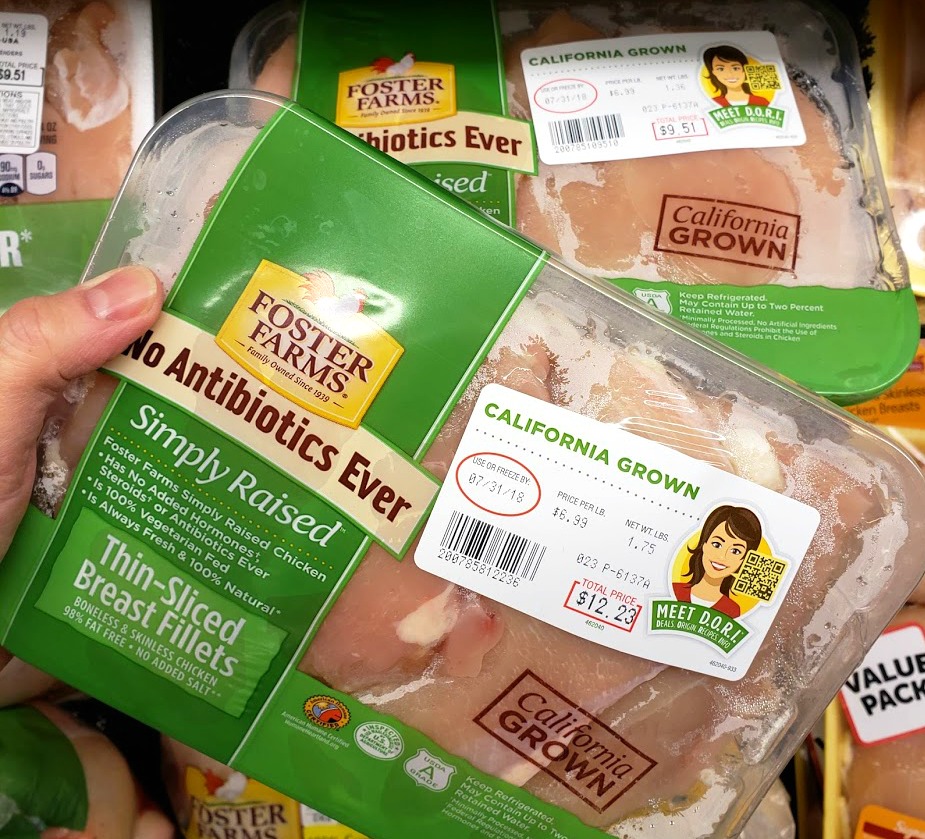 First, head to the meat department and make a beeline for Foster Farms chicken.
Fire up the camera on your phone and hold it over the DORI™ QR code to scan.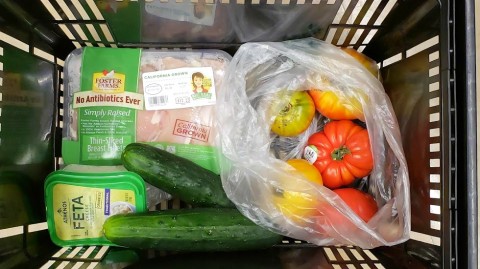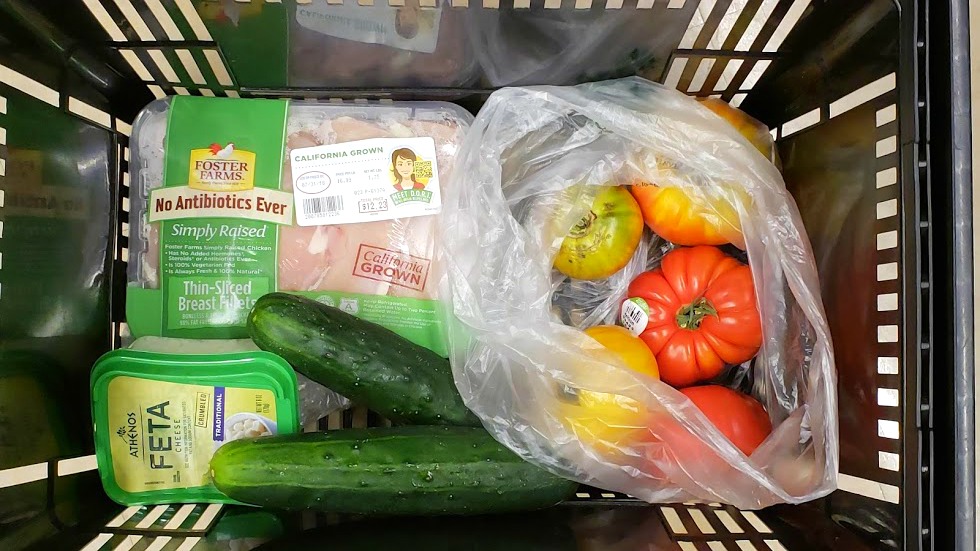 Once you find a recipe that floats your boat, toss all the ingredients in your basket.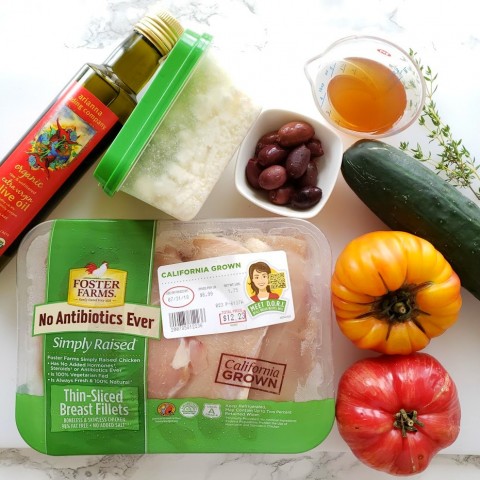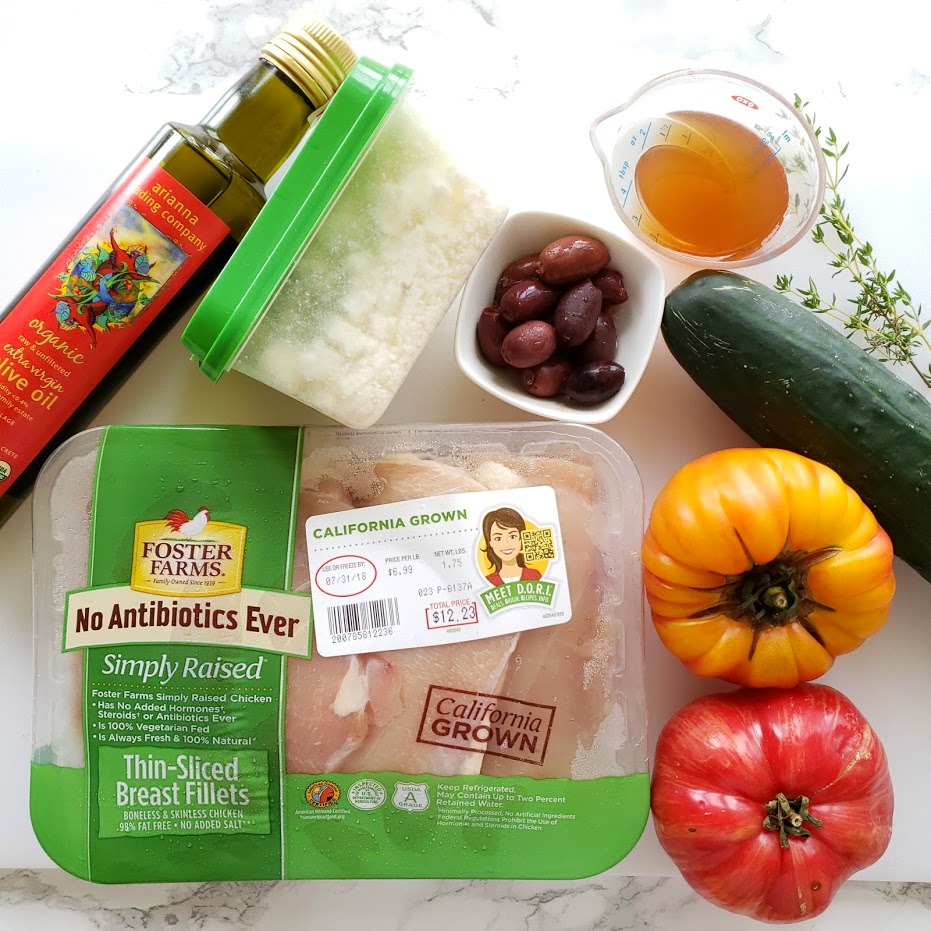 When you get ready to make dinner, assemble all the ingredients (always a good idea, no matter what you are making!).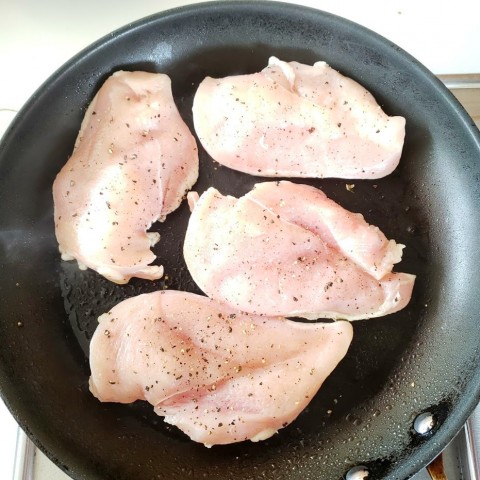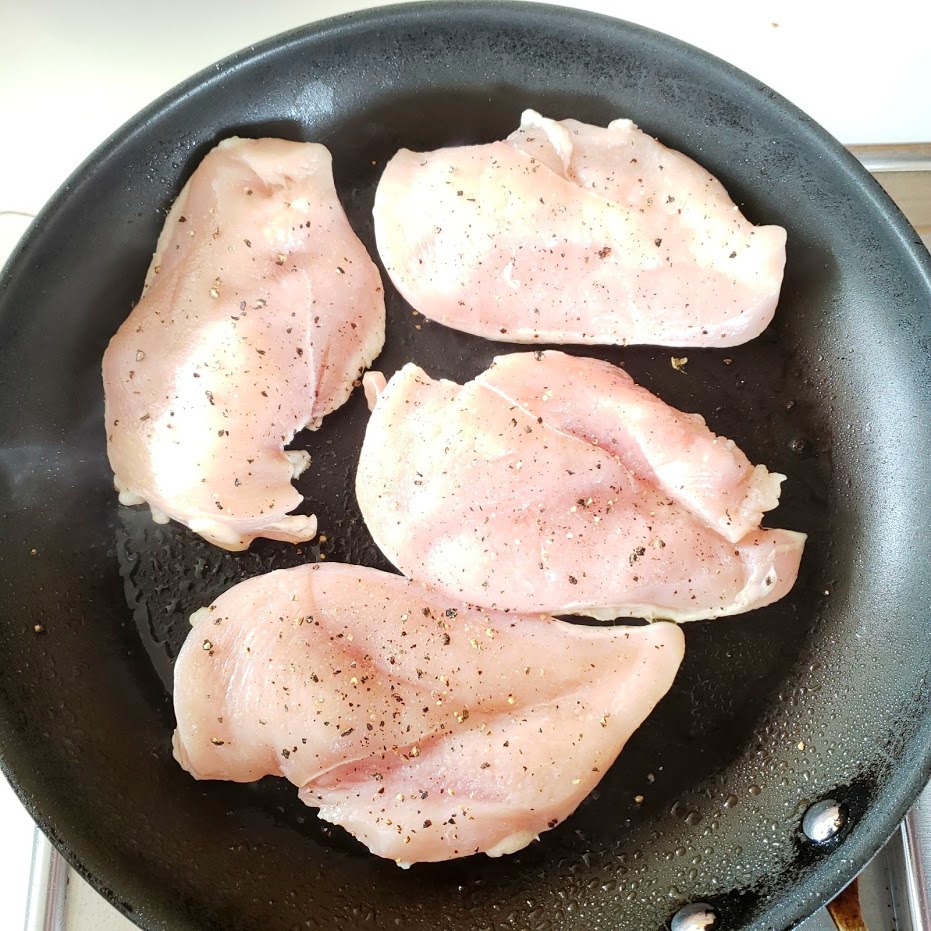 Heat the skillet and toss that chicken right on in.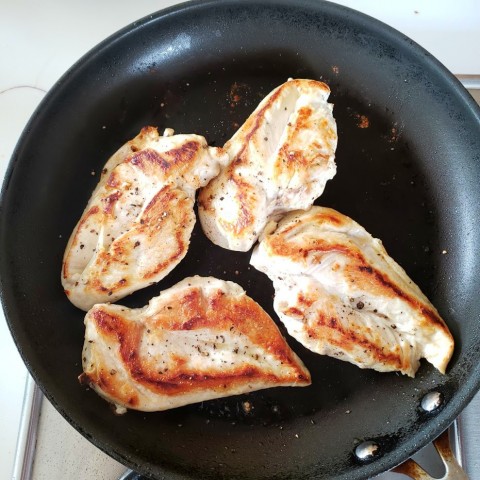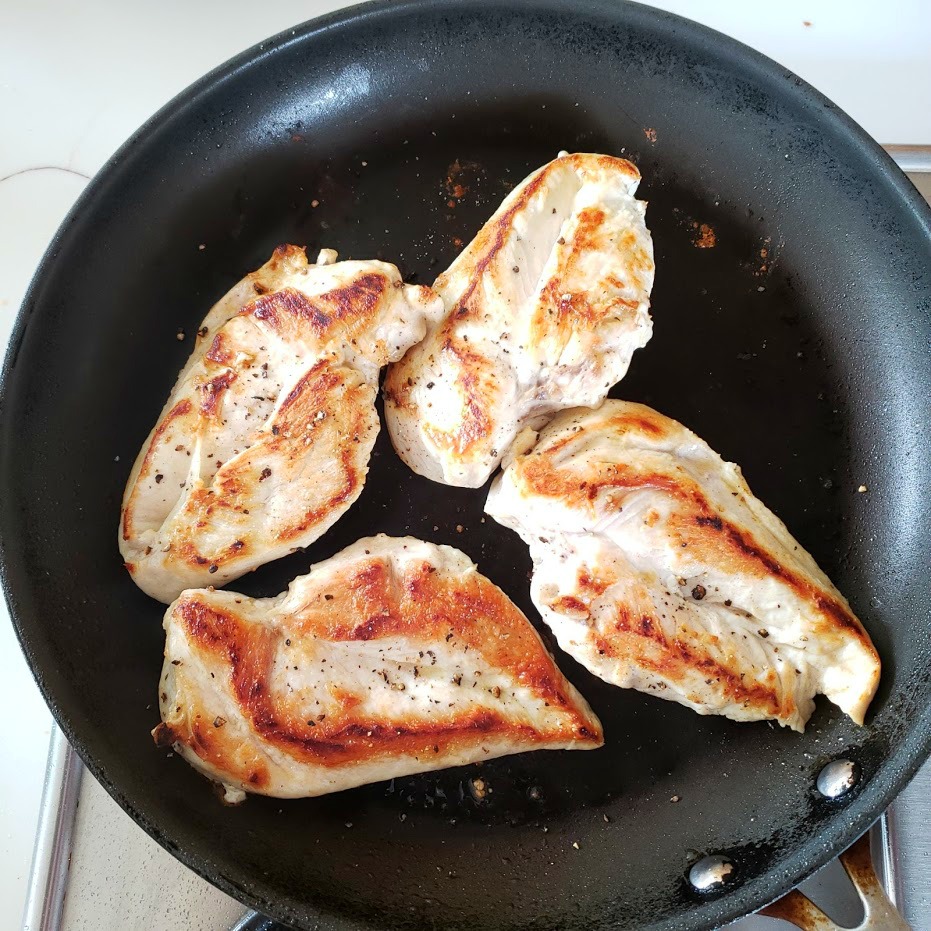 It only needs a single turn in the pan, at about a total of 8-10 minutes.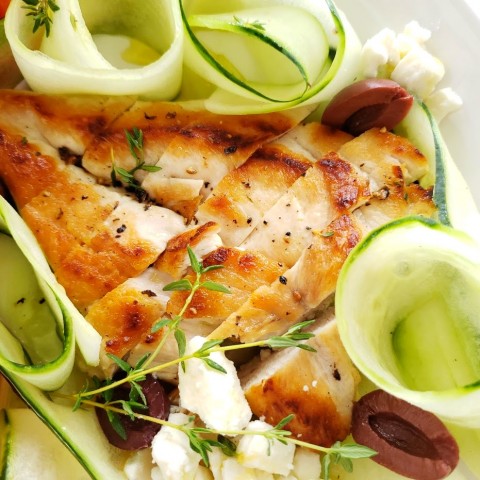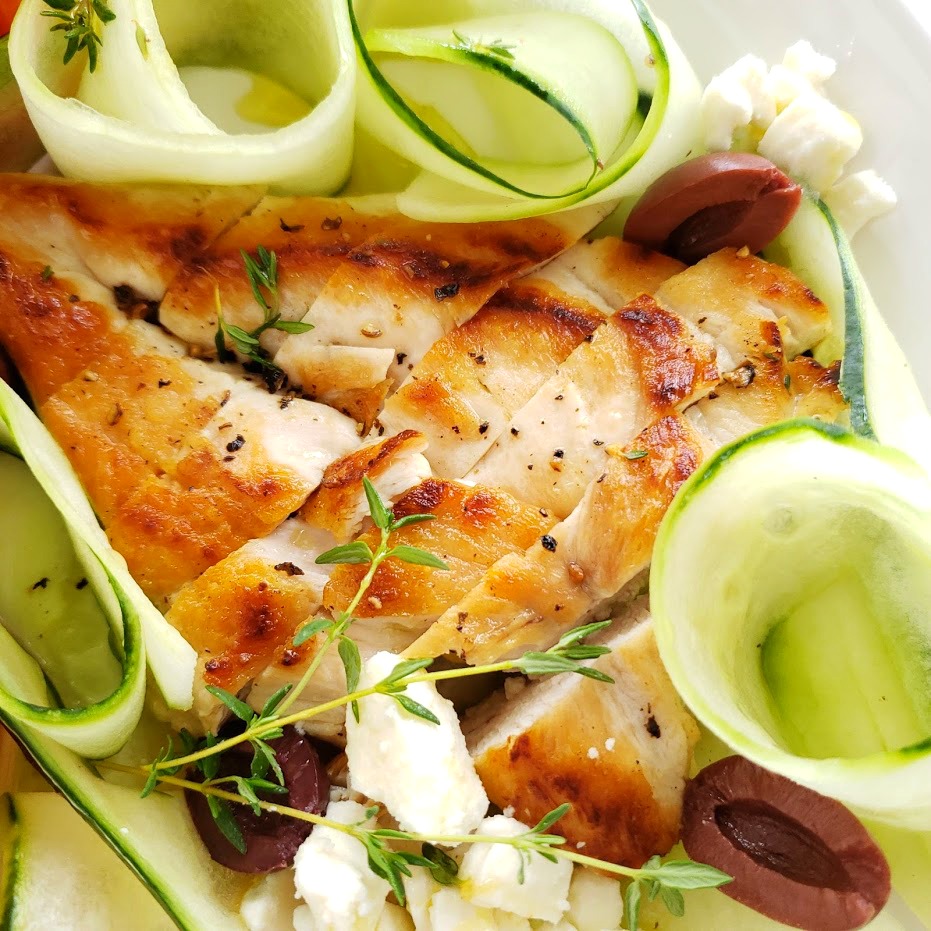 Get a little fancy if you like, by making ribbons out of the cukes, or if chunks are more your style, go ahead and freestyle. I freestyled on the olives…it called for green, but I had Kalamata olives I wanted to use up, so in they went.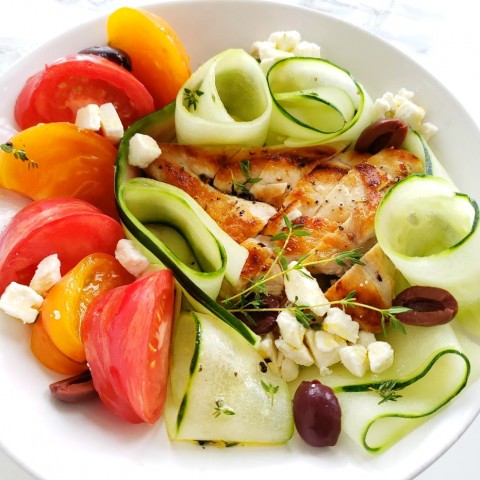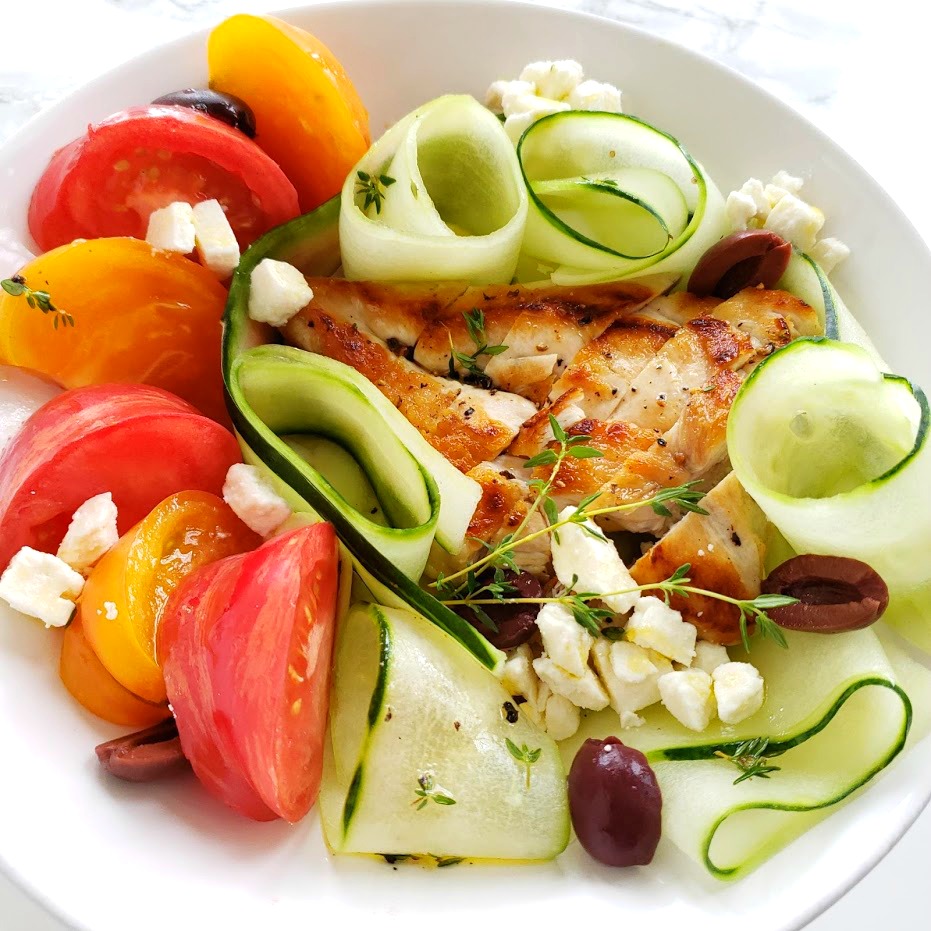 Voila! So easy, so non-stressful, so welcomed by everyone at the table.
Chicken, Tomato and Cucumber Dinner Salad
Chicken, Tomato and Cucumber Salad is a winner, winner chicken dinner that the whole family will like. It's lightly dressed, refreshing, easy, fast, healthy and veggie-centric. That hits all the marks for a perfect all-year recipe!
Ingredients
5 tablespoons olive oil, divided
1-1 1/4 pounds boneless skinless chicken breast tenders (or I used thin-sliced breast fillets)
1/4 teaspoon salt, plus more to taste
1/4 teaspoon ground pepper, plus more to taste
1/4 cup cider vinegar or white-wine vinegar
1 tablespoon snipped fresh thyme
1 teaspoon sugar
1 medium cucumber, cut in thin ribbons
2 tomatoes, sliced
1/2 cup pitted green olives, halved and/or sliced (I used Kalamata olives)
4 ounces feta cheese (optional)
Directions
Cook the chicken:

Heat 1 tablespoon oil in a large skillet over medium heat. Lightly sprinkle chicken with salt and pepper to taste. Add the chicken to the pan and cook, turning once, until no pink remains, 8-10 minutes. Remove from pan onto a cutting board.

Make the dressing:

In a screw-top jar, combine the remaining 4 tablespoons oil, vinegar, thyme, sugar and 1/4 teaspoon each salt and pepper; shake to combine.

Assemble the salads:

On 4 dinner plates or wide shallow bowls, arrange chicken, cucumber ribbons, sliced tomatoes, olives, and feta (if using). Drizzle the vinaigrette over the salads.
Serves 4.
Notes
Note: Always cook chicken or turkey to a safe internal temperature of at least 165°F. Always use a meat thermometer inserted into the thickest part of the chicken or turkey to determine the temperature. Do not rely solely on suggested cooking times. Cooking appliances vary in temperature and cooking times are a guide only.
Recipe source: Foster Farms DORI™
https://www.shockinglydelicious.com/chicken-tomato-and-cucumber-salad/
Copyright Dorothy Reinhold | ShockinglyDelicious.com. All rights reserved.
Pin the image below to your Pinterest board to save this recipe.

If you like a satisfying dinner salad, also try these below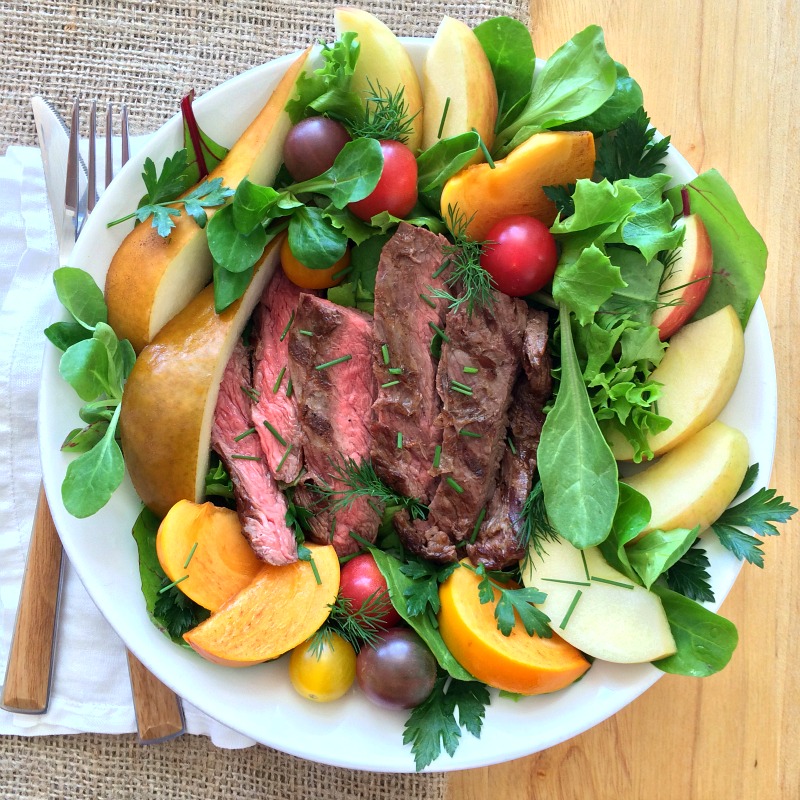 Flap Steak Salad Bowl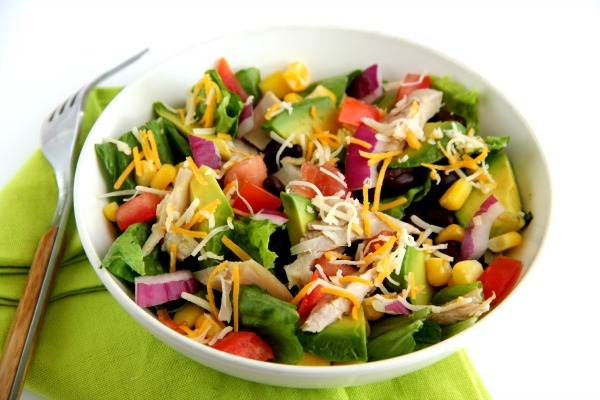 Chopped Mexican Chicken Salad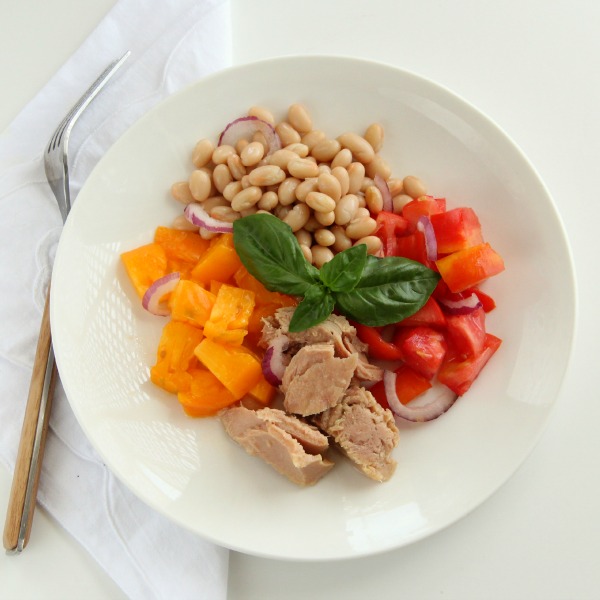 Tuna, Tomato, Bean and Basil Salad
Thanks for visiting…are you hungry for more? Follow Shockingly Delicious on…
FACEBOOK | PINTEREST | INSTAGRAM | TWITTER
…for all the latest recipes, ideas and updates!
This post may contain affiliate/referral links. It is a way for this site to earn advertising fees (at no cost to you) by advertising or linking to certain products and/or services that I approve and prefer.
I was selected for this sponsored opportunity as a member of CLEVER. The content and opinions expressed here are all my own.