Print This Post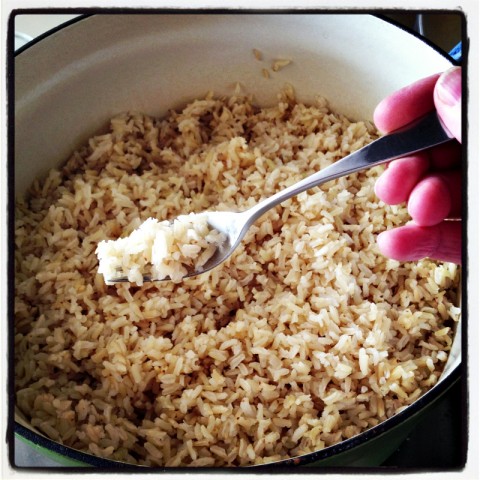 It's not so hard to cook rice, is it? I usually do it in a rice cooker. I can walk away and 30-45 minutes later, it's done and ready for whatever awaits it on the plate.
But sometimes I want to do big-batch cooking to be time-efficient. In that case, the oven makes pretty perfect brown rice, with no muss and no fuss.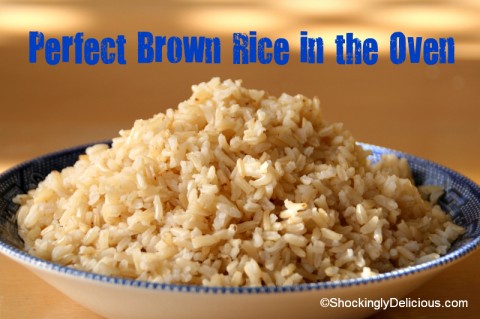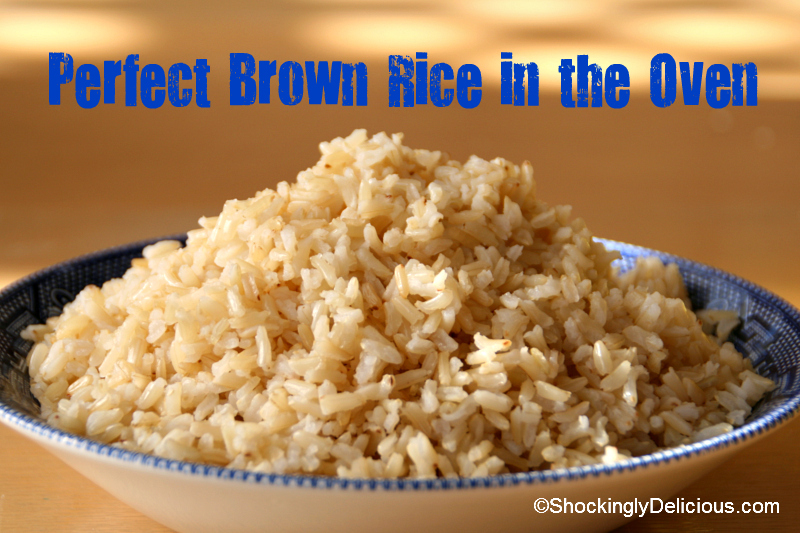 This technique makes perfectly cooked, chewy, nutty rice that isn't gummy or sticky. The grains are each distinct, there is no chance for boil over on the stove, and no scorching. Bonus: the house smells amazingly, deliciously nutty while it is baking!
I like to make a big batch and keep half in the refrigerator for use in a day or three, and freeze the rest for another time.
Try it!
Recipe: Perfect Brown Rice in the Oven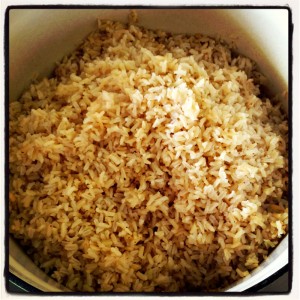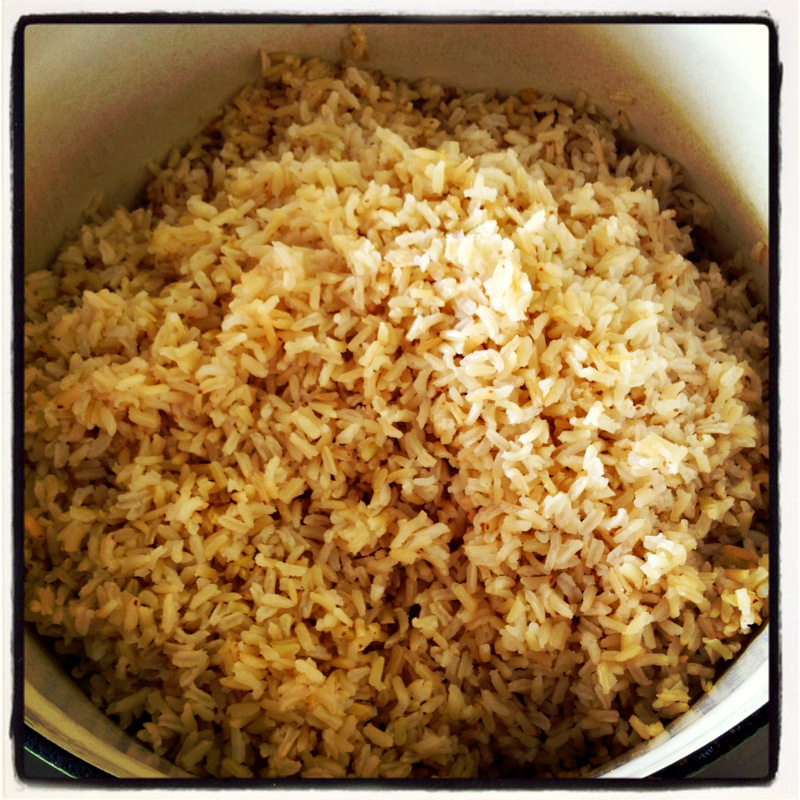 Summary: For a big batch of perfectly cooked, chewy, nutty brown rice, use the oven! Easy, no-fail method.
Ingredients
5 cups water
1 tablespoon olive oil
1/4 teaspoon kosher salt
3 cups long grain brown rice (I used Trader Joe's Brown Jasmine Rice)
Instructions
Heat the oven to 375 degrees F.
In a 6-quart Dutch oven on the stove, heat water, oil and salt until boiling. Stir in rice, remove from stove, put lid on pot and place covered pot in hot oven.
Bake undisturbed for 1 hour.
Remove from oven, remove lid and fluff the rice with a fork, and serve.
Makes 9 cups cooked rice.
Quick notes
This is deliberately under seasoned so it can be used in a variety of dishes. Season to taste when you use it.
To store
Since this makes so much, you can put half of it in a container in the refrigerator, for use within a day or three. The other half you can cool to room temperature, put into a zipper-top freezer bag, label and freeze for a night when you need rice but don't have time to cook it.
Source and sub for a Dutch oven:
Alton Brown gives directions for baking the rice in a baking dish. Note that his recipe is half of this one, so if you use my proportions, you will likely need a 13- by 9-inch baking dish. I saw a version of this dish on Karen's blog at In the Kitchen with KP, and she got it from Alton.
Preparation time: 10 minutes
Cooking time: 1 hour
Diet type: Vegetarian, Vegan
Diet tags: Reduced fat, Gluten free
Number of servings (yield): 12 (makes 9 cups)
Culinary tradition: USA (General)
My rating 5 stars:  ★★★★★