Print This Post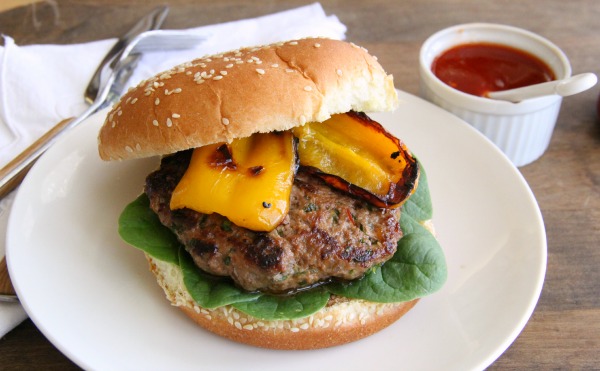 When life hands you an on-sale package of ground lamb, what are you going to do with it?
May I suggest these lightly spicy, deeply flavored, meaty burgers with a slight hint of sweetness that makes you dive in for another bite? I thought so.
Saucy Mama sent me a collection of saucy products to see which one I wanted to use to enter her 2014 recipe contest. I tasted them all – tough job, someone has to do it! – and the sweet and spicy Orange Habanero Wing Sauce jumped right out at me.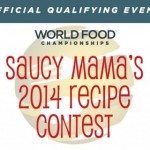 So with this recipe, I officially enter her contest. If I win, I will go on to the World Food Championships in Las Vegas. Wish me luck!
Fire up your grill and get these on it. You won't look back.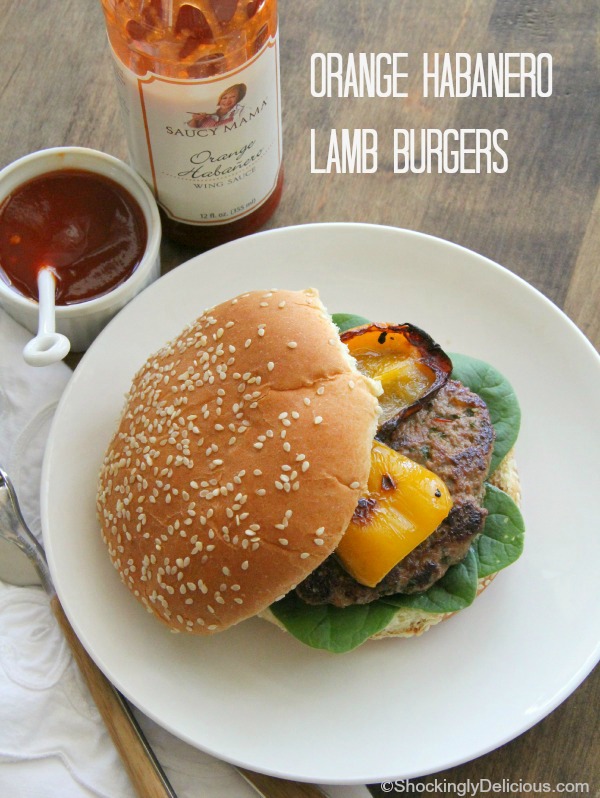 Recipe: Orange Habanero Lamb Burgers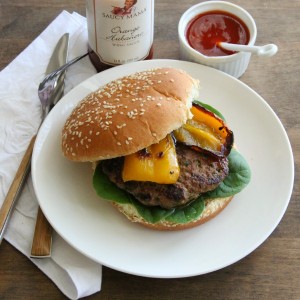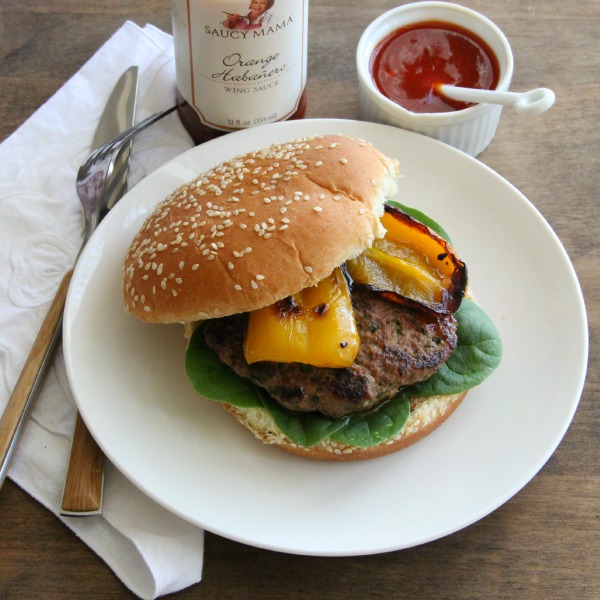 Summary: Rich, meaty, deeply flavored and just spicy enough, these lamb burgers need nothing else but a final splash of this Orange Habanero sauce!
Ingredients
4 teaspoons olive oil (divided use)
1 small onion, finely diced
2 garlic cloves, pressed or finely minced
1 pound ground lamb
7 tablespoons Saucy Mama Orange Habanero Wing Sauce (divided use)
¼ cup chopped fresh parsley (I used Italian flat-leaf parsley)
4 mini peppers, stemmed and halved
Burger assembly
4 hamburger buns
Fresh spinach
Instructions
In a large skillet, heat 2 teaspoons of the olive oil. Add onion and sauté for about 6-8 minutes, stirring frequently, until onion is lightly caramelized and brown. Add the garlic and sauté for another minute or so. Remove from heat and add vegetables to a large bowl, along with lamb, 3 tablespoons Saucy Mama Orange Habanero Wing Sauce and parsley. Stir with spoon or use hands to mix and combine. Shape into 4 patties and refrigerate for 30 minutes or more to firm up. (You may chill them overnight if that is more convenient for you.)
While patties are chilling, add 1 teaspoon olive oil to same pan that you cooked onions in. Place mini pepper halves in the pan, and cook on medium-low, undisturbed, for a couple of minutes. Using a tongs, flip each pepper half over to the other side, and cook another minute or 2. Peppers will get some browning on the edges and areas that are touching the skillet. Remove peppers to a bowl and set aside.
When ready to cook burgers, set up burger buns on plates and add spinach leaves to the bottom of each bun. Heat skillet on medium, add remaining 1 teaspoon olive oil to the pan, and gently place each patty in the pan. Cook for 3-4 minutes, and then flip over gently using a spatula. Cook another 3-4 minutes on the other side, giving each patty the finger poke test to see if it is done.
When done, place each burger on the spinach-laden bun, add several pepper halves to each burger top, and put the bun lid on.
Pass additional Saucy Mama Orange Habanero Wing Sauce at the table for each person to use as a condiment-sauce on his or her burger (estimating 1 tablespoon additional sauce for each burger).
Serves 4. Enjoy!
Recipe source
Dorothy Reinhold | Shockingly Delicious
Like lamb? Try these:
Preparation time: 15 minutes
Cooking time: 20 minutes
Diet tags: High protein
Number of servings (yield): 4
Culinary tradition: USA (Nouveau)
My rating 5 stars:  ★★★★★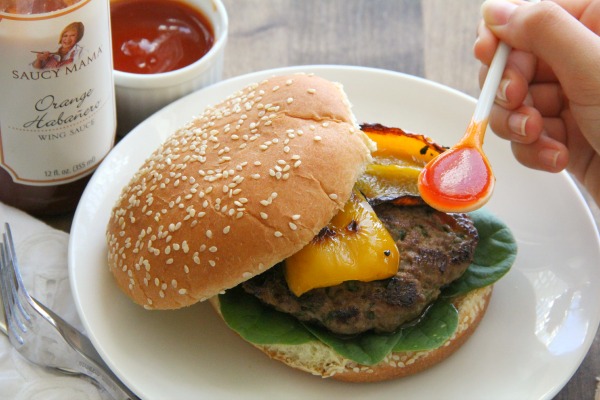 Disclosure: Sauce Mama sent the 6 bottled sauces for recipe testing.