Print This Post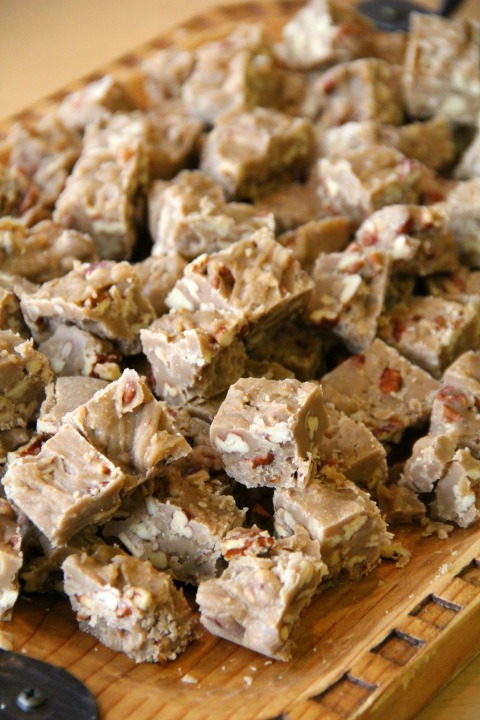 Spectacularly easy Butter Pecan Fudge, buttery and sweet, with toasty pecan flavor and irresistible charm. No candy thermometer needed!
This Butter Pecan Fudge – all total six ingredients and no candy thermometer needed – is ridiculously yummy, to quote a fellow food blogger. I brought it to a cookie exchange held by Food Bloggers Los Angeles, the best lookin', best cookin' collection of bloggers around, and it was a big hit! 😛
As I like to say, it is "scary good," which means you might need a 12-step program to wean yourself from it. Warning: don't try to hide it from yourself in the freezer, either, because it is just as good frozen!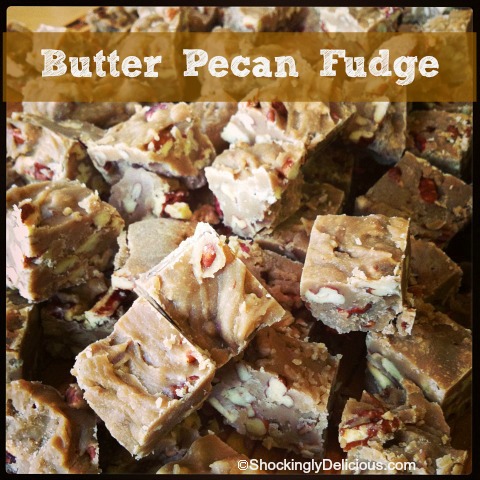 Luckily, the December holiday season is a fine time to make it, because everyone loves a cookie and/or candy platter gift this time of year.
I got all my neighbors hooked on it, too.
So let that be a warning. Line up your little give-away plates or containers for the neighbors once you start cutting into this. You know the saying, "Good fences make good neighbors?" Really, it should be, "Good fudge makes good neighbors."
2017 update

: This won 2nd prize in a food bloggers' dessert contest held at Melissa's Produce in Dec. 2017.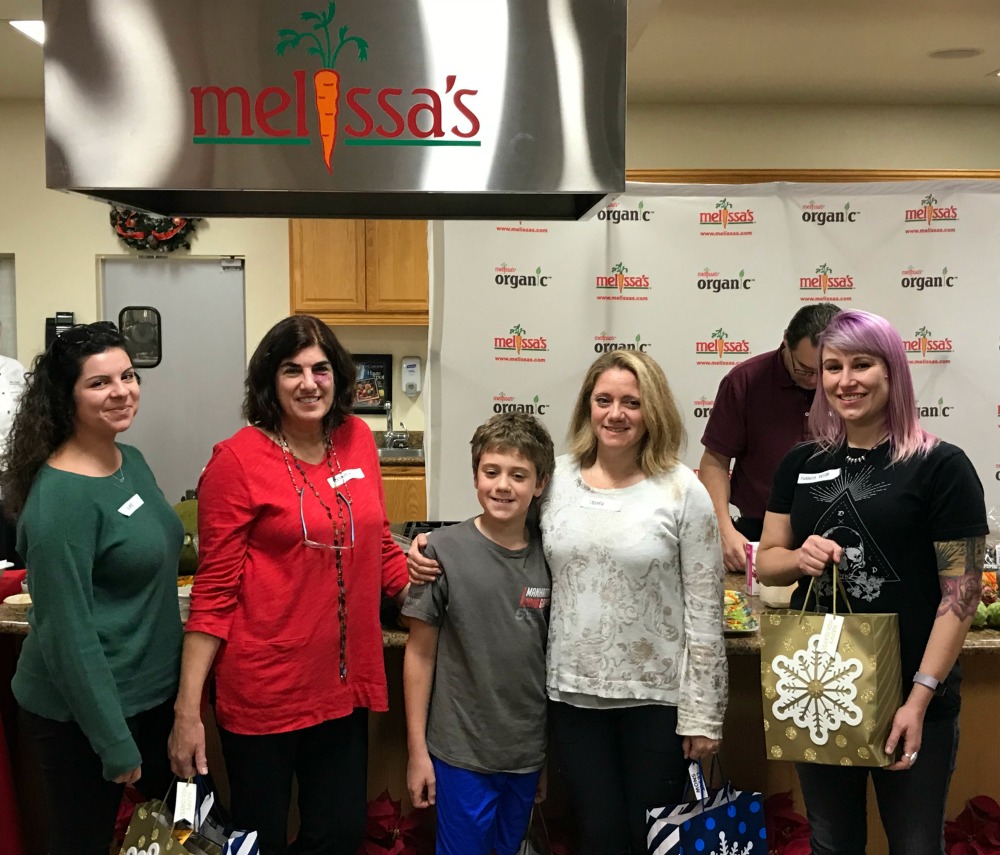 That's me (in festive red shirt) and my daughter (in festive green shirt) in the winners' lineup, above.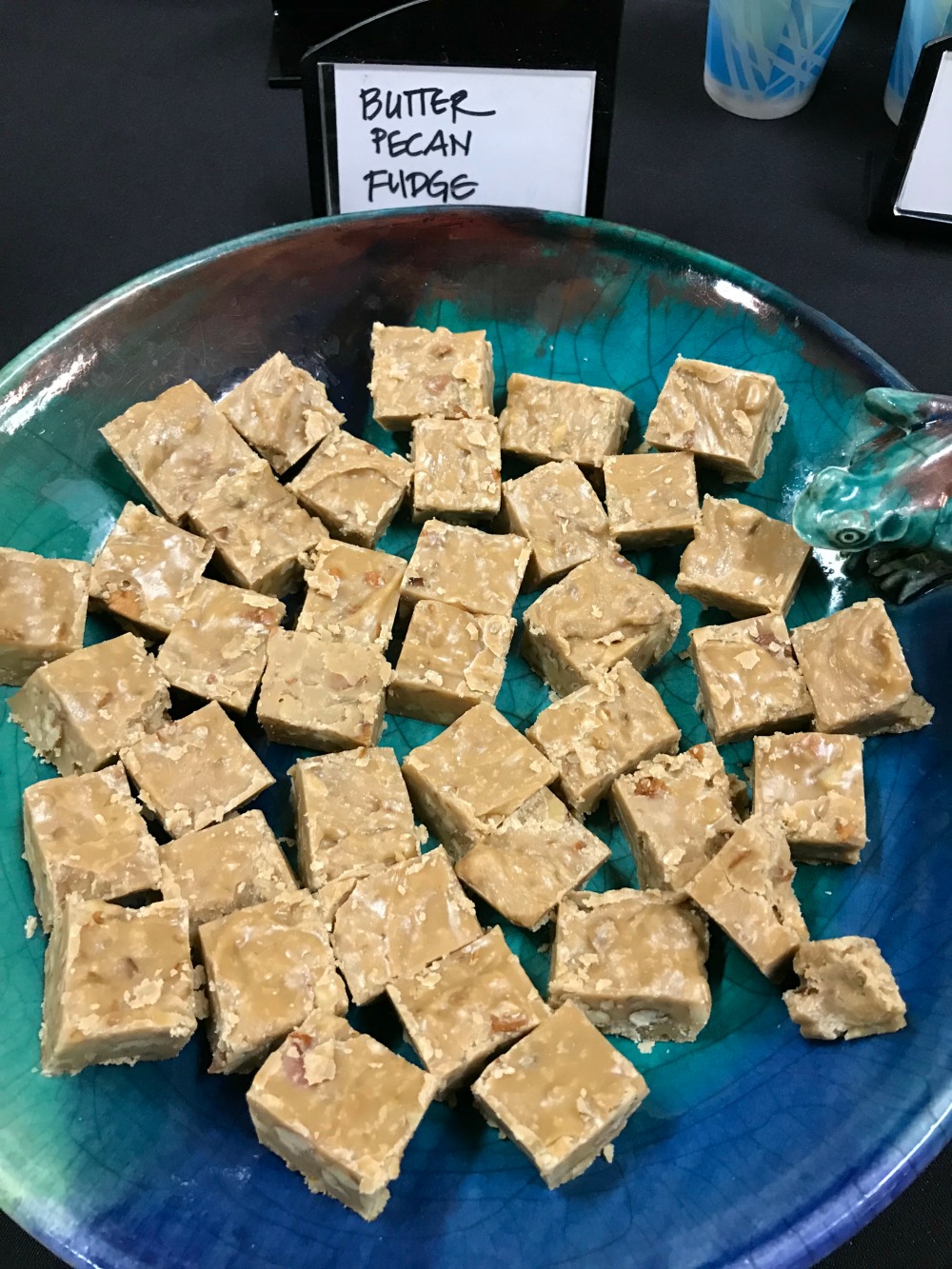 It was a delicious day, for sure!
Dorothy's Butter Pecan Fudge
Spectacularly easy Butter Pecan Fudge, buttery and sweet, with toasty pecan flavor and irresistible charm.
Ingredients
1/2 cup (1 stick) unsalted butter
1/2 cup organic heavy cream (or regular cream)
1 cup packed brown sugar (I like to use dark brown sugar but you could use light brown sugar if that's what you have)
1/8 teaspoon salt
1 1/2 cups chopped pecans, toasted (this adds toasty flavor)
1 teaspoon vanilla extract (I have used Penzey's Double-Strength Vanilla Extract, or Heilala vanilla extract, both excellent! Use what you have)
2 cups confectioners' sugar (aka powdered sugar)
Directions
Mist an 8-inch square baking dish with nonstick cooking spray, or better yet, grease it using the inside of the butter wrapper.
In a large saucepan, bring the butter, cream, sugar and salt to a boil over medium heat, stirring frequently. When it comes to a rolling boil (the bubbles cannot be stirred away), boil for exactly 5 minutes, stirring frequently, and then remove the pan from the heat.
Stir in pecans, vanilla and confectioners' sugar and stir until smooth and well combined. This may take a minute, and will give your arm a workout!
Spread the mixture into prepared baking dish (a small offset spatula is helpful in this task to smooth the top). Cool to room temperature and then cut into little squares (5 or 6 or 7 rows vertically and 5 or 6 or 7 rows horizontally). Mixture will be somewhat crumbly, so cut using a very sharp knife or the edge of a sharp metal spatula, and avoid using "sawing" motions.
Serve on a pretty platter, or store in an airtight container until ready to serve. Can be frozen airtight with waxed paper between layers.
Makes 25-49 pieces. (Remember the math above? If you cut it into 5 rows by 5 rows, you'll get 25 pieces; 7 rows by 7 rows will yield 49 pieces.) This is rich stuff, so you can be confident cutting small pieces.
Notes
Recipe source: Dorothy Reinhold | Shockingly Delicious
https://www.shockinglydelicious.com/dorothys-butter-pecan-fudge/
Copyright Dorothy Reinhold | ShockinglyDelicious.com. All rights reserved.
Pin the image below for Butter Pecan Fudge to your Pinterest board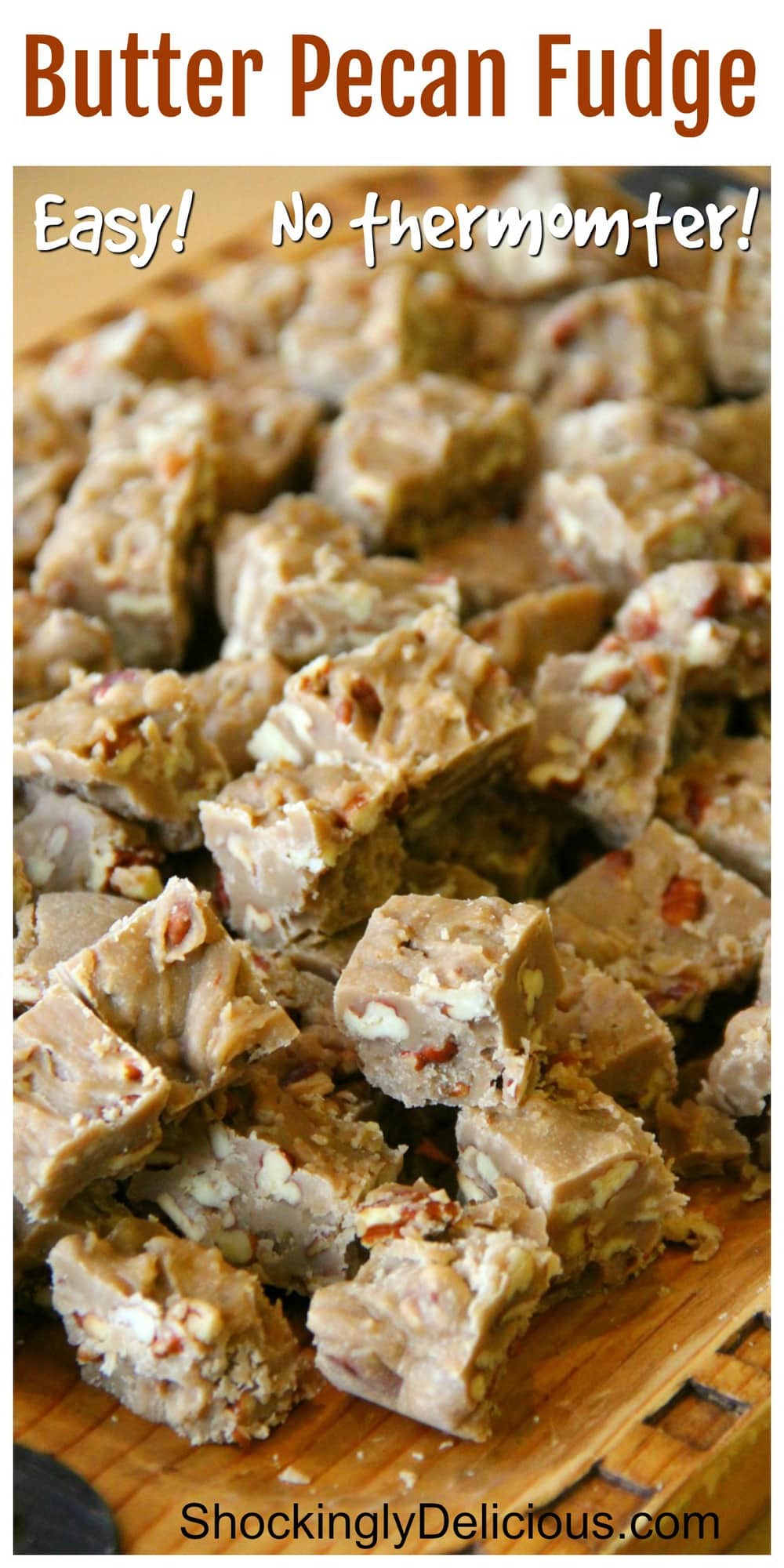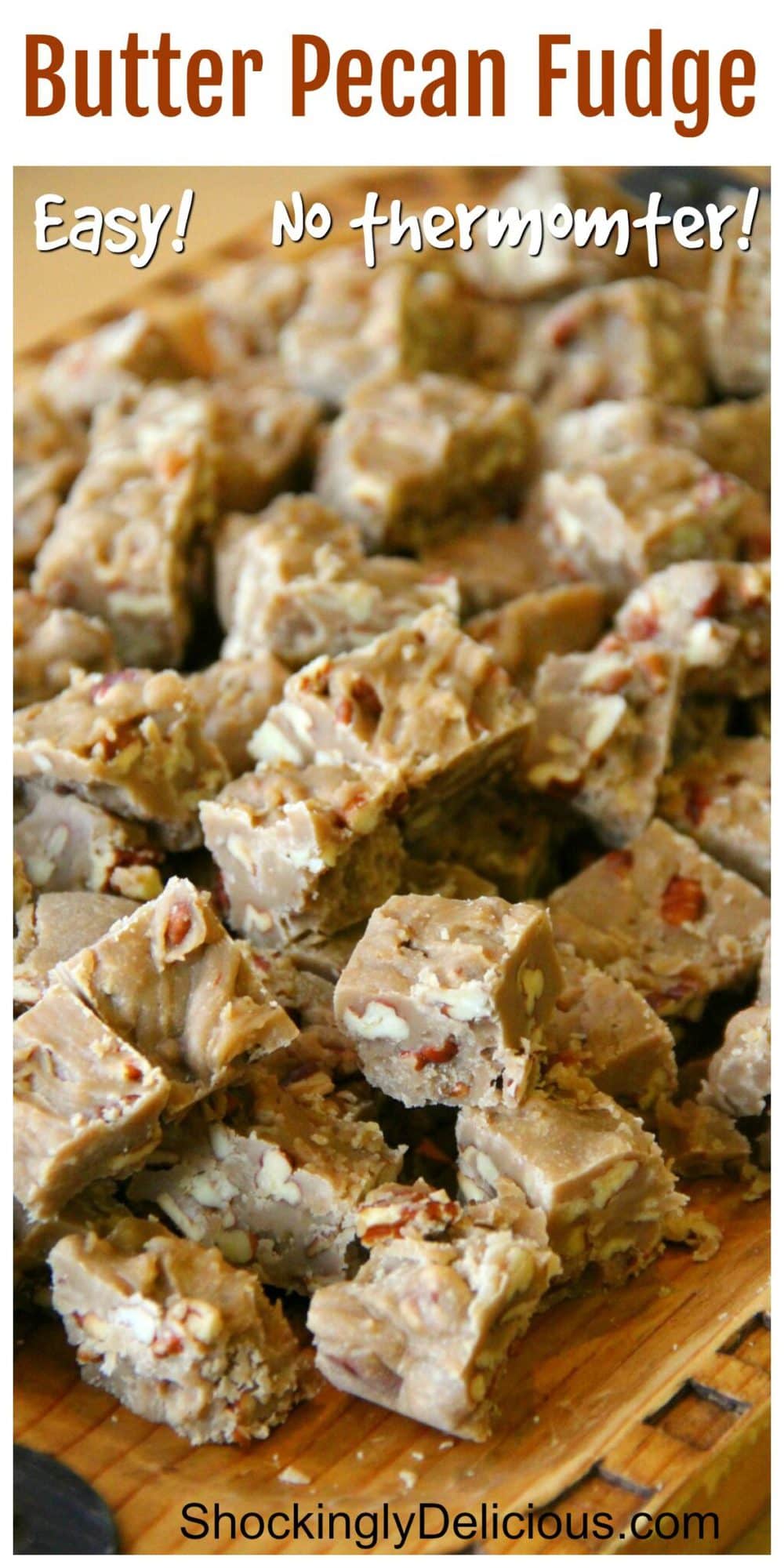 Want another winning fudge recipe? Try my PEANUT BUTTER FUDGE, below, which also needs no candy thermometer! Readers are also raving about this one!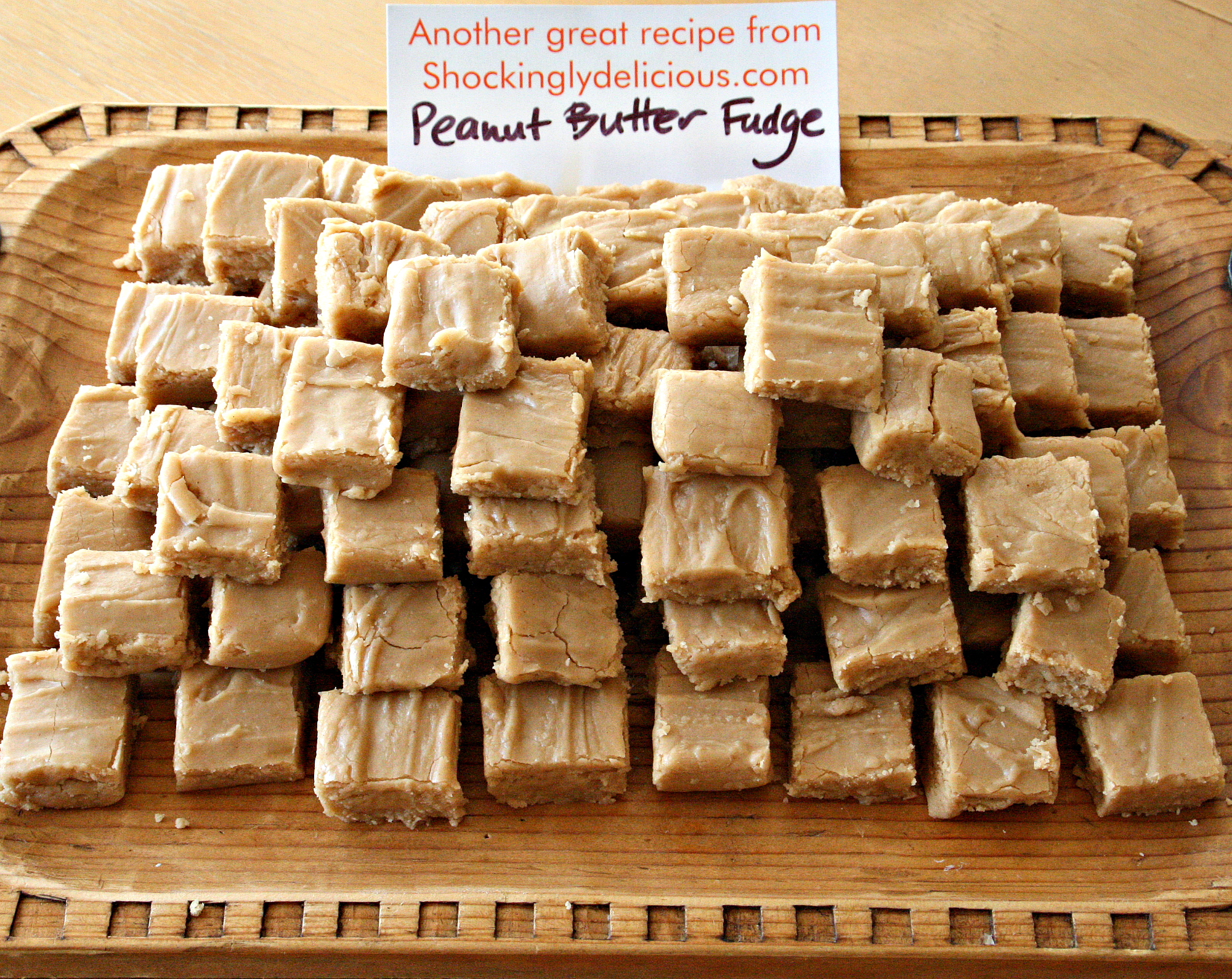 Peanut Butter Fudge. So, so good. It's so easy, you will hate me for telling you the recipe.
Have fun in the kitchen, everyone!
Thanks for visiting…are you hungry for more? Follow Shockingly Delicious on…
FACEBOOK | PINTEREST | INSTAGRAM | TWITTER
…for all the latest recipes, ideas and updates!
This post may contain affiliate/referral links. It is a way for this site to earn advertising fees (at no cost to you) by advertising or linking to certain products and/or services that I approve and prefer. Thank you for using my affiliate link to shop, so I can continue to bring you shockingly delicious recipes!