Print This Post
This is a sponsored post written by me on behalf of The Heart Truth®. All opinions are 100% mine.


I just had a birthday. I was honestly overwhelmed with gratitude about my life, my family and friends, my world…blessed beyond belief, is how I felt.
But each passing year, each trip around the sun,also is another reminder, especially for women — starting at age 55, our risk of heart disease goes up, just because we got older. Gulp! That's a wake-up call.
February is American Heart Month, and I'm partnering with the National Heart, Lung, and Blood Institute's (NHLBI) The Heart Truth® program to help raise awareness about the risk for heart disease among women.
The scary truth
The sobering fact is heart disease is the #1 killer of women in the U.S.
Of the women who died in 2013 (the latest data available), 1 in 4 women in the U.S. died of heart disease.
80% of women aged 40-60 have one or more risk factors for heart disease.
How do you know if you are in trouble?
The risk factors for heart disease are:
High blood pressure
High blood cholesterol
Diabetes and prediabetes
Smoking
Being overweight or obese (BMI of 25 or greater)
Being physically inactive (less than 2.5 hours of physical activity per week)
Having a family history of early heart disease
Having a history of preeclampsia during pregnancy
Unhealthy eating
Age (55 or older for women)
What can women do to prevent heart disease?
A heart healthy life is within your grasp, and mine, too. These are things we KNOW we need to be doing. Let's take charge and control our own personal risk.
Exercise
Reduce stress, or manager it better
Eat right
I have some practical suggestions, of course, for how you might eat right.
Breakfast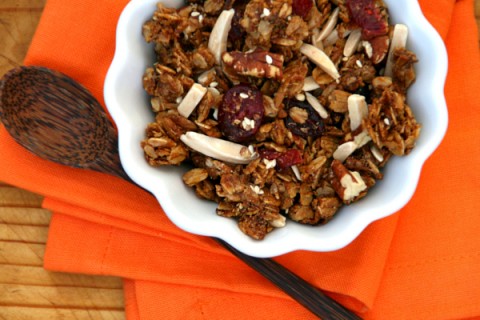 Yogurt, Farro and Fruit Breakfast Parfait 
Lunch
Heirloom Tomato Salad with Grilled Cheese Croutons (mostly vegetables, with a few bites of cheese)
Dinner
Vegan Mango Chickpea Kale Farro Salad
Sweet Treat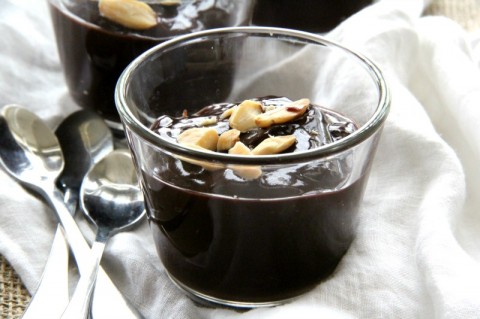 Biggest Loser Chocolate Pudding
This is my pledge
I can cross off several of the risk factors from the list above (I don't smoke, no family history of early heart disease, etc.), but I can definitely improve. My promise to myself, my advice #FromTheHeart to you, is this:
I will make an appointment with my doctor to get my blood pressure, cholesterol and other tests done to see if I am at risk due to any of those.
I will more consistently hit the gym. I joined the YMCA last year with my teenage son, but too often it has fallen off my to-do list. I'll let him help motivate me, because when you're a teenager, nothing, and I mean nothing, is more fun than telling your mom what to do.
I will walk the dog daily in our hilly neighborhood (not just walk him out to the back yard to do his business). Bonus: this will be good for the dog, too.
I will take my own advice about eating right, with more heart-healthy choices such as Red Fruit and Vegetable Breakfast Smoothie, Avocado, Tomato, Pine Nut Salad with Lime Vinaigrette for lunch, and Vegetarian Chickpea, Carrot, Cilantro, Curry Patties for dinner.
Since everything is better if you do it with a friend, I am sending a gift #fromtheheart to my neighbor. I'll grab her and go for a walk, invite her to use my guest pass for the gym, and I'll support her better eating choices when we nosh together. I know she struggles with weight issues, so I'd like to motivate her, as well as myself, to take this challenge. We are stronger together.
Won't you join me, starting right now? Who will YOU motivate?
Let's begin by visiting the National Heart, Lung and Blood Institute website for a plethora of information, and following them on Facebook, Twitter and Pinterest for great, helpful, actionable ideas.
Cheers to our collective health, friends.