Print This Post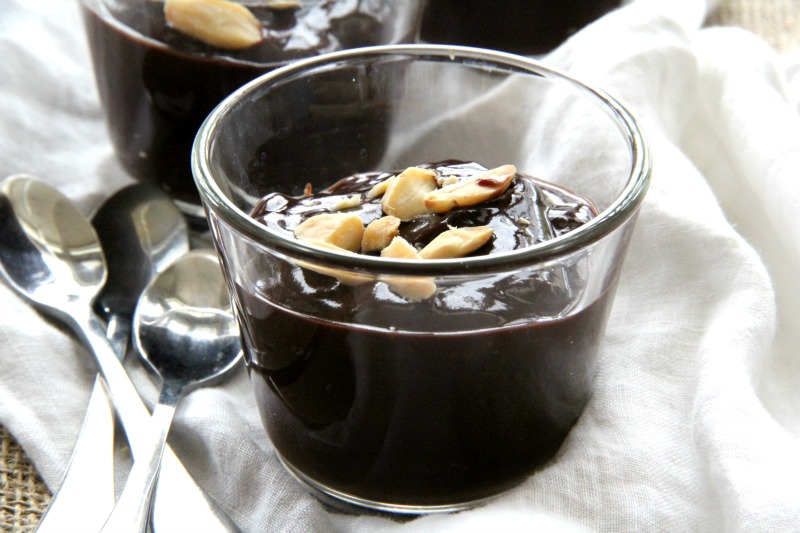 The Biggest Loser Chocolate Pudding is an easy dessert that's a smart, 150-calorie way to satisfy your chocolate temptation. It's vegan, fast, and satisfying.
I might be the last remaining person on Earth to get the hard-copy of the newspaper delivered at home, but as a career journalist, I can't help myself. It isn't morning without me reading the newspaper while eating breakfast, shaking the crisp newsprint open to see what information the writers, photographers and editors have curated for me that day.
Of course I look forward to Sundays, because of the comics and the magazine insert. Parade Magazine comes in my L.A. Times, and one early January edition a few years ago was devoted to the TV show "The Biggest Loser" and strategies for losing weight and maintaining weight loss.
It included a recipe for a lightened-up chocolate pudding. It was thickened with cornstarch instead of cream, and flavored with cocoa instead of higher-fat chocolate. In fact, it had no dairy whatsoever, and therefore is a vegan rendition.
I was immediately ALL IN!
My family loved it, and I even took it to a Food Bloggers L.A. meeting, and the bloggers were surprised at how chocolatey and satisfying it was.
How to make The Biggest Loser Chocolate Pudding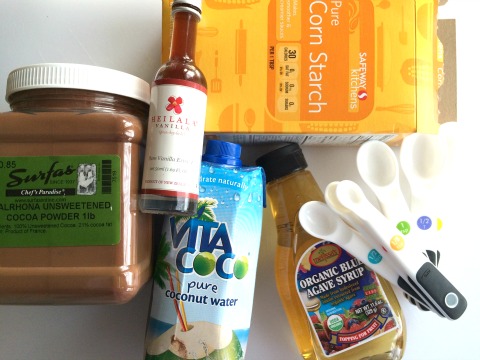 Assemble your ingredients. You'll mix cocoa powder, cornstarch, salt, coconut milk and agave in a small saucepan, stir and cook over heat until it boils and thickens. Then stir in vanilla. Pour into ramekins (4-6 of them, depending on how many people you want to serve), and then garnish with nuts if you like.
Try it yourself when you need something sweet and chocolate, and you don't want to be too naughty.
How to eat The Biggest Loser Chocolate Pudding:
5 Shockingly Delicious variations
1. Orange-Chocolate: Use a microplane grater to remove the orange rind from a tangerine or orange (try a Cara Cara orange, or Morro blood orange if they are in season). Stir rind into the pudding along with the coconut milk and proceed as directed. Garnish top of each pudding with an orange slice or tangerine segment or two.
2.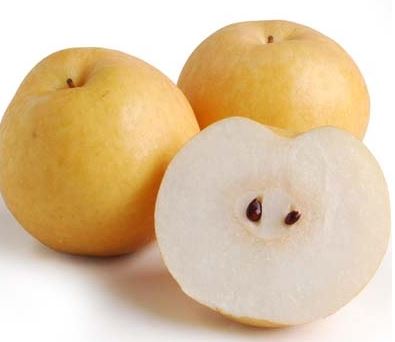 Use the pudding as a dip for fruit: Slice a firm pear, Korean Pear or apple into thin slices (no need to peel), and dip the pear slices into a small bowl of cool or room-temperature pudding. YUM!
3. Use the pudding as fudge sauce: OK, this might take The Biggest Loser pudding into The Smallest Loser territory, but you know what's seriously good? Place a small amount of high-quality vanilla bean ice cream (think Talenti or Haagen Daz) in a bowl, and sling a couple of dollops of this pudding on top. It's best if the pudding is slightly warm or room temperature when you do it. The warm pudding will slightly melt the ice cream. Close your eyes and enjoy. Keep your ice cream portion very small and enjoy every bite.
4. Chocolate-Almond: Stir 1/4 teaspoon almond extract into the pudding along with the coconut milk, and proceed with directions. Instead of pistachios, sprinkle with slivered almonds. Want to push the envelope? Sprinkle with chopped SMOKED ALMONDS! Bam, I went there — sweet, salty, smoky.
5. Spread pudding on toast instead of using Nutella: I discovered the wonders of Nutella on toast in Amsterdam, where, bless their hedonistic souls, they apparently consider gobs of chocolate a suitable breakfast. However, the calorie count of Nutella is daunting — 100 calories a tablespoon, and let's be honest, we all know we're putting several times that on each slice of toast. Each serving of this pudding is only 150 calories, so let's spread a little pudding on toast (or dip your toast into your pudding), and maybe sprinkle with chopped hazelnuts for authenticity. Boom, done, you're welcome!
The Biggest Loser Chocolate Pudding
This easy dessert is a smart, 150-calorie way to satisfy your chocolate temptation.
Ingredients
1/4 cup unsweetened cocoa powder
1/4 cup cornstarch
1/4 teaspoon salt [I used just a pinch]
2 cups unsweetened coconut milk, almond milk, cashew milk or regular milk [I used coconut water]
1/3 cup agave nectar
2 teaspoons vanilla extract
2 teaspoons finely chopped toasted pistachios (optional) [I used chopped Marcona almonds]
Directions
Combine cocoa, cornstarch and salt in a small saucepan. Stir in a little coconut milk to make a smooth paste.
Gradually stir in remaining coconut milk and agave nectar. Bring to a boil over medium heat, stirring constantly. Cook 1 minute or until thickened.
Remove from heat; stir in vanilla. Pour into 4 (1/2-cup) ramekins; cool. Garnish with nuts, if desired.
[Note from Dorothy: I think this can serve 5-6. You only need a little bit to satisfy!]
Notes
https://www.shockinglydelicious.com/the-biggest-loser-chocolate-pudding/
Copyright Dorothy Reinhold | ShockinglyDelicious.com. All rights reserved.
Pin the image below for The Biggest Loser Chocolate Pudding to your Pinterest board to save it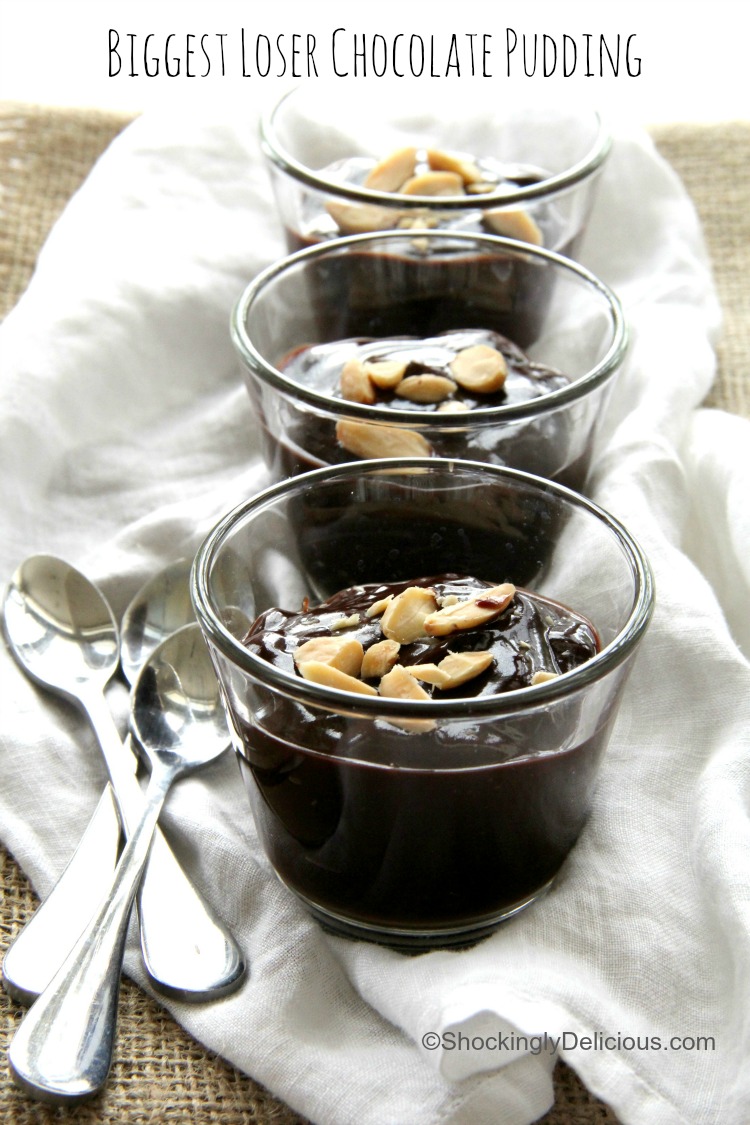 Looking for another Shockingly Delicious vegan chocolate recipe?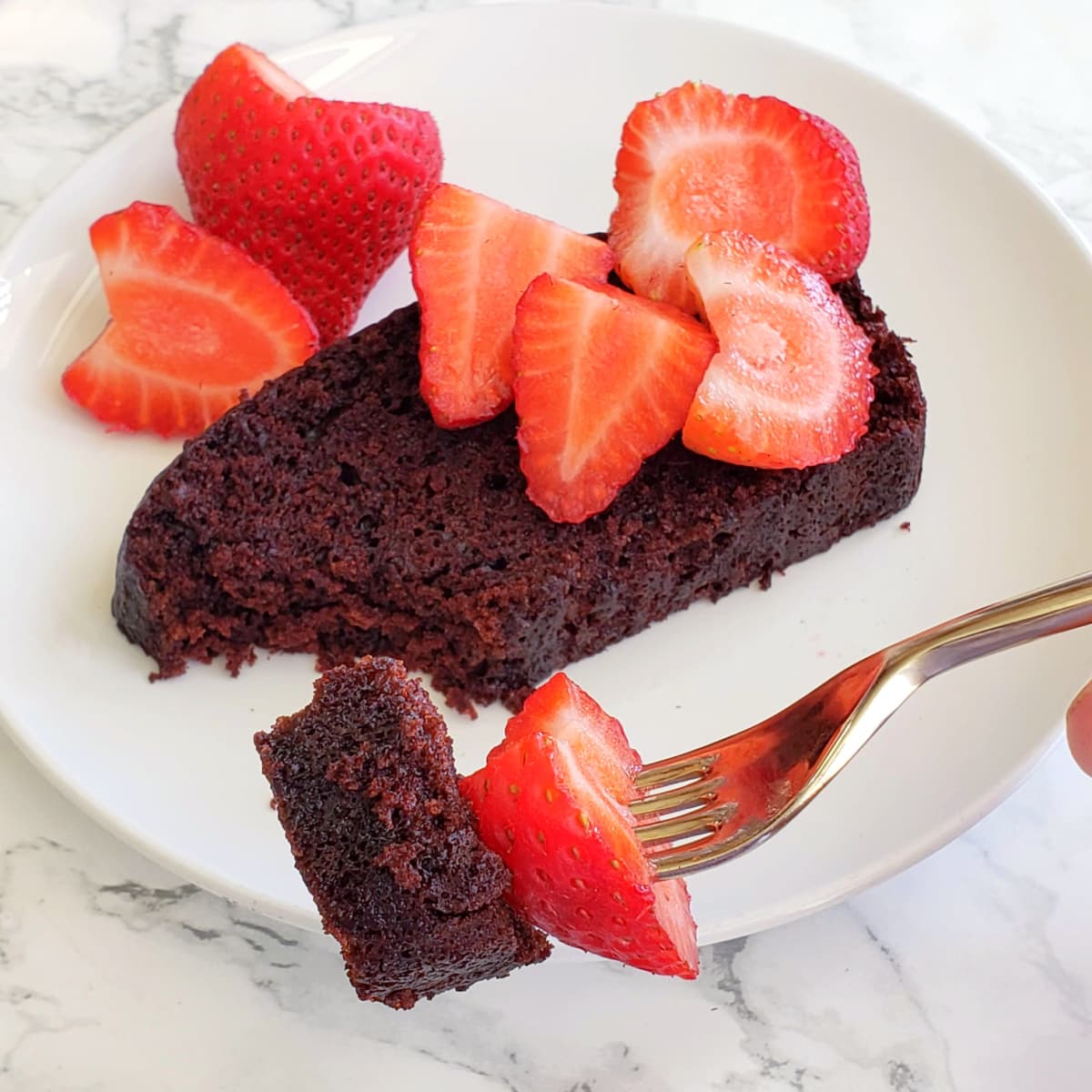 Vegan Chocolate Loaf Cake (Small Batch)
This recipe was originally published Jan. 13, 2017. It is refreshed and updated for publication today.
Thanks for visiting…are you hungry for more? Follow Shockingly Delicious on…
FACEBOOK | PINTEREST | INSTAGRAM | TWITTER
…for all the latest recipes, ideas and updates!
This post may contain affiliate/referral links. It is a way for this site to earn advertising fees (at no cost to you) by advertising or linking to certain products and/or services that I approve and prefer. Thank you for using my affiliate link to shop, so I can continue to bring you shockingly delicious recipes!