Print This Post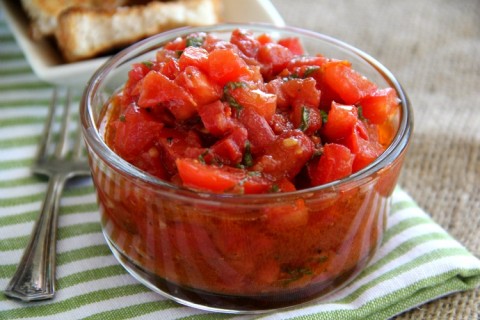 Have you tried the Trader Joe's Bruschetta Sauce yet?
If not, get right on that, because it's wonderful! You can find it in the cold case, in a 14.5-ounce tub, under the Trader Giotto's label. (And no one is paying me to talk about it.)
It's a simple chopped, chunky concoction of Roma tomatoes, olive oil, balsamic vinegar, basil, salt, garlic, sugar and black pepper (reading straight from the label).

Want to save this recipe? Pin the image below to your Pinterest board!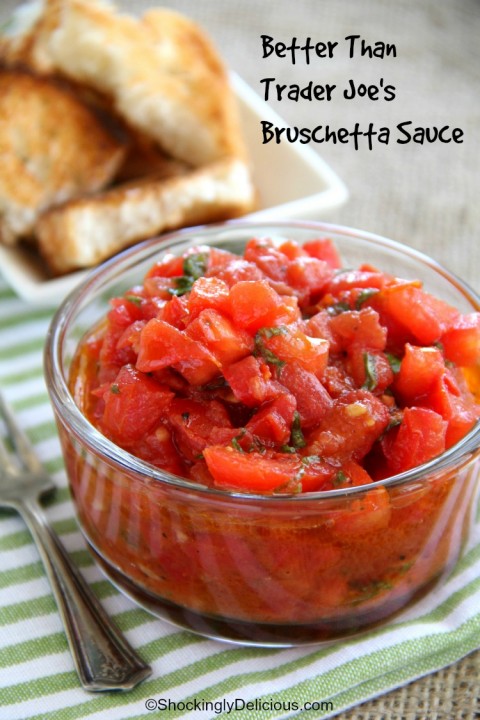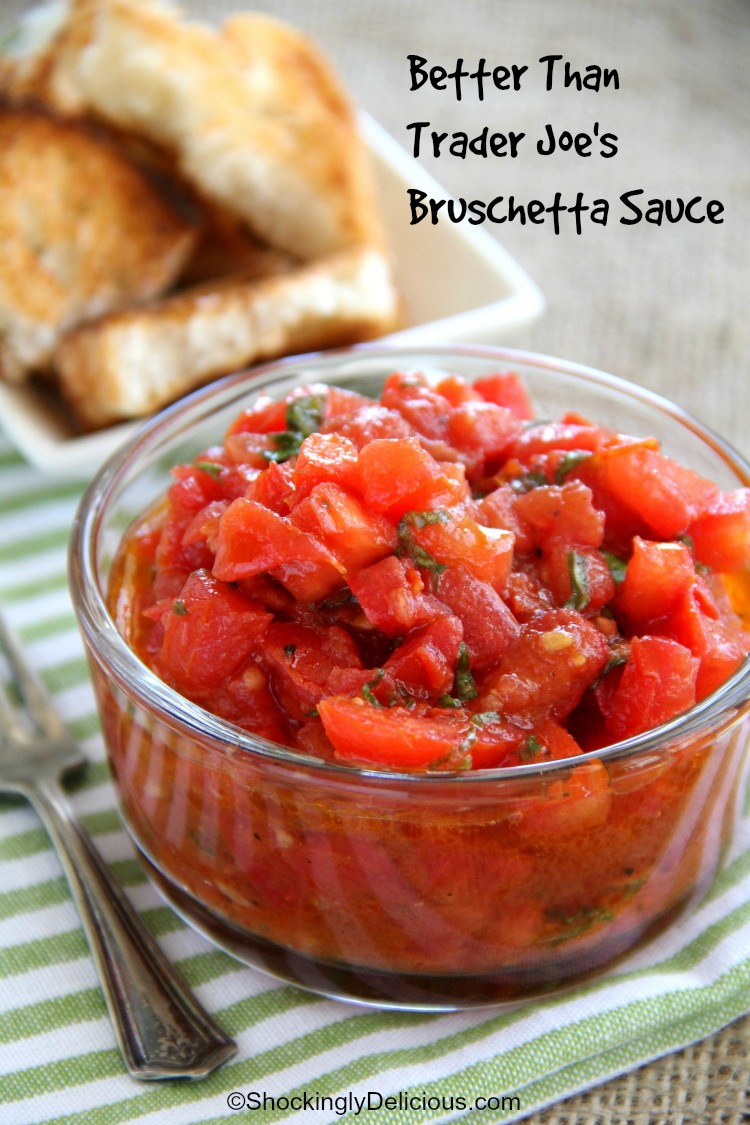 I used it for dinner the other night, we raved about the fresh, garlicky, tangy flavor, and then I wanted more the next day. I didn't have any, but I did have Roma tomatoes on the counter, waiting to be used, so I just started chopping, and in about 5 minutes, I had an excellent facsimile.
In fact, we liked my version even better! Try it and see for yourself what all the fuss is about.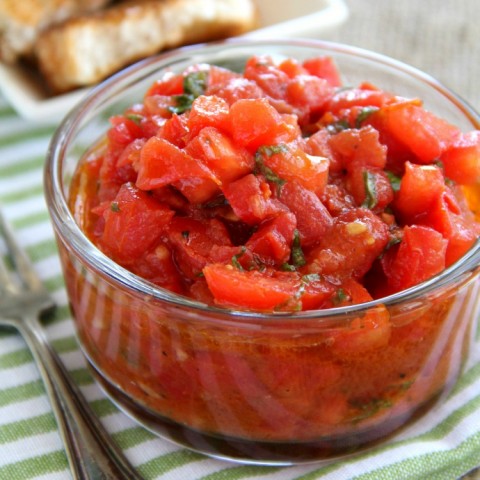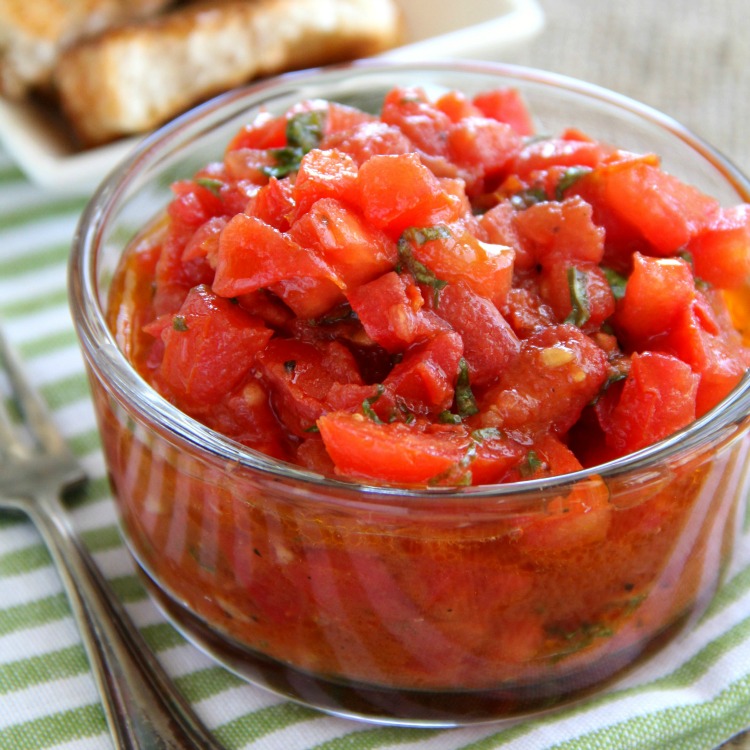 Better Than Trader Joe's Bruschetta Sauce
A chunky sauce of chopped tomatoes, aromatics and olive oil sparked with balsamic vinegar, this can top a baguette toast, hot or cold pasta, cooked fish or even scrambled eggs.
Ingredients
4 Roma tomatoes, seeded and diced small
3 tablespoons extra-virgin olive oil (I used Arianna Trading Company Organic Raw EVOO)
1/2 tablespoon balsamic vinegar
10 leaves fresh basil, cut in a chiffonade (fine ribbons) (this is about 1 tablespoon finely chopped basil)
1-2 cloves garlic, finely minced
1/2 teaspoon agave syrup
Pinch kosher salt
A few grindings of black pepper
Directions
Add all ingredients to a small bowl, and mix gently. Allow to rest for 15 or so minutes, and stir again (some of the water will be drawn out of the tomatoes and it will become just a bit more saucy). Taste and adjust salt, pepper and vinegar, if your taste buds tell you to add more.
Makes 1 1/2 cups or so. Serves 4.
Notes
Recipe source: Dorothy Reinhold | Shockingly Delicious
https://www.shockinglydelicious.com/better-than-trader-joes-bruschetta-sauce/
Copyright Dorothy Reinhold | ShockinglyDelicious.com. All rights reserved.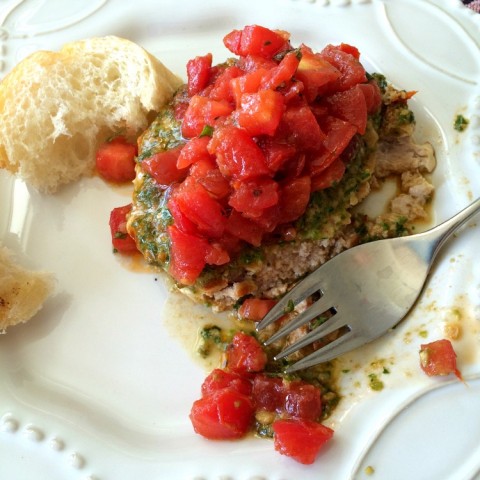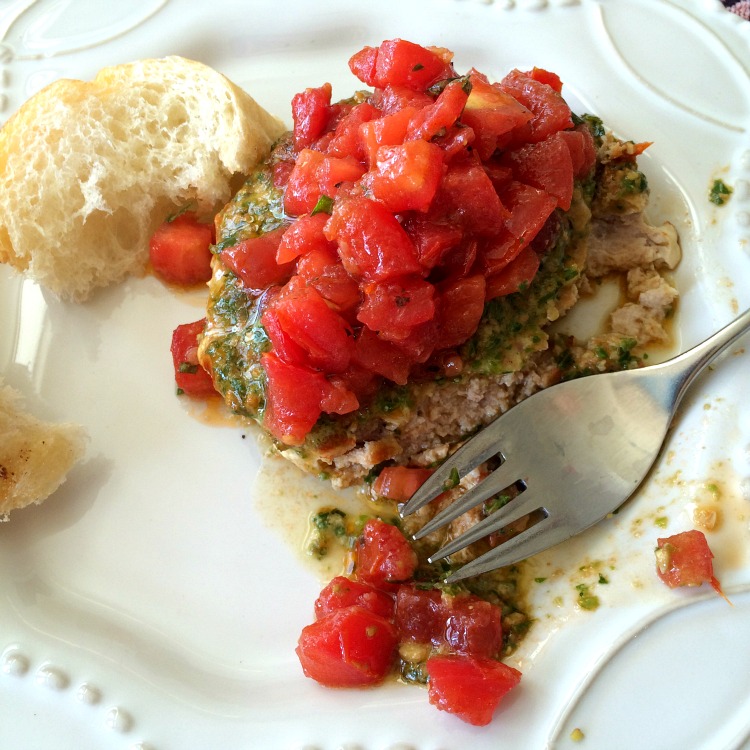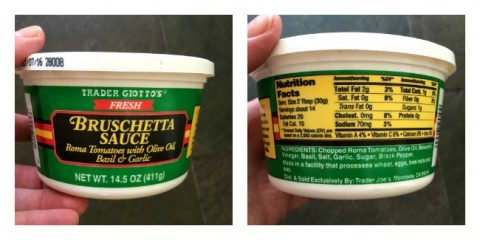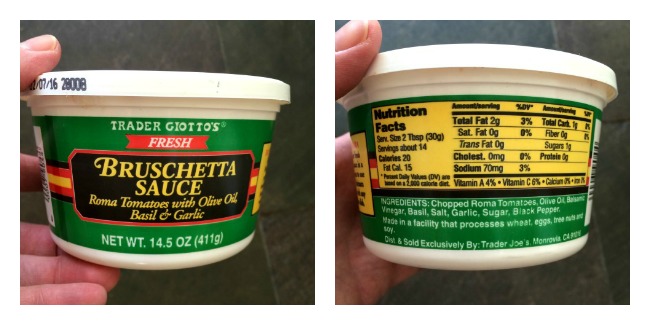 Want another of my Trader Joe's copycat recipes?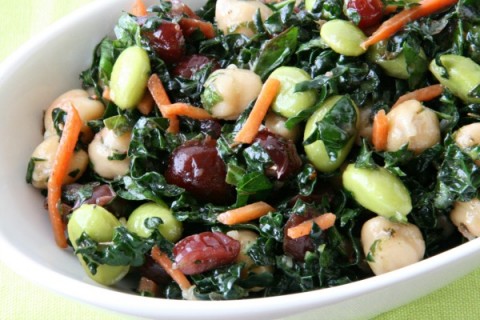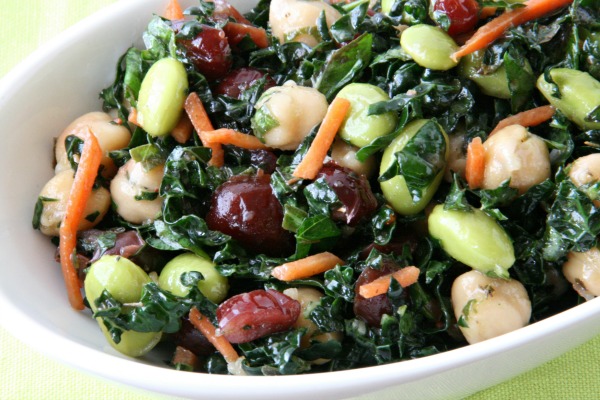 Better Than Trader Joe's Kale and Edamame Bistro Salad
Mangia, friends. Enjoy your meal!
Save
Save