Print This Post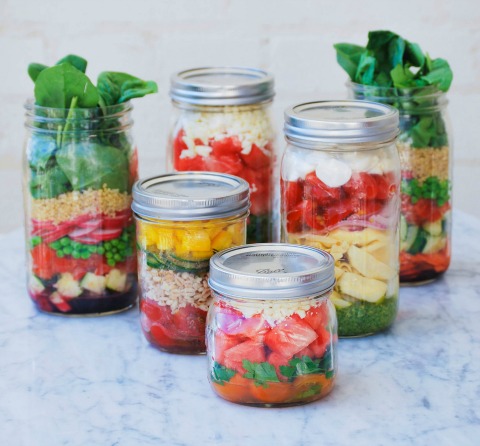 Sturdy, uber-useful Mason jars – long the container of choice in the pantry for jams, elbow macaroni and rice, in the household for odd buttons and spare change, and in the garage for nuts, bolts and screws, have now taken their place squarely in the refrigerator and the lunchbox.
They shine as a to-go container for salads, which if assembled properly, can be made in whole batches for lunches in the coming week.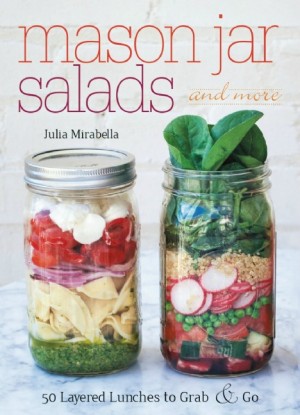 Julia Mirabella shows us how easy it can be in the new "Mason Jar Salads and More," (2014, Ulysses Press; $16.95), a clever 50-recipe cookbook that promises to be the cure for the sad desk lunch.
When she began working in her first job as an attorney, she realized she needed to reimagine her work lunches, which were hurried and unhealthy, so she began taking a little time on the weekends to make Mason jar salads for the coming week, as a way of eating better. Soon she branched out to include smoothies for breakfast, and hummus and veggies for an afternoon snack, all packed in ubiquitous Mason jars.
There is lots of inspirations in the book, which would make a nice gift for a work colleague or even a college student. I would pack it along with a few pretty Mason jars and a salad bowl for the office. The author encourages you to use her recipes as starting off points, and experiment with your own favorite ingredients.
Lunch should be fun, shouldn't it?
Here she gives us her best advice, tips and tricks, for how to pull it off.
How to make Mason jar salads, the easy way
The most efficient way to make Mason jar salads is to assemble more than one at a time, maybe even enough to take to work each day of the following week. Try to make similar types of salads at the same time — it cuts down on costs, since you don't need to buy many different ingredients. But make sure to have enough variety that you won't get tired of eating the salads day after day.
1. Begin by washing your salad ingredients and cutting the vegetables or fruits as needed. Choose a few vegetables that can be used in all of the salads you're making. It's good to have a few firm veggies to layer at the bottom of the jar.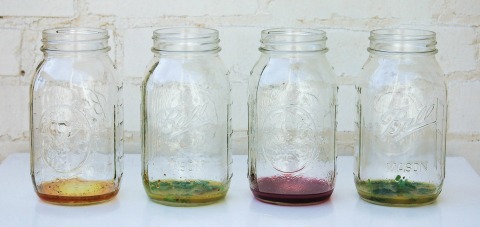 2. The secret to a Mason jar salad is layering. Start with the dressing on the bottom. I use about 3-4 tablespoons of salad dressing per quart jar, or 2 tablespoons per pint jar. (I've also found it helpful to place onions at the bottom, if I'm using them, because soaking them in the dressing helps dilute the strong onion taste and prevents onion breath at work.)
3. Next add some salad ingredients that won't soak up the dressing, such as carrots, cherry tomatoes, sugar snap peas, or chickpeas.
4. Continue to layer your salad with your chosen ingredients. Pack the layers as tightly as possible — the less air between layers, the longer your salad will stay fresh.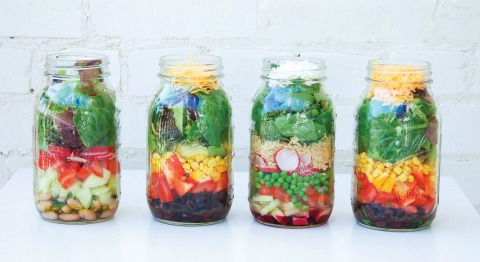 5. Finally, layer on your salad greens. By ending with the greens at the top, you'll create a moisture barrier that prevents the entire salad from becoming soggy. If you are including cheese and/or nuts, add them last.
6. Twist on the tops to seal your salads, place the jars in your refrigerator and you're good to go! If you want to include a protein such as chicken, just place it on top of the salad greens in the morning on the day you'll eat the salad.
7. When you're ready to eat the salad, just pour it into a bowl and toss to mix the dressing into the salad.
How easy is that? What would YOU like to create for a Mason jar salad?
Disclosure: Photos/excerpt courtesy of Ulysses Press/Julia Mirabella. The publisher sent a copy of the book for review.