Print This Post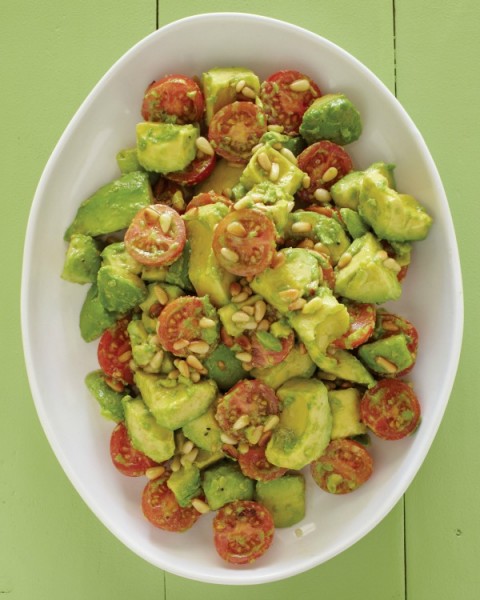 My BFF Teri and I decided to drop in to Lemonade, the fast-casual eatery chain (13 locations in greater L.A.) that we knew would satisfy our lunch cravings. Simple yet imaginative, relaxed and California-casual, these chef-driven, healthy recipes were exactly what we wanted.
We piled our plates high with Ahi Tuna, Snap Pea, Watermelon Radish Salad with Ginger Vinaigrette; Cauliflower, Raisin, Almond in Curry Vinaigrette; Red Miso Beef with some buttery mashed potatoes; Kale, Brussels Sprouts, Dates and Parmesan in a Sage Balsamic Dressing…we could not stop ourselves!
Today, though, I'm making their simple, perfectly in-season salad of California avocados, cherry tomatoes from my back yard garden, toasted pine nuts and an easy lime vinaigrette.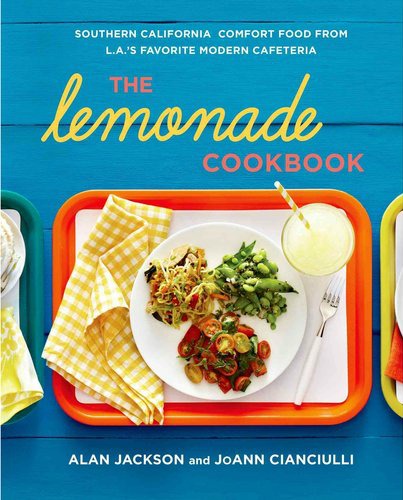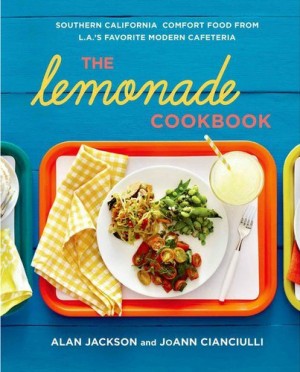 Luckily, Lemonade chef Alan Jackson put out a cookbook late last year with many of their most popular recipes among the 120 featured. I am devouring this book, much as I pounced on lunch the other day. Want it? It is called "The Lemonade Cookbook," by Alan Jackson and Joann Cianciulli (St. Martin's Press; 2013; $30).
It's fresh, lively, bold Southern California cooking that is of-the-moment. Sandwiches, salads, stews all pair with each other in a global mixing pot on the plate, accompanied by one of the 10 different flavors of lemonade. We highly recommend cucumber-mint. We were such piglets with our lunch plates, we didn't have room for dessert, but if we had, I might have chosen a Butterscotch Blondie.
We want these recipes now, and frankly, we want this food every day for lunch.
Is that too much to ask?
Avocado, Cherry Tomato, Pine Nut, Lime Vinaigrette Salad
Made with garden-fresh cherry tomatoes and ripe avocados, this easy summer salad is the perfect side dish or potluck offering.
Ingredients
4 firm-ripe California Hass avocados, halved, pitted, peeled, and cut into chunks
1 pint cherry or grape tomatoes, halved crosswise
1/4 cup pine nuts, toasted
1/4 cup Lime Vinaigrette (recipe below)
Coarse salt and freshly ground black pepper

Lime Vinaigrette

Juice of 2 to 3 limes, (about 1/4 cup)
1 tablespoon honey or agave nectar
1 teaspoon Dijon mustard
1 garlic clove, minced
1 teaspoon coarse salt
1 teaspoon freshly ground black pepper
2/3 cup canola oil
3 tablespoons chopped fresh cilantro leaves
Directions
In a mixing bowl, combine the avocados, tomatoes and pine nuts.

Make vinaigrette:

In a blender, combine the lime juice, honey, mustard, garlic, salt, and pepper. Blend on medium speed for a few seconds, and then reduce the speed to low. With the motor running, slowly add the oil until emulsified. Pour into a container or jar and mix in the cilantro. Keep any leftover vinaigrette covered in the refrigerator for up to 1 week.
Add vinaigrette to salad. Toss gently, taking care not to smash the pieces of avocado; you are not making guacamole!
Season generously with salt and pepper. Serve chilled.
Makes 4 cups.
Notes
Recipe source: From "The Lemonade Cookbook" by Alan Jackson and Joann Cianciulli. Copyright © 2013 by Alan Jackson and Joann Cianciulli and reprinted by permission of St. Martin's Press, LLC.
https://www.shockinglydelicious.com/avocado-cherry-tomato-pine-nut-lime-vinaigrette-salad/
Copyright Dorothy Reinhold | ShockinglyDelicious.com. All rights reserved.
Disclosure: The publisher sent a copy of the book for review.