Print This Post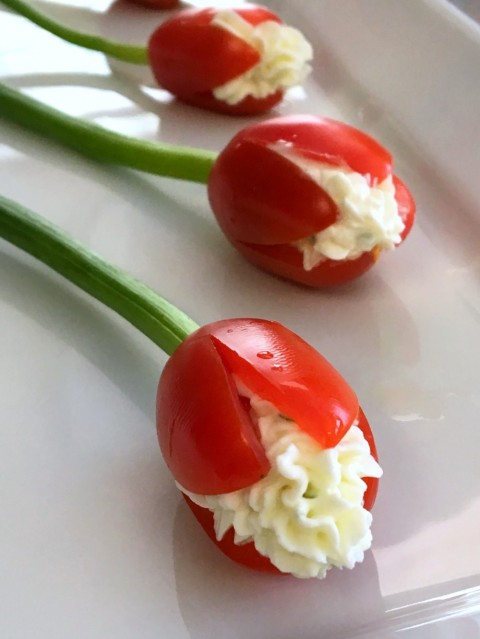 When you run across a clever, nay cute, way to prepare fresh produce or crudites, sometimes you can't get it out of your mind, right?
Five years ago I found Tomato Tulips on a Polish food blog, and shared the idea with you in my Favorite Things for September 2012.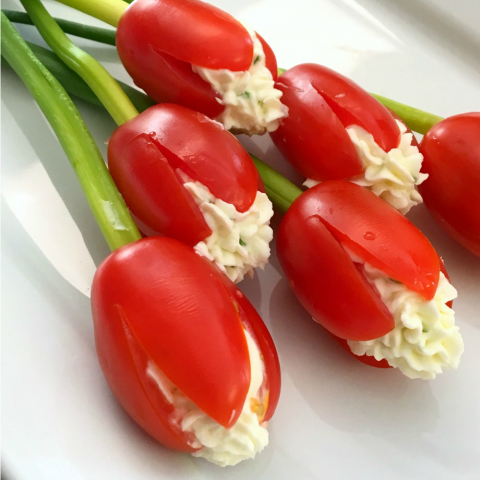 The idea has kept floating around in my head every time I buy grape tomatoes, or grow elongated cherry tomatoes, but I had never actually made them.
Now they've risen to the top of the to-do recipe pile, this time for Mother's Day, when I think a bunch of these splayed out on a rectangular white serving plate would made a divine appetizer centerpiece, or edible table decoration. Don't you? Bridal shower, or baby shower or patio party, anyone?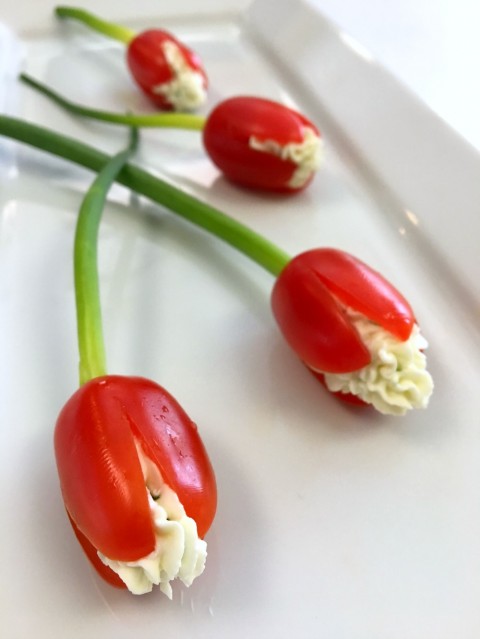 It's a very easy recipe. The center stuffing is simply garlicky, chivey, lemon-spiked cream cheese piped into a grape tomato with a slit at the top. A fresh scallion (green onion) gets inserted to act as the tulip stem.
Voila! How fun is that?
And if you want a shortcut, I describe in the recipe how to substitute Boursin (or use your favorite flavored cream cheese) to make it one tick easier.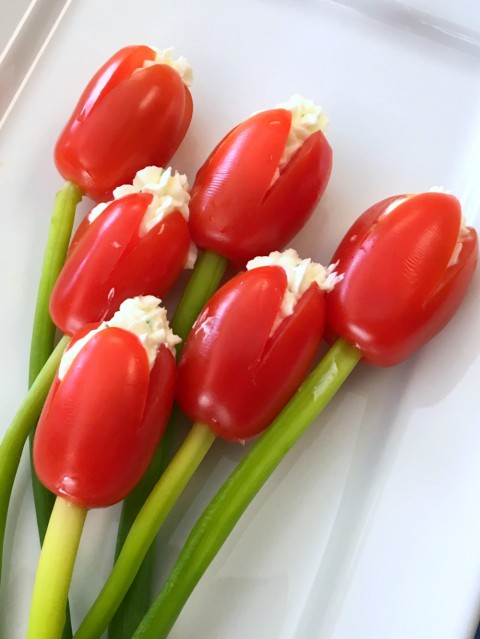 Let's all make them this year. In my book, it's the year of the tulip.
Grape Tomato Cream Cheese Tulips
A bunch of edible Tomato Tulips stuffed with garlicky chive cream cheese makes a pretty appetizer centerpiece for a special meal, a shower or party, or Mother's Day.
Ingredients
2 bunches green onions
1 (8-ounce) package cream cheese
15 chives
1 large garlic clove
Pinch kosher salt
Juice of 1/2 lemon
1 pint grape tomatoes
Directions
Cut off the roots and ends of the green onion

Prepare the stuffing:

Put the cream cheese in a mixing bowl and let it sit out about 30 minutes, to come to room temperature. Finely mince chives and add them to the bowl. Press garlic (or finely mince it) and add it to the bowl. Add salt and lemon juice and mix at medium-high speed until well blended and whipped into a lighter texture.

Prepare the tomatoes:

Using a skewer, poke a hole in the stem side of each tomato. Keeping the stem side down, make a cross (2 slices) 1/2 of the way down the tomato. Using a small spoon (or the tip of an old fruit peeler) scoop out the seeds from the inside of tomato and discard them.
Fill a pastry bag with the cream cheese mixture, and pipe the mixture into the cut end of each tomato, filling it up. (If you don't have a pastry bag, you can rig one up by using a small zipper-top plastic bag and snipping a tiny corner off to act as the nozzle.)
Insert a green onion into the hole at the stem end of the tomato. (Enlarge the hole a bit if needed with a wooden chopstick.)
Arrange tomato tulips on a serving platter.
Makes at least a dozen, depending on size.
Notes
Recipe credit: Adapted slightly from The Hotel Saugatuck, in Saugatuck, Michigan. Photos by Sean Kramer.
SHORTCUT: In place of the cream cheese, chives, garlic, salt and lemon, you could use Boursin Garlic and Fine Herbs cheese that you have whipped with a bit of room-temperature cream cheese so it is pipe-able. Boursin can be a bit crumbly on its own, so the cream cheese helps to make it creamier.
https://www.shockinglydelicious.com/grape-tomato-cream-cheese-tulips/
Copyright Dorothy Reinhold | ShockinglyDelicious.com. All rights reserved.
This recipe was developed by The Hotel Saugatuck, a luxury bed and breakfast in Saugatuck, Michigan, for their guests, to coincide with a nearby tulip festival. Tulip Time, a week-long festival that features 5 million blooming tulips, is quite the attraction for the whole area, and features parades, concerts, arts and crafts, distillery tours, trolley tours, and more. It's held in the nearby town of Holland, the European namesake, and is one of the most beautiful American towns. "USA Today" named it as 2016's Best Flower Festival. If you're in the area, Tulip Time runs from May 6-14, 2017.
If you like this recipe and want to save it, pin the image below to your Pinterest board.

Thanks to the hotel for sharing their recipe, and to Sean Kramer for allowing the use of his photos. This recipe was shared at Meal Plan Monday.

Save
Save
Save
Save
Save
Save
Save
Save
Save
Save