Print This Post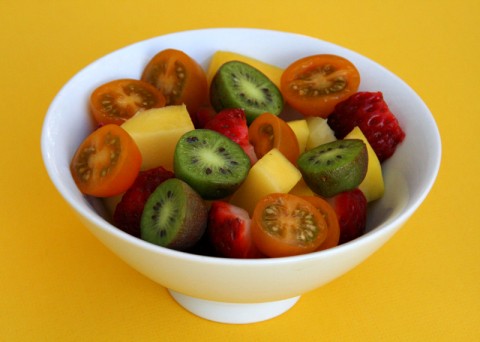 "Knowledge is knowing that a tomato is a fruit.
Wisdom is knowing that a tomato
doesn't belong in a fruit salad."*
So said Ken Silveira, president of Mastronardi Produce-West, to an appreciative audience this week at the Fresh Produce and Floral Council meeting.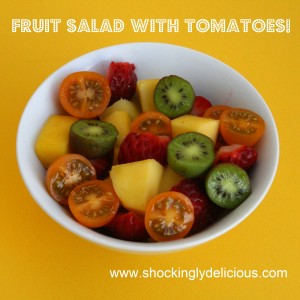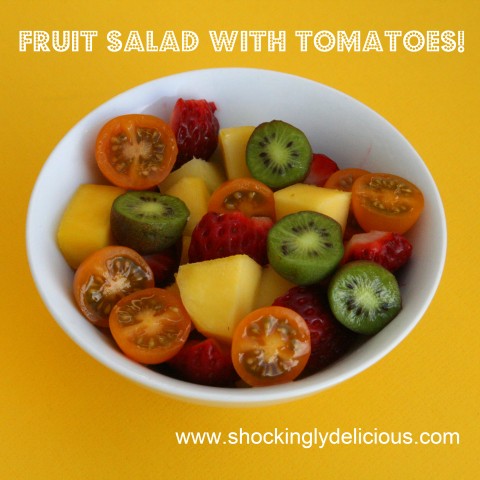 This group – I simply call them the fruit, veggie and flower people – met to discuss their business (growing, producing, shipping, packaging, distributing and otherwise bringing fresh fruits, veggies and flowers to you) and to hear from several food bloggers.
We bloggers regaled them with our stories, knowledge and advice about how they can work with food bloggers to get the message out that all of us – every single one of us! – needs to eat more fresh fruit and vegetables. (And some fresh flowers adorning the dining table never hurt digestion, either.) You can see a short video report about our talk in The Packer, a produce industry newspaper.
I chuckled with the rest of the crowd at Silveira's tomato joke, but then I got serious. Hey, who was he to tell us not to put tomatoes in our fruit salad? I began to consider it a dare.
So I took his candy-sweet, greenhouse-grown Zima cherry tomatoes and made a fruit salad out of them, with some fresh-cut mango from Ready Pac Produce that I picked up at the grocery store, some sliced strawberries and some darling halved baby kiwi sent to me by Melissa's Produce.
Verdict? Fantastic! Fresh, flavorful, and a delightful, colorful mix. The tomatoes added a bit of a welcome tang, and I would absolutely use them again in any fruit salad I made. My husband mumbled, "This works!" while stuffing his face. My teenager said simply, "Yum!"
So Ken, I loved your joke, but hey bud, it turns out you're just…how can I say this gently…wrong!
Want me to help you work on a new joke?  😉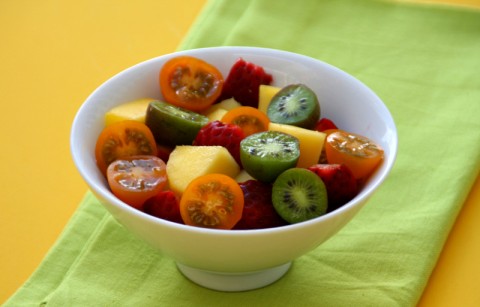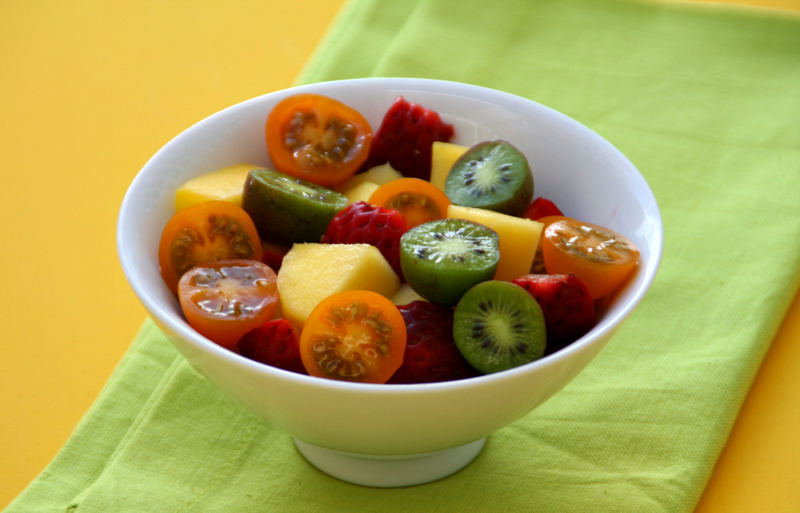 Recipe: Fruit Salad with Tomatoes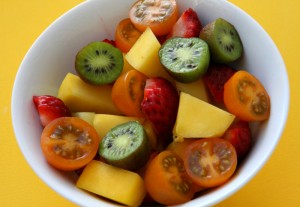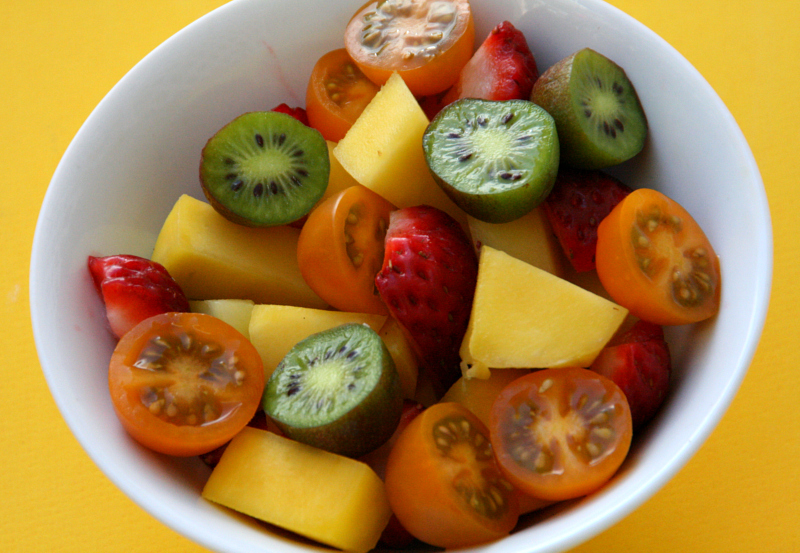 Summary: Since a tomato is technically a fruit but often considered a vegetable, ignore convention and include it in your fruit salad! You'll never go back.
Ingredients
Ripe mango, peeled, seeded and chopped
Strawberries, hulled and sliced
1 pint Zima cherry tomatoes, halved
1 6-ounce container Baby Kiwi, halved
Dressing: optional
Instructions
Combine all ingredients in a bowl and toss gently. This is a free-form fruit salad, so use as much or as little of any ingredient as you like. Want to throw in some orange segments? Do it! Can't find baby kiwi? Use regular size kiwi, peeled and chopped. Make it to suit yourself and your kitchen artist's eye. Indulge your whim.
Stir together gently. Dress it only if you feel it needs dressing. We like it naked.
Note
*This quote is widely attributed to the late British journalist Miles Kington.
Baby Kiwi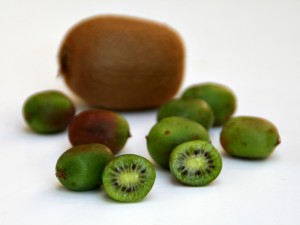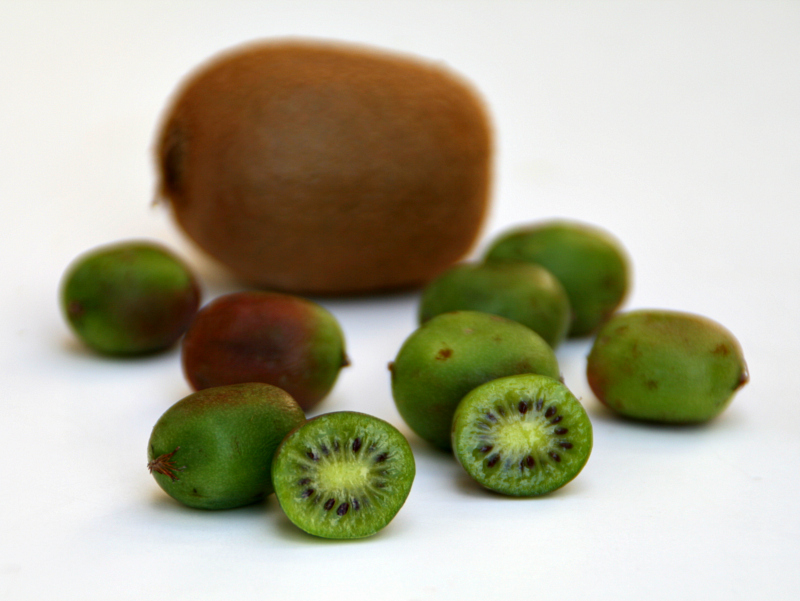 These baby kiwi are darling — so cute, super sweet, and easy to use! Grown in Oregon and about the size of a large grape, they're fuzzless so you eat the whole thing, soft skin and all. Distributed by Melissa's Produce, they're available in a 6-ounce clamshell package and cost about $4.99. Their season is right this minute, so if you see them, get them. Next week they might be gone.

Zima tomatoes
Zima are gourmet cherry tomatoes grown in greenhouses, so they can be produced year-round under optimal conditions. They're really sweet – naturally so – and marketed by Sunset Produce/Mastronardi, which built the first commercial greenhouse in North America and is the largest greenhouse company here. I've also bought and enjoyed their Kumato tomatoes, which have a brownish-greenish color when ripe, are sweeter than traditional tomatoes yet with a balancing acidic tang. They're wonderful layered in a Caprese salad because their color is surprising! These are just two of their specialty tomato offerings.
Preparation time: 10 minutes
Diet type: Vegan, vegetarian
Diet tags: Low calorie
Number of servings (yield): 4
Culinary tradition: USA (General)