Print This Post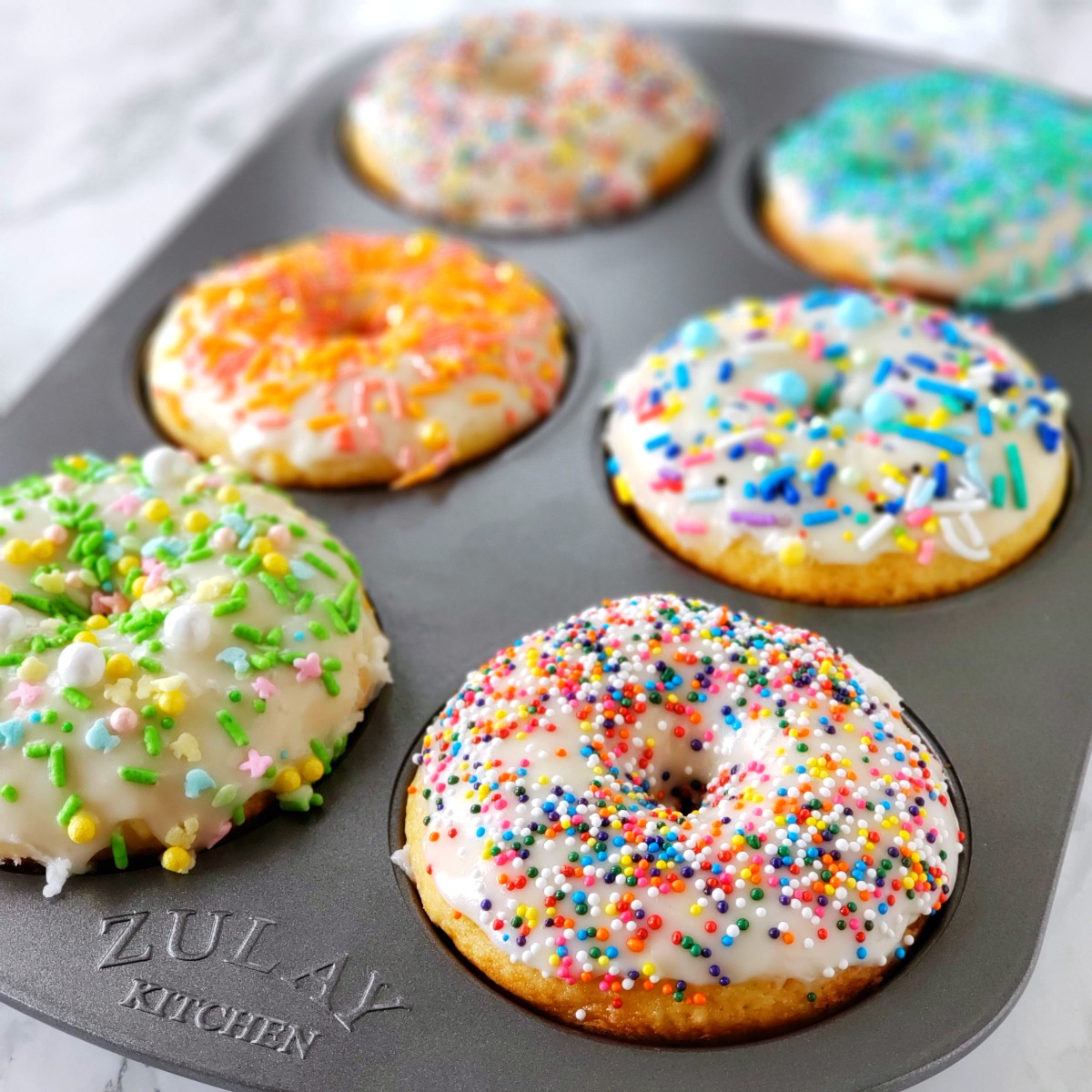 Glazed Baked Donuts allow you to enjoy a sweet breakfast treat without the deep frying of a traditional donut. And who doesn't like to start the day with sprinkles?
My family loves a sweet treat at breakfast, but I'm not much for frying, so I've never attempted traditional donuts at home. These Glazed Baked Donuts are a breakfast game-changer.
I recently got some wonderful nonstick donut pans, so I christened them with a very easy baked donut topped with a little lemon powdered sugar glaze and sprinkles. I had seen and was inspired by donuts with sprinkles on my new friend Dana Commandatore's Instagram account, and soon I plunged down the Internet rabbit hole to find the recipe she used, as my starting point.
I made just a couple of small tweaks, and with this recipe, you can have donuts on the table in 35 or so minutes, including cooling time.
I know you're staying home and wanting to bake. Let this be your next little oven project and put your own spin on them! And don't hate me for enabling you.
Other flavoring ideas for Glazed Baked Donuts
1. Donuts flavored with eggnog extract, and icing flavored with freshly grated nutmeg.
2. Donuts flavored with Fiori di Sicilia, and icing flecked with fresh orange zest.
3. A vanilla flavored donut, with icing flavored with root beer extract.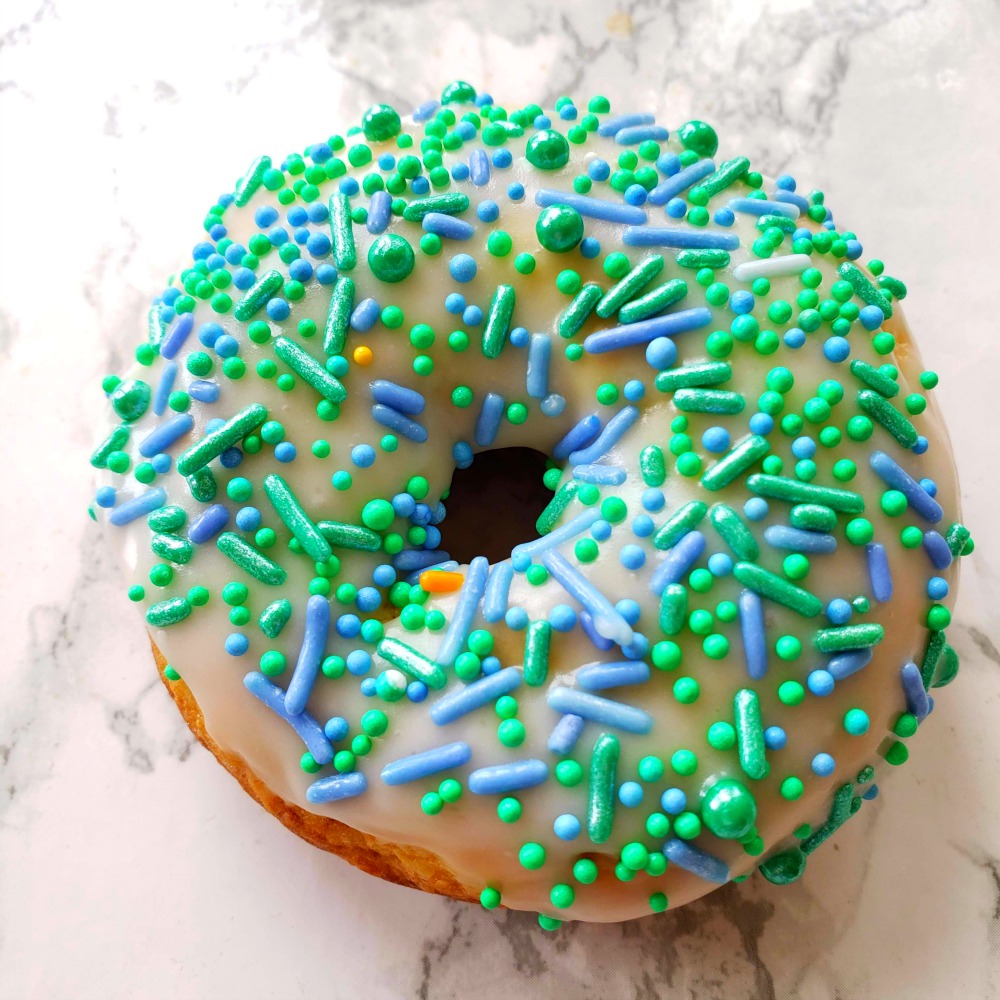 Glazed Baked Donuts allow you to enjoy a sweet breakfast treat without the deep frying of a traditional donut. And who doesn't like to start the day with sprinkles?
Ingredients
Donuts

1/2 cup sour cream (or plain yogurt, strained if it is too wet)
1 egg
1 teaspoon vanilla extract
2 tablespoons light flavored olive oil (or vegetable oil)
2 tablespoons melted butter
1/2 cup sugar
1/4 teaspoon salt
1 cup all purpose flour (or cake flour if you have it)
1/2 teaspoon baking soda
.

Glaze

2 tablespoons butter
2 teaspoon corn syrup
2 teaspoons water
1/4 teaspoon lemon extract (or other extract flavor)
3/4 cup powdered sugar
Sprinkles for decoration
Directions
Donuts:

Preheat oven to 350F degrees. Grease donut pans lightly with oil or cooking spray. Mine was nonstick so I didn't grease them and it worked fine.
Whisk together the sour cream or yogurt, egg, vanilla, oil, butter, sugar and salt in a bowl.
Add flour and soda and stir until well combined.
Fill nonstick donut pans with batter (this made 8 donuts for me) and bake for 12-14 minutes or until the top is springy to the touch and the sides are turning golden brown. Remove pans from oven and let cool in pan for 5-10 minutes then transfer donuts to cooling rack. They are tender, so you do need to cool in the pan for 5-10 minutes until you release them, or they might tear.

Glaze:

Place butter in small bowl and melt it in microwave oven. It should only take 15-20 seconds or so. Add corn syrup, water, extract and powdered sugar to the butter, and stir well to combine.

Assemble:

When donuts are cool, dip tops of donuts in glaze and place donut on a rack. Immediately sprinkle jimmies or sprinkles on top, before glaze sets. Allow to rest so glaze sets up.
Makes 8 donuts.
Notes
Recipe source: Adapted from Dana Commandatore at Wakeandbakemama.com, and she adapted hers from a recipe from Thesemisweetsisters.com
https://www.shockinglydelicious.com/easy-glazed-baked-donuts/
Copyright Dorothy Reinhold | ShockinglyDelicious.com. All rights reserved.
Pin the Glazed Baked Donuts image below to your Pinterest board to save this recipe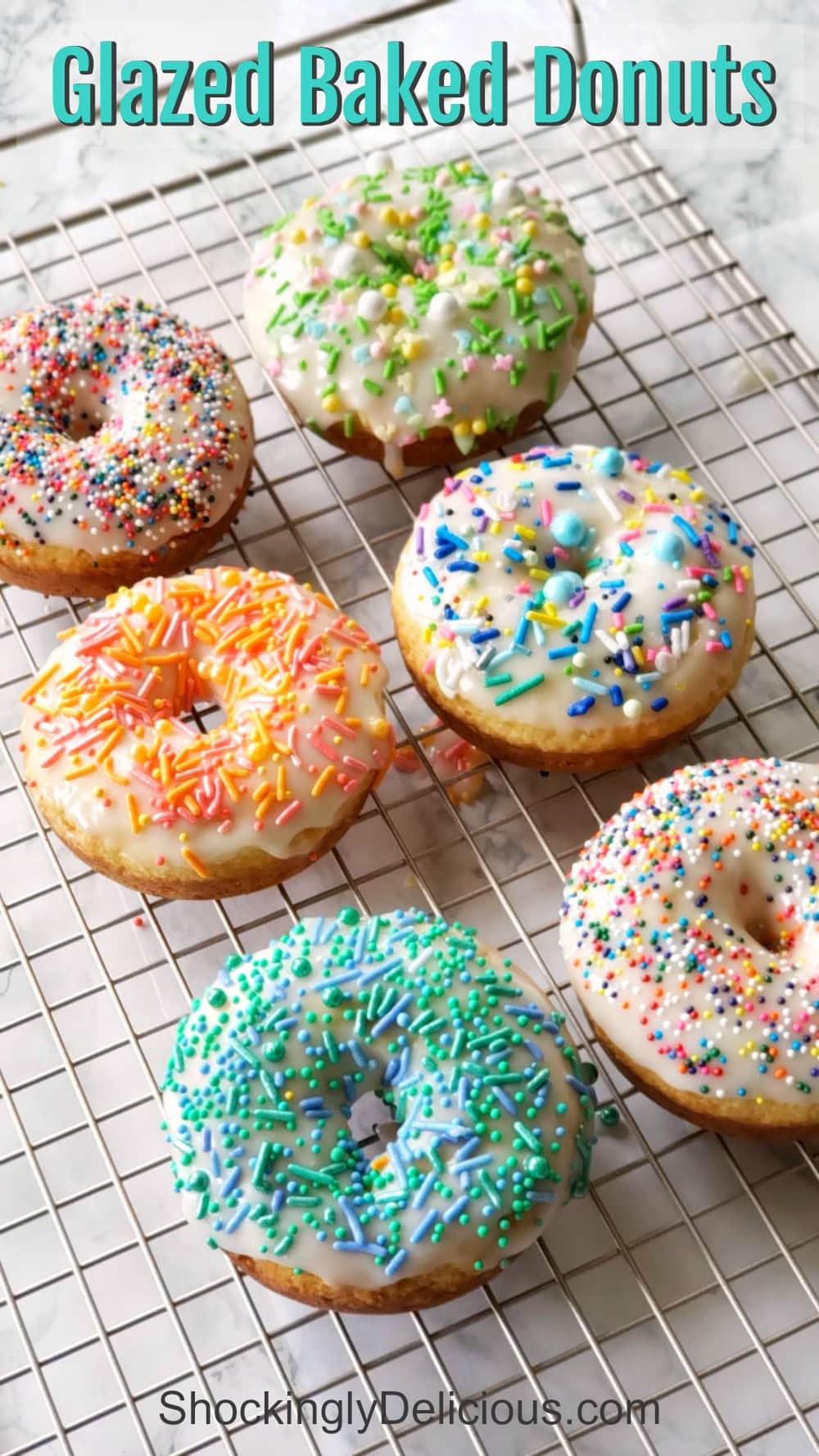 The pans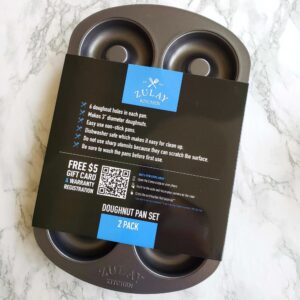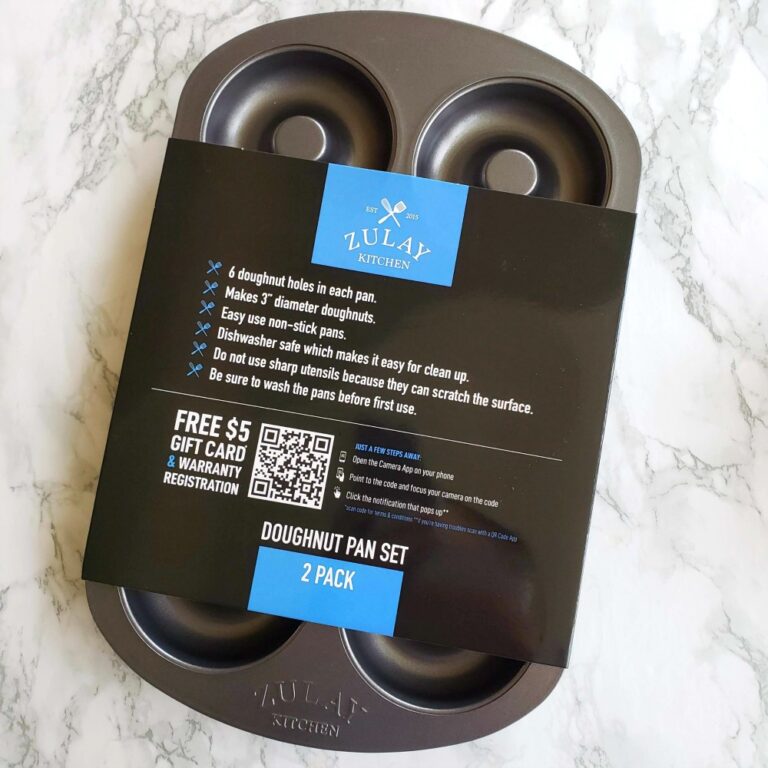 If you like to bake but don't yet have donut pans, I highly recommend these pans by Zulay Kitchen. They come 2 to a pack, are super sturdy and won't warp in the oven, have a slick nonstick coating and they go right in the dishwasher. The donuts were easy to remove without even greasing the pan, for me. I am thinking of trying a sort of bagel next in these pans. I'll let you know how it goes! Thanks to Zulay Kitchens for sending these pans for me to test drive. I think they'll also make wonderful gifts, so I plan to buy more and give them as birthday or graduation or wedding gifts to bakers I know.

Thanks for visiting…are you hungry for more? Follow Shockingly Delicious on…
FACEBOOK | PINTEREST | INSTAGRAM | TWITTER
…for all the latest recipes, ideas and updates!
This post may contain affiliate/referral links. It is a way for this site to earn advertising fees (at no cost to you) by advertising or linking to certain products and/or services that I approve and prefer.