Print This Post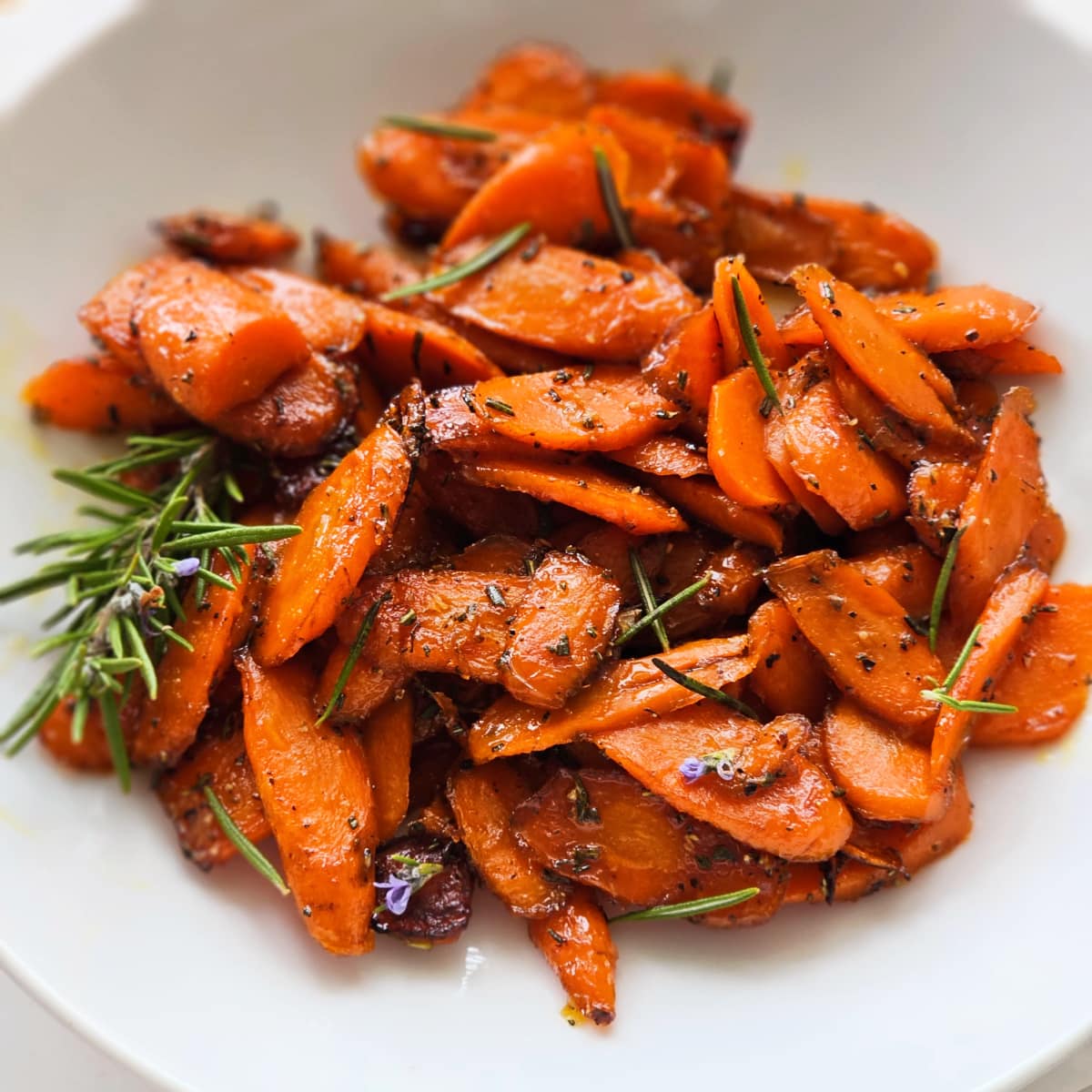 Honeyed Carrots: Sticky sweet, garlicky and crispy carrots are a perfect foil to roasted or grilled meats or fowl. Use organic full-size carrots for best results.
With Rosh Hashanah and its emphasis on honey (dipping apples into honey to wish each other a sweet new year), I cannot resist sharing my favorite carrot recipe.
Someone called it sort of a simple carrot tzimmes or tsimmes (no prunes or raisins and no other root veggies though). Or should we just call it the best carrot side dish ever?
Honeyed Carrots is beyond simple, but these days, the simpler the better when it comes to recipes and so many other things in life, eh?
How to make Honeyed Carrots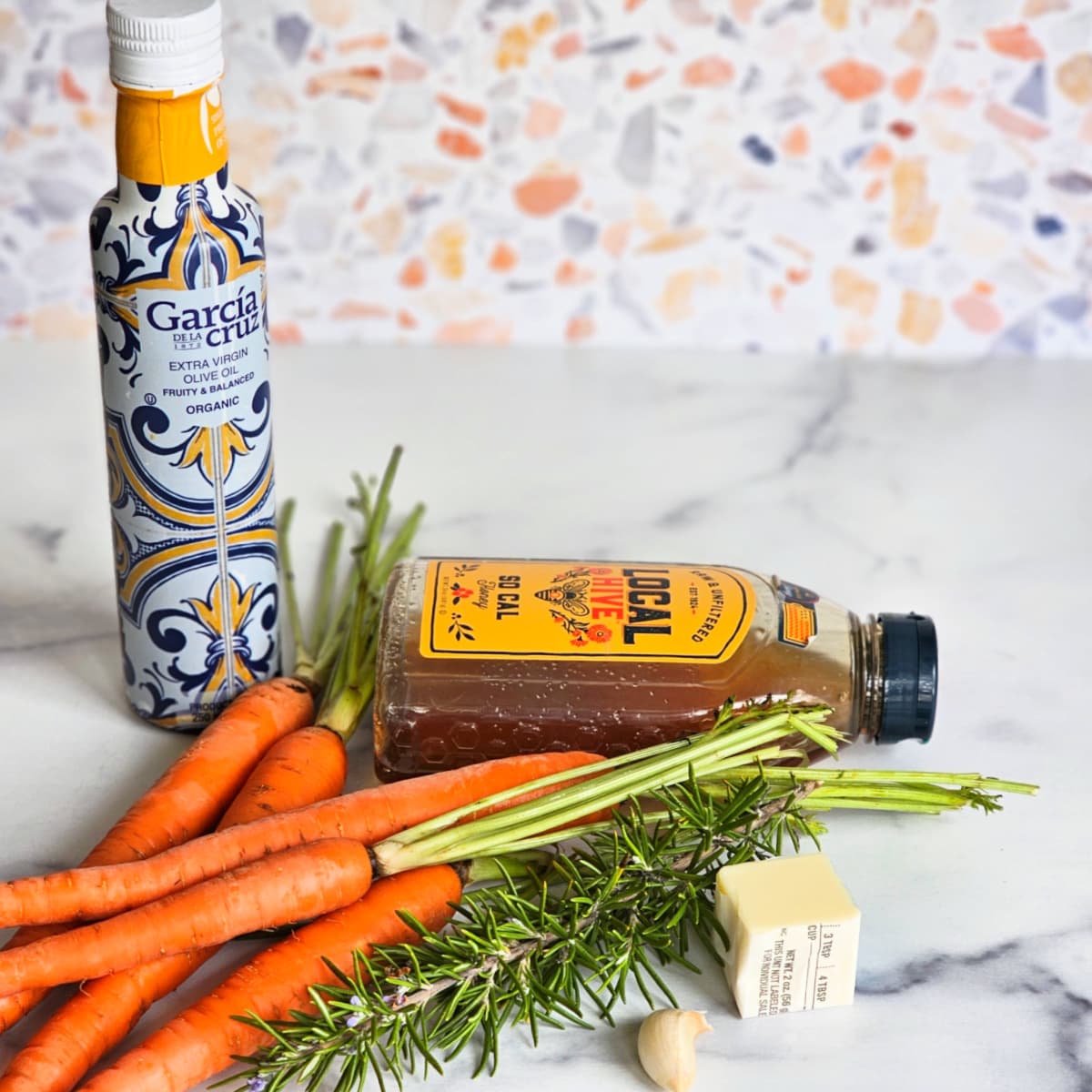 First, gather your ingredients. For this recipe, you'll need…
Olive oil and butter
Carrots
Clove of garlic
Honey
Fresh rosemary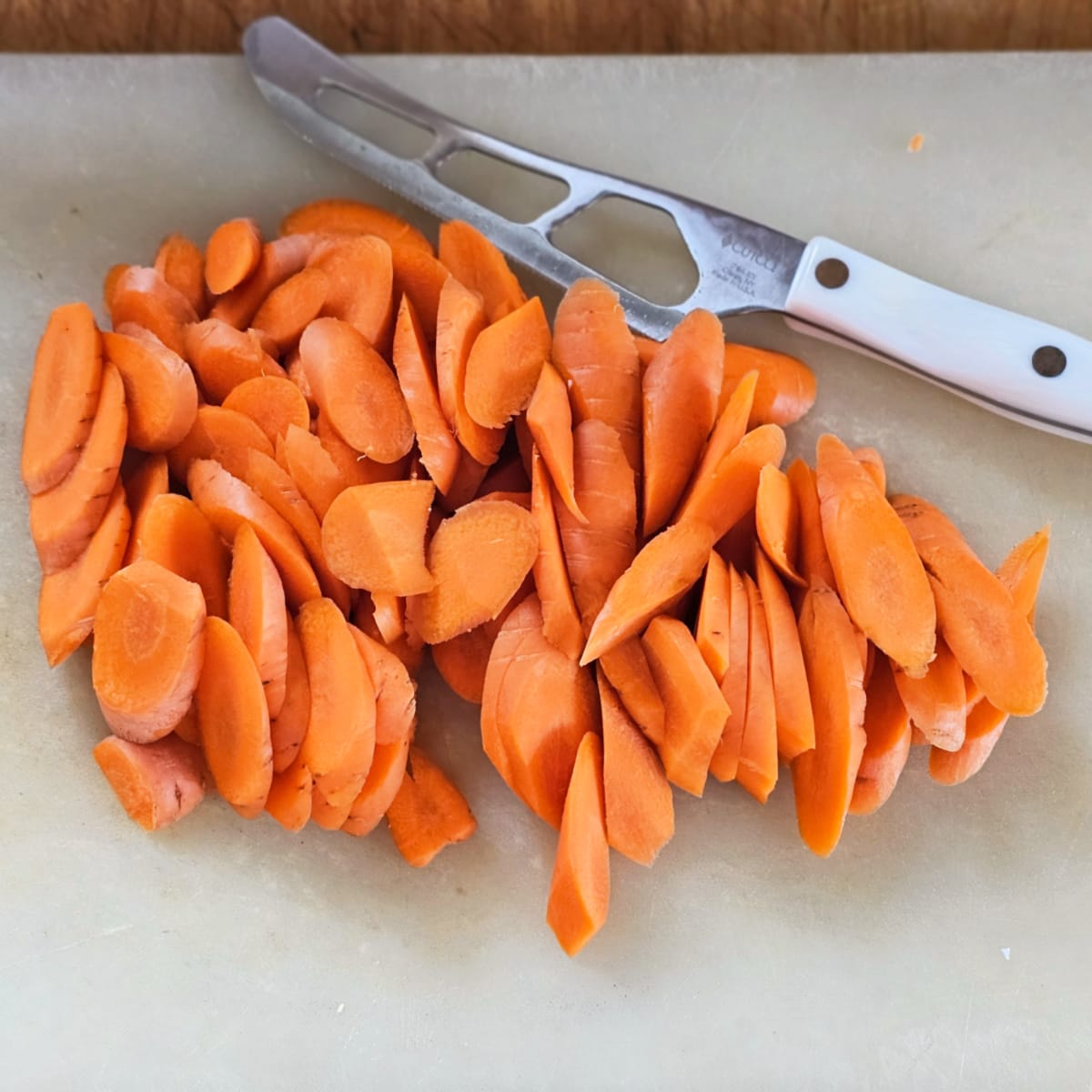 Wash and slice the carrots on a diagonal. You can peel them first if you like, but lately I don't. I just give them a good scrub, and carry on. It might seem odd, but I'm using a cheese knife to cut the carrots. It worked well! You could use a chef's knife or whatever knife you are comfortable with; it will only take a minute or 2 to cut them up.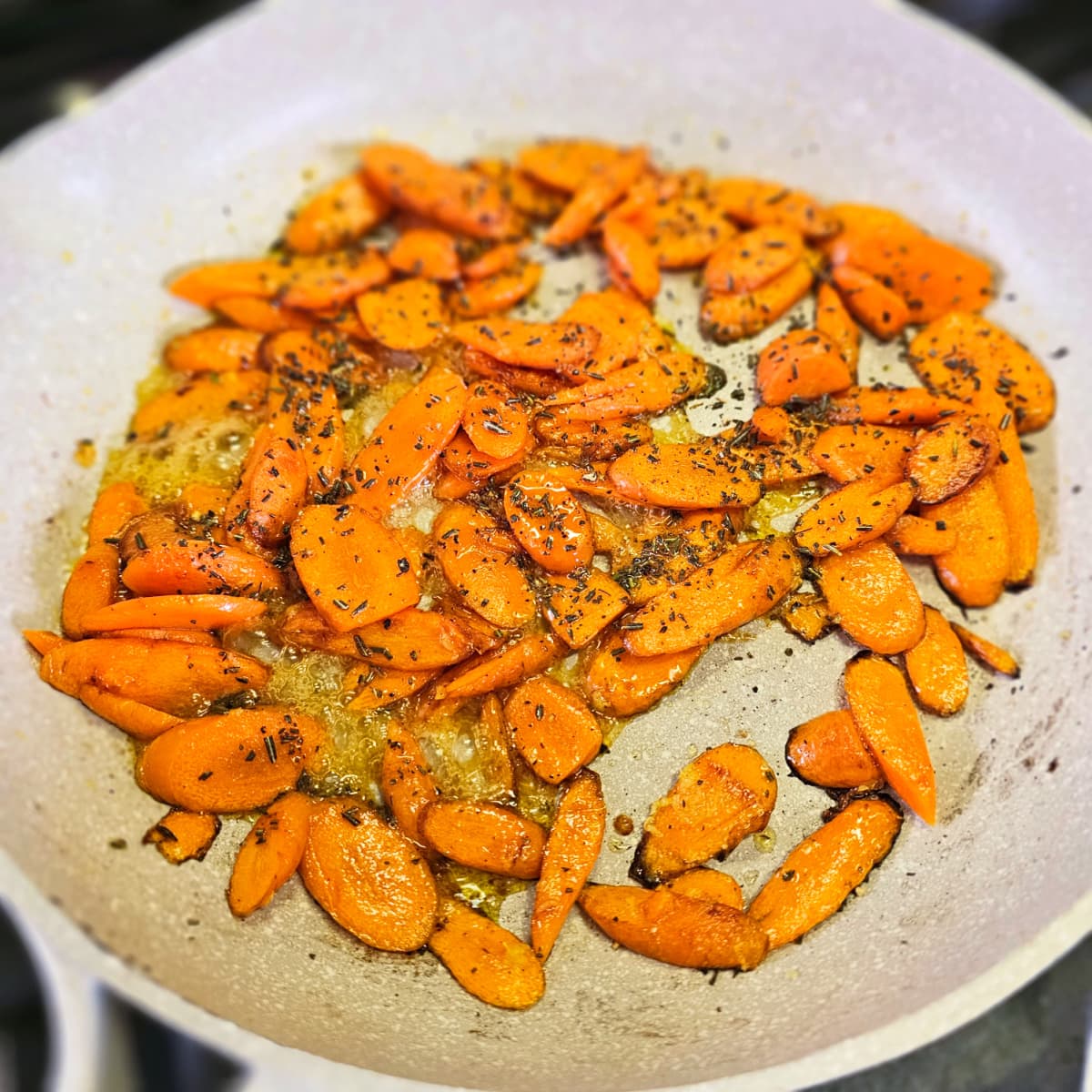 Heat the butter and oil in a skillet and give the carrots a quick saute. Near the end, add garlic, honey and rosemary.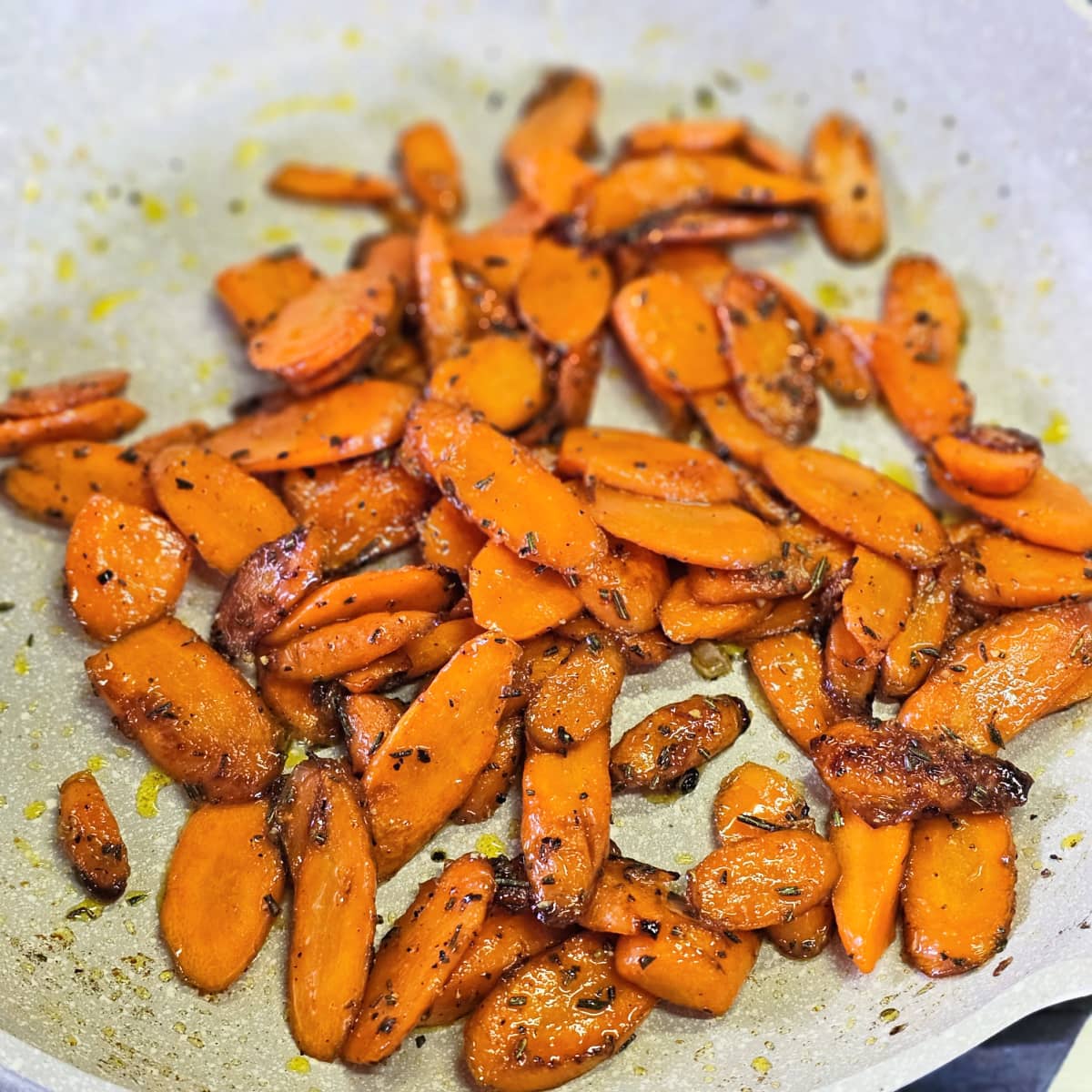 Saute for another minute or two; the carrots will take on more color. But you don't want them soft or mushy!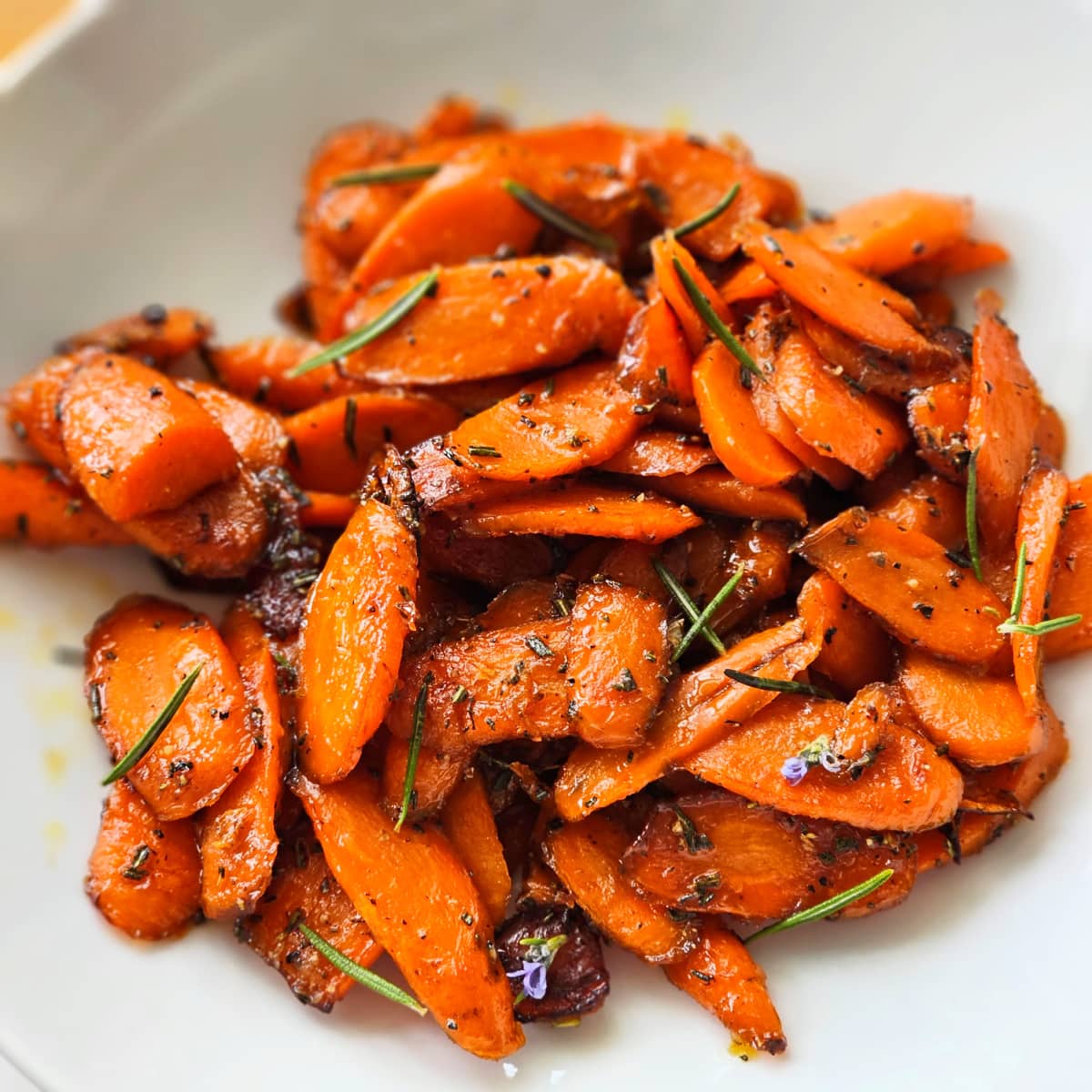 Put them in a bowl to serve. The tiny purple flowers were on the rosemary plant, so if they're on yours, feel free to throw them on as garnish. Could serve 2-4, depending on appetites and what else is on the plate!
Happy New Year to those who celebrate, and happy delicious eating to all.
Honeyed Carrots: Sticky sweet, garlicky and crispy carrots are a perfect foil to roasted or grilled meats or fowl. Use organic full-size carrots for best results.
Ingredients
1 teaspoon olive oil
1 tablespoon butter
1 bunch carrots
1 garlic clove, finely minced
1 tablespoon honey
1 teaspoon finely minced fresh rosemary (or 1 tsp. minced fresh parsley)
Salt and pepper
Garnish: minced chives or parsley or rosemary or another herb you like
Directions
Wash and peel the carrots (or don't peel, your choice), and then slice the carrots thinly on a diagonal.
In a skillet, heat up the oil and butter, then add the carrots. Saute for about 5-6 minutes, stirring frequently. Add garlic and saute for another minute, until carrots are tender but still a bit crunchy.
Add in the honey and rosemary, and saute 1 to 2 more minutes, until carrots are golden.
Season with salt and pepper and garnish with some fresh chopped chives or parsley if you like.
Serves 4.
Notes
Recipe source: Slightly adapted from Chef Ayda Robana, via Out of the Box Collective (now called Narrative Food).
https://www.shockinglydelicious.com/honeyed-carrots/
Copyright Dorothy Reinhold | ShockinglyDelicious.com. All rights reserved.
Pin the image below for Honeyed Carrots to your Pinterest board to save this recipe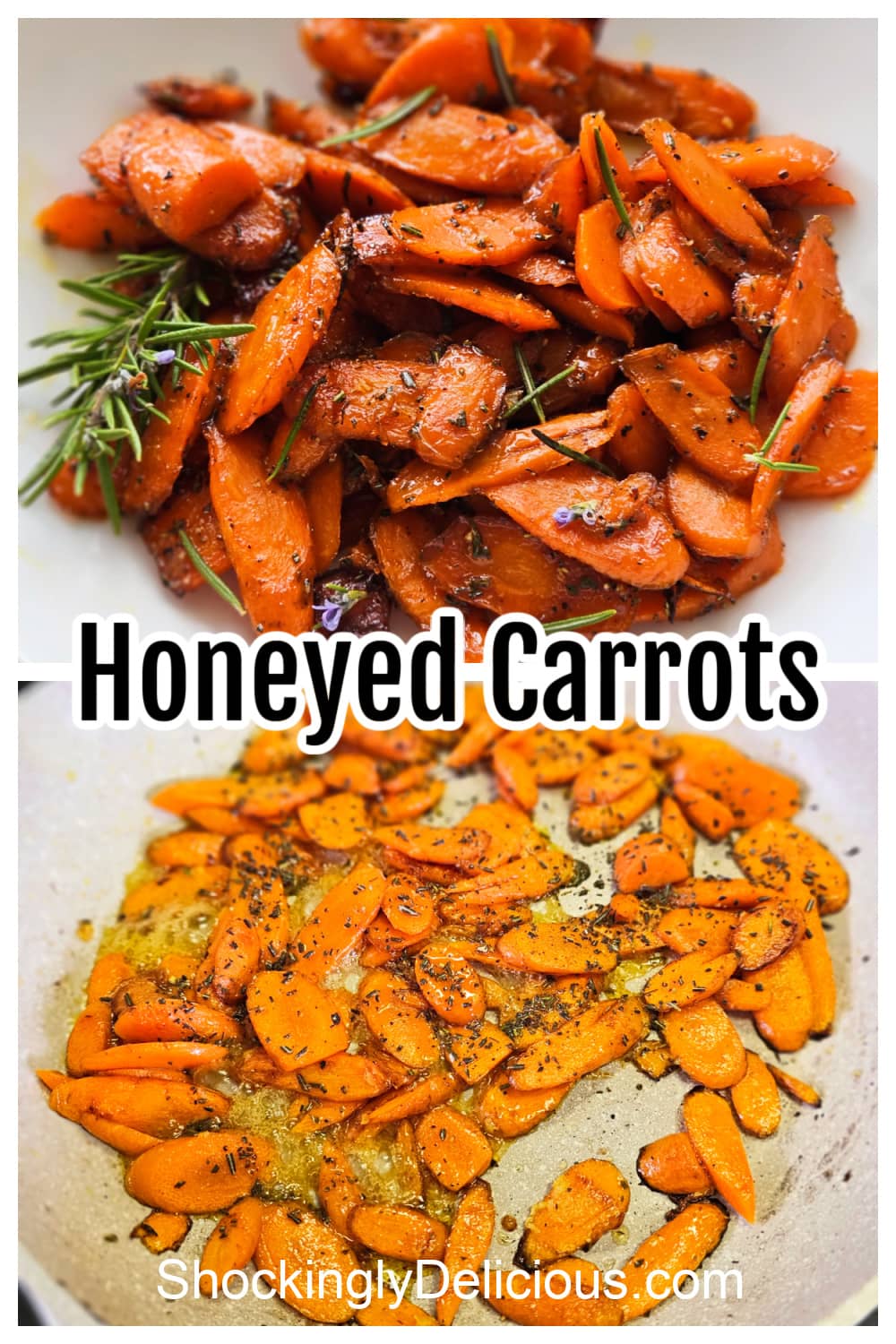 Another Shockingly Delicious recipe for carrots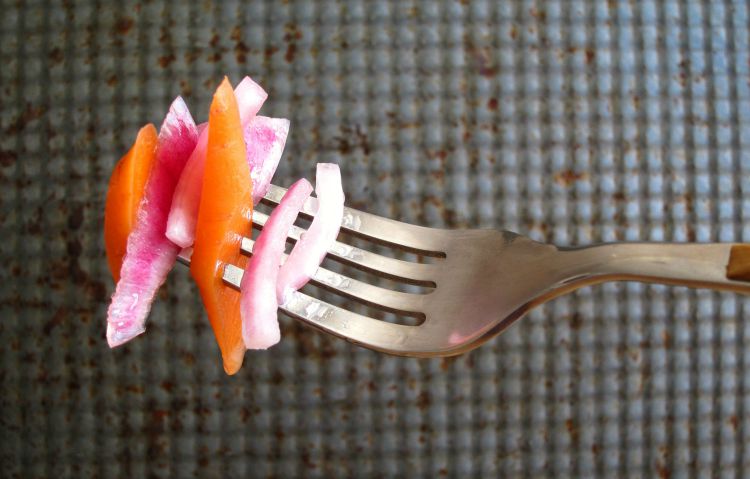 Quick Pickled Onions and Carrots
This recipe was originally published on ShockinglyDelicious.com on Sept. 28, 2011 and has been updated, refreshed and republished today.
Thanks for visiting…are you hungry for more? Follow Shockingly Delicious on…
FACEBOOK | PINTEREST | INSTAGRAM | TWITTER
…for all the latest recipes, ideas and updates!
This post may contain affiliate/referral links. It is a way for this site to earn advertising fees (at no cost to you) by advertising or linking to certain products and/or services that I approve and prefer. Thank you for using my affiliate link to shop, so I can continue to bring you shockingly delicious recipes!