Print This Post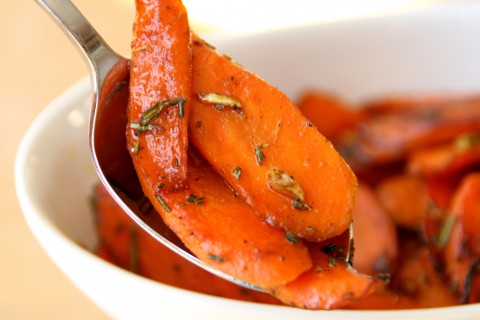 With Rosh Hashanah this evening and its emphasis on honey (dipping apples into honey to wish each other a sweet new year), I cannot resist sharing my favorite new recipe.
Honeyed Carrots is beyond simple, but these days, the simpler the better when it comes to recipes and so many other things in life, eh?
The recipe came by way of Out of the Box Collective, a wonderful food delivery service that I am testing out. A gorgeous box of produce arrived, along with a box of dairy, meat, chicken and fish — a week's worth of ingredients for stunning meals. You'll be hearing more about that in coming days, but I can't wait to share this great idea right now!
Along with the groceries came a meal plan and a packet of recipes to use them, this week's by gifted chef Ayda Robana. Her Honeyed Carrots, designed to be served with Rosemary Grilled Lamb Chops, are something to write home about! Maybe they're sort of a simple carrot tzimmes (no prunes or raisins and no other root veggies though).
And share. Please share!
Happy New Year to those who celebrate, and happy delicious eating to all.
Recipe: Honeyed Carrots
Summary: Sticky sweet, garlicky and crispy carrots are a perfect foil to roasted or grilled meats or fowl. Use organic full-size carrots for best results.
Ingredients
1 teaspoon olive oil
1 tablespoon butter
1 bunch carrots
1 garlic clove, finely minced
1 tablespoon honey
1 teaspoon minced fresh parsley

(I used 1/2-1 teaspoon finely minced fresh rosemary)

Salt and pepper
Instructions
Wash and peel the carrots, and then slice the carrots thinly on a diagonal.
In a non-stick frying pan, heat up the oil and butter, then add the carrots. Saute for about 6 minutes, stirring frequently. Add garlic and saute for another minute, until carrots are tender but still a bit crunchy.
Add in the honey (and rosemary, if you are using), and saute for a few more minutes, until carrots are golden.
Season with salt and pepper and garnish with some fresh chopped parsley if you like.
Preparation time: 5 minute(s)
Cooking time: 10 minute(s)
Diet type: Vegetarian
Number of servings (yield): 4
Culinary tradition: USA (Traditional)
My rating 5 stars:  ★★★★★ 1 review(s)