Print This Post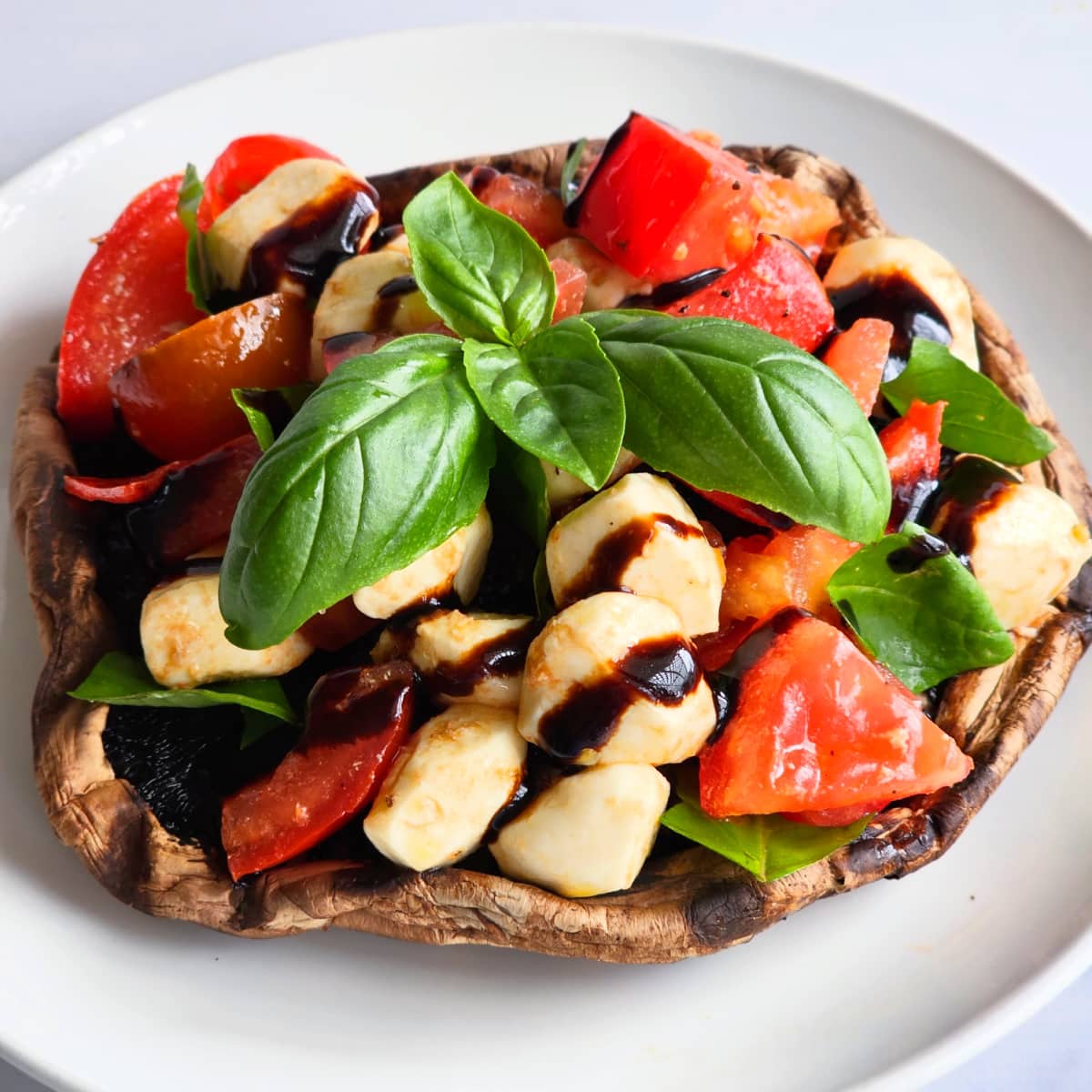 Grilled Portabella Caprese uses a grilled Portabella mushroom as a vehicle for a traditional salad of tomatoes, fresh mozzarella and basil.
If you haven't yet grilled Portabella mushrooms, now's the time. These meaty, firm mushrooms hold up well to grilling, and can fit a meal in their giant cap, as they do in this recipe. We're making a traditional caprese salad, and piling it into the grilled mushroom cap, which serves as the edible bowl.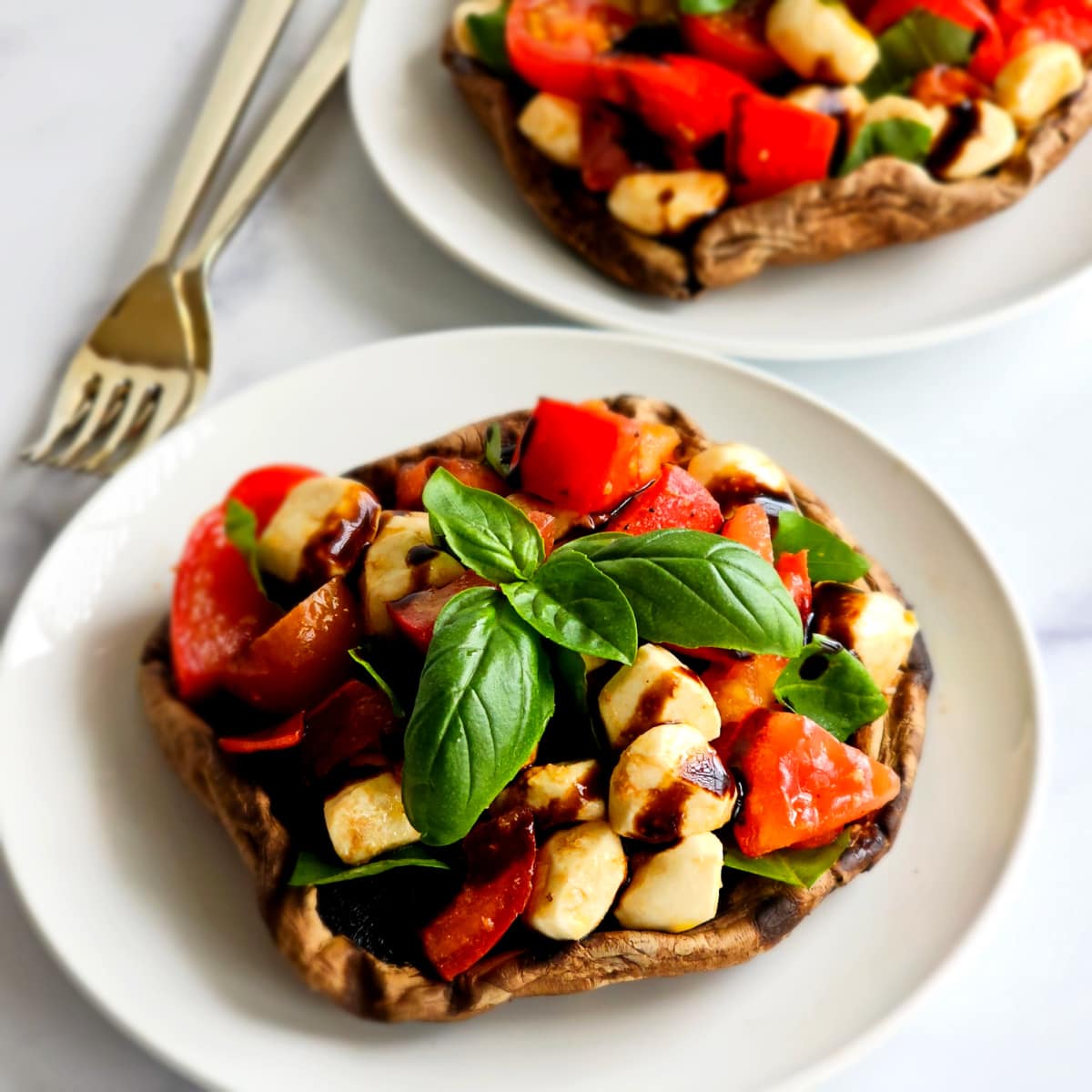 How to make Grilled Portabella Caprese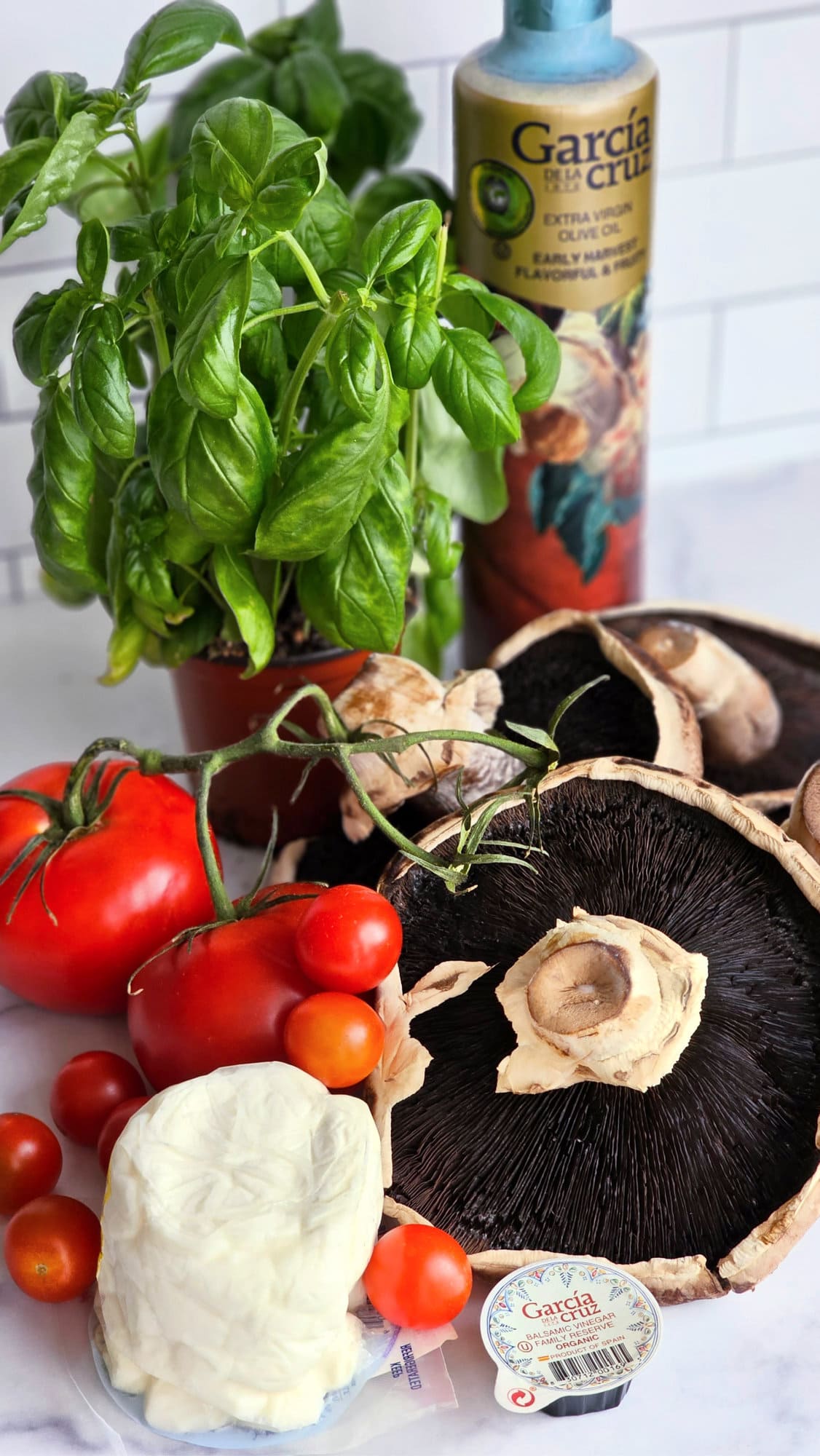 First, as always, gather all your ingredients to make sure everything is at hand. For this recipe, we're using:
Portabella mushrooms (mine are from Melissa's Produce. You can find them at the grocery store or farmers market)
Tomatoes (large, heirloom or cherry tomatoes will work. Summer tomatoes are ideal!)
Fresh mozzarella (mozzarella pearls or a hunk diced)
Fresh basil
Extra virgin olive oil
Balsamic vinegar and balsamic glaze
Salt and pepper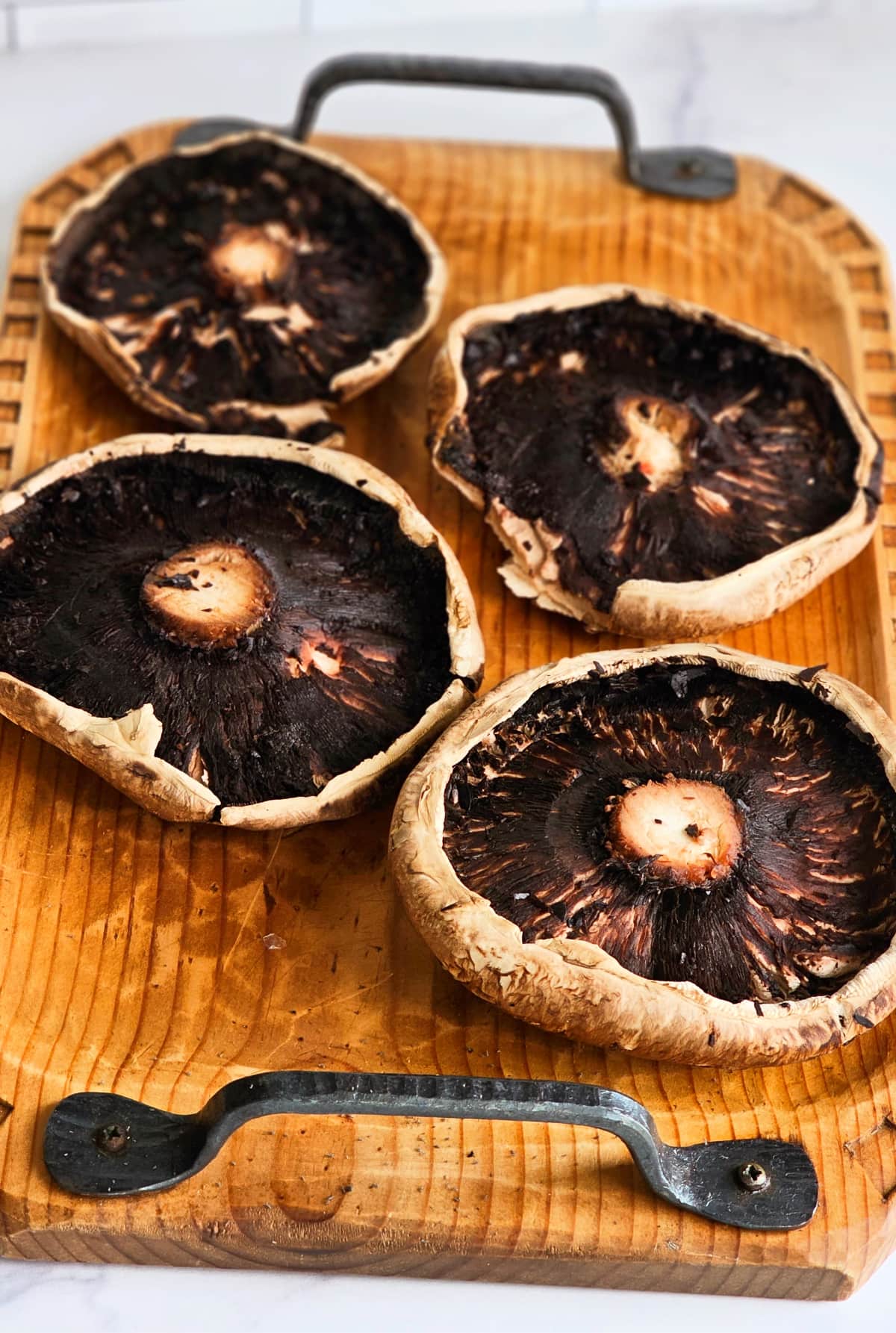 Take the caps off the mushrooms and use a spoon to scrape out the gills. This will allow more space to fit your salad in the mushroom cap.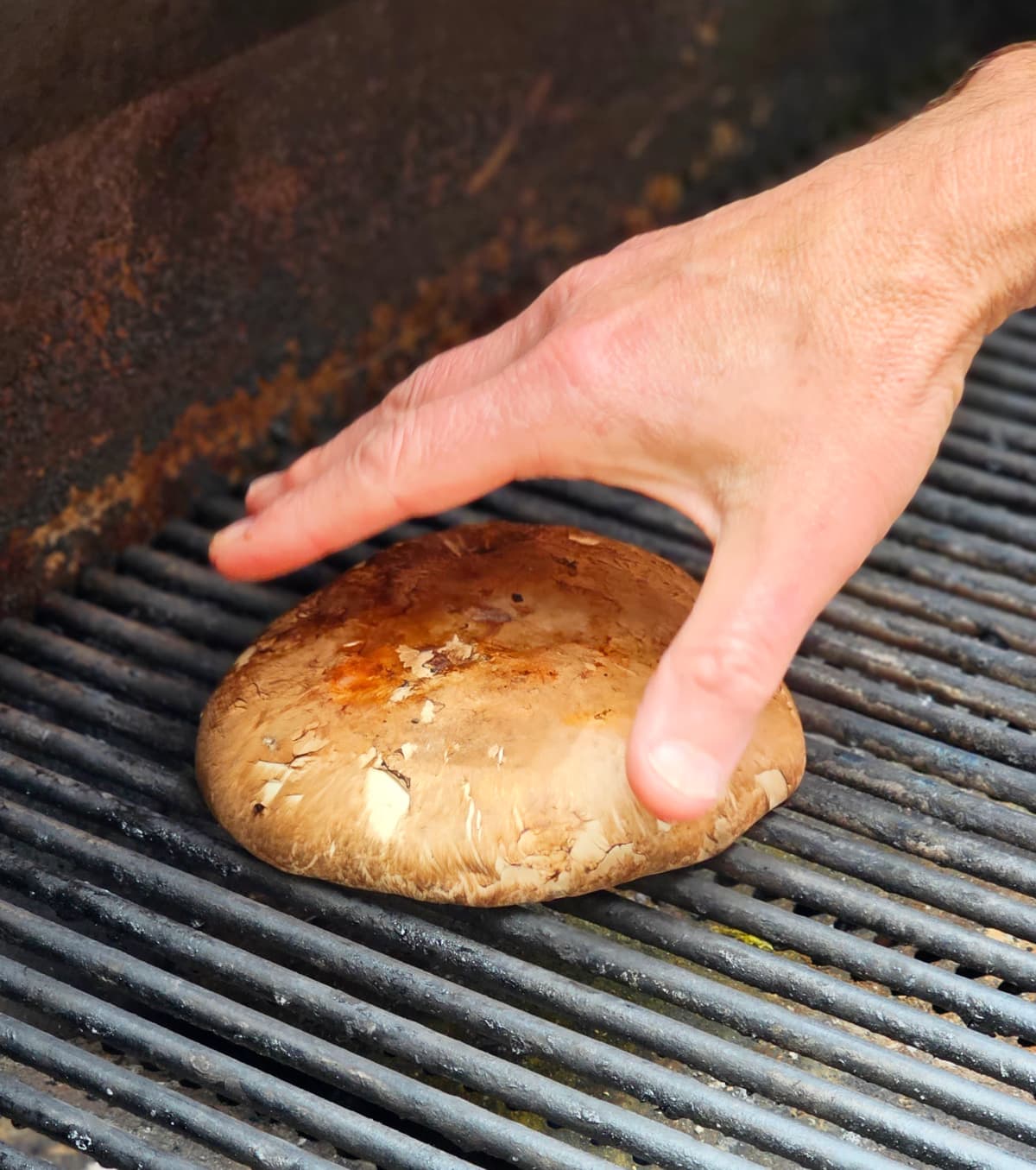 Grill the mushrooms until just tender. Start with gill side down.
Then flip and grill gill side up.
Mix the salad ingredients and spoon into the mushroom caps. Drizzle with balsamic glaze and use some fresh basil as garnish.
Frequently asked questions about Portabella Caprese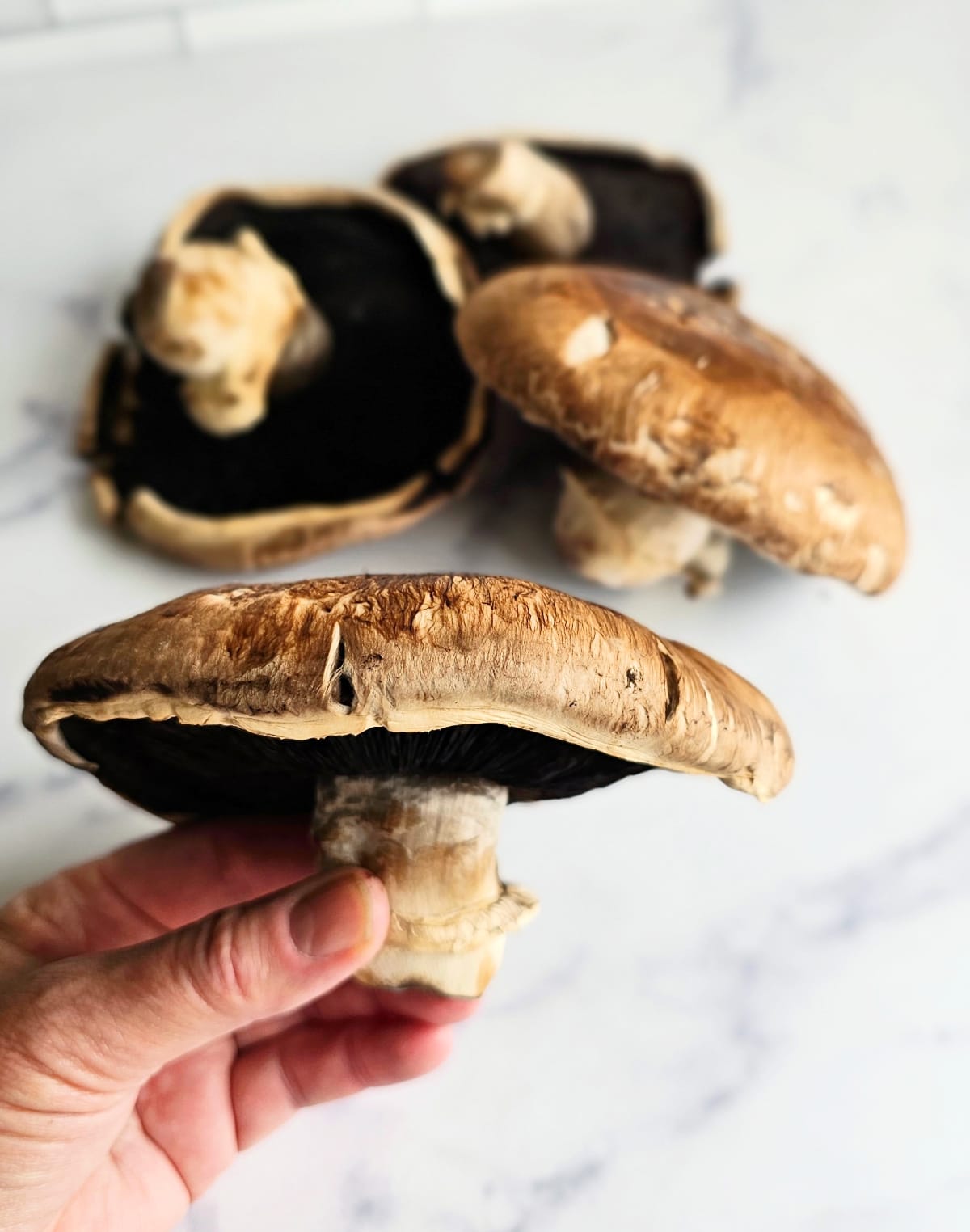 What is a Portabella mushroom? It's a large, dark brown mushroom with a cap that can grow to 5-6 inches in diameter. It's a mature Cremini mushroom or relative of a white button mushroom, 3 to 7 days older than a smaller Cremini.
What does a Portabella taste like? It has a very intense, savory mushroomy flavor with big umami. It is a cartoonishly large, meaty mushroom, and can stand in as a meat replacement in vegetarian or vegan dishes. The original veggie burger was a marinated Portabella cap grilled and served in a bun! It makes a big impression on the plate when kept whole and grilled, but you can also slice it into thick strips.
How to store a Portabella mushroom: Keep it in a brown paper bag in the refrigerator for 7-10 days. If you put it in a plastic bag, it is more likely to get slimy quicker.
How to prepare a Portabella mushroom: As with other mushrooms, brush off debris with your fingers or a damp paper towel. The whole mushroom, including stem, gills and cap, is edible.
How do you spell it? The Mushroom Council spells it Portabella (with 2 a's), but it is often also seen as Portobello. Either are correct. It's also known as a Giant Crimini, or Ports.
Do Portabellas have a season? They are grown year-round, and can be found at the grocery store or farmers markets.
What's in a traditional caprese? Slices of fresh mozzarella cheese, tomatoes and fresh basil, seasoned with salt and drizzled with olive oil.
What should you eat with a Grilled Portabella Caprese?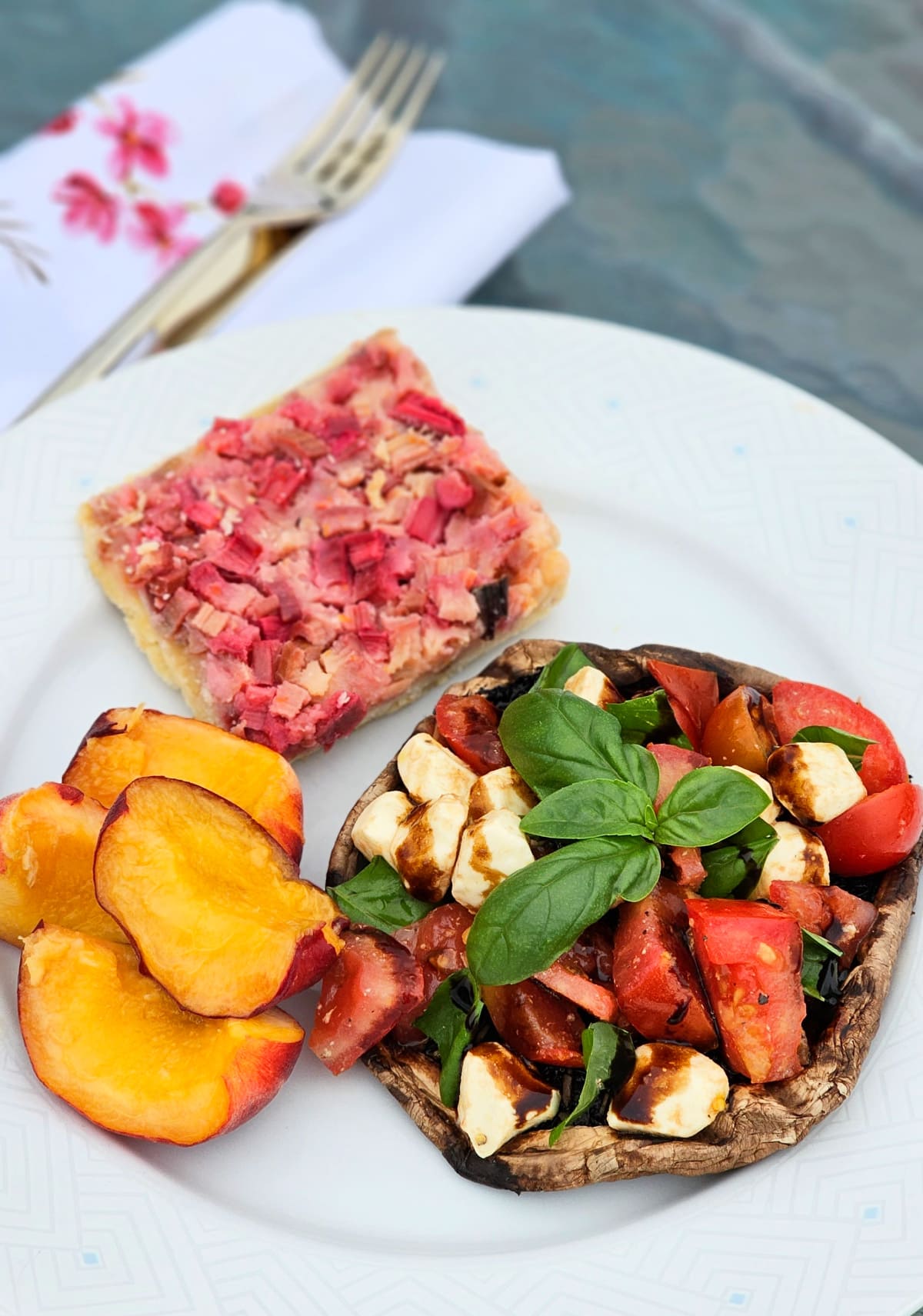 I served it for a patio lunch with a sliced fresh peach, and a square of Rhubarb Dream for dessert. A crisp green salad would also be fabulous with it, or even some pasta or orzo.
Grilled Portabella Caprese uses a grilled Portabella mushroom as a vehicle for a traditional salad of tomatoes, fresh mozzarella and basil.
Ingredients
4 Portabella mushrooms
2 1/2 cups chopped tomatoes (can include halved cherry tomatoes)
8 ounces Mozzarella pearls (slightly more than 1 cup)
2 tablespoons extra virgin olive oil
1 1/2 tablespoons balsamic vinegar
Fresh basil leaves, for salad and garnish
Salt
Pepper

Garnish:

Balsamic glaze, fresh basil leaves
Directions
Turn grill on to medium.

Prepare mushrooms:

Remove stems with a knife, cutting it flat with the gills, being careful not to cut into the cap. Use a spoon to carefully scrape away the gills, to make room for the salad. The gills are edible, but if you scrape some away, more salad will fit!
Grill the mushrooms gill side down for 4-5 minutes, then turn over and grill for another 4-5 minutes. Remove to a plate and set aside. Turn off grill.

Make salad:

In a large bowl, add tomatoes, Mozzarella pearls, olive oil, balsamic vinegar and some torn basil leaves. Sprinkle with a pinch of salt and a few grinds of black pepper. Mix gently and taste for salt, adding more if needed.
Place each Portabella cap on a plate, and fill with the salad, piling it up. If it won't all fit, save leftover salad for another meal. Drizzle a few lines of balsamic glaze over each Portabella cap, garnish with fresh basil sprig, and serve.
Serves 4.
Notes
Recipe source: Dorothy Reinhold | ShockinglyDelicious.com
https://www.shockinglydelicious.com/grilled-portabella-caprese/
Copyright Dorothy Reinhold | ShockinglyDelicious.com. All rights reserved.
Pin the image below for Grilled Portabella Caprese to your Pinterest board to save this recipe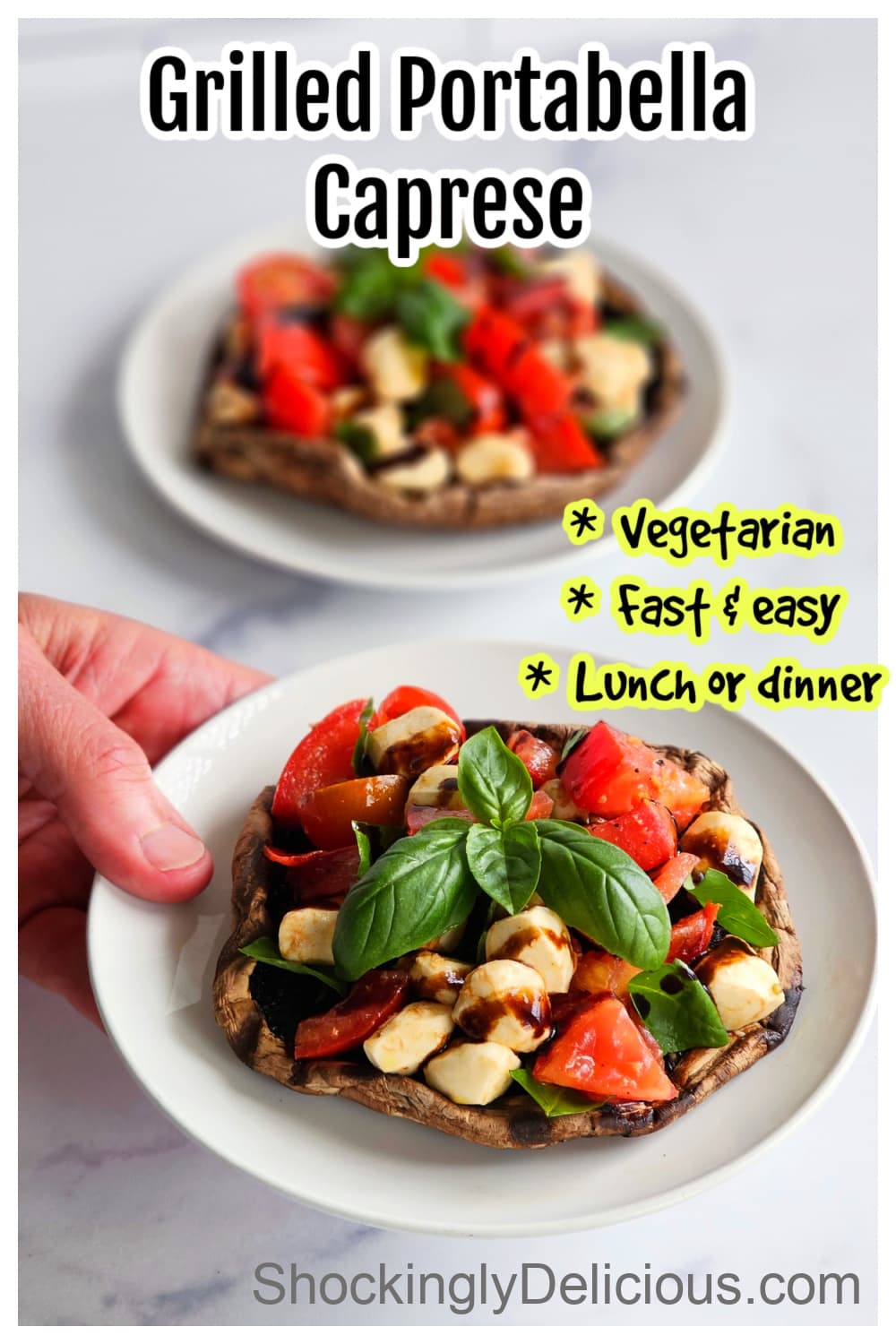 Other caprese recipes on Shockingly Delicious
Thanks for visiting…are you hungry for more? Follow Shockingly Delicious on…
FACEBOOK | PINTEREST | INSTAGRAM | TWITTER
…for all the latest recipes, ideas and updates!
This post may contain affiliate/referral links. It is a way for this site to earn advertising fees (at no cost to you) by advertising or linking to certain products and/or services that I approve and prefer. Thank you for using my affiliate link to shop, so I can continue to bring you shockingly delicious recipes!