Print This Post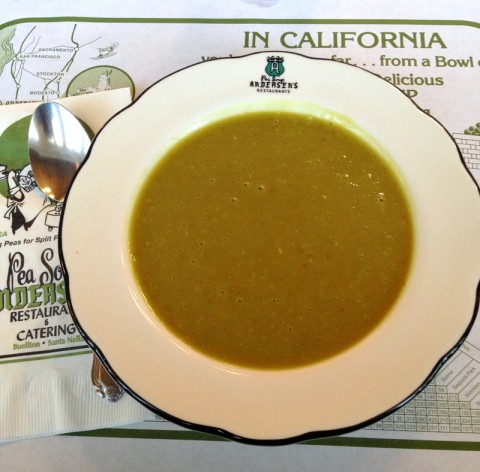 On a "girlfriend getaway" recently, our three-girl van drove itself right up Highway 101 and practically screeched to a halt in Buellton, home of the most famous restaurant for travelers – Pea Soup Andersen's.
We were headed 6 hours up the coast from Los Angeles to Carmel, but there is no way we foodies were going to miss Andersen's, the iconic home of the best bowl of split pea soup this side of anywhere. It was only 11 a.m., but we were ready for an early lunch, salivating over the mere idea of this soup.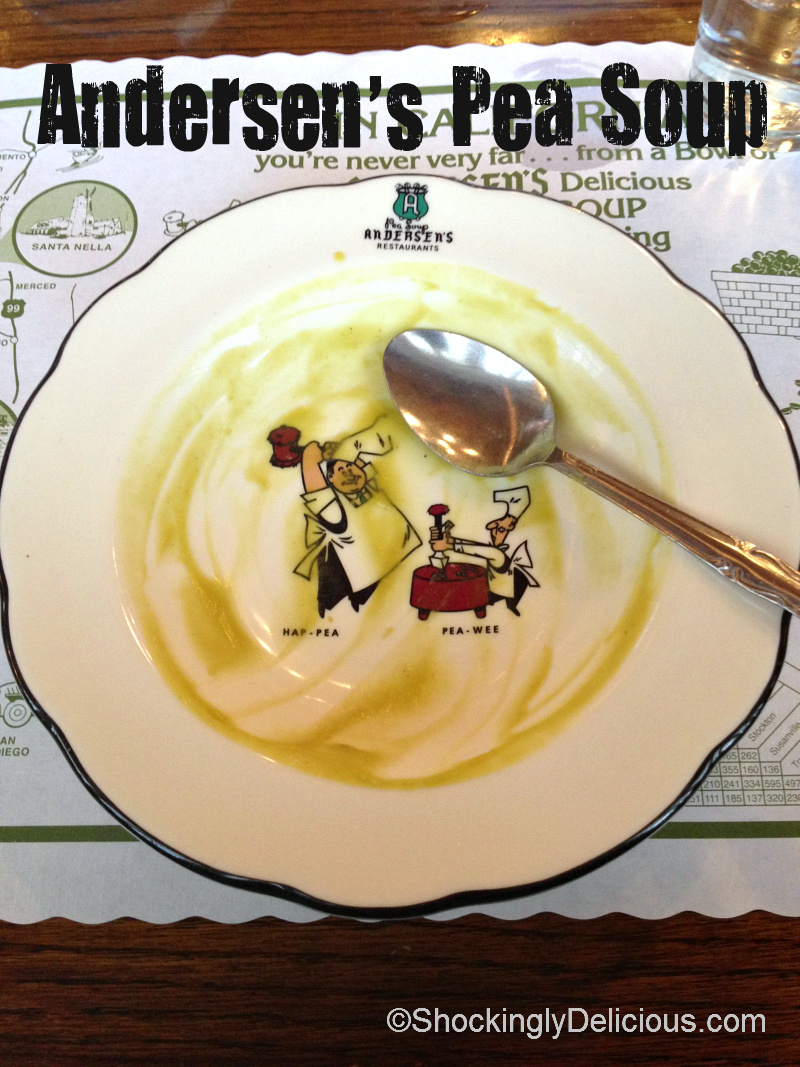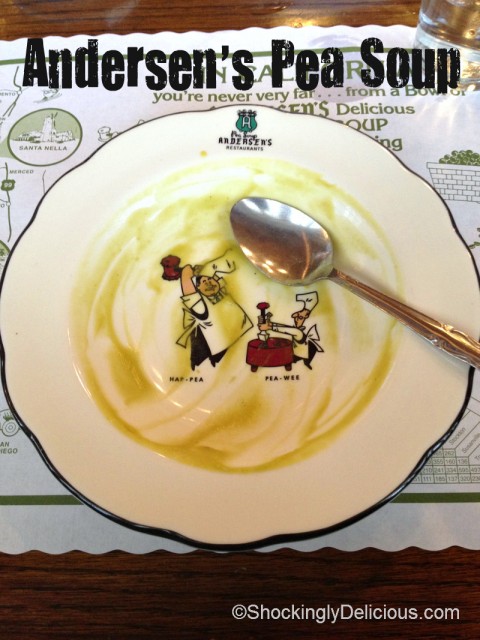 Vegan (no ham in this one), creamy without cream, and deeply satisfying, this is a perfect bowl of soup and Andersen's is a great location for a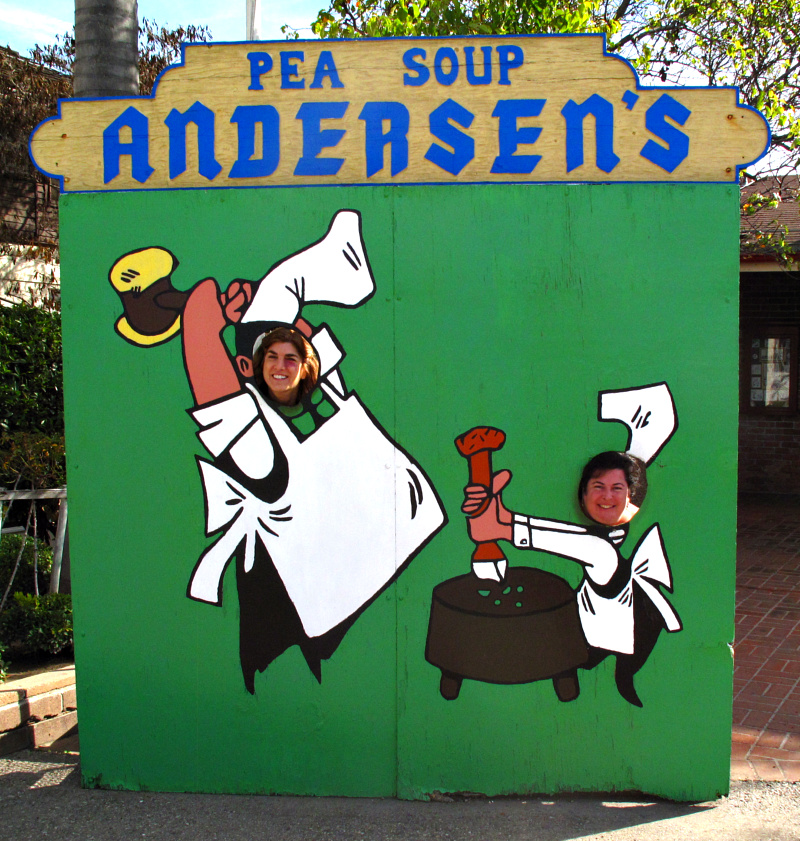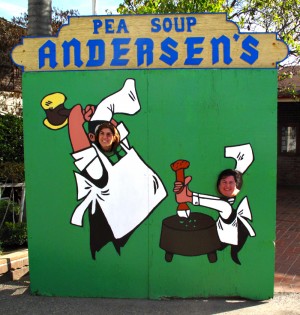 stop during a road trip. Bathroom break, stretch your legs, take your picture in the funny cut-out of Andersen's cartoon characters Hap-Pea and Pee-Wee, eat a bowl or three of soup, and you're ready to hit the road again.
A perfect day with perfect friends.
Pea Soup Andersen's
(Hwy 101 North of Santa Barbara)
376 Avenue of the Flags
Buellton, CA 93427
(805) 688-5581
 
Recipe: Andersen's Pea Soup Original Recipe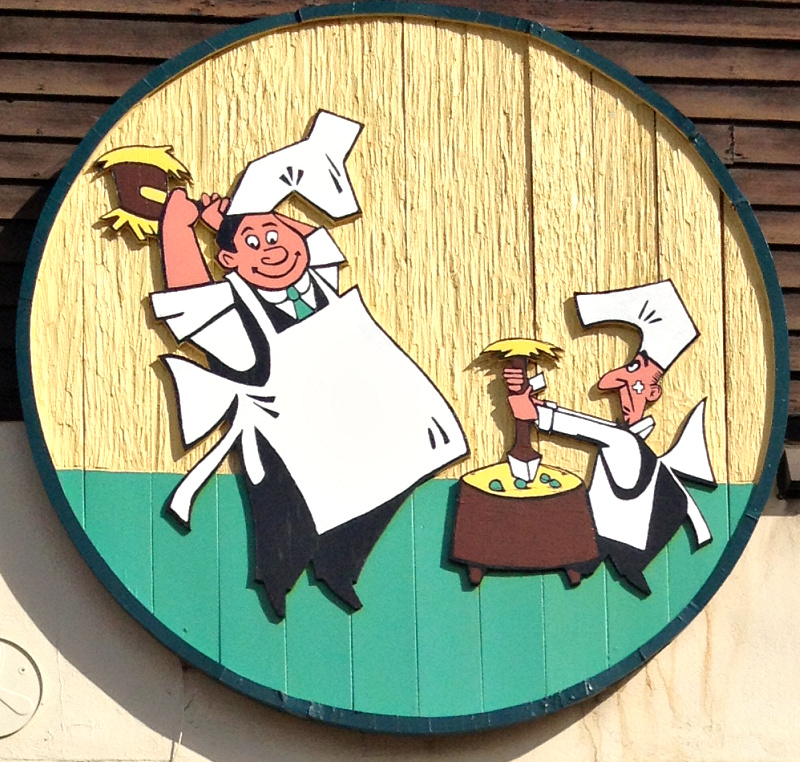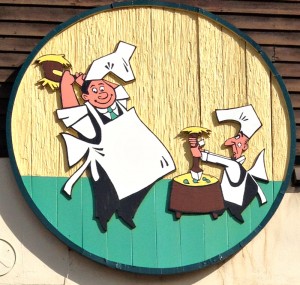 Summary: Vegan, super smooth, with a whiff of thyme and a deeply satisfying flavor, this is the iconic, famous bowl of Andersen's Pea Soup in Buellton, Calif.
Ingredients
2 quarts soft water
2 cups Andersen's Specially Selected Green Split Peas
1 branch celery, coarsely chopped
1 large carrot, chopped
1 onion, chopped
¼ teaspoon ground thyme
1 pinch cayenne
1 bay leaf
Salt and pepper
Instructions
Boil hard for 20 minutes, then slowly until peas are tender. Strain through fine sieve and reheat to boiling point.
Serves 8.
Quick notes
You can buy their "specially selected green split peas" in their gift store on site. Or buy a bag of split peas at the grocery store.
Preparation time: 5 minutes
Cooking time: 40 minutes
Diet type: Vegan
Diet tags: Low calorie, Reduced fat, Gluten free
Number of servings (yield): 8
Culinary tradition: USA (Traditional)
My rating 5 stars:  ★★★★★