Print This Post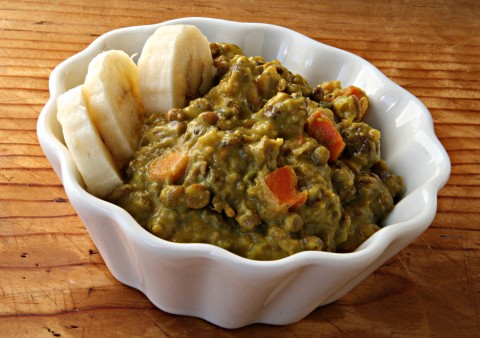 You can't direct the wind,
but you can adjust your sails.
–German proverb
I'll try to remember that as we begin a shiny new year, full of hope and promise. I resolve to adjust my sails daily (hourly? minute by minute?), as the seas can be unexpectedly choppy sometimes. And when I hit a glassy patch of water and the sailing is smooth, I'll let them out and fly!
In the spirit of carpe diem, I am eating lentils today — symbolic of luck and money in many cultures. Since they resemble coins and they swell a bit when you cook them, people eat them with good fortune in mind.
Although I've never been superstitious, I'm willing to give symbolic food a try, especially when it is as delicious as this dish I improvised. I had a sweet potato, a huge carrot (a horsey carrot, as my daughter calls them) and a package of Melissa's ready-to-eat steamed lentils, just hanging around waiting to be invited to a party in the pot. These lentils save about a half hour of cooking time, so they're very handy to have around. A few warm spices and some coconut milk, and in about 30 minutes, I had a delicious, healthy stew that was also vegetarian. Score!
To make an even more nutritionally sound dinner, I ladled the lentil stew over cooked brown rice. Lentils + rice = a more complete protein.
As I celebrate my good fortune and look forward to another sweet year, these lentils will usher in 2012's luck and prosperity. I just know it!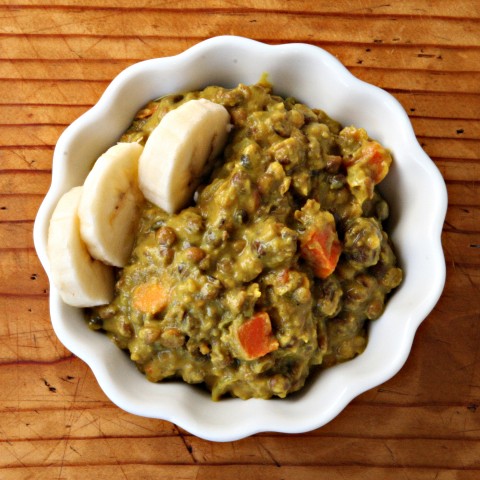 Recipe: Fast Curried Lentil Stew
Summary: A wonderful Meatless Monday or vegetarian lentil stew warmed by curry flavors and sparked with sweet bites from raisins, carrots and sweet potatoes. Serve it over brown rice so the lentils and rice make a more complete protein.
Ingredients
1 (13.6-ounce) can coconut milk (Thai Kitchen is a good brand)
2 small or 1 large sweet potato (about 12 ounces total), peeled and diced
1 rib celery, diced
1 large carrot, diced
1 large onion (about 10-12 ounces), peeled and diced
3 cloves garlic, peeled and minced
1 (17.6-ounce) package steamed ready-to-eat Melissa's lentils
1 (14.5-ounce) vegetable broth (or chicken broth); about 2 cups of broth
1 ½ teaspoons ground coriander
1 ½ teaspoons ground turmeric
1 ½ teaspoons ground cumin
1 tablespoon finely minced fresh ginger
½ teaspoon kosher salt
Freshly ground pepper
½ cup raisins (dark or golden), hydrated in boiling water (see directions in recipe)
Garnish: sliced ripe bananas, shredded sweetened coconut, chopped fresh cilantro
Cooked brown or white rice
Instructions
Begin cooking the rice in the rice cooker.
Open can of coconut milk. You will see a very thick layer of semi-solid cream on top. Spoon this cream into a soup pot and heat on medium. Add sweet potato, celery, carrot and onion, and sauté in the cream for about 10 minutes, until vegetables soften and absorb most of the cream. Stir frequently so it doesn't scorch, adding the garlic during the last minute.
Add the remaining coconut milk from the can, lentils, broth, coriander, turmeric, cumin and ginger and simmer, covered, for 10 minutes, stirring once or twice.
While that is cooking, pour boiling water over raisins and allow them to sit and plump up. (Another way of doing this is to put raisins in a measuring cup, add water to cover, and microwave for about 1 ½ minutes on high, then remove and allow to sit and plump.)
When lentil mixture is done, add salt and pepper and taste, then adjust further if needed. Drain raisins and stir them in.
To serve, put a scoop of cooked rice in a bowl, top with a ladle full of lentil stew, and garnish with sliced bananas, a shower of chopped cilantro and a pinch of shredded coconut, if you like.
Pass the red pepper flakes or the hot sauce for those who want to zip it up.
Serves 4-5.
Quick notes
Raisins: You can skip the raisin plumping step if you have very fresh, pliant raisins. If they are older and drier, plump 'em!
Word to the wise: Turmeric is what gives commercially prepared mustard its yellow color, so it will stain your white countertop or clothing.
Variations
If you are certain all the mouths at your table like spicy food, you could add a jalapeno or Serrano chile pepper along with the onion, and proceed with the recipe. I have not done so because of children at the table, opting instead to let individuals splash on the heat at serving time.
Preparation time: 10 minute(s)
Cooking time: 25 minute(s)
Diet type: Vegetarian
Number of servings (yield): 4-5
My rating 5 stars:  ★★★★★ 1 review(s)
Are you a lentil lover? Try these:
Best Ever Lentil Soup
Lentils de Puy
Indian-Spiced Mushrooms and Lentils
Indian Dal Nirvana