Print This Post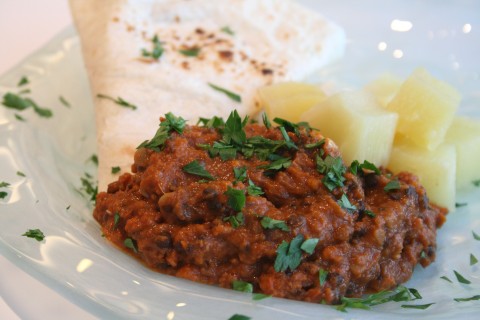 There are some people (cough, my mother), who just can't stand lentils. That earthy flavor just doesn't float her boat, no matter how many concoctions I have plied her with over the years.
This one, though, this one is going to do it! Called Dal Nirvana, from Nirvana Restaurant in Beverly Hills, this is one flavor-packed vegetarian dish. With ginger and garlic for spark, tomatoes and cream to smooth it out, and cayenne to pep it up, this dal elevates the homely lentil to supermodel status.
Dal is a sort of lentil stew, loose but not soupy, thick but not pasty. It is often eaten with naan, an Indian flatbread, but I had none naan (pardon me, I couldn't help that), so I subbed a tortilla that I toasted lightly over a gas flame on the stovetop. Worked perfectly! Use the naan or tortilla to scoop up the dal. In fact, forgo the fork, and just use the bread/tortilla. As long as we're eating lower on the food chain, let's not put on any airs a'tall.
I would also not be afraid to roll this up in a tortilla, like an Indian burrito. Or stuff it into a half pita. Or use it as a dip for baby carrots.
I originally saw this recipe on the web the other day at the always inspiring Steamykitchen.com (thanks to SK goddess Jaden for getting the formula!), and it looked so good, I immediately reached for my bag of lentils. This will work fine with supermarket lentils — the dull brown variety usually found near the rice. But if you have red or some other variety of lentils, try that as well. I had a bag of mixed lentils from Surfas, the chef and foodie emporium in Culver City. Called "Chicken Scratch," it is a mix of Canary, red chief, large green and black beluga lentils. I bought it because it is cute looking. Isn't that a good enough reason? But seriously, use what you have in the pantry or can get your hands on.
Healthy kitchen: If you need any other reasons to try this, lentils have among the highest level of protein, by weight, of any plant-based food. They are also one of the best vegetable sources of iron, are seriously fiberlicious, and packed with folate, vitamin B and minerals. The tomato paste adds lycopene, a powerful antioxidant.
Yeah, yeah, that's all well and fine, but make this dal because it is shockingly good, as well as good for you.
What's on the menu:
Dal Nirvana
Toasted tortilla
Fresh (or canned) pineapple chunks
Throw down some steamed broccoli if you like
Indian Dal Nirvana
Vegetarian and packed with complex flavors — ginger and garlic for spark, tomatoes and cream to smooth it out, and cayenne to pep it up — this dal elevates the homely lentil to supermodel status. Serve with basmati rice, naan or toasted tortilla.
1 cup dry lentils
1 (6-ounce) can tomato paste (Nirvana calls for 6 ounces tomato puree, but paste worked great!)
1 tablespoon peeled and grated fresh ginger
1 tablespoon minced garlic
1/4 teaspoon cayenne pepper (the restaurant called for 1 teaspoon, but I say 1/4 teaspoon gives a spicy kick for most people and 1 teaspoon would be scary)
1 cup water (plus more later)
4 tablespoons butter
1/4 teaspoon salt (maybe more to taste)
Freshly ground black pepper
1/3 cup heavy cream (1/4 cup is fine, says me!)
4 tablespoons minced fresh cilantro (Nirvana called for 2 T, but we love our cilantro so we doubled it to 4 T. You could also use fresh Italian parsley)
In a large sauce pan, add the lentils and fill pan with water to cover lentils by 2 inches. Bring to a boil. Reduce heat and simmer for 10 minutes, until the lentils open and are tender. Drain the water from the lentils and return the lentils to the pot. Stir the lentils around in the pot, mashing some of them against the pot to break open. Add the tomato paste, ginger, garlic, cayenne pepper, 1 cup water, butter, salt and pepper. Bring to a boil, lower heat and cook, covered, for 1 hour, until the dal is thick.
Check the pot several times during cooking to make sure the mixture isn't getting too dry and scorching. (I had to add an additional 1/4 cup water at the 40-minute mark.)
Stir in cream, taste for salt (add a pinch more if needed), spoon onto plates, and garnish with minced cilantro.
Serves 4.
Source: Recipe slightly adapted from Nirvana Restaurant, Beverly Hills.  I originally saw it at the brilliant Steamykitchen.com
Healthy kitchen: Lentils are high in protein, iron, dietary fiber, folate, vitamin B and minerals. The tomato paste adds lycopene.