Print This Post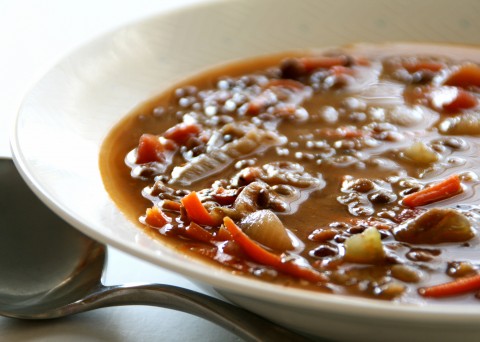 Let's humbly subtitle this "Lentil Soup of the Gods."
Meaty without containing meat, thick, rich tasting without being fatty, this is fill-you-up-but-not-out stuff.
Although lentils generally cook fairly quickly and don't need a soak first, I'm using fresh steamed lentils here to save even more time, so delicious soup dinners can be had during the workweek, too.
I call dibs on leftovers for lunch.
Recipe: Best Ever Simple Lentil Soup
Summary: Rich tasting without being fatty, thick and satisfying, this is the best recipe for Lentil Soup you'll ever taste!
Ingredients
1 tablespoon extra virgin olive oil
1 large onion, peeled and chopped
2 carrots, diced
2 ribs of celery, diced
Kosher salt to taste
3 garlic cloves, minced
1 (14-ounce) can diced tomatoes, in own juice
2 sprigs fresh rosemary
1 bay leaf
1 (17-ounce) package steamed lentils (Melissa's brand preferred, available in the refrigerated produce section)
4 cups chicken broth
1 cup water
Freshly ground pepper to taste
Garnish: Grated Parmesan
Instructions
Heat the olive oil over medium heat in a large soup pot. Add the onion, carrots and celery and a pinch of kosher salt and cook until tender, about 7 minutes, stirring occasionally. Add the garlic and cook for another minute.
Add the tomatoes and their juice, rosemary and bay leaf, steamed lentils and another pinch of salt, broth, water and a few grinds of fresh pepper. Bring to a simmer, stir, cover and simmer on low heat for 30 minutes.
Taste and adjust seasonings. Remove and discard the rosemary and bay leaf.
Serve, garnishing each bowl with a sprinkling of Parmesan.
Serves 4.
Quick notes
Like most soups, this one is even better if you make it a day ahead and store it in the refrigerator. When you reheat and serve it the next night for dinner, the flavor will be better, if that is even possible!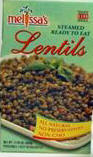 What are steamed lentils? 

They are cooked, ready-to-eat, and usually found in the fresh produce section at the grocery store. You can use them hot or cold in soups, grain side dishes, salads or appetizers — anywhere you like to use lentils!
Use vegetable broth instead of chicken broth for a vegetarian version for Meatless Monday.
Preparation time: 10 minute(s)
Cooking time: 40 minute(s)
Diet tags: Reduced fat
Number of servings (yield): 4
Culinary tradition: USA (Traditional)
My rating 5 stars:  ★★★★★ 1 review(s)