Print This Post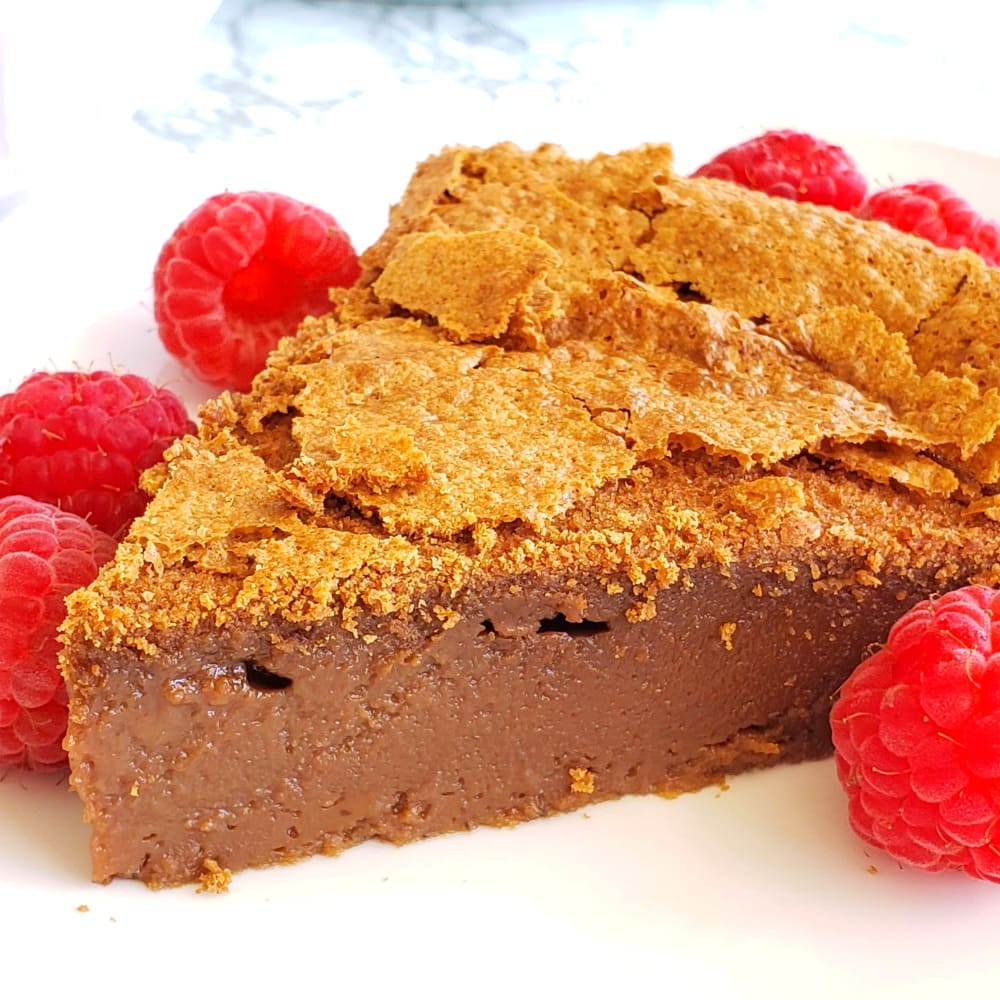 Chocolate Impossible Pie is a wedge of dense chocolate indulgence that couldn't be easier. Simply whirl the pantry-friendly ingredients in a blender, pour into the pie dish and bake!
When you need something chocolate, and you don't want to put a lot of fuss and bother into making it, Impossible Pie is the answer. The ingredients are whirled in a blender, poured into a pie dish, and baked, perfuming your house with the anticipation of the sweet treat to come.
Impossible Pie is the answer to those who think they can't make a pie because they can't make a pie crust. It removes the crust from the picture, so what you get is the delicious center. They're easy enough for kids to make, so if you have some offspring or elementary school children or teens in your life, give them this project!
How to make Chocolate Impossible Pie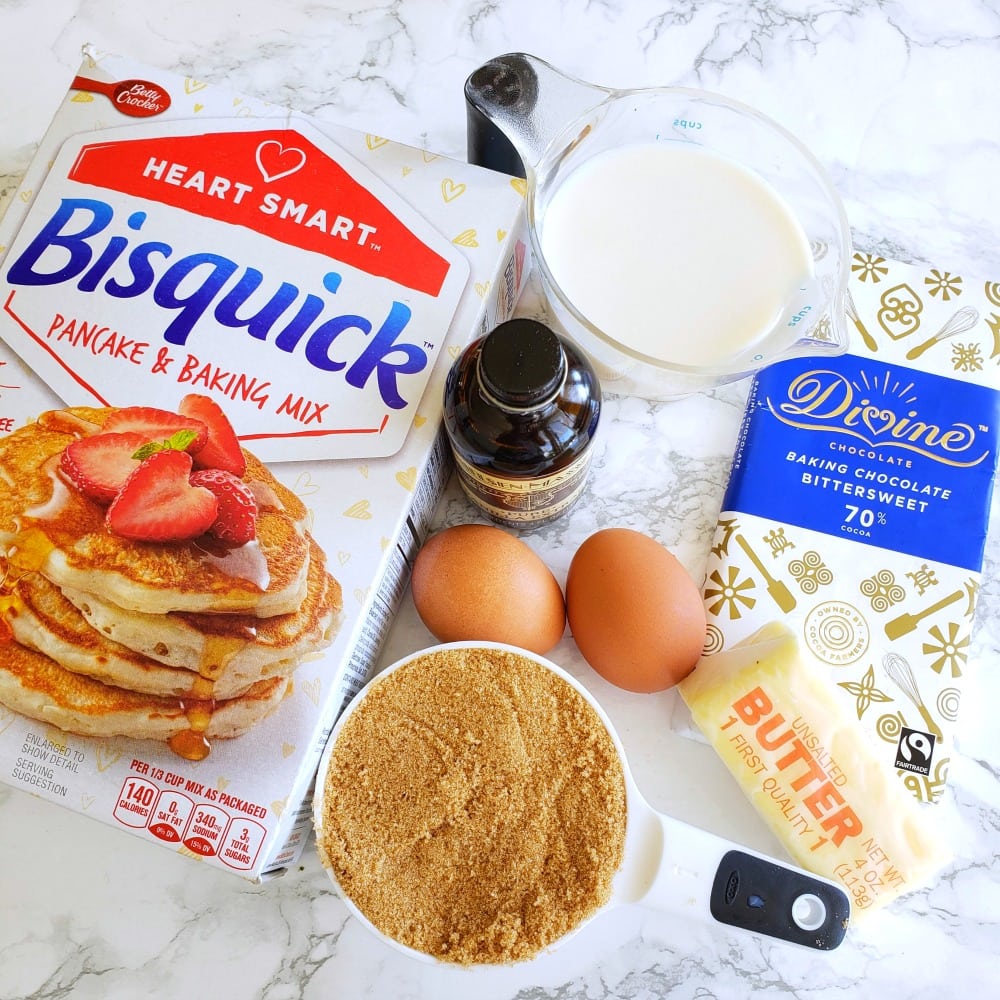 Gather your ingredients, to make sure you have everything. Use the best chocolate you have or can get (at least 70% cacao), but let's be real…if all you have is chocolate chips, use those. (My motto: Use what you have!) You can use regular baking mix if that's what you have; I keep Heart Smart Bisquick on hand so that's what I use.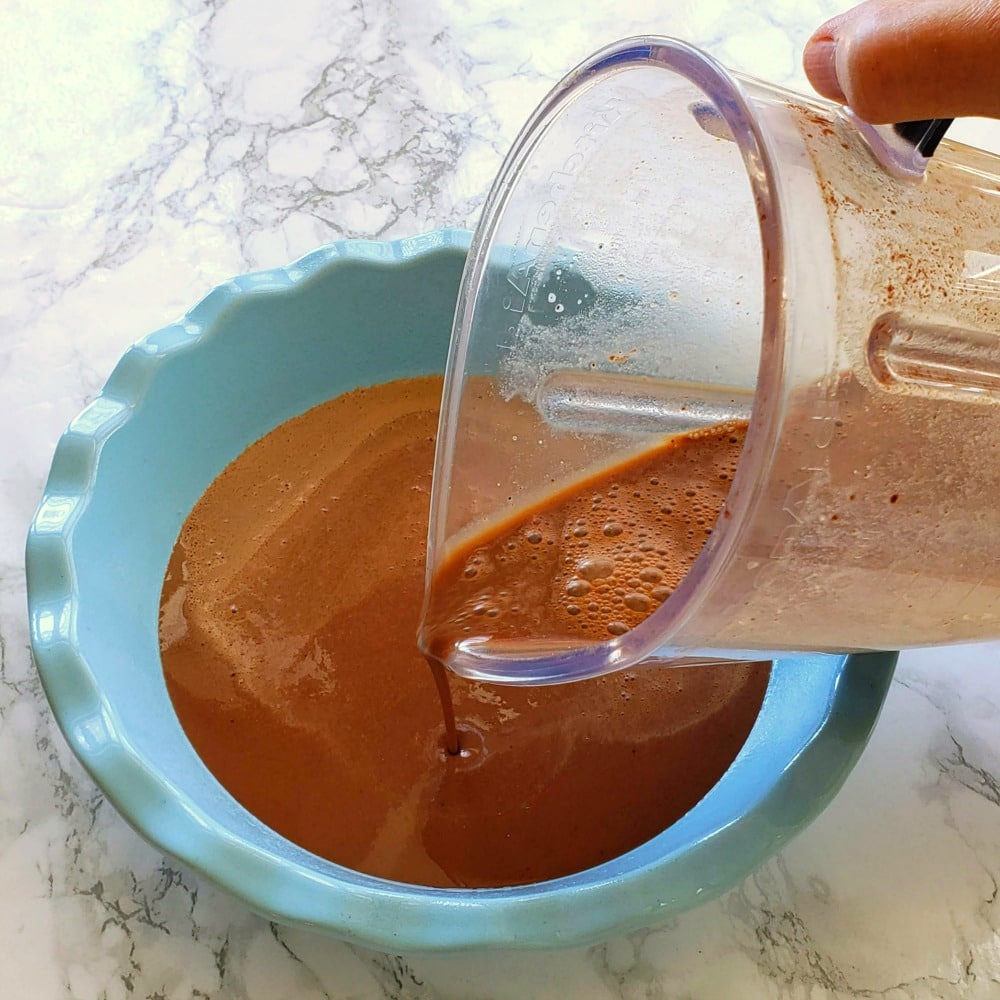 Whirl all the ingredients in the blender. Pour into prepared pie dish.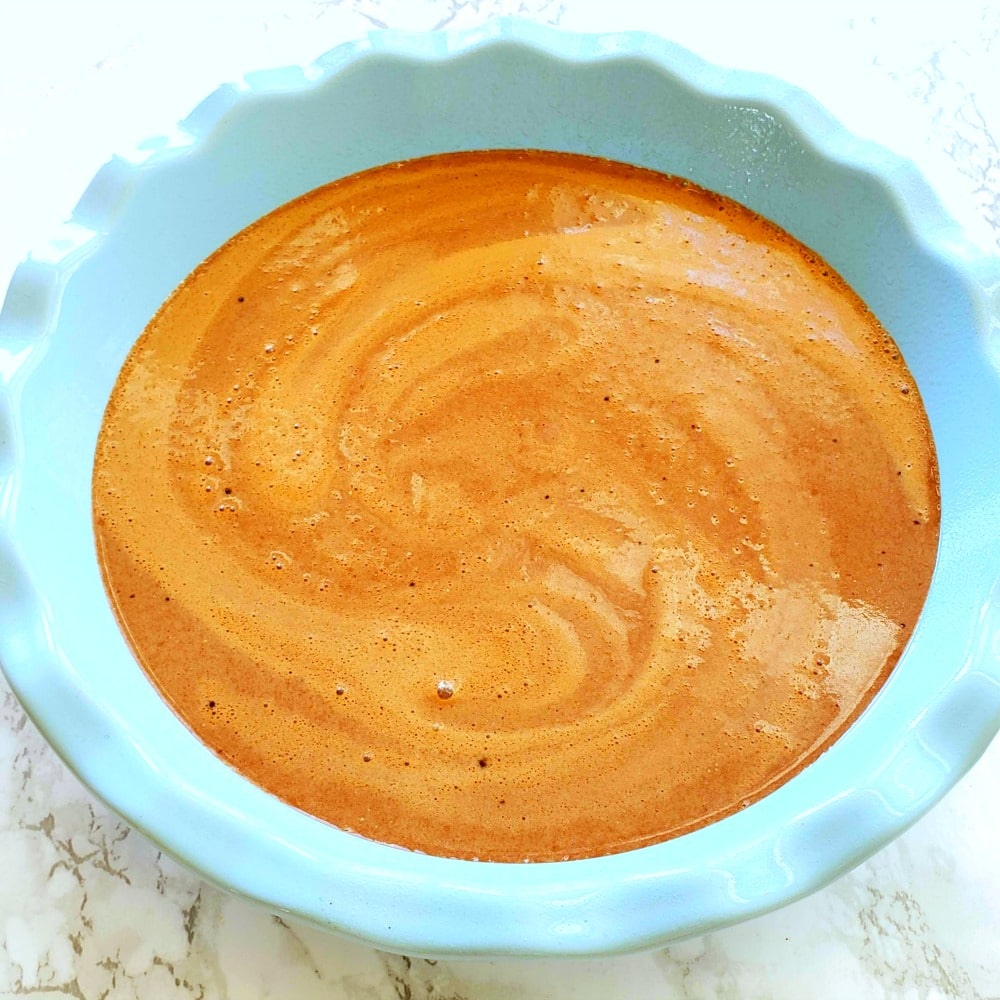 Chocolate Impossible pie is ready for the oven.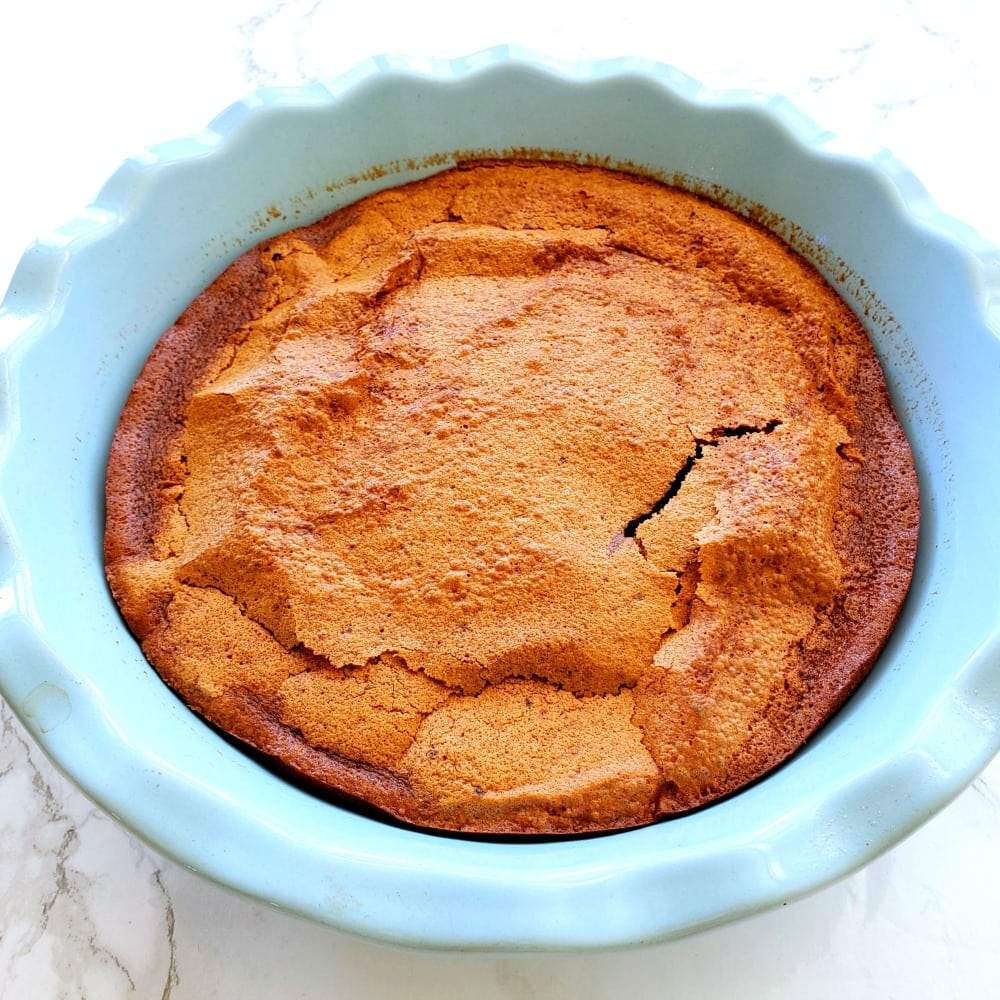 The top will look drier once it is baked, and it will likely crack a bit on top as it cools. This is fine, and to be honest, is just the excuse you need to put whipped cream on top. You're welcome.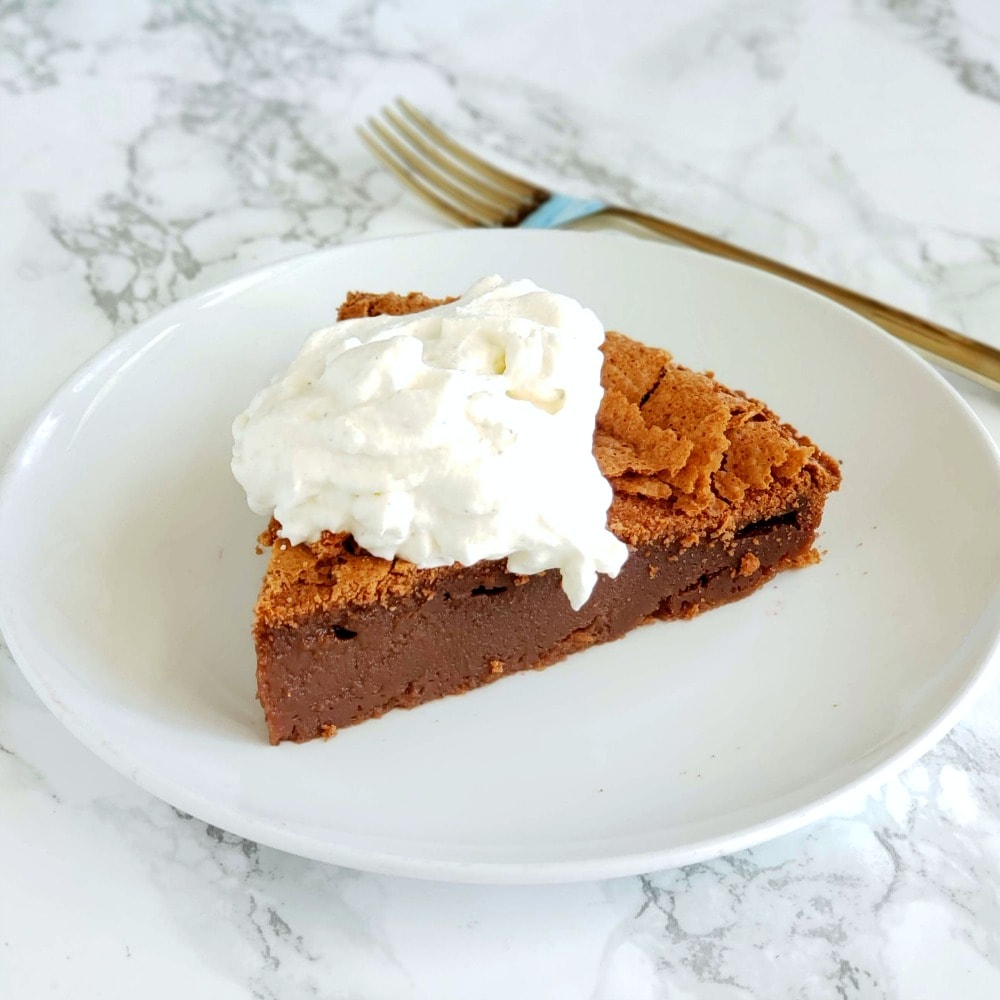 Garnish with lightly sweetened whipped cream.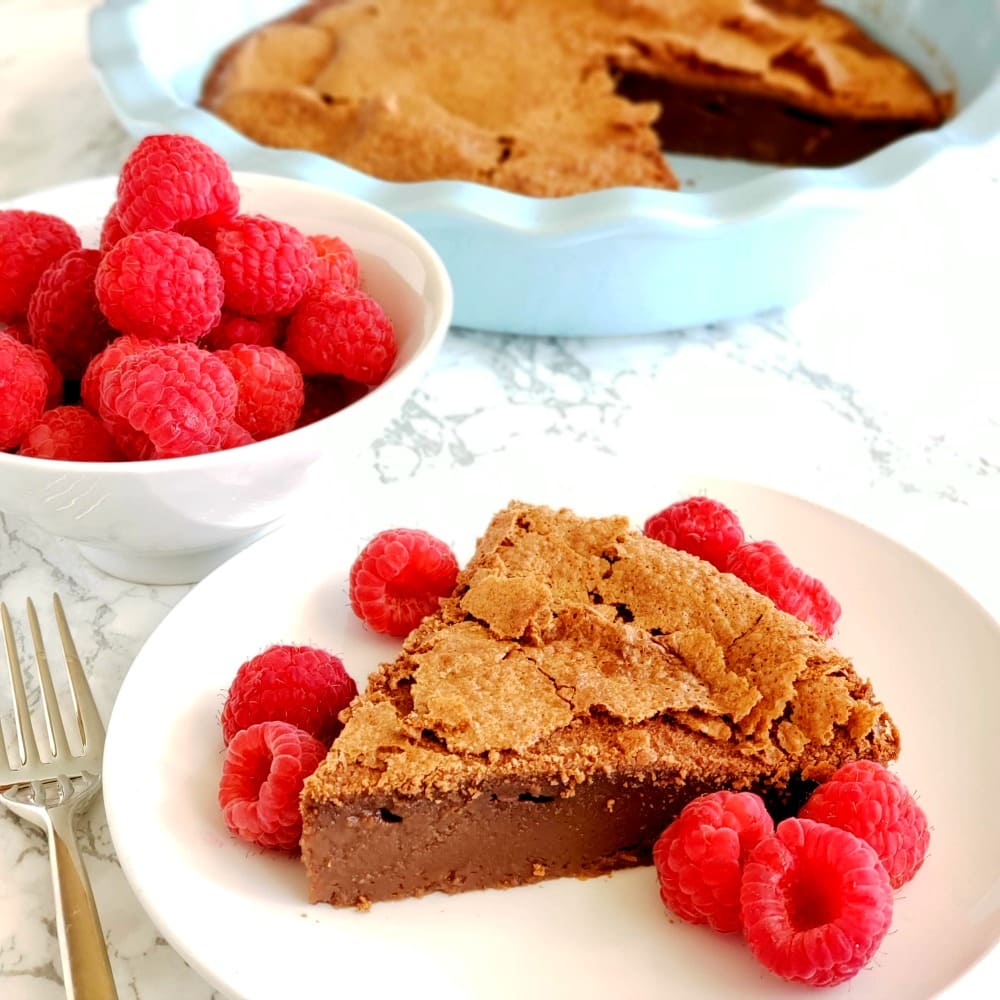 Or toss some fresh berries on there if you have them.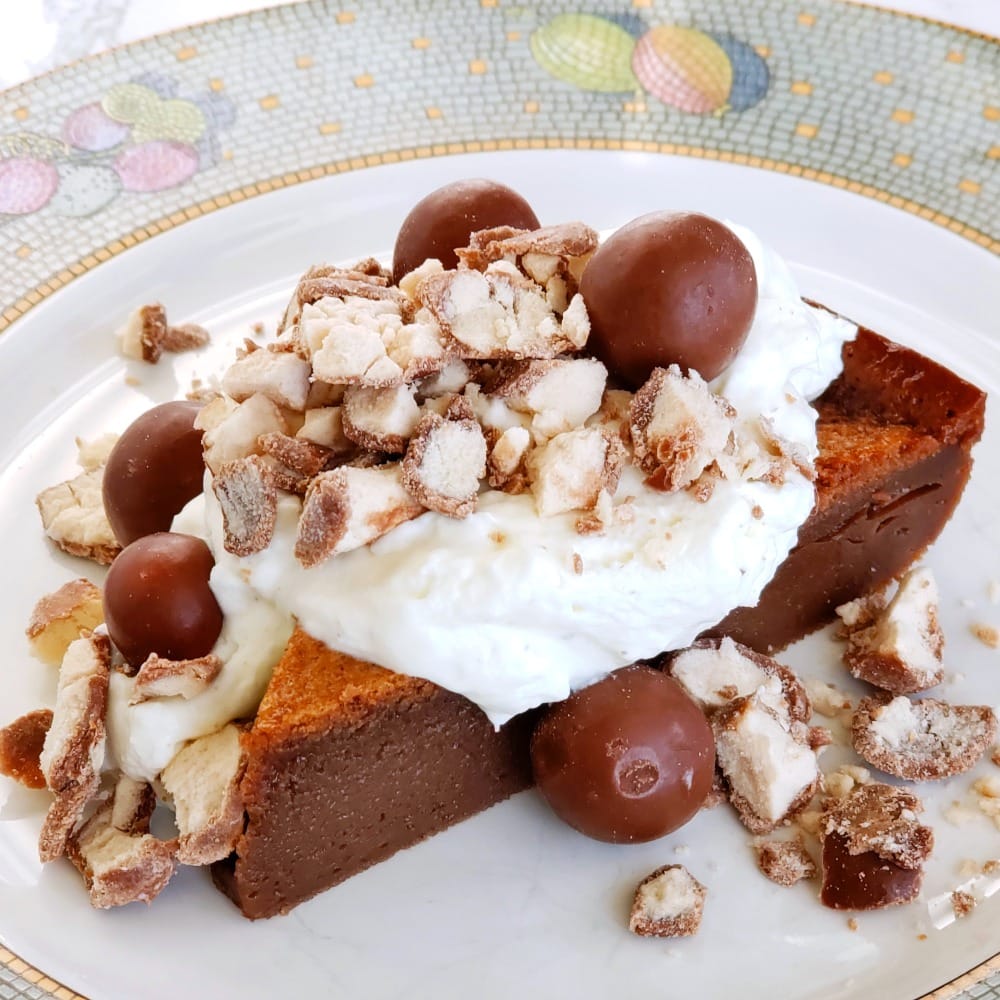 Maybe dollop on some lightly sweetened whipped cream and Whoppers candy, some crushed and some left whole.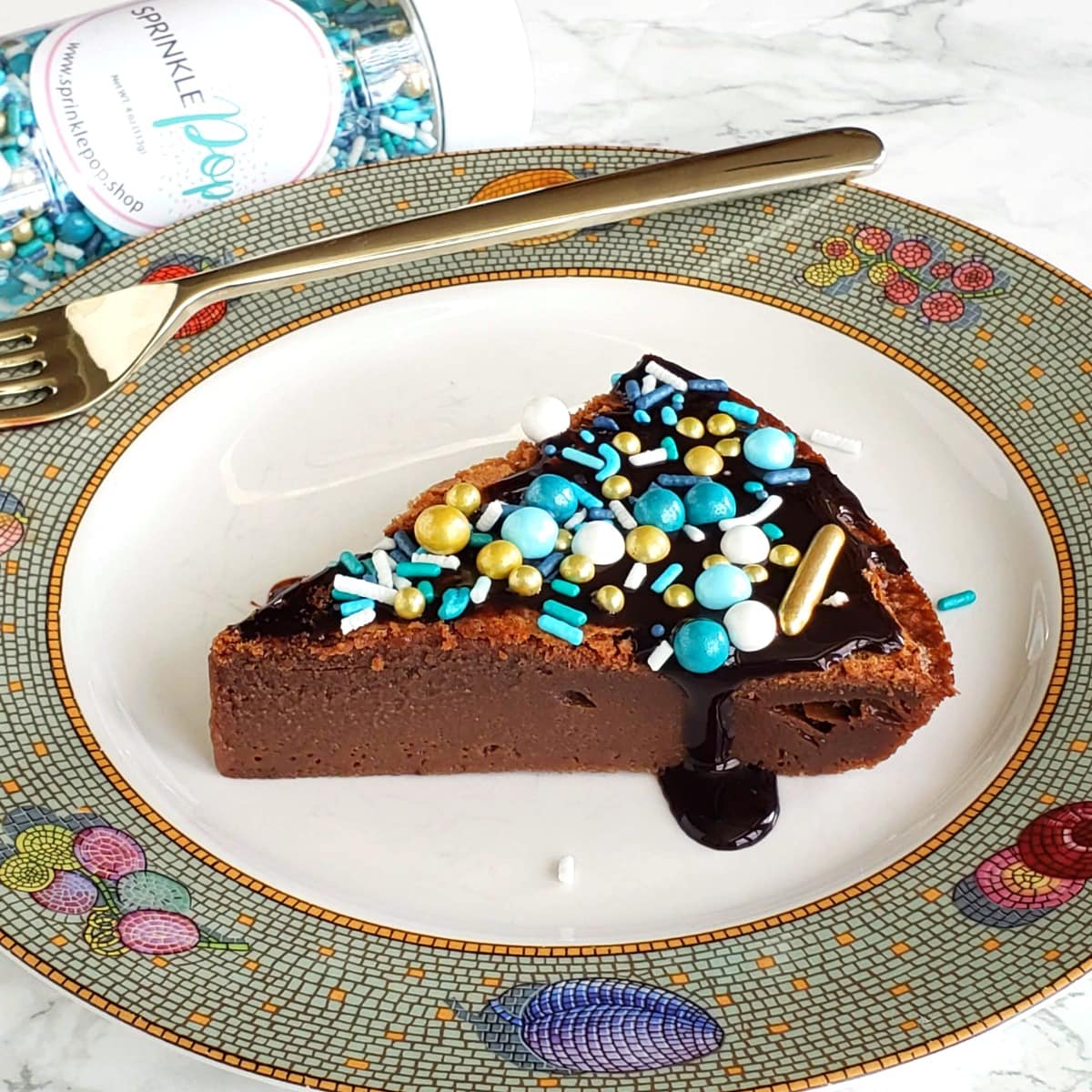 Or how about drizzling a very thin layer of chocolate syrup on top, to act as the glue, and then applying a healthy portion of sprinkles. I am using the Sea Glass Sprinkle Mix from Sprinklepop.com. They have so many cute sprinkle mixes…if you don't see something you absolutely love, I don't know if we can be friends. Because sprinkles make everything better. And can you see that super long gold one in the bottom right? That one slays me. I love the evocative colors of this mix.
Other Shockingly Delicious Impossible Pies
Impossible Quesadilla Pie
Impossible Lasagna Pie
Spinach Feta Greek Impossible Pie
Mac 'n' Cheese Impossible Pie
Impossible Cherry-Almond Pie (dessert)
Impossible Pumpkin Pie (dessert)
Impossible Chocolate Pie (dessert)
Chocolate Impossible Pie is a wedge of chocolate indulgence that couldn't be easier. Simply whirl the ingredients in a blender, pour into the pie dish and bake!
Ingredients
2 eggs
2 ounces chocolate, melted
1 cup milk
1 cup brown sugar
1/4 cup (4 tablespoons) butter, melted and cooled slightly
1/4 teaspoon salt
1/2 teaspoon instant coffee
1 teaspoon vanilla
1/2 cup baking mix (such as Bisquick)
Directions
Heat oven to 350F degrees.
Mist the inside of a 9-inch pie baking dish with nonstick spray and set aside.
Add eggs, melted chocolate, milk, sugar, butter, salt, coffee and vanilla to the container of a blender. Blend for 15 seconds or so to combine everything. Add baking mix and whirl again for about 15 seconds to combine.
Pour into pie dish and bake for about 30 minutes. Check to make sure the center is cooked by inserting a toothpick or the sharp tip of a knife right in the center -- when you pull it out it should not be coated in batter, and the center of the pie shouldn't be loose or very jiggly.
Remove pie from oven and set on heat-proof surface to cool. The top may crack a bit as it cools; this is normal. (And frankly, this is just the excuse you need for some whipped cream on top.)
When cool, slice and serve, Garnish with whipped cream and berries, if you like. Or strew the top with some crushed candies, for fun.
Serves 8.
Notes
Recipe source: Dorothy Reinhold | Shockingly Delicious
https://www.shockinglydelicious.com/chocolate-impossible-pie/
Copyright Dorothy Reinhold | ShockinglyDelicious.com. All rights reserved.
What if you don't have baking mix?
Here's the recipe for Make-Your-Own Baking Mix (in case you don't have Bisquick):
Make-Your-Own Baking Mix
1 cup flour
1 1/2 teaspoons baking powder
1/4 teaspoon salt
1 tablespoon olive oil
Mix on medium-high using an electric mixer (so oil disperses into the flour). Use in place of Bisquick or other baking mix. Makes 1 cup.
Pin the image below for Chocolate Impossible Pie to your Pinterest board to save this recipe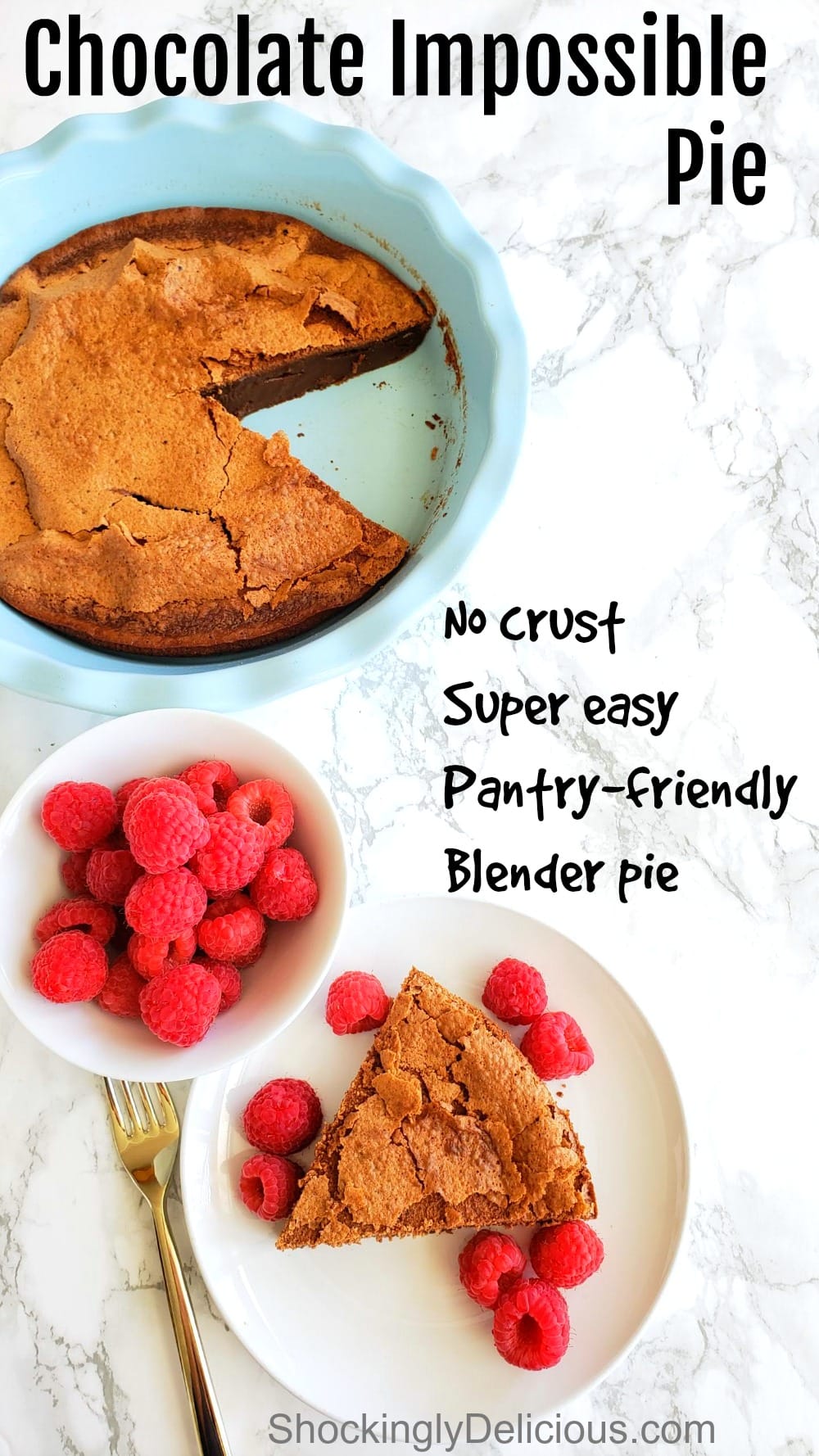 Other Shockingly Delicious Chocolate Recipes ⇒ Shockingly Delicious Best Chocolate Recipes.
Thanks for visiting…are you hungry for more? Follow Shockingly Delicious on…
FACEBOOK | PINTEREST | INSTAGRAM | TWITTER
…for all the latest recipes, ideas and updates!
This post may contain affiliate/referral links. It is a way for this site to earn advertising fees (at no cost to you) by advertising or linking to certain products and/or services that I approve and prefer.