Print This Post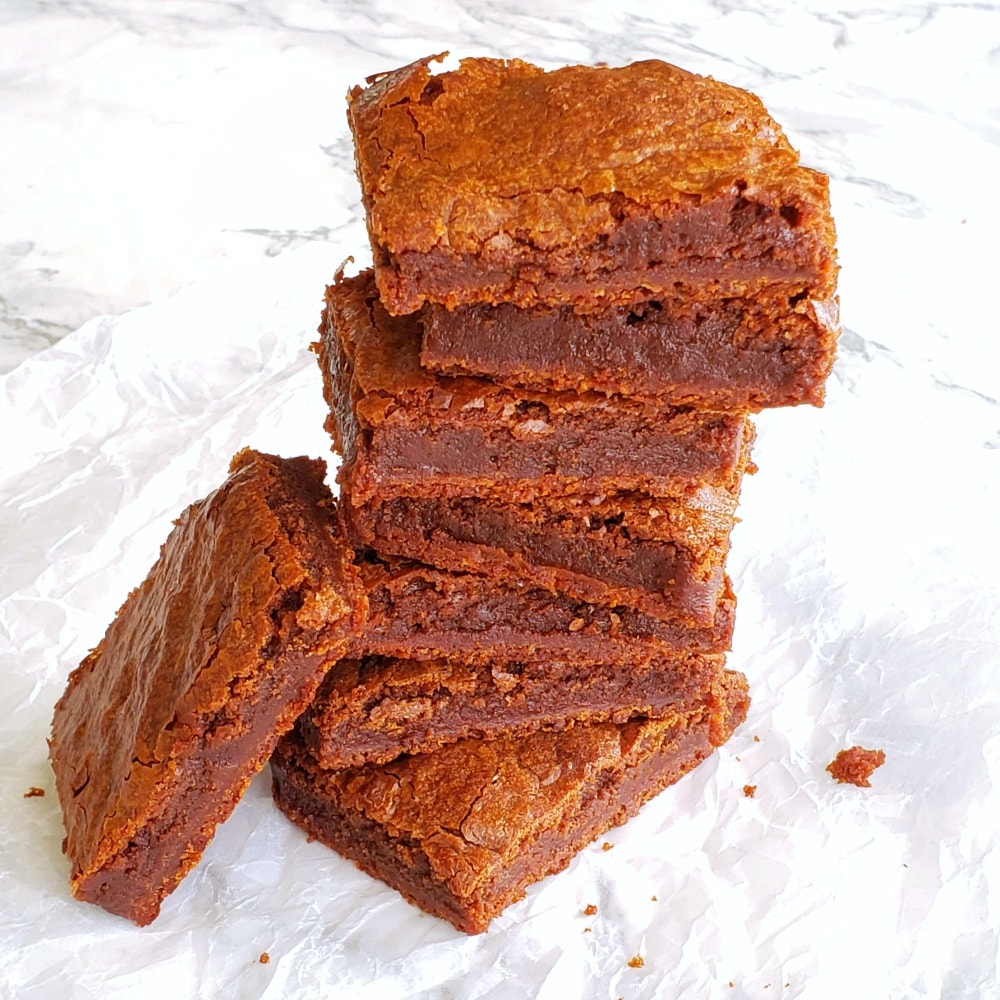 Sort of a cross between a brownie and fudge, these Dark Dense Fudgy Chocolate Brownies are for serious chocolate lovers. Use the best chocolate and butter you can afford!
I first tried these brownies by the famous cookbook author Alice Medrich because they have an usual method. Once they are baked quickly in a hot oven, you dunk the bottom of the pan into ice water to quicken the cooling. This might seem like a lot of stuff and nonsense, but I'm here to tell you, it makes a brownie with a sort of crunch on the outside and a moist, fudgy inside.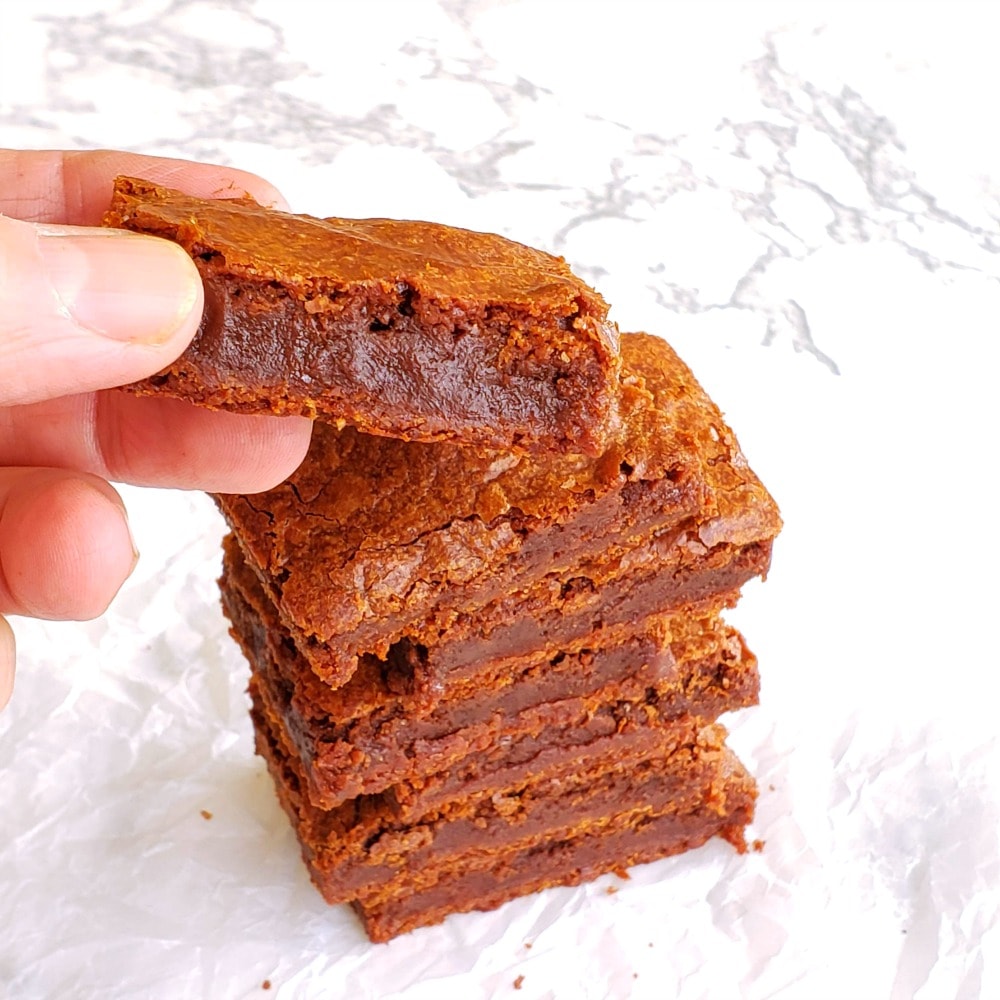 How to bake Fudgy Chocolate Brownies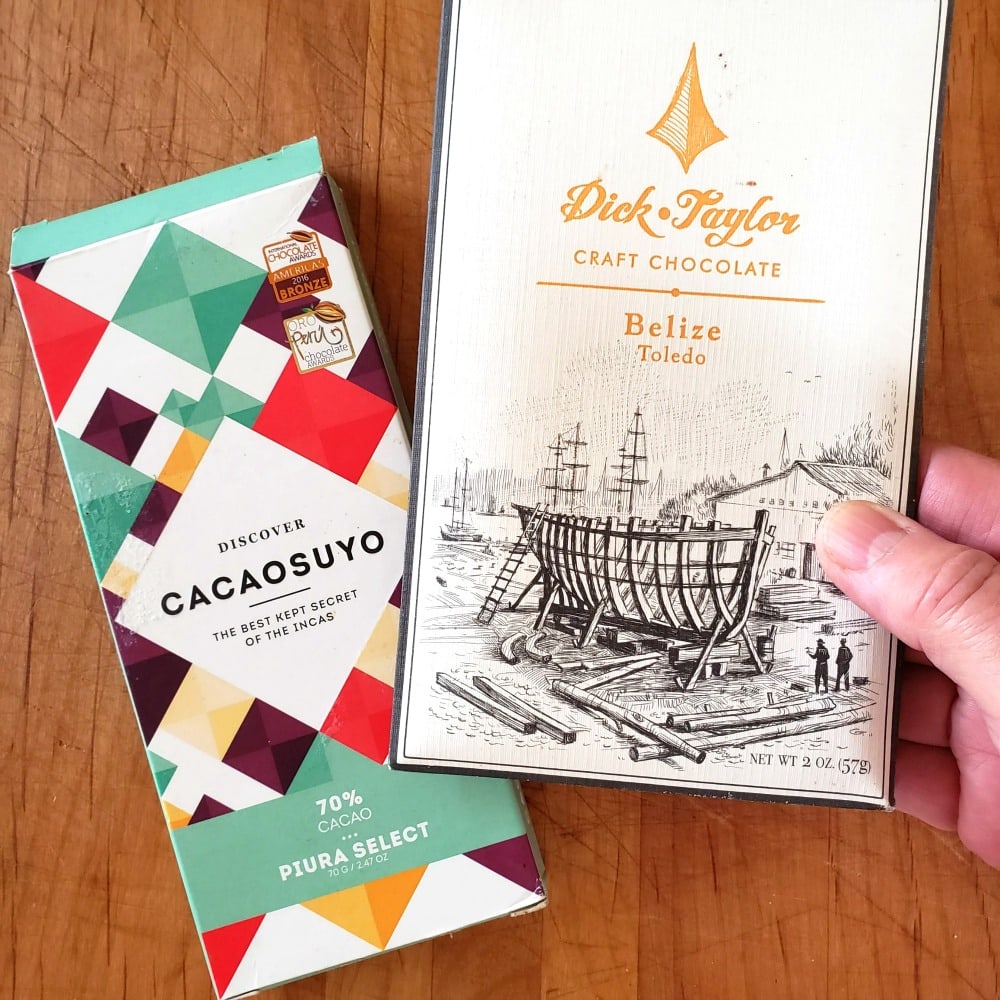 First of all, let's talk chocolate. Of course, you always have my permission to use chocolate chips or whatever chocolate you have lying around (forever motto: Use what you have!), but you will have the best brownie results if you use quality chocolate. For example, I had these 2 bars in my pantry, and this recipe was the perfect excuse to showcase excellent quality chocolate, so in they go.
Add butter and chocolate to a glass bowl and microwave until melted. Stir until smooth.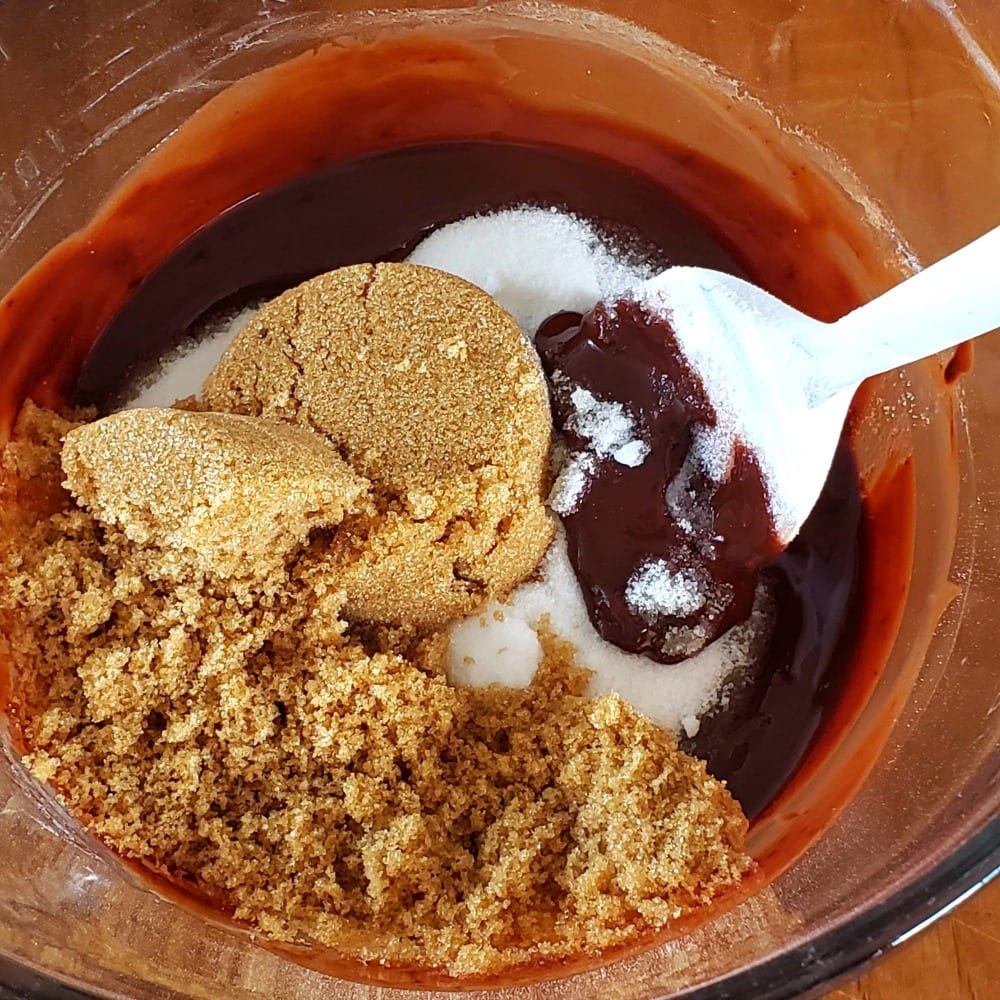 Add sugars, vanilla and salt to the melted chocolate and butter.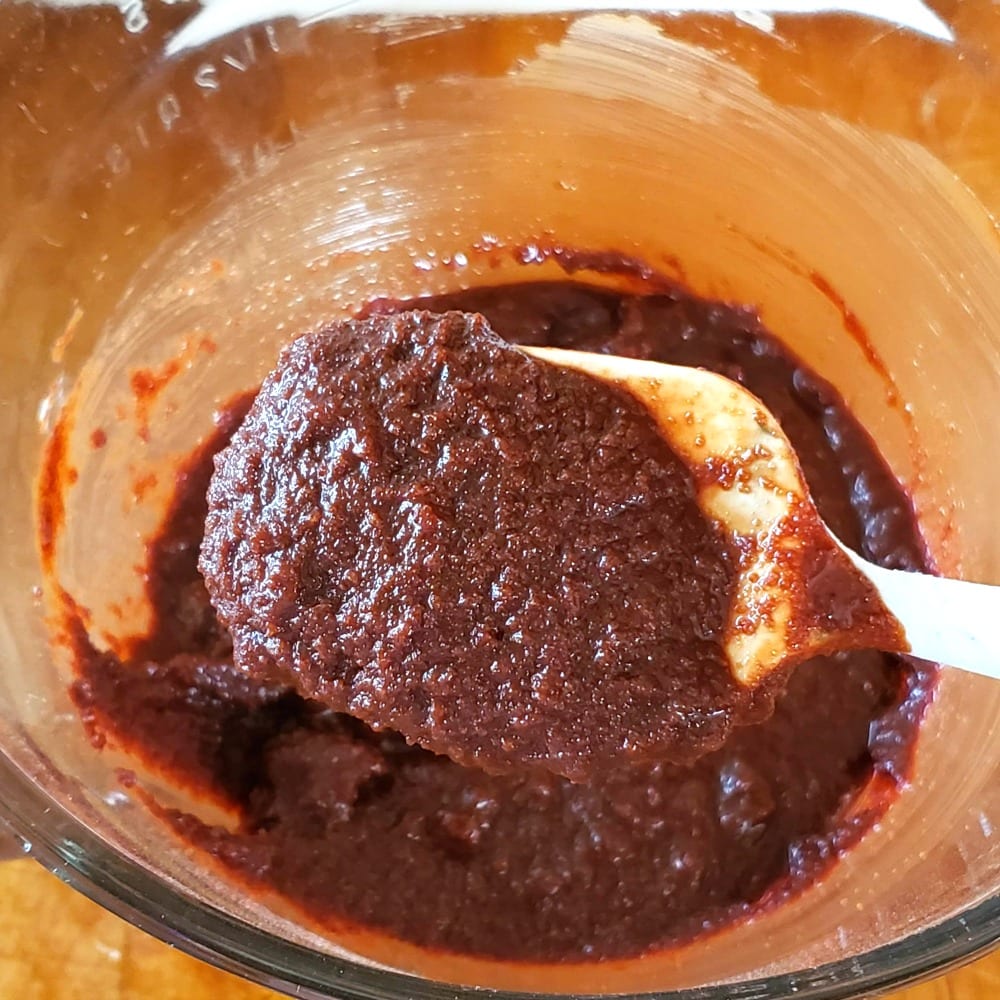 The batter will look grainy and you will doubt your skills. Don't worry and carry on!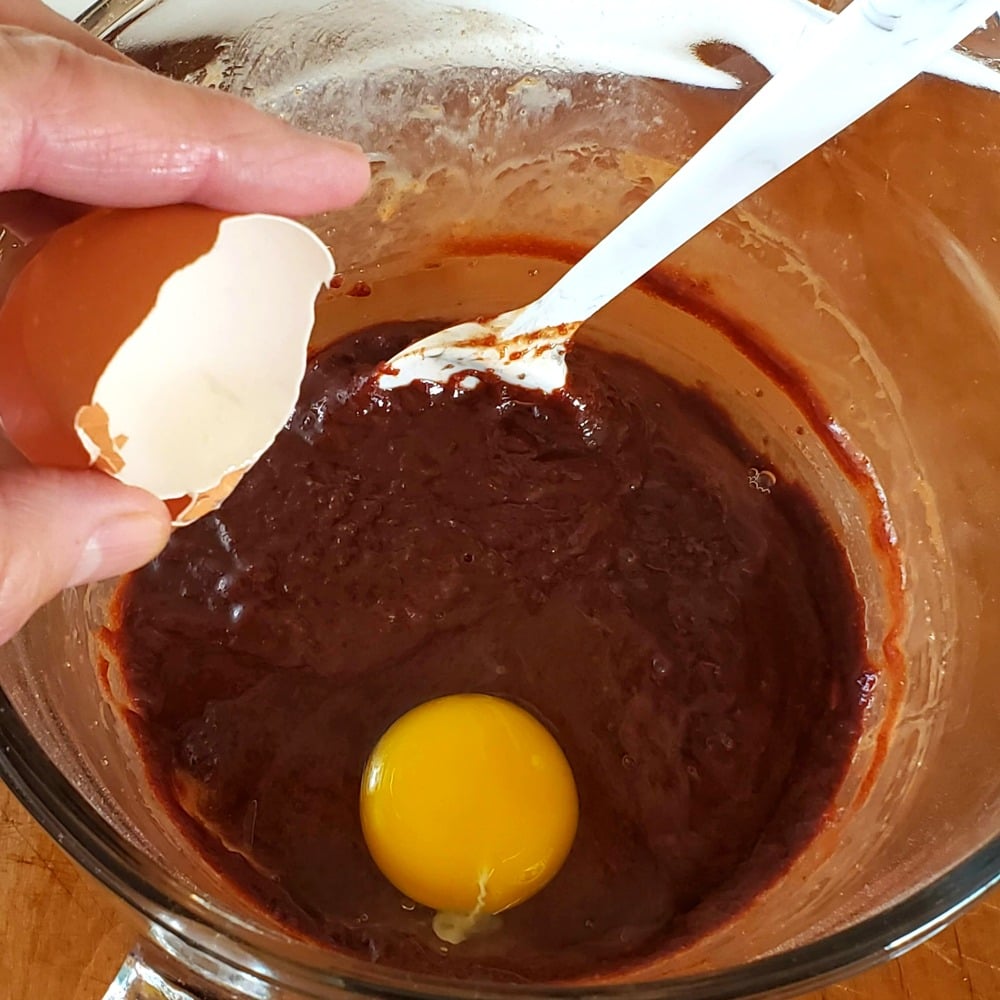 Stir in eggs one at a time.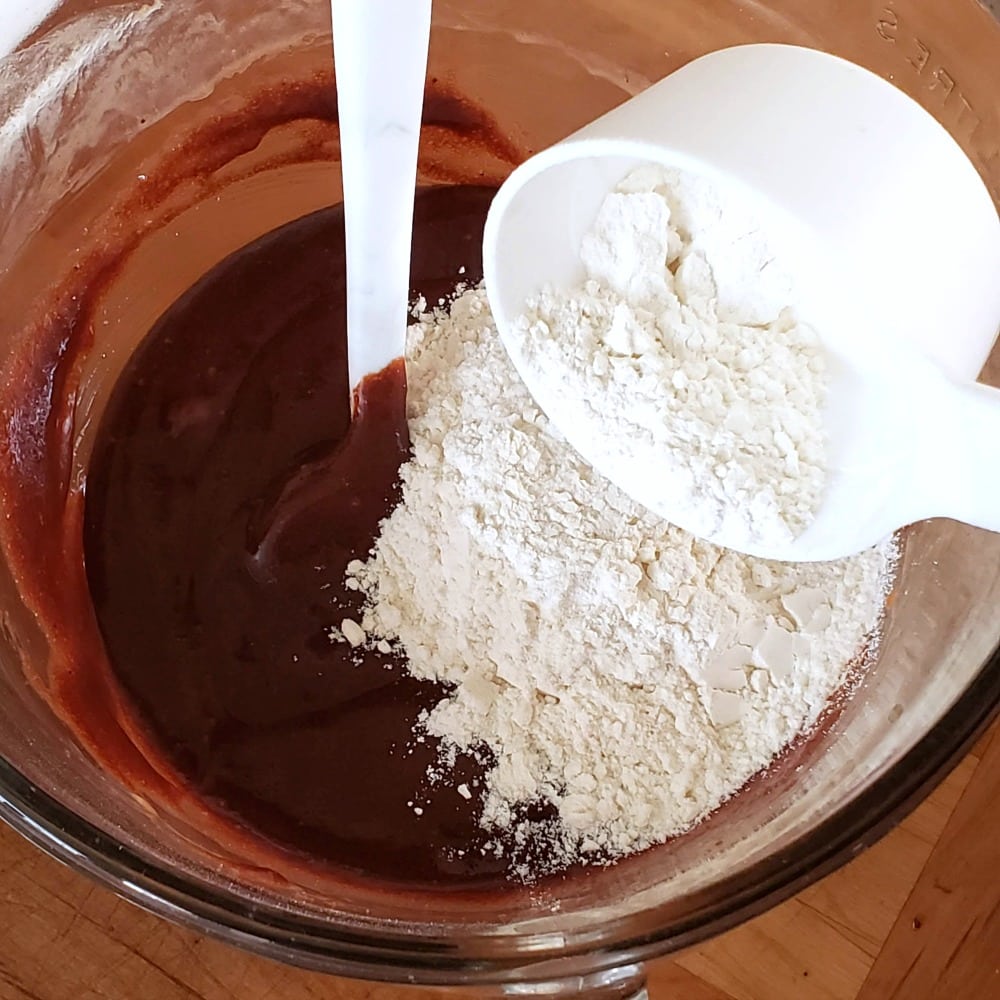 Stir in flour until batter is smooth.
The batter should fall into ribbons like this.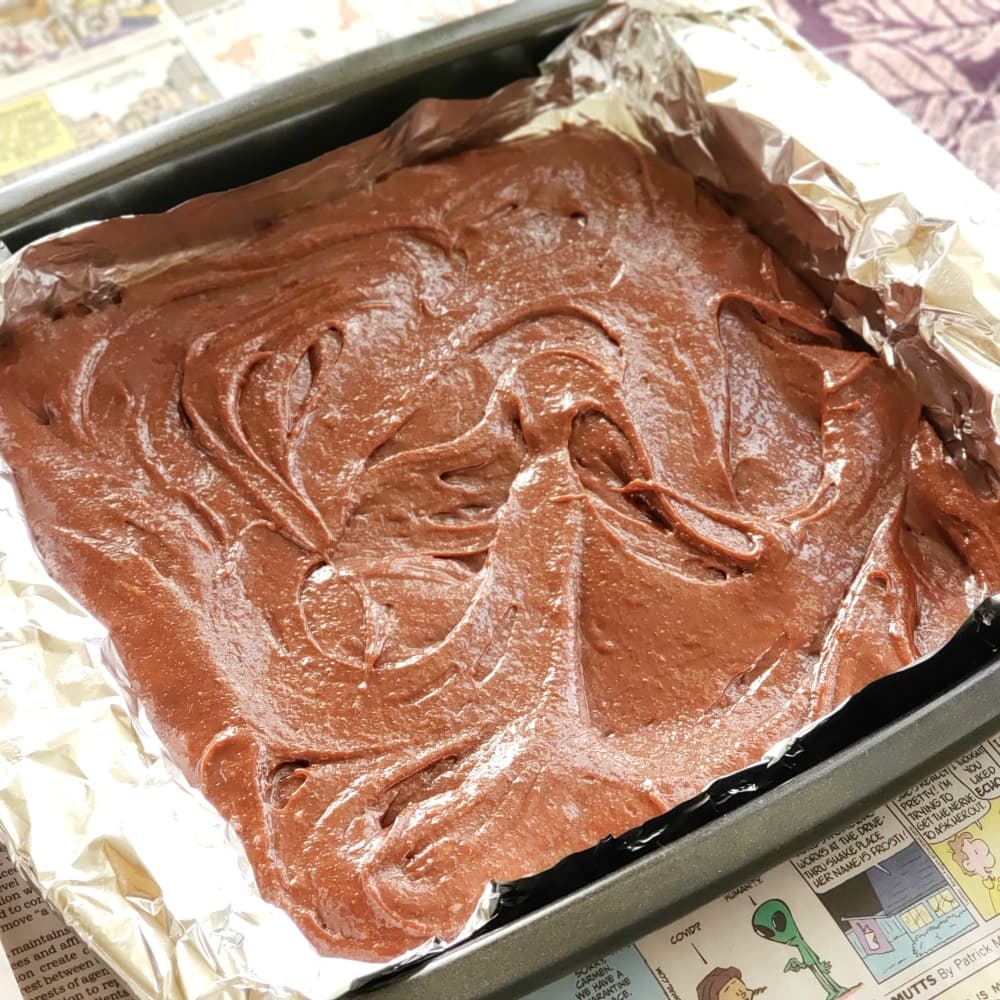 Spread batter into foil-lined pan.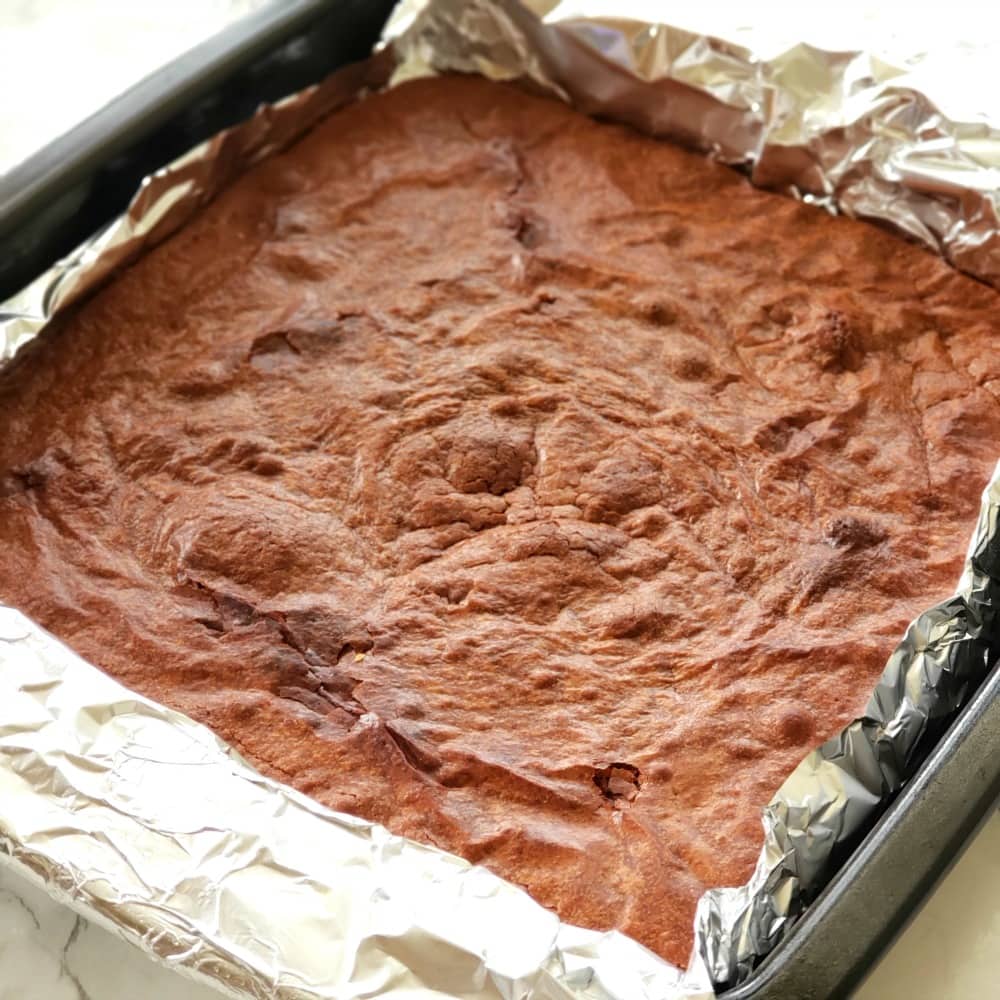 It will look less glossy and slightly darker when it is baked.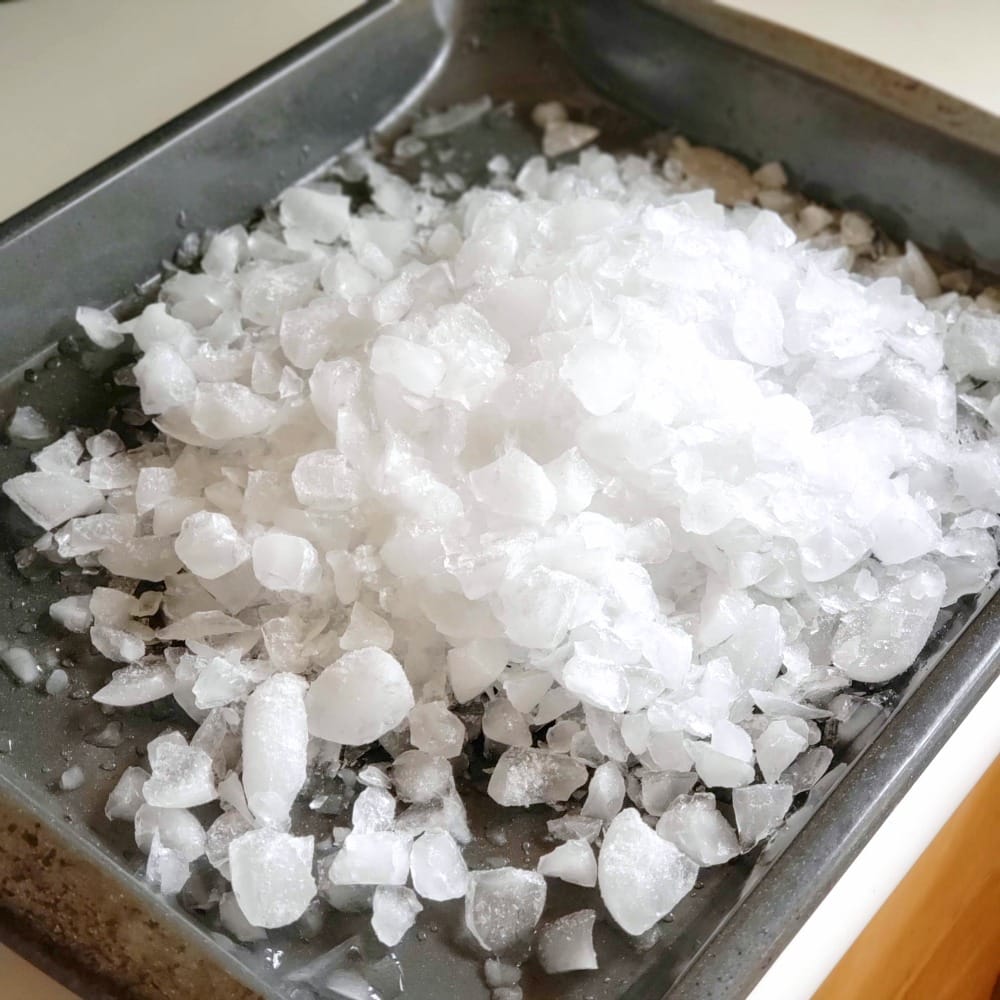 Fill a larger metal pan with crushed ice and add some cold water to make it slushy. I am using my old beat-up broiler pan, because why not?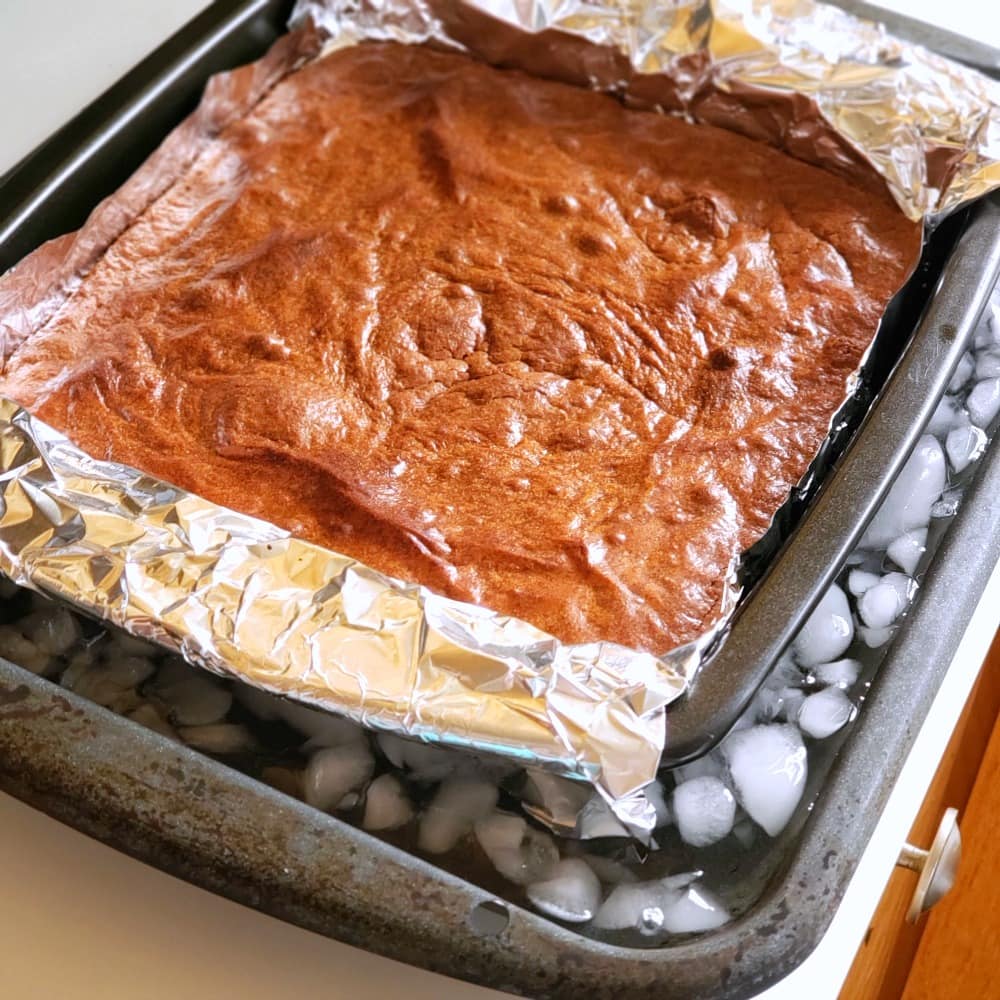 Once it is out of the oven, set the hot brownie pan in the icy slush, and nestle it in there. Don't let the water come up so high it invades the brownies though! This ice bath may be the trick to making the brownies fudgy, so don't skip this step.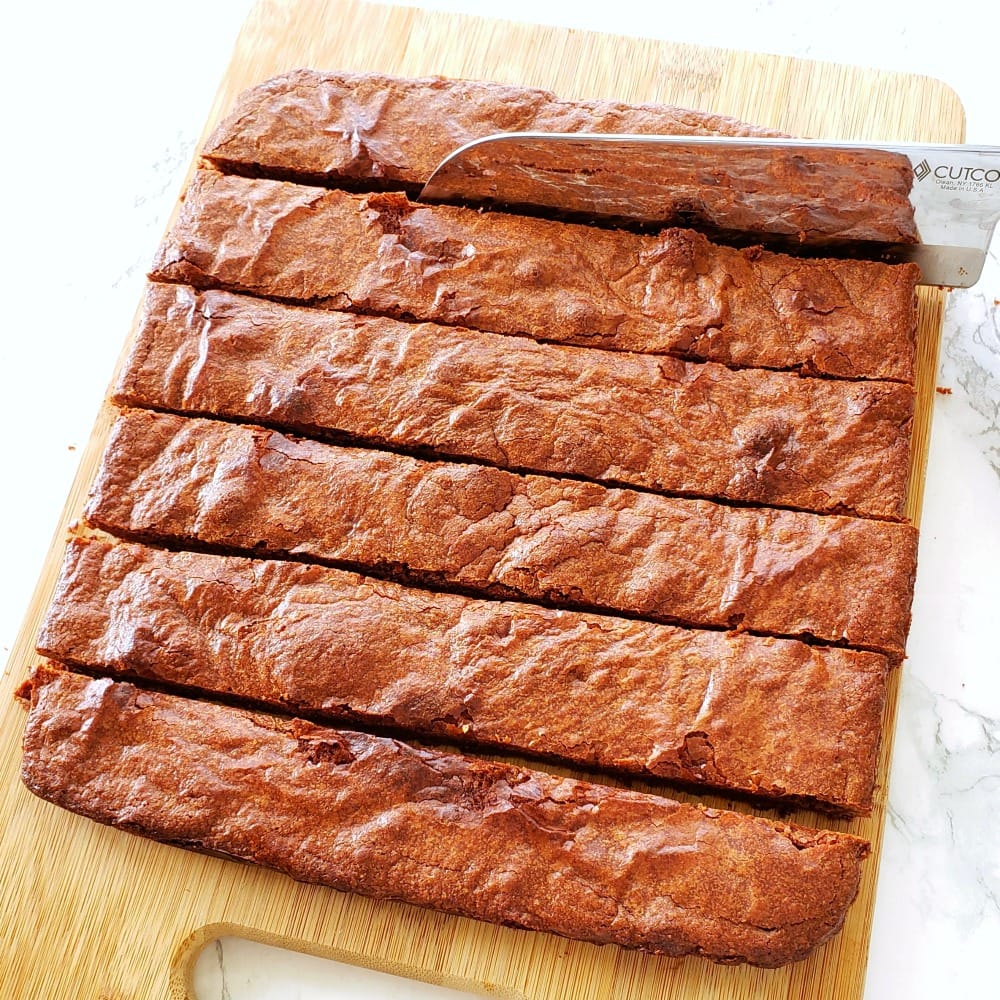 When cool, lift brownies out of the pan using the foil. Remove foil and cut into squares.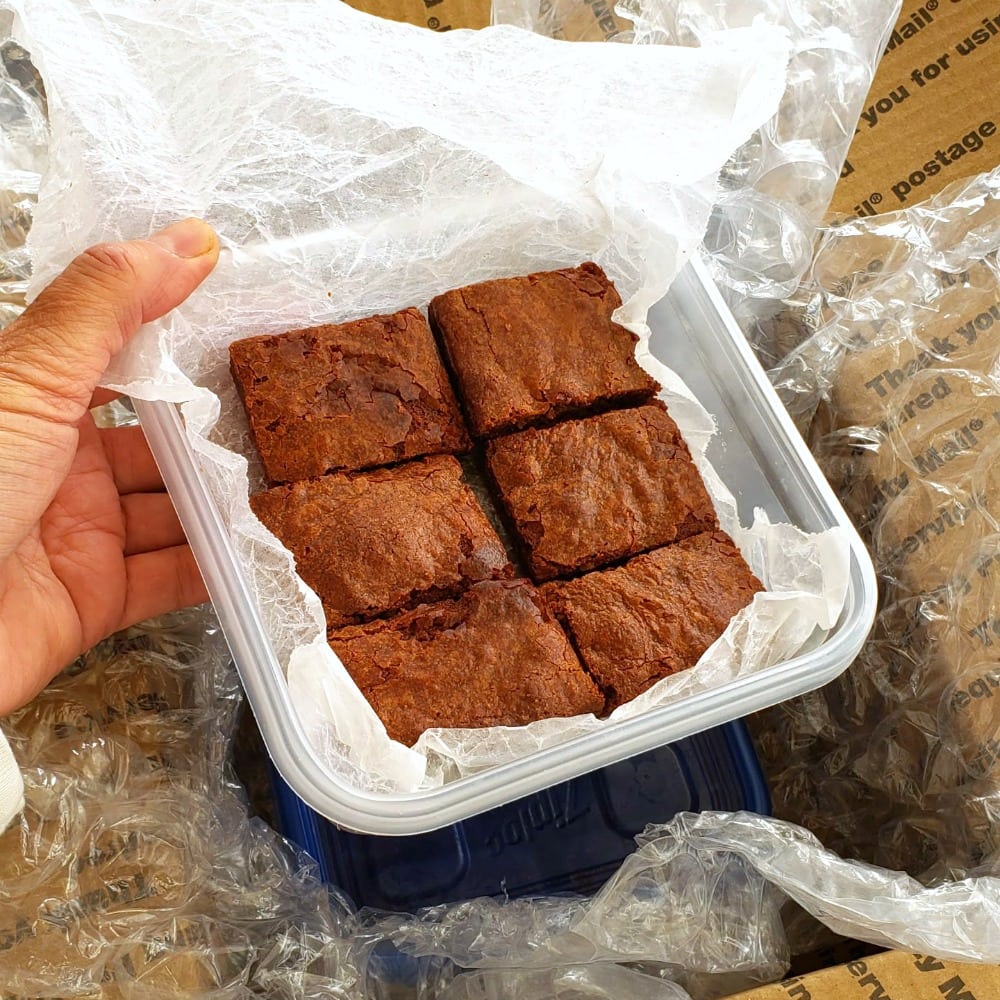 These brownies also pack neatly for shipping. Pack into a plastic container and wrap in bubble wrap inside a larger box (priority shipping box?). Cool completely before packing.
Dark Dense Chocolate Brownies
Sort of a cross between a brownie and fudge, these Dark Dense Fudgy Chocolate Brownies are for serious chocolate lovers. Use the best chocolate and butter you can afford!
Ingredients
8 tablespoons unsalted butter (this is 4 ounces, or 1 stick)
4 ounces (8 tablespoons) unsweetened chocolate
3/4 cup granulated sugar
1/2 cup brown sugar (can be dark brown or light brown)
1 teaspoon vanilla extract (use double-strength if you have it)
1/4 teaspoon salt
2 eggs
1/2 cup all-purpose flour
.
ENTIRELY OPTIONAL: 2/3 cup lightly toasted and chopped walnuts or pecans
Directions
Heat oven to 400F degrees. Line an 8-inch-square metal baking pan with foil.
In a glass bowl or measuring cup, melt butter and chocolate together in the microwave. Start with 30 seconds, then pull out the bowl and stir. Microwave for another 30 seconds, pull out the bowl and stir to see if it has melted. Do it once more if needed. When it looks almost completely melted, stir until smooth. (Note: chocolate holds its shape when heated in the microwave, so stirring is essential to seeing if it has melted.)
Stir in both sugars, vanilla and salt. It will look grainy; don't let this bother you. Stir in eggs one at a time, followed by flour. Stir until very smooth, about 1 minute, until mixture pulls away from sides of bowl. (This would be the time to add nuts if you are using them.)
Scrape batter into prepared pan and bake 20 minutes. While brownies are baking, prepare a chilled water bath: Pour crushed ice into a large roasting pan (like a broiler pan) to a depth of about 1 inch. Add cold water to the ice in the pan. Remove brownie pan from oven and place the hot pan in the water bath, being VERY careful to NOT splash water on brownies or let water creep into the pan. The bottom of the brownie pan should be slightly submerged in the water, but the pan ultimately should float. Water will ruin the brownies.
Let brownies cool completely, then lift pan out of water bath, lift foil with brownies out of brownie pan, place brownies on cutting board and cut brownies into squares, peeling off the foil.
Store on countertop in an airtight container for a day or two, or if saving longer, pack into an airtight container and freeze.
Makes 16 squares.
Notes
Recipe source: Adapted just slightly from Alice Medrich's Cookies and Brownies (Warner Books, 1999; she called them New Classic Brownies).
https://www.shockinglydelicious.com/fudgy-chocolate-brownies/
Copyright Dorothy Reinhold | ShockinglyDelicious.com. All rights reserved.
Pin the image below for Fudgy Chocolate Brownies to your Pinterest board to save this recipe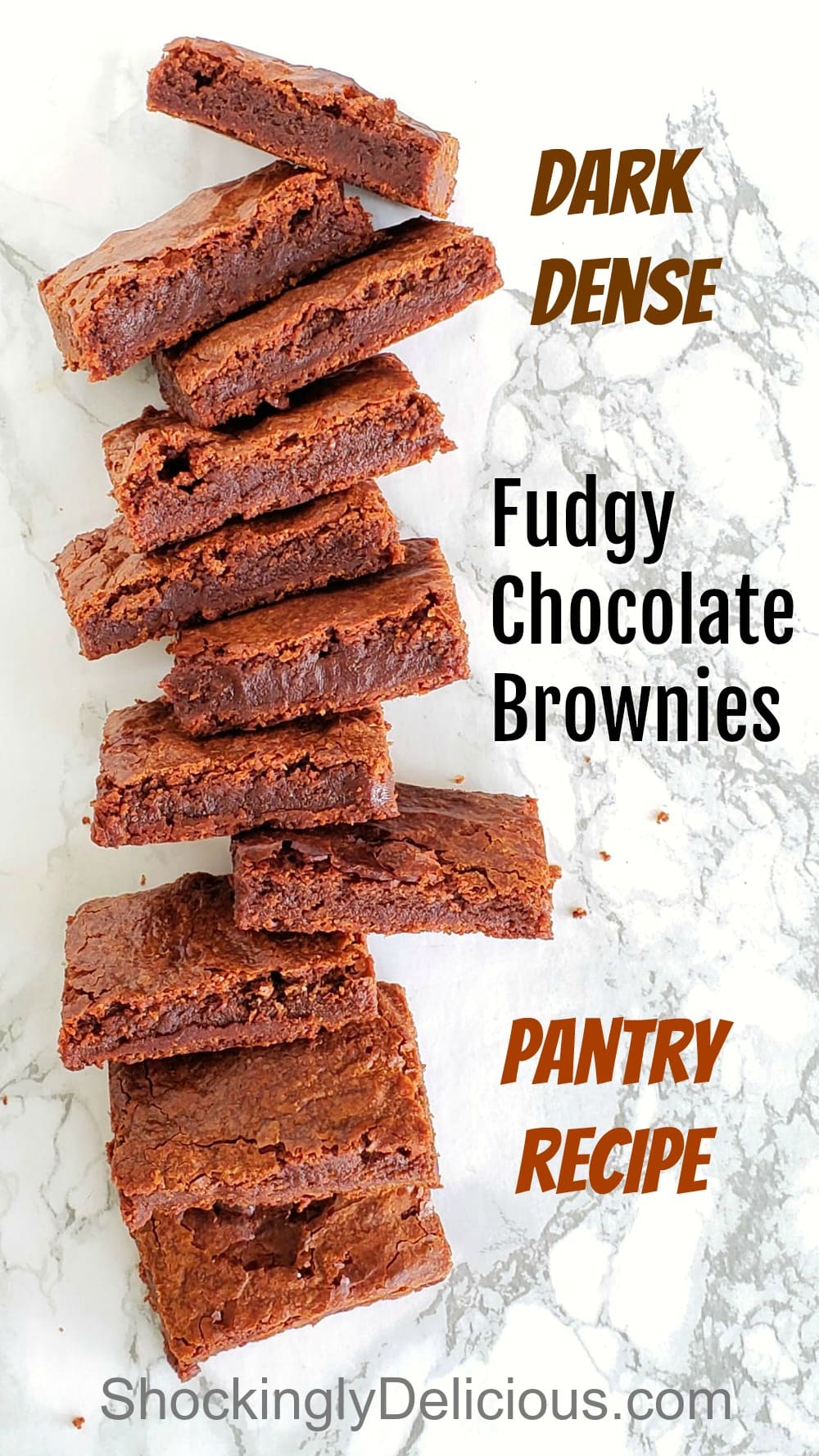 Other Shockingly Delicious Chocolate Recipes ⇒ Shockingly Delicious Best Chocolate Recipes.
Thanks for visiting…are you hungry for more? Follow Shockingly Delicious on…
FACEBOOK | PINTEREST | INSTAGRAM | TWITTER
…for all the latest recipes, ideas and updates!
This post may contain affiliate/referral links. It is a way for this site to earn advertising fees (at no cost to you) by advertising or linking to certain products and/or services that I approve and prefer.