Print This Post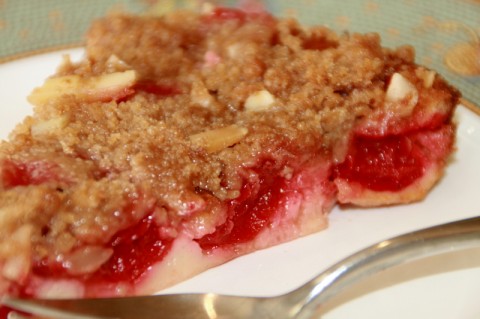 With 16 ribbons from various pie contests under my belt, you might say I am a pie girl through and through.
But I know lots of home cooks are stumped by the vagaries of crust – butter or shortening? Rolling it out without tearing? Blind-baking? Fluting the edge? Easy as pie, nuthin'!
I want you to conquer your fear of pie crust the easy way, by avoiding a traditional crust. Make what is called an "impossible pie," with a self-making crust that forms as it bakes. Made with baking mix (such as Bisquick), these are impossibly easy, and a few varieties of impossible pies are among my favorite easy solutions for either dessert or a brunch table.
National Pie Day is January 23. In honor of that, toss together this Impossible Cherry-Almond Pie. It's a bit like a clafouti – a baked French dessert that is halfway between Yorkshire pudding and custard.
Serve it slightly warm, at room temperature or even cold from the refrigerator. I like it for breakfast, as well!
Impossible Cherry-Almond Pie
1/2 cup Bisquick (can use lower-fat version)
1/4 cup sugar
3/4 cup milk
2 tablespoons butter or margarine, at room temperature
1/4 teaspoon almond extract
2 eggs
1 (21-ounce) can cherry pie filling
Brown Sugar Streusel
1/2 cup Bisquick (can use lower-fat version)
1/2 cup packed brown sugar
1/2 teaspoon ground cinnamon
2 tablespoons firm butter or margarine
Slivered almonds, toasted, if desired
Heat oven to 400 degrees. Mist a 9- or 10-inch pie plate with nonstick spray and set aside.
Stir together first six ingredients until blended. Pour into prepared pie plate. Spoon pie filling over top. Bake 30 minutes.
While pie is baking, make streusel topping by mixing Bisquick, brown sugar and cinnamon in a small bowl, and cutting in butter with a pastry blender, a fork or your fingers, until you have crumbs. Stir in almonds, if using (recommended). After pie has baked 30 minutes, sprinkle Brown Sugar Streusel over pie filling and return to oven to bake another 10 minutes, or until streusel is golden brown. Remove pie from oven and cool.
Serve slightly warm, at room temperature or chilled from the refrigerator. It tastes great any way!
Serves 8.