Print This Post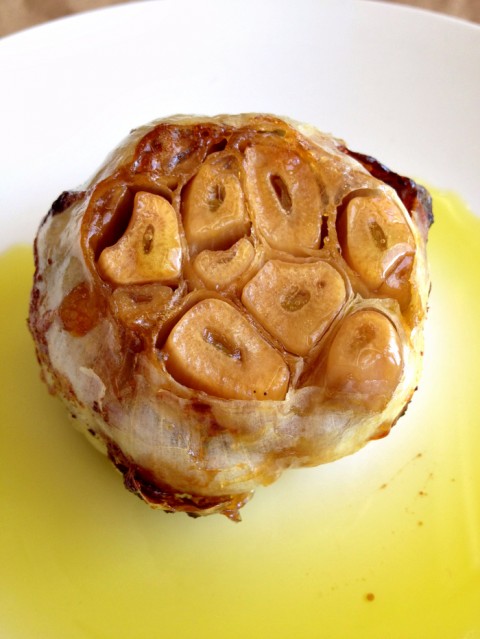 The slow cooker makes a handy, dandy dinner, as we have seen here (pasta), and here (pork), and here (chicken).
But it also does well with smaller, less central foods, such as condiments. You've seen my famous Crock-Pot Caramelized Onions, but you haven't yet seen my Caramelized Garlic in the Crock-Pot.
Time to remedy that as our #SundaySupper crew tackles cooking low and slow today.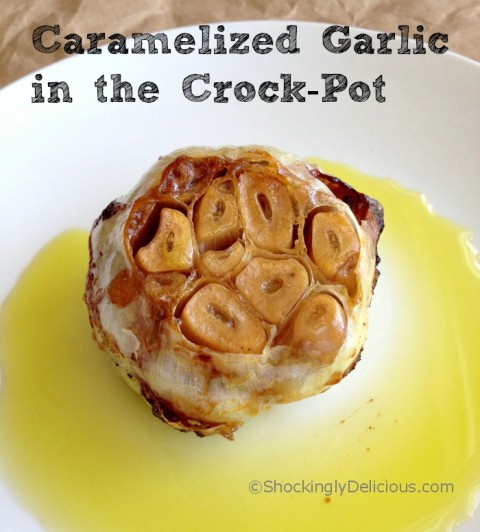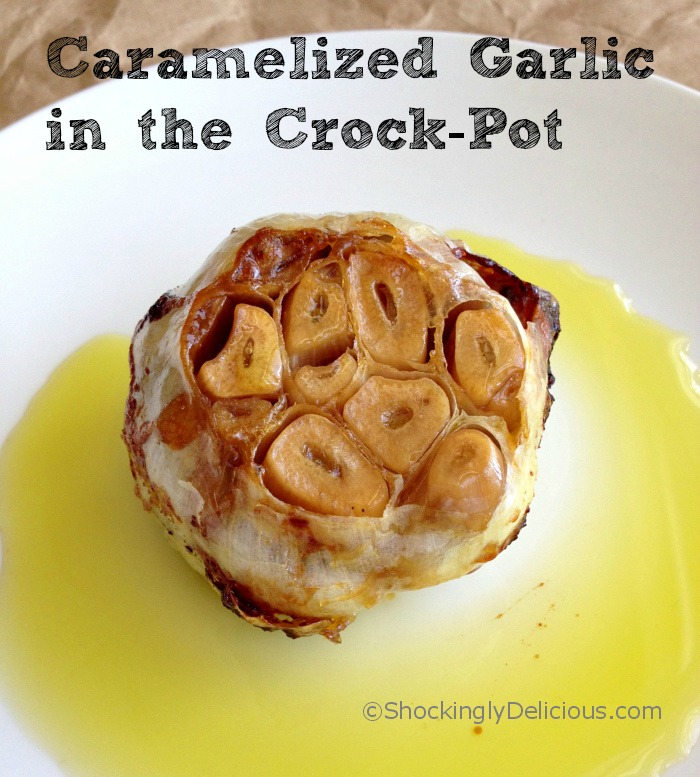 Voila!
Recipe: Caramelized Garlic in the Crock-Pot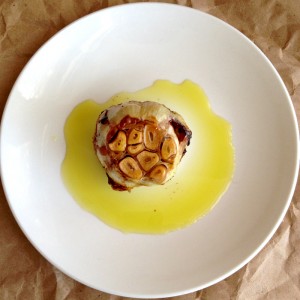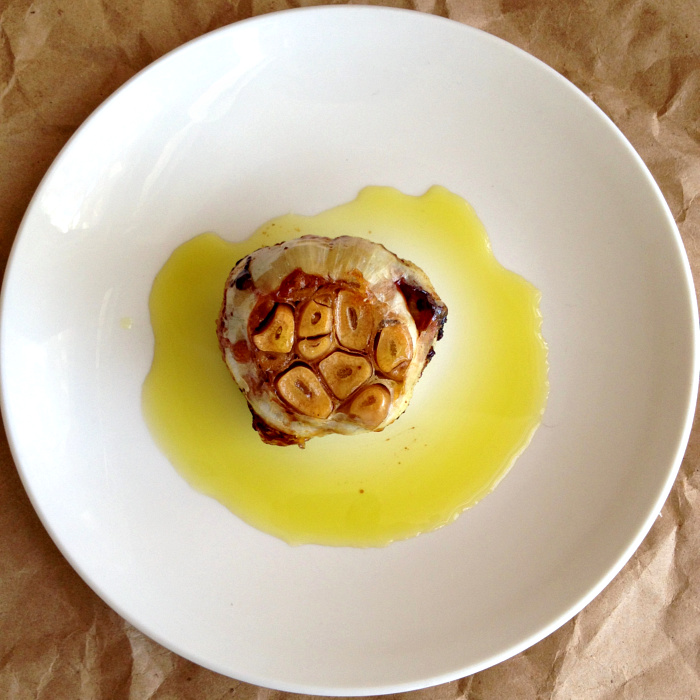 Summary: Low and slow in the Crock-Pot is the perfect way to caramelize heads of garlic. When done, use the garlic oil and spread the softened cloves on good bread.
Ingredients
2 heads garlic
Extra-virgin olive oil
Great bread
Instructions
Using a serrated knife, slice off 1/4 of the top of the garlic heads. This will expose the tops of the individual cloves. Place garlic, cut side up, in the Little Dipper Crock-Pot.* (See note below.)  Pour in olive oil to come about 1/3 of the way up the sides of the garlic heads.
Put lid on and cook on high for 4-5 hours, or until garlic is very soft when pierced with the point of a sharp knife. Unplug and cool the garlic in the oil.
To serve, place the whole garlic bulb in the center of a rimmed plate, with some garlic oil around it. Pass the bread, and squeeze the cloves of garlic onto the bread. Dip in oil, eat and enjoy!
To store, separate oil and garlic heads. Store oil in refrigerator for up to 1 month. Use it in salad dressing, on grilled fish, drizzled over soup, pasta or grilled veggies. Store cloves in refrigerator separately, and use in the same manner on bread, in salad dressings, in soups or stews or anywhere you want a toasty garlic flavor without the bite of fresh garlic.
Source
Dorothy Reinhold / Shockingly Delicious
*Little Dipper Crock-Pot
A Little Dipper is a tiny Crock-Pot that is meant for warm dips. It has no on-off switch; when you plug it in, it is on, and when you unplug it, it is off. I also use it to make my house smell great with my own Natural Air Freshener. You probably have a Little Dipper or similar gadget in the back of your cupboard.
#SundaySupper
See this page for all the wonderful #SundaySupper dishes I have made since I joined this group, and links to all the other delicious dishes made by my fellow cooks.
Preparation time: 2 minutes
Cooking time: 4 hours
Diet type: Vegetarian, Vegan
Diet tags: Gluten free
Culinary tradition: USA (Nouveau)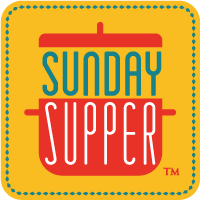 This week our #SundaySupper crew is celebrating the ease of slow cooking. Look at the variety we have cooked up for you! Try my garlic, or find something else from the menu below that floats your boat:
Low & Slow Breads & Starters:
Low & Slow Mains:
Low & Slow Sides:
Low & Slow Desserts:
Wine Pairing Recommendations for Low & Slow Food from ENOFYLZ Wine Blog
Don't forget to join the #SundaySupper chat on Twitter today (Sun., May 19, 2013) to talk about the merits of slow cooking. We'll tweet throughout the day and share our delicious recipes. Our weekly chat starts at 7 p.m. EST. Follow the #SundaySupper hashtag, and remember to include it in your tweets to join in the chat. Check out our #SundaySupper Pinterest board for more delicious recipes and food photos.
Save
Save
Save
Save
Save