Print This Post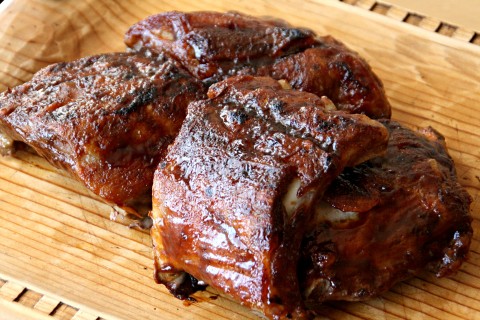 Smoky Baby Back Ribs: Low and slow is the way to go with baby back ribs, and the Crock-Pot or slow cooker does them perfectly. Finish these ribs with a sweet barbecue glaze and run them under the broiler for a caramelized crust.
I'm a fan of low and slow when it comes to pork ribs, and I usually do them in the oven at 300 degrees for 3 hours.
But why not the Crock-Pot? That's practically the definition of low and slow. We let the slow cooker do the cooking work, we let smoked paprika contribute a smoky flavor, then when the ribs are tender we slather them with a hoisin-y bbq sauce and finish them off under the boiler or on a grill (your choice) for that final caramelization.
Indeed. These turned out succulent, and were no fuss. A win!
How to make Smoky Baby Back Ribs in the Crock-Pot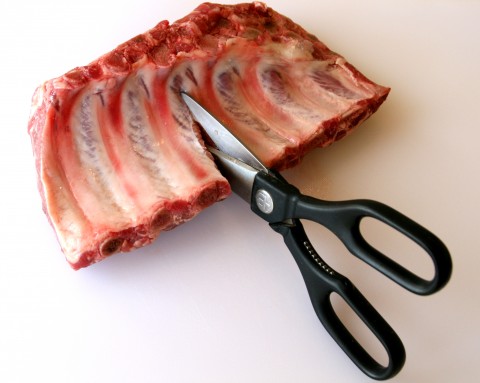 1. You know the trick of using your kitchen shears to cut ribs into the size you want, right? First off, you have a heavy-duty kitchen shears that is to be used ONLY for kitchen food tasks. No box cutting, no construction paper cutting, no kid crafts. Label them food only! Simply cut between the bones. I usually allow 3-4 ribs per person. (Hey, don't judge…I couldn't take the picture AND hold the scissors, OK?)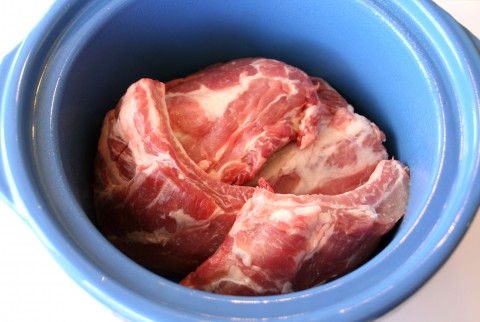 2. Spray your crock with nonstick spray, and plop ribs in. Slap the lid on, and most importantly, be sure to tack a note on there about what time you started them, and/or what time you expect them to be done, and what temperature you selected (low or high)! The mind…it is a terrible thing to waste. And we can't count on our memories now, can we?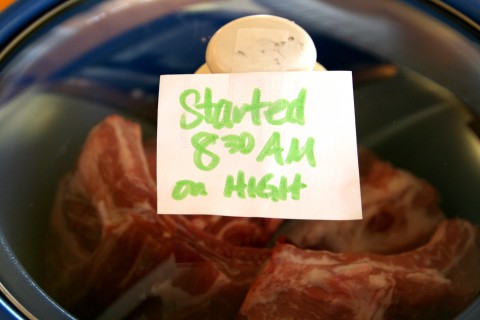 3. When they're done, you can put them in the refrigerator to save for another night, if you like (working on dinner ahead of time is highly advised!). Or to eat them immediately, finish off with a glaze of barbecue sauce mixed with hoisin sauce, and give them a quick run under the broiler or on your grill, for a crispy exterior.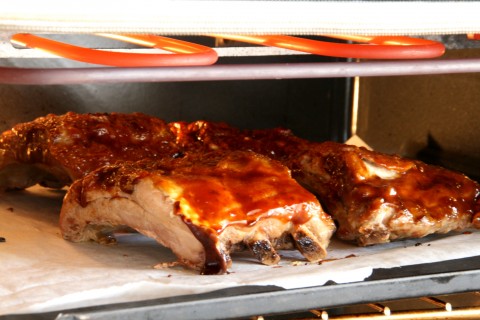 Let's make some ribs, shall we?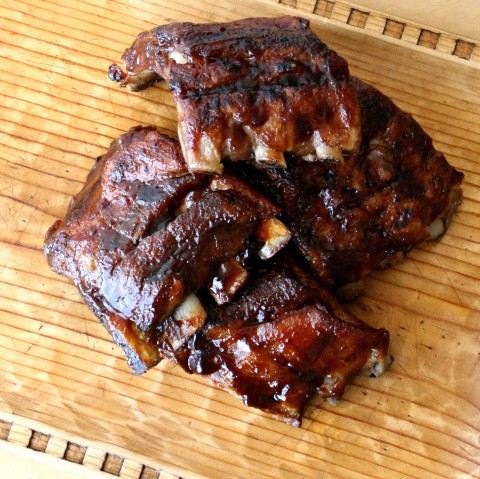 Smoky Baby Back Ribs in the Crock-Pot
Low and slow is the way to go with baby back ribs, and the Crock-Pot or slow cooker does them perfectly. Finish these Smoky Baby Back Ribs with a sweet barbecue glaze under the broiler.
Ingredients
2 1/2 pounds baby back pork ribs
1/4-1/2 teaspoon smoked paprika
Glaze: mixture of barbecue and Hoisin sauces (about 2 tablespoons each)
Directions
Spray inside of crock with nonstick spray. Cut ribs with scissors into 3- or 4-rib chunks and place in crock. Sprinkle with smoked paprika.
Place ribs in crock and cook on HIGH for 5 hours (or LOW for 8-10 hours). Test with a fork to make sure they are tender. (You may check before the initial time is up; yours may be done earlier!)
When ready to serve, remove ribs from crock, place them on a foil- or parchment paper-lined baking sheet, brush ribs with a mixture of barbecue sauce and Hoisin sauce (mix at ratio of 1:1, or whatever ratio you prefer), and broil or grill ribs to finish them off. Watch carefully so they don't burn (the sugar in the sauce will burn easily.)
Serves 4.
Notes
Recipe source: Dorothy Reinhold | Shockingly Delicious.
Amount: You can increase the poundage of ribs if you have more people to feed. Just increase the glaze amount as well, for the finish.
Smoked paprika ingredient: Smoked paprika gives a smoky flavor to whatever it touches. Once you buy some, you will be hooked!
https://www.shockinglydelicious.com/smoky-baby-back-ribs-in-the-crock-pot/
Copyright Dorothy Reinhold | ShockinglyDelicious.com. All rights reserved.

Pin the image below to your Pinterest board to save this recipe.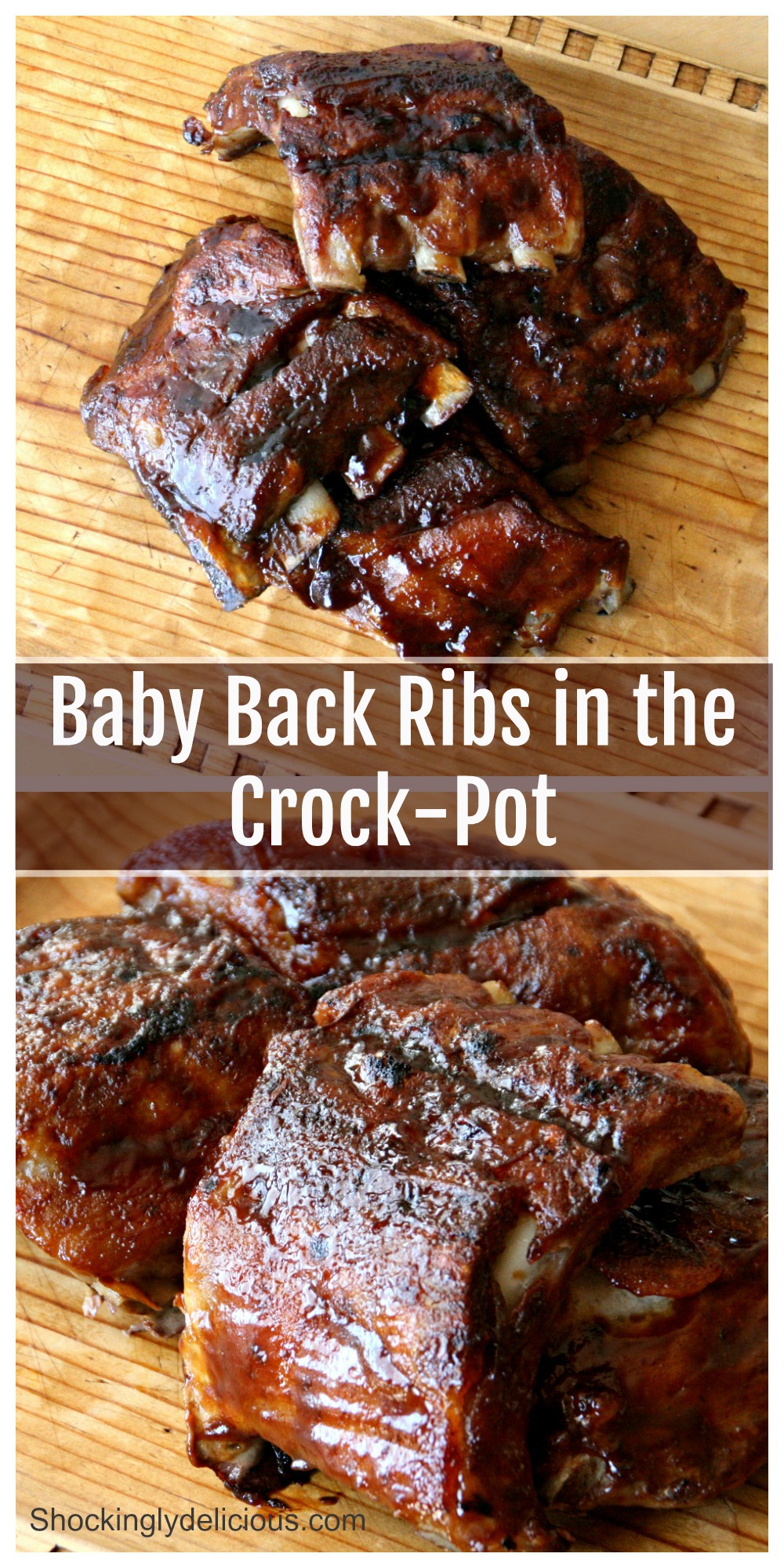 Thanks for visiting…are you hungry for more? Follow Shockingly Delicious on…
FACEBOOK | PINTEREST | INSTAGRAM | TWITTER
…for all the latest recipes, ideas and updates!
This post may contain affiliate/referral links. It is a way for this site to earn advertising fees (at no cost to you) by advertising or linking to certain products and/or services that I approve and prefer.
This post was originally published March 4, 2012 and has been refreshed, refined and republished today.