Print This Post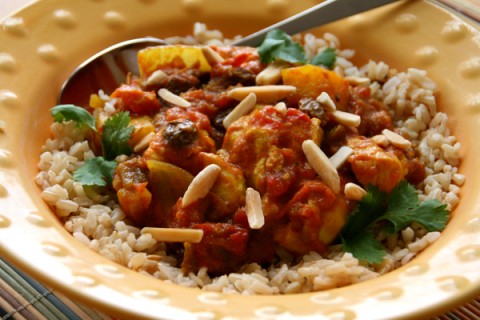 I just love a recipe with an intriguing name, and sometimes just the name alone will cause me to make it.
"Country Captain" is one. It sounds like the title of a romance novel, or a job description, or even a paint color, doesn't it?
It's a curried chicken stew with tomatoes and rice, popular in the South, with origins in India. You can read its interesting history at Wikipedia, and it's one of those dishes that vary with each cook, like a barbecue sauce or a chili or a noodle kugel.
Bobby Flay,  Emeril Lagasse, Paul Prudhomme and Paula Deen all have their own versions, as does every self-respecting Junior Leaguer in the South.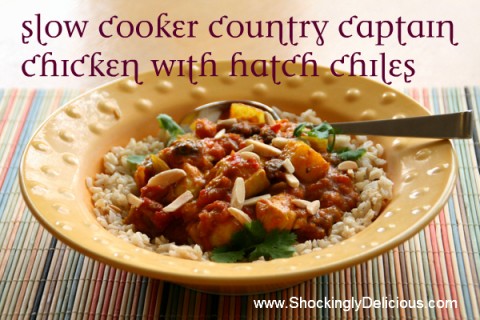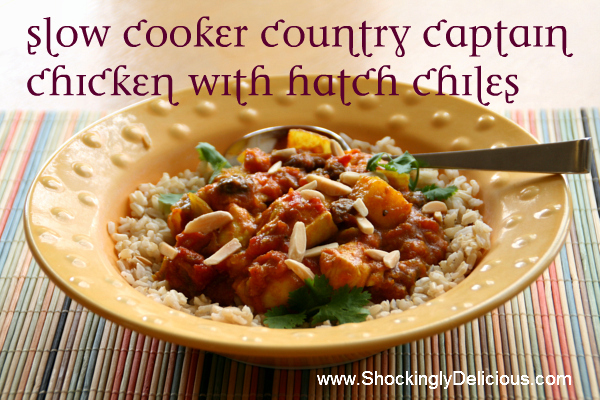 Queen Elizabeth II ate it during her Diamond Jubilee celebration earlier this year, prepared by U.K. superstar chef Cyrus Todiwala, and it is even part of the U.S. Army's MRE packs.
No matter its pedigree, though, this is a satisfying, comforting curry, rich with vegetables and spices. Since I'm a less-work-is-more-fun kind of girl, I put mine in the slow cooker for a one-pot, untended meal. It's a perfect candidate for the slow cooker because, while others have made it using fussier techniques (we're looking at you, sir Todiwala), it's really simple at heart.
Throw it in the slow cooker and spend the rest of your time playing.
Recipe: Slow Cooker Country Captain Chicken with Hatch Chiles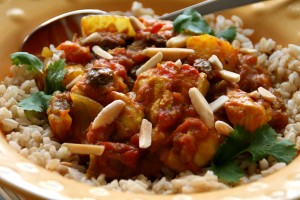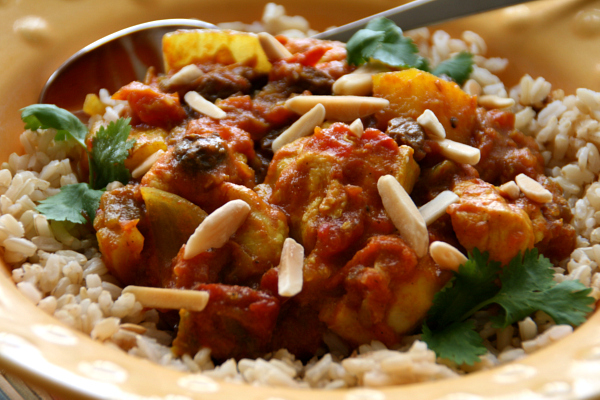 Summary: A gently spiced, comforting chicken curry that's a Junior League classic in the Southern U.S. Serve it over steamed rice, garnished with almonds for crunch.
Ingredients
1 (28-ounce) can diced peeled tomatoes (do NOT drain)
1 onion, chopped
1 tart green apple, such as Pippin or Granny Smith, cored and chopped
3-4 Hatch chiles, roasted, peeled, seeded and chopped (or use 1 3- 4-ounce can diced green chiles)
½ cup golden or dark raisins
4 ½ teaspoons curry powder
1 tablespoon Minute Tapioca
2-3 garlic cloves, crushed (or ¾ teaspoon garlic powder)
½ teaspoon ground ginger
1/8 teaspoon cayenne
1 ¼-1 ½ pounds skinless, boneless chicken breast, trimmed of fat and cut into large bite-size chunks
For serving: Cooked brown jasmine or white jasmine rice
Garnishes: Slivered toasted almonds, cilantro (optional)
Instructions
Spray the inside of the crock of a 5-quart slow cooker with nonstick spray. Add tomatoes and their juice, onion, apple, chiles, raisins, curry powder, tapioca, garlic, ginger and chicken. Stir to combine and coat all chicken pieces well.
Cover and cook on LOW about 3 ½-4 hours, until the chicken is cooked through.
Serve over cooked rice, in a bowl. Sprinkle a few slivered almonds over the top of each serving, if you like, and chopped cilantro if you are a fan. (We are!)
Serves 4-6.
Variations
Garnishes: Other interesting garnishes or go-alongs: Diced mango, shredded coconut, sliced banana.
Potatoes: My husband thinks this would be great with potatoes in it, so you might try that, or serve it over diced roasted potatoes or mashed potatoes instead of rice. Who knows…you might like it better that way!
Minute Tapioca
This is a great little trick I picked up along the way for slow cooker cooking. If you think the juices will be too juicy, throw in 1 tablespoon of Minute Tapioca at the beginning, and by the time your dish is done hours later, the sauce will most likely be sufficiently thick so it won't need thickening on the stove. Voila! You are welcome.
Preparation time: 10 minutes
Cooking time: 3 1/2-4 hours
Number of servings (yield): 5-6
Culinary tradition: USA (Southern)
My rating 5 stars:  ★★★★★