Print This Post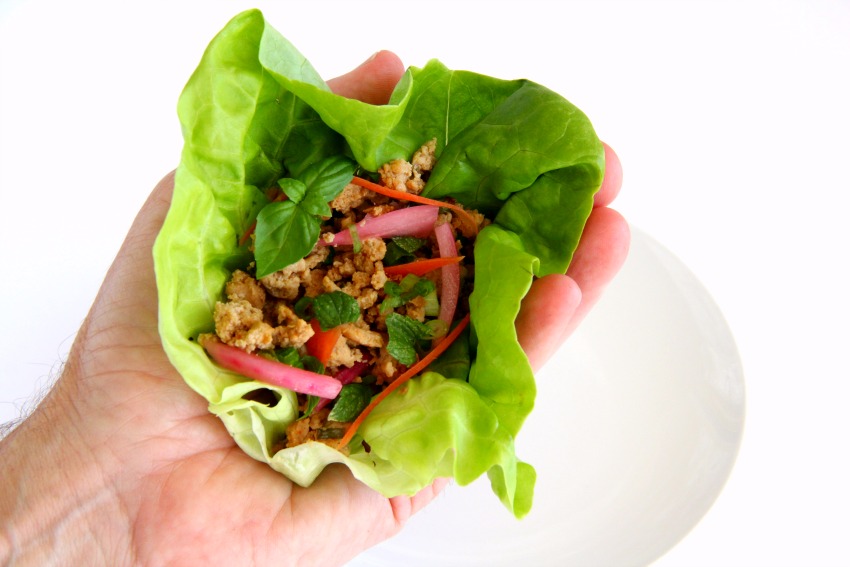 Thai Turkey Lettuce Wraps feature ground turkey flavored with fish sauce, soy sauce and lime juice, freshened with herbs and stuffed into a lettuce leaf for a low-carb meal. Serve it as a rice bowl for a heartier dinner.
Some people eat turkey once a year (and you already know what day they pick for that!).
Here in Southern California, we eat turkey all year 'round, in…
Burgers (sub turkey for the beef in this!)
…and whatever other ways we fancy.
These days I'm really excited about turkey in rice bowls, and turkey in lettuce wraps (fewer carbs), and Thai flavors, so I put those ideas all together into my latest creation – Thai-Inspired Turkey Lettuce Wraps.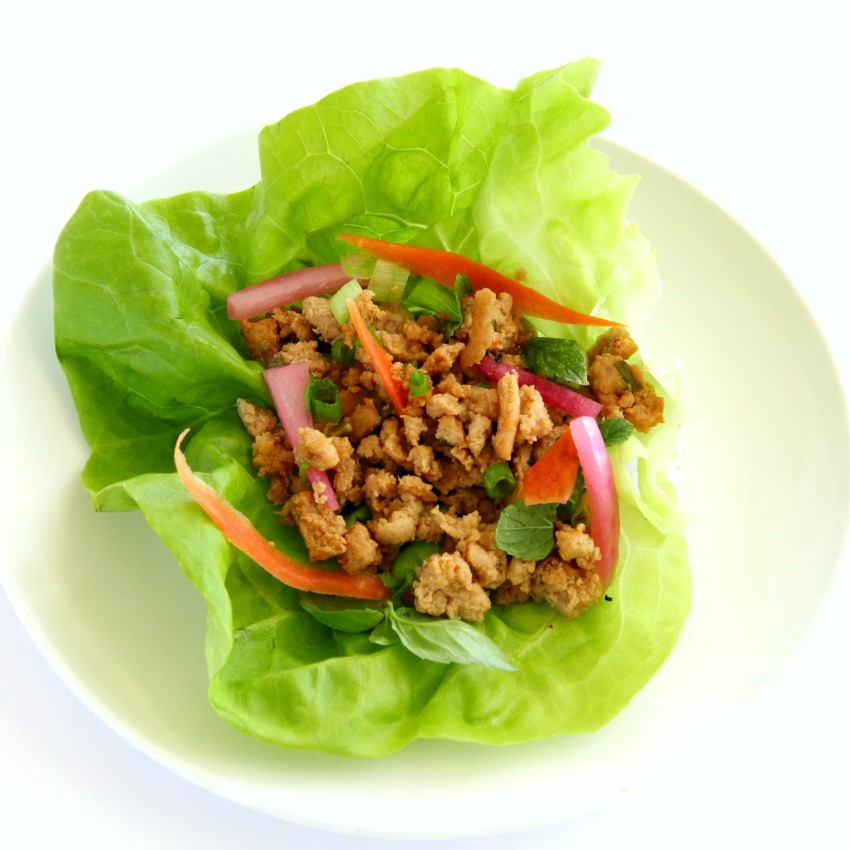 It's a bit like larb, the traditional Southeast Asian dish made from minced meat flavored with fish sauce, lime juice, spices and lots of fresh herbs. But my version might not be so much authentic as it is a hint o' larb, so let's call it Thai-ish Larb, shall we, so we don't step on any toes?
Whatever you call it, it's a very fast and fresh tasting after-work meal, and you'll have dinner on the table in less than half an hour.
How to make Thai Turkey Lettuce Wraps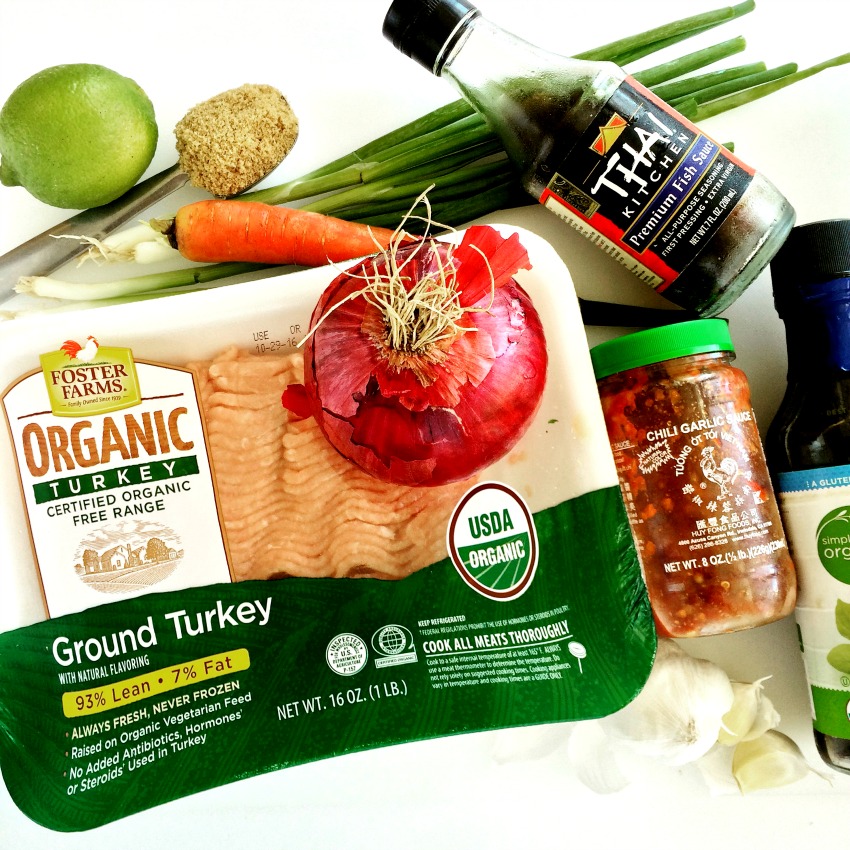 Gather your ingredients. You could sub ground chicken if you want to; I won't tell.
For me, this is all about the toppings and garnishes. I'm suggesting 7 toppings and garnishes with it, so people can personalize their own dish. Here at Shockingly Delicious HQ, where we relish a fusion of flavors, I like them ALL on it, every last one. I know some people who would rather starve than have a cilantro leaf touch their turkey lettuce wrap, so serving the garnishes on the side helps the foodies and the fearful remain separate but equal.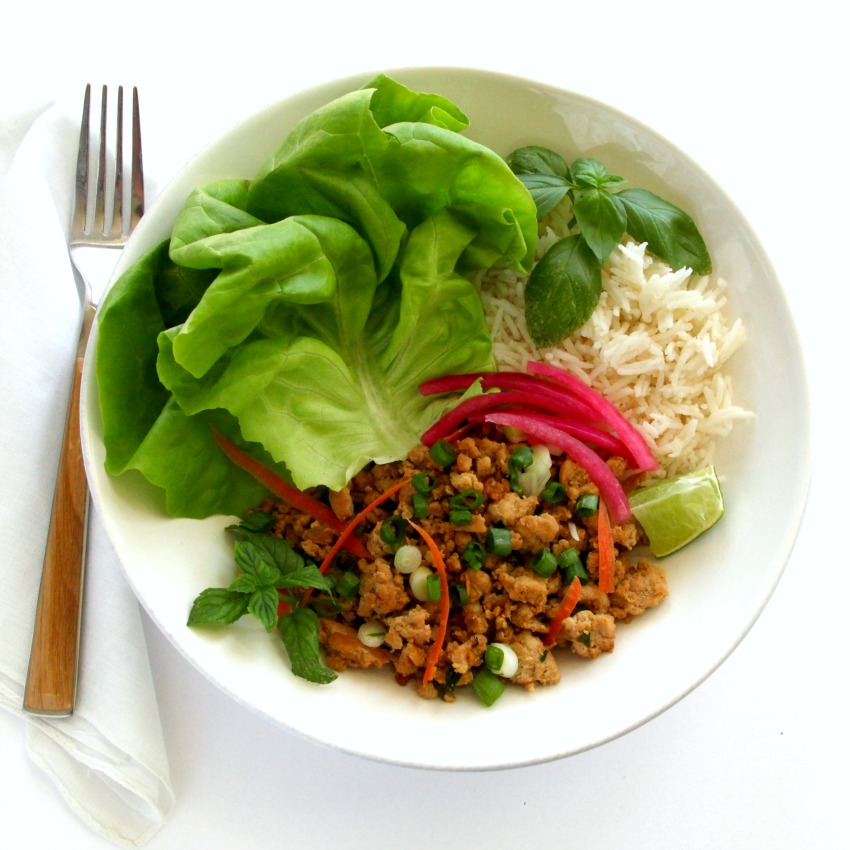 For heartier eaters, you can serve it in a bowl with rice, instead of a hand-held lettuce leaf.
Let's eat!
Thai-Inspired Turkey Lettuce Wraps
Ground turkey punched up with fish sauce, soy sauce and lime juice, freshened with a trio of just-cut herbs, stuffs a lettuce leaf nicely for a low-carb meal. Serve it as a rice bowl for a heartier dinner.
Ingredients
1 tablespoon olive or vegetable oil
1 pound organic ground turkey
2 garlic cloves, pressed
1 tablespoon finely minced fresh ginger
2 green scallions, chopped (both white and green parts)
2 tablespoons brown sugar
2 tablespoons tamari or soy sauce
2 teaspoons fish sauce
1 teaspoon chile garlic sauce (or sub another hot sauce, like Tabasco or sriracha)
.

Garnishes

Quick Pickled Onions (see linked recipe, or see note below)
2 green scallions, chopped
2 limes, cut into wedges
Fresh cilantro, chopped
Fresh basil, leaves torn
Fresh mint, chopped
Carrot shreds (optional)
Steamed white or brown rice (if you are making a rice bowl type dinner)
Lettuce leaves (Bibb, Butter, Romaine, even iceberg lettuce leaves all work fine)
Directions
Heat the oil in a large nonstick skillet. Add ground turkey and cook for a minute, stirring once or twice. Add garlic and ginger. Cook until the turkey is cooked through (it will no longer be pink). Stir in scallions, brown sugar, tamari, fish sauce and chile garlic sauce. Cook until the liquid in the skillet is almost completely reduced, stirring frequently, another minute or 2. Remove skillet from heat.

To serve as lettuce wraps:

Spoon the warm turkey onto a lettuce leaf, garnish the heck out of it with everything on the list, enclose and eat!

To serve as rice bowls:

Place steamed rice, some turkey and some lettuce leaves in a wide, shallow dinner bowl. Garnish the heck out of it with everything on the list, and dig in!
Serves 4.
Notes
Quick Pickled Onions: Follow my linked recipe or make a super-fast version by simply slicing ½ a red onion thinly (into half or quarter moons), put them in a small jar and pour some rice vinegar over them. Give the jar a shake every couple of minutes while you are getting dinner ready. Voila! Strain onions out of the vinegar to serve.
Recipe source: Dorothy Reinhold | Shockingly Delicious
https://www.shockinglydelicious.com/thai-turkey-lettuce-wraps/
Copyright Dorothy Reinhold | ShockinglyDelicious.com. All rights reserved.

Pin this recipe for Thai Turkey Lettuce Wraps to your Pinterest board to save it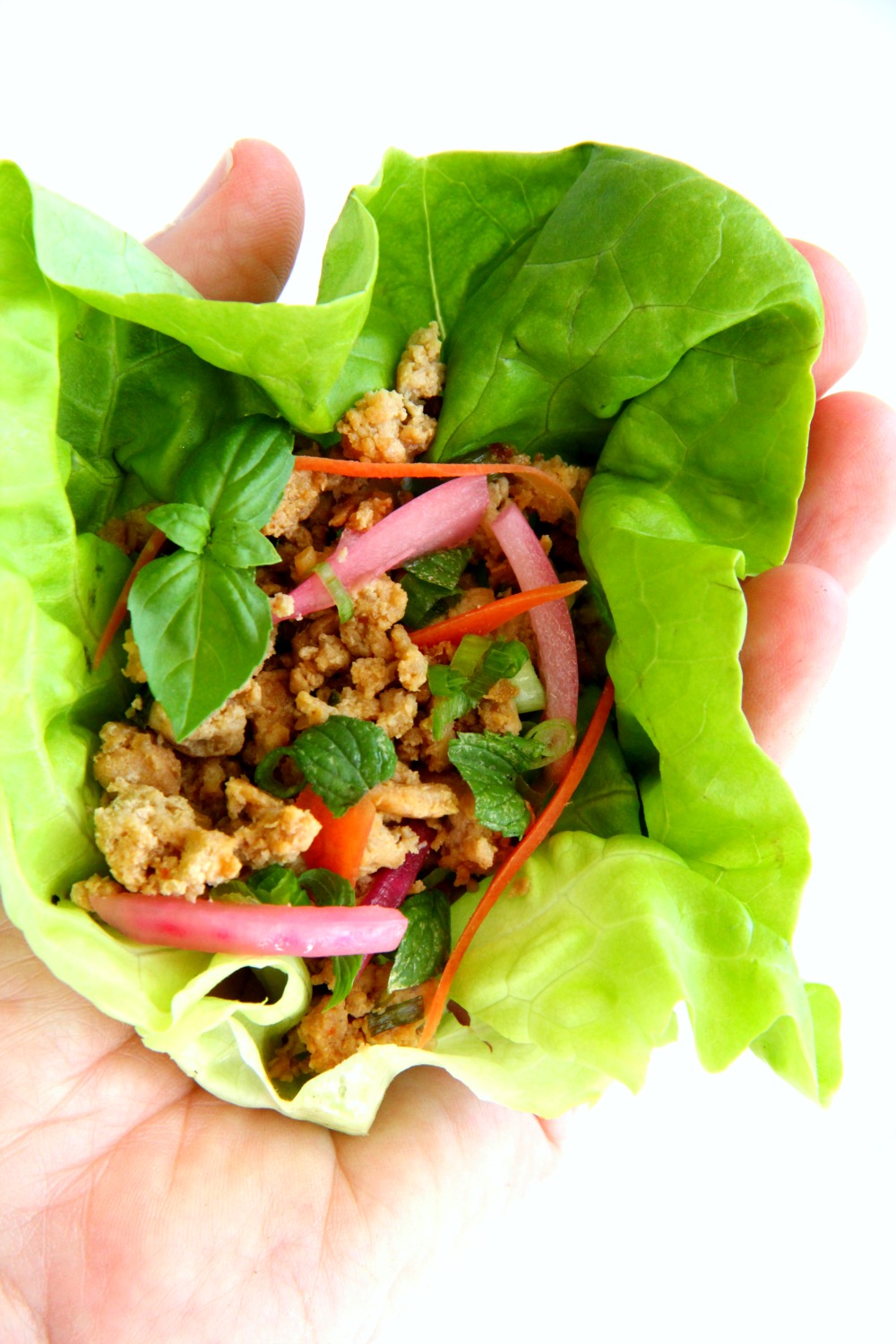 …or pin this one, below.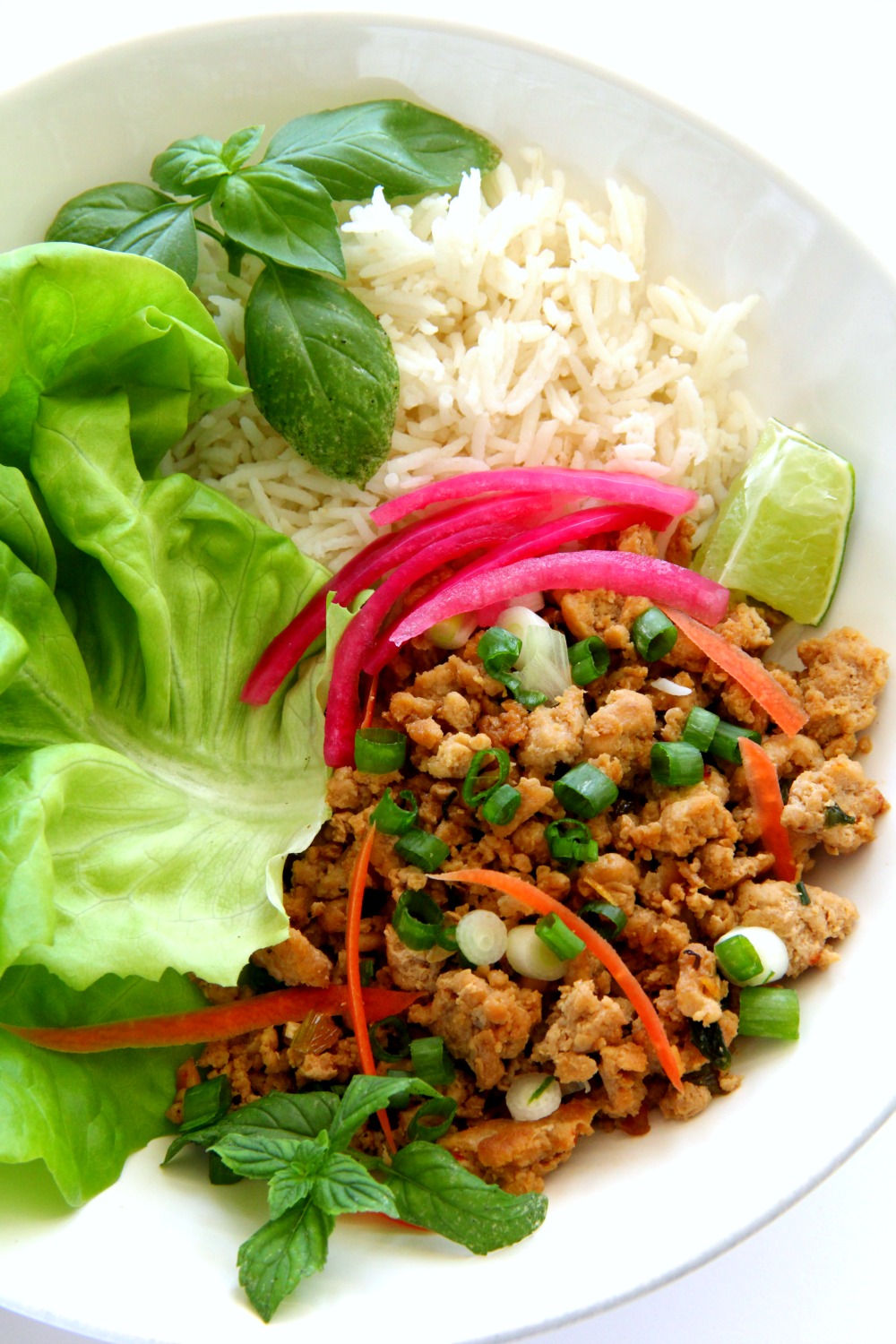 What is YOUR best recipe using ground turkey? Tell me in the comments below. I'd love to make it!
This post was originally published Oct. 18, 2016 and has been refreshed and republished today.
Thanks for visiting…are you hungry for more? Follow Shockingly Delicious on…
FACEBOOK | PINTEREST | INSTAGRAM | TWITTER
…for all the latest recipes, ideas and updates!
This post may contain affiliate/referral links. It is a way for this site to earn advertising fees (at no cost to you) by advertising or linking to certain products and/or services that I approve and prefer. Thank you for using my affiliate link to shop, so I can continue to bring you shockingly delicious recipes!