Print This Post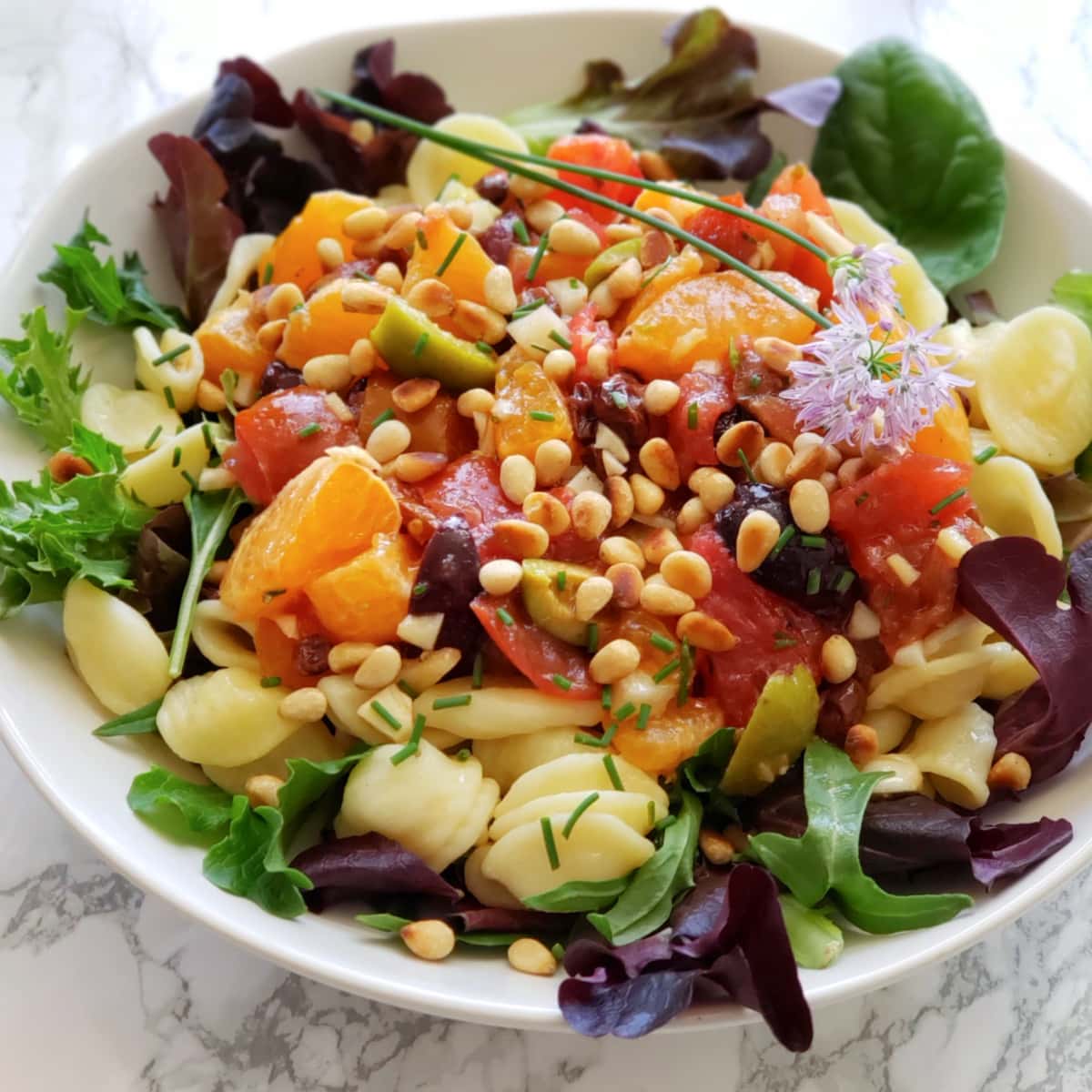 Pasta with Tomatoes and Tangerines, Fennel, Currants and Olives is a sweet and tart pasta dish with a no-cook, chunky, chopped sauce served at room temperature.
My favorite meal of the spring, summer and fall is this pasta topped with fresh tomato-tangerine sauce. It's simply a chopped, chunky collection of the most delicious fruits and vegetables, in season.
The tangy juice from the fresh tomatoes and tangerines marries the olive oil, and then the garlic, ginger and chives come to play as aromatics. Fresh fennel adds an intriguing crunch and faint anise, and the whole thing is salted by the olives.
There are 2 stars of the show here — fresh tomatoes, and tangerines. You can find beautiful heirloom tomatoes now, and my favorite tangerine has just come into season. It is Pixie tangerines, from Ojai, California. They're a late-season tangerine (March to late May or early June), seedless, super sweet and easy to peel. After you make it now, bookmark it for again later in the summer when tomatoes start coming in to your backyard vegetable garden.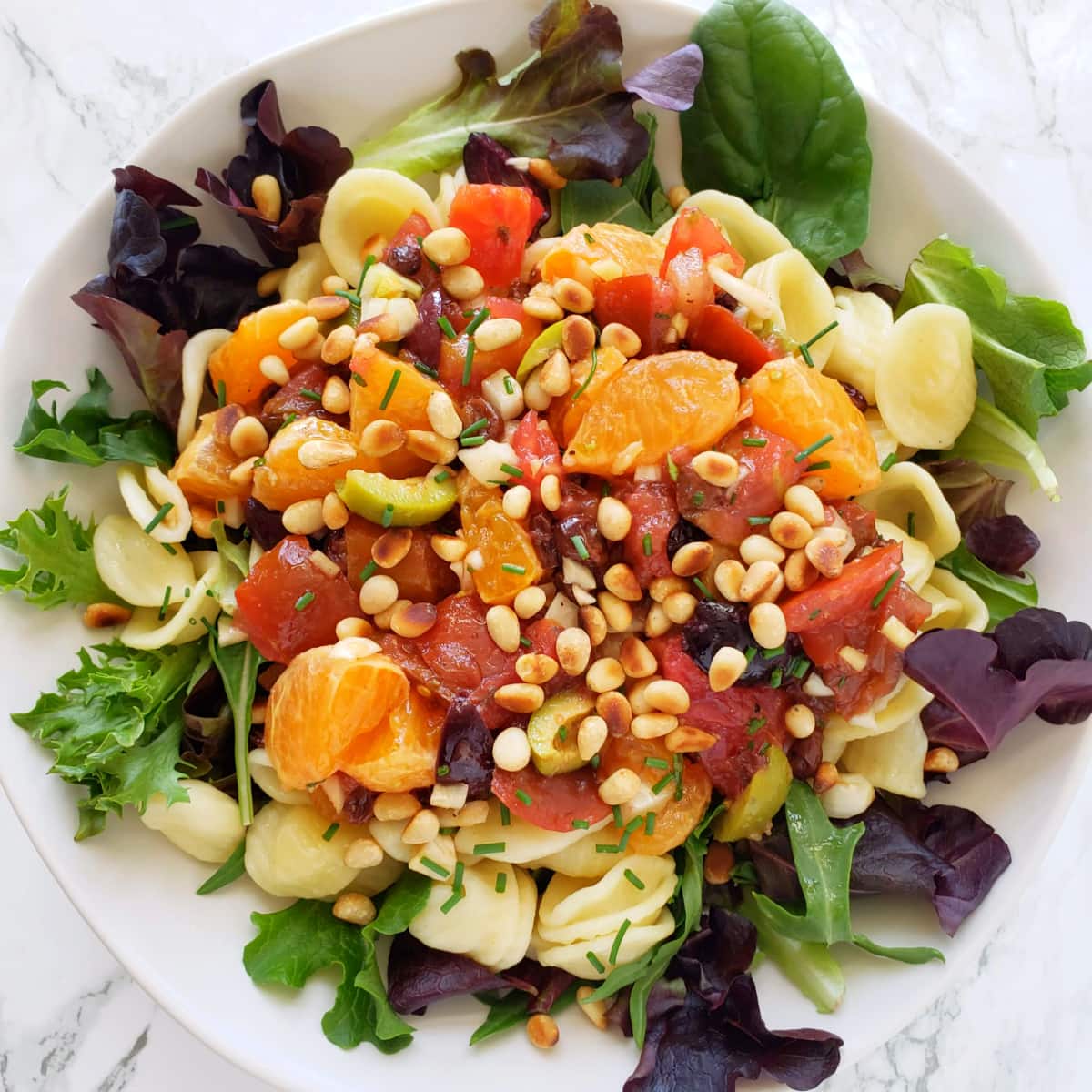 If tomatoes and tangerines are the stars, there are plenty of supporting players. Fennel plays well with oranges and tangerines, so that goes in, along with currants for a pop of sweetness, olives for a salty counterpoint, and garlic and fresh ginger. You'll see…this is the most flavor you can pack into a dinner bowl, I promise.
How to make Pasta with Tomatoes and Tangerines, Fennel, Currants and Olives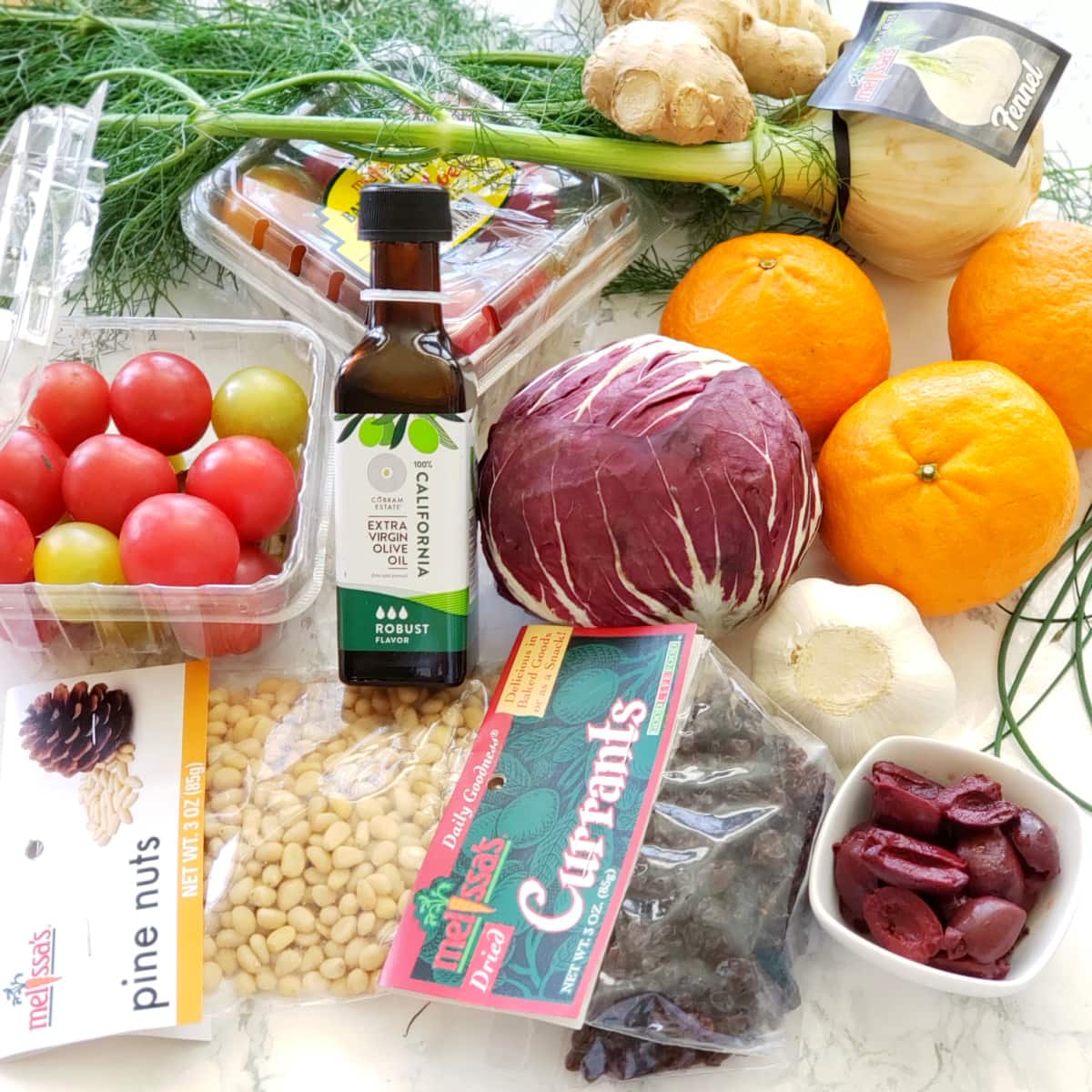 First, assemble all your ingredients, so you know you have everything. I forgot to put the pasta box in the photo above. Oops.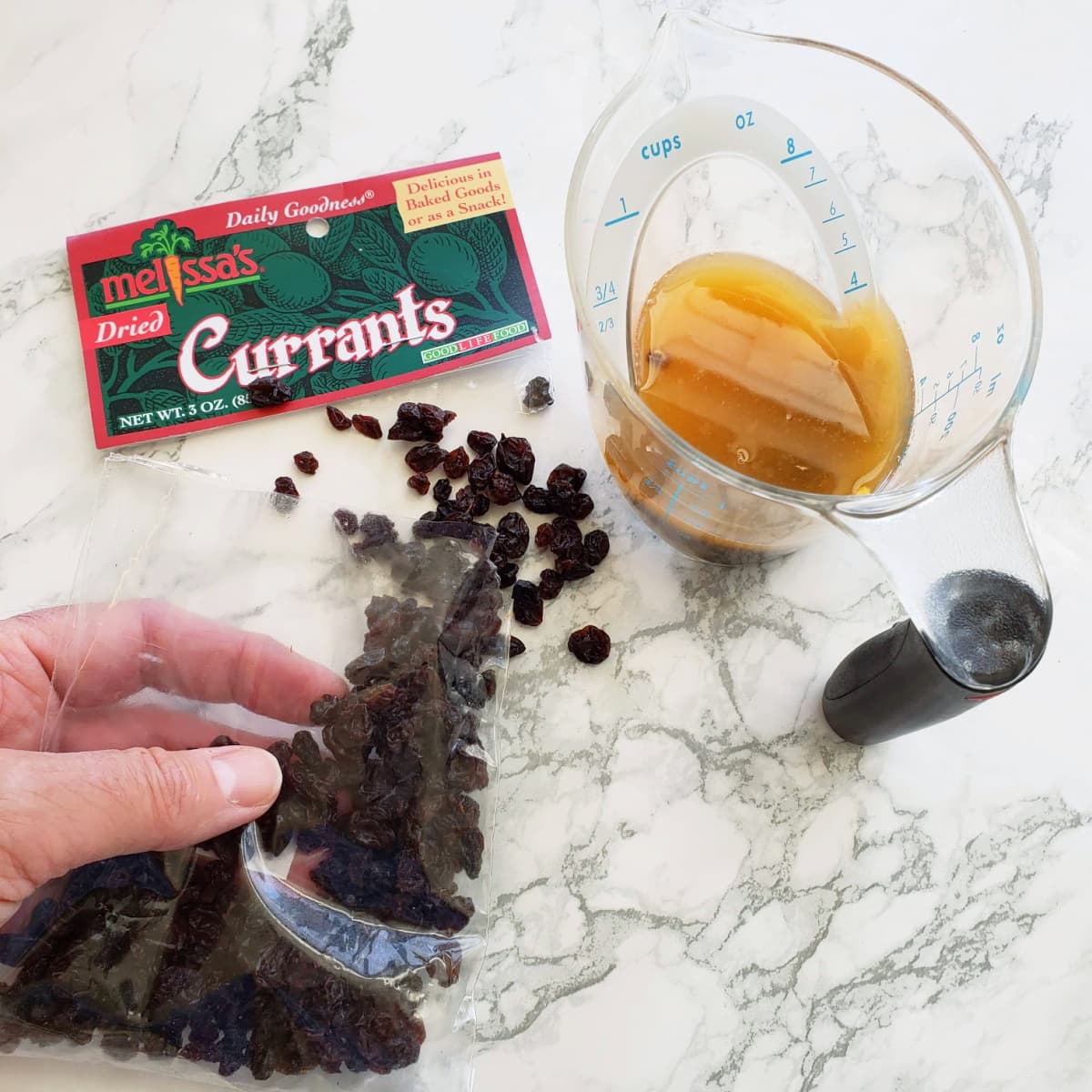 Get your currants soaking in tangerine juice.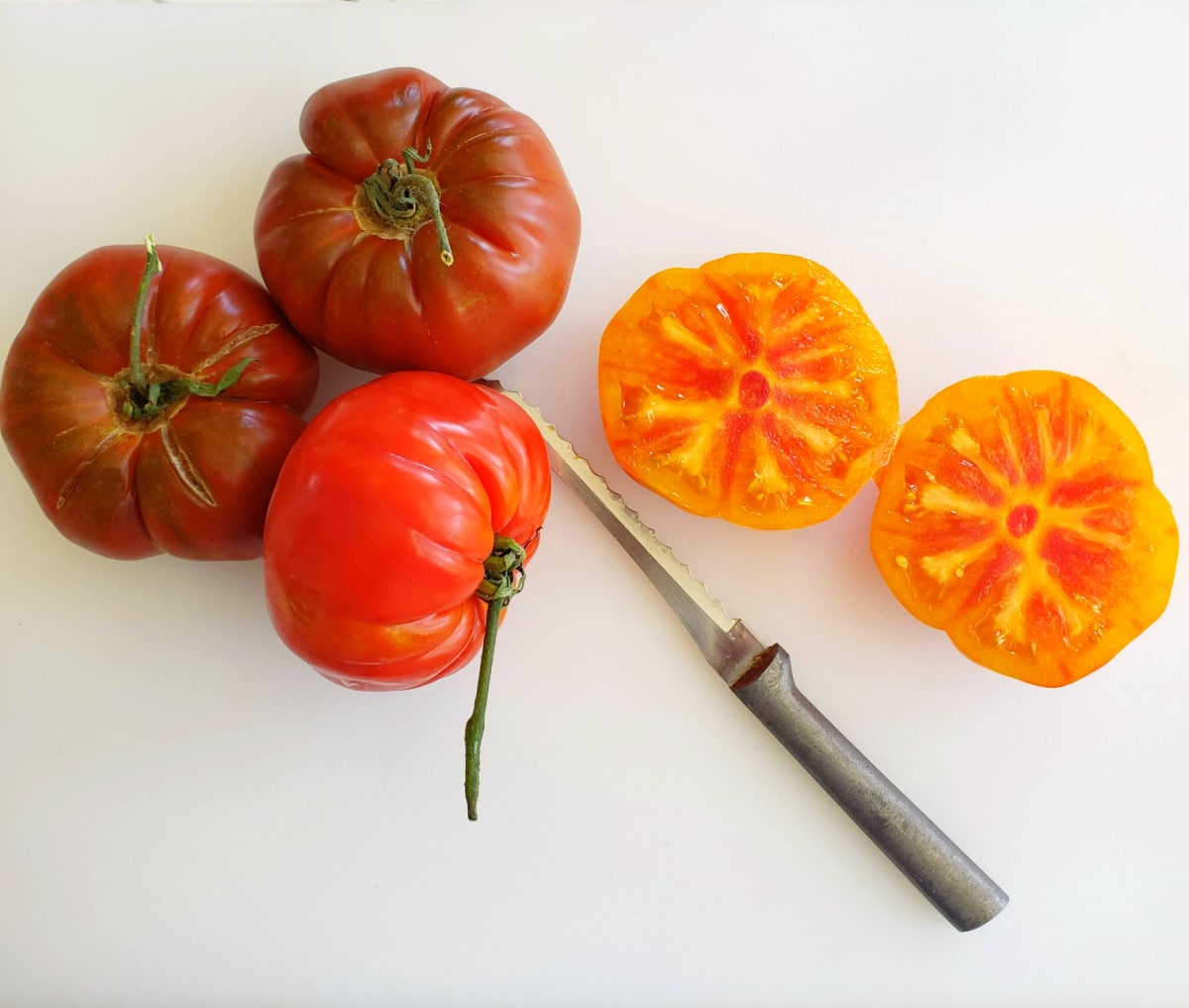 This recipe is mostly about chopping things, so let's get chopping! I'm using heirloom tomatoes in this recipe, for fresh taste. (I show baby heirloom tomatoes in the ingredients photo above, and you could certainly use those and chop them up. Suit yourself.)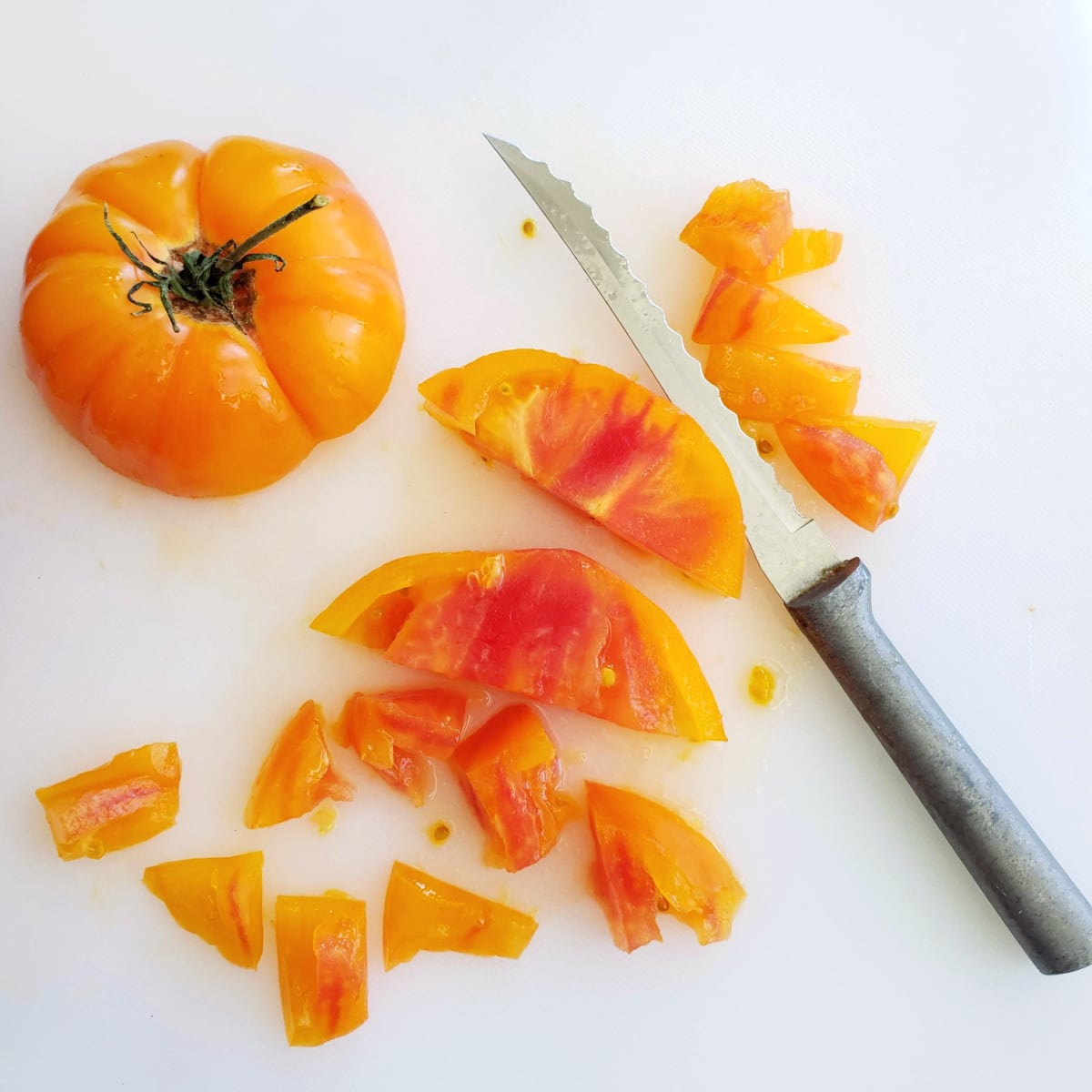 Cut the tomato at the equator, then scoop out the seeds with your finger and discard them. I do this standing over the trash. Cut them in a large dice.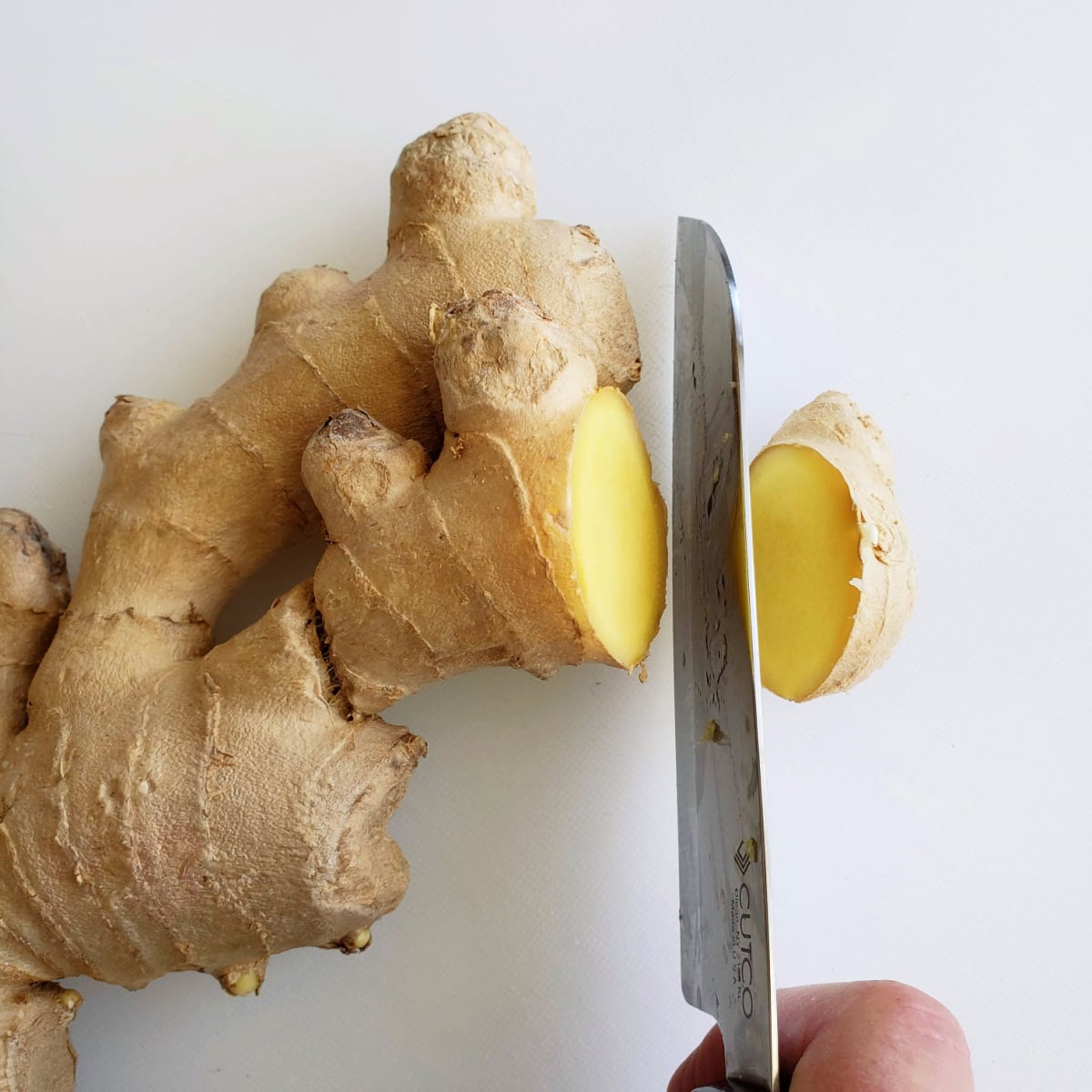 You want to chop the garlic and ginger very finely. Start on the ginger by slicing coins.
Then peel them and finely mince.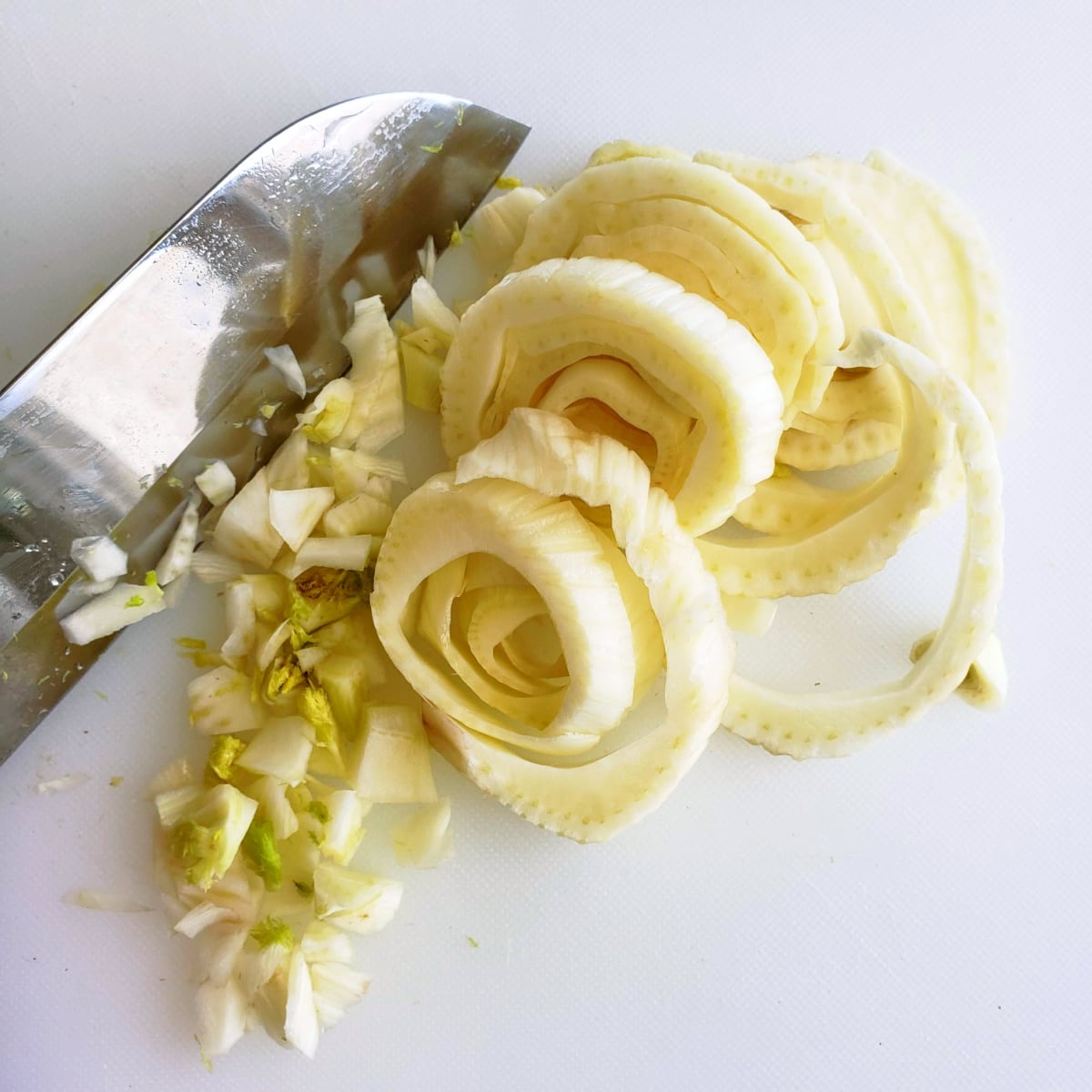 Trim the fronds and root end off the fennel bulb, and then slice bulb into coins.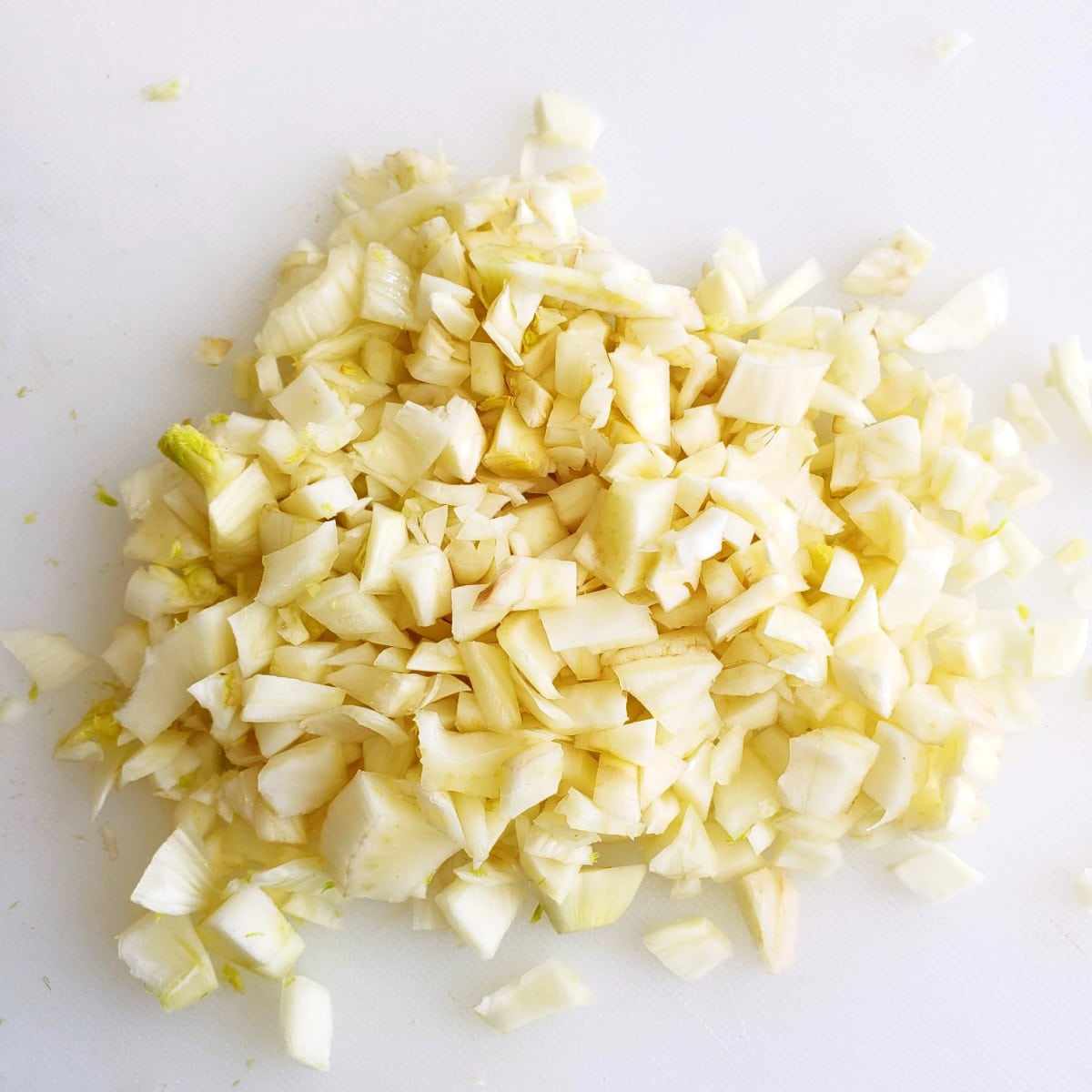 Chop into a dice. Alternately, you could slice it into longer slices, like you might an onion. Suit yourself; it won't matter to this recipe.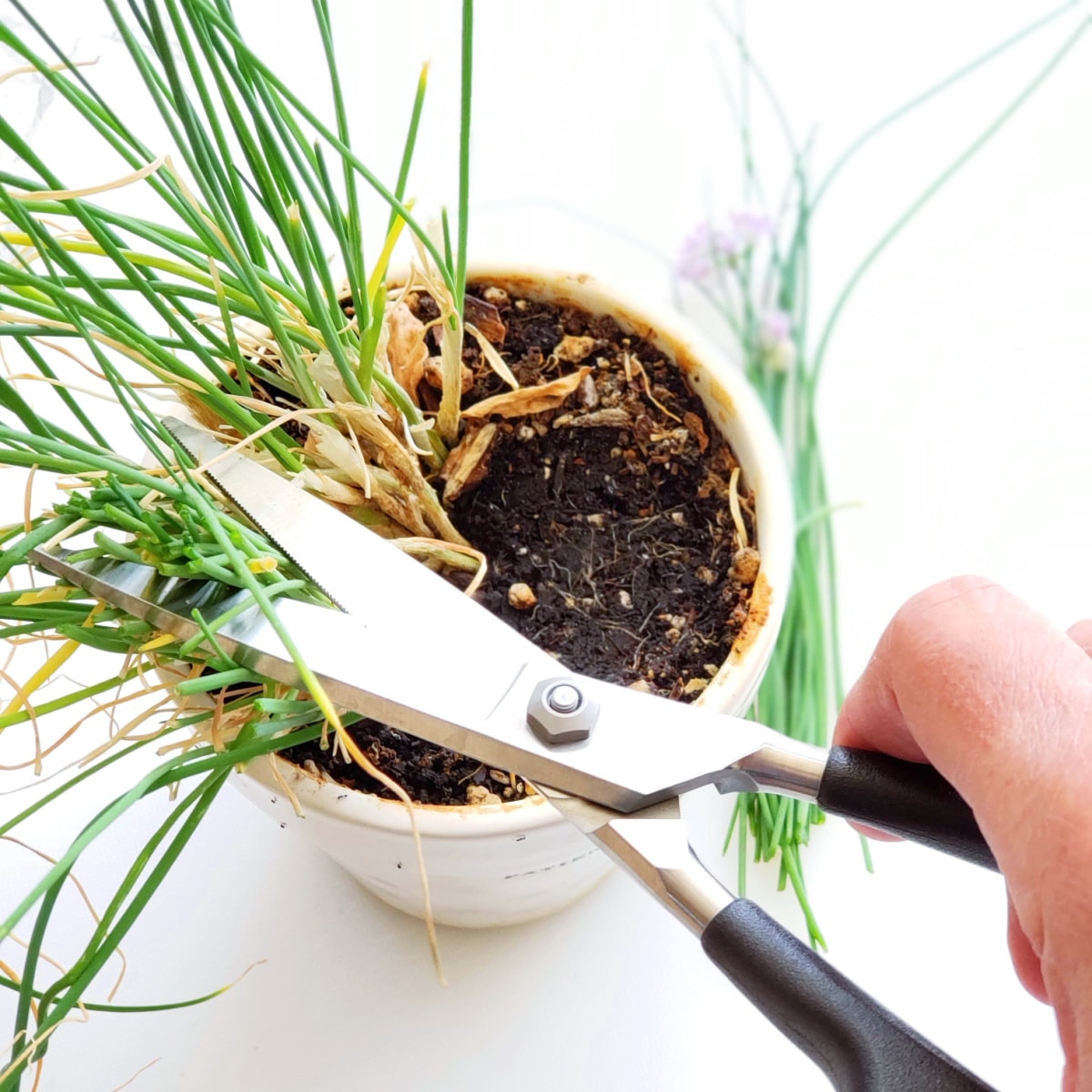 I snip chives with a scissors. I start by grabbing a clump of them, cutting near the bottom, and then snip snip snip the clump into my mixing bowl.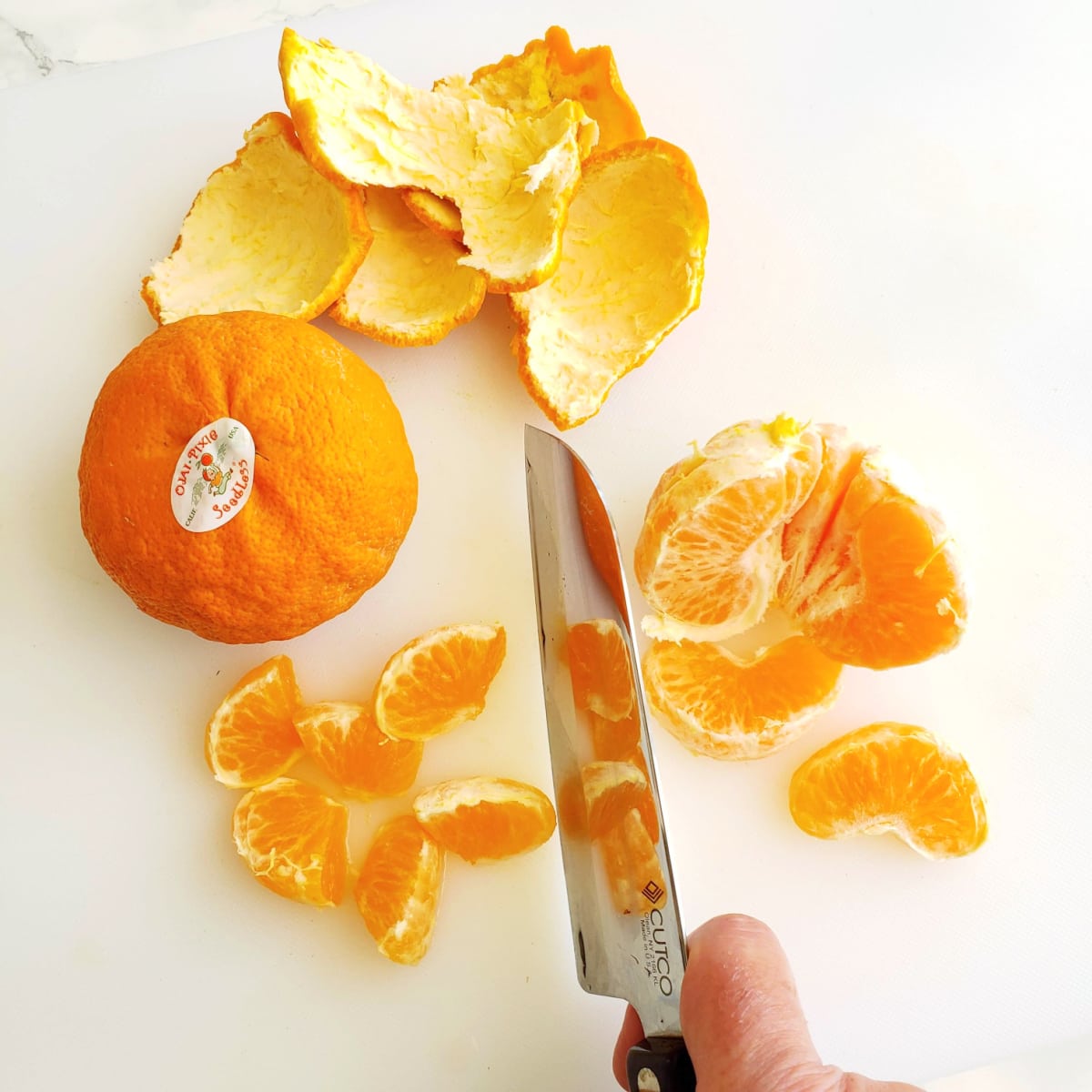 Peel the tangerines and separate them into segments, cutting each segment in 2 or 3 pieces (depending on size).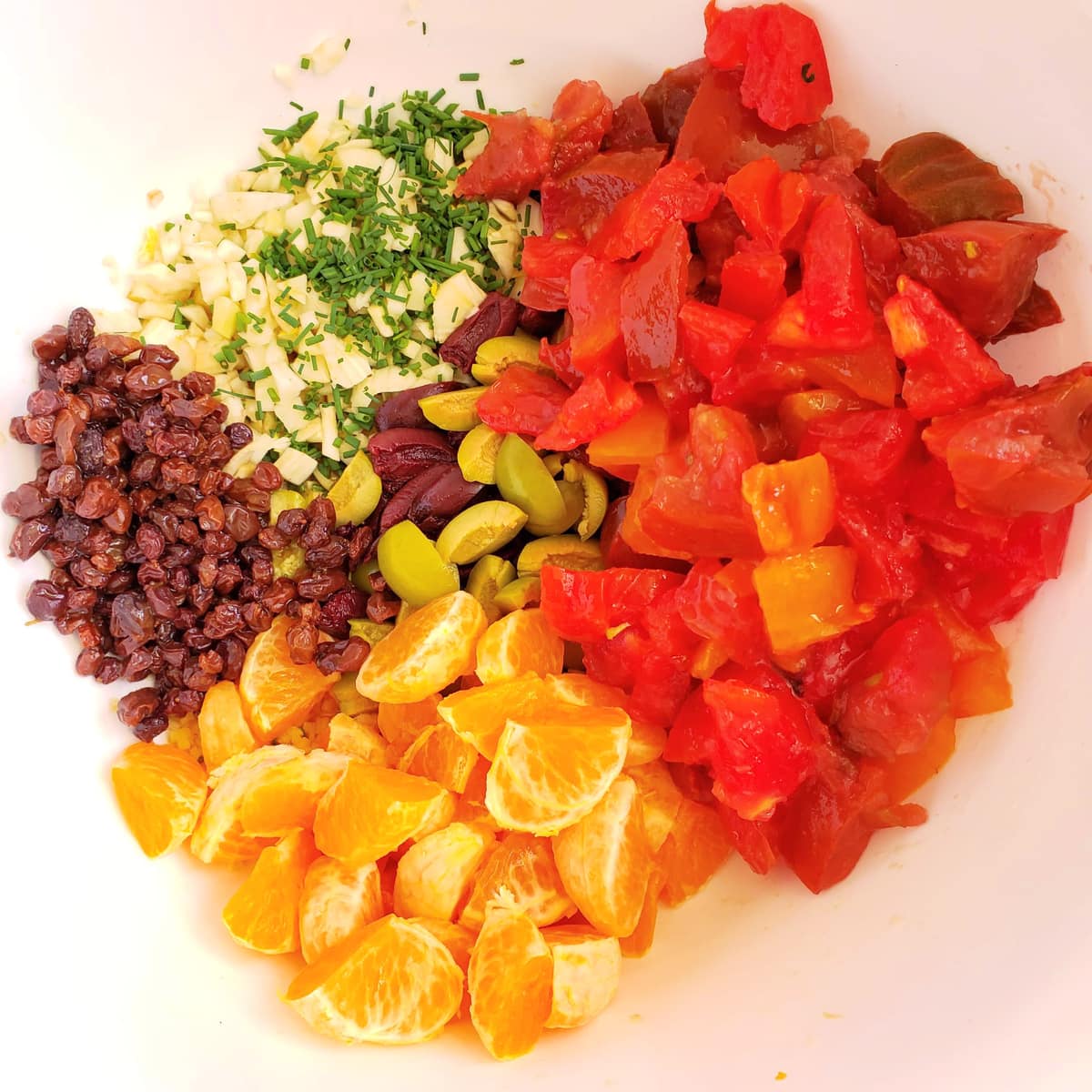 It all ends up in a big mixing bowl.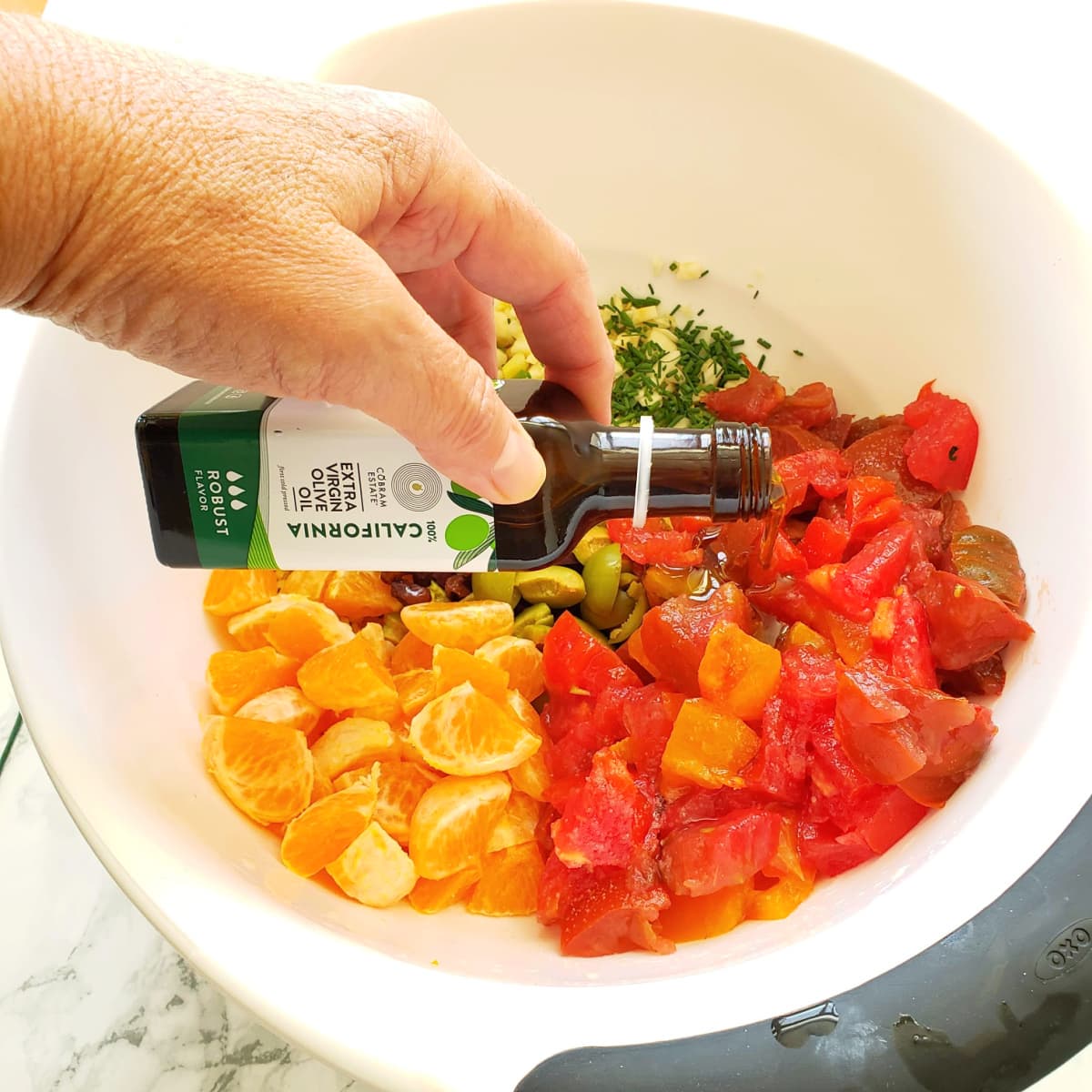 Pour in the olive oil, season with salt and pepper to your taste.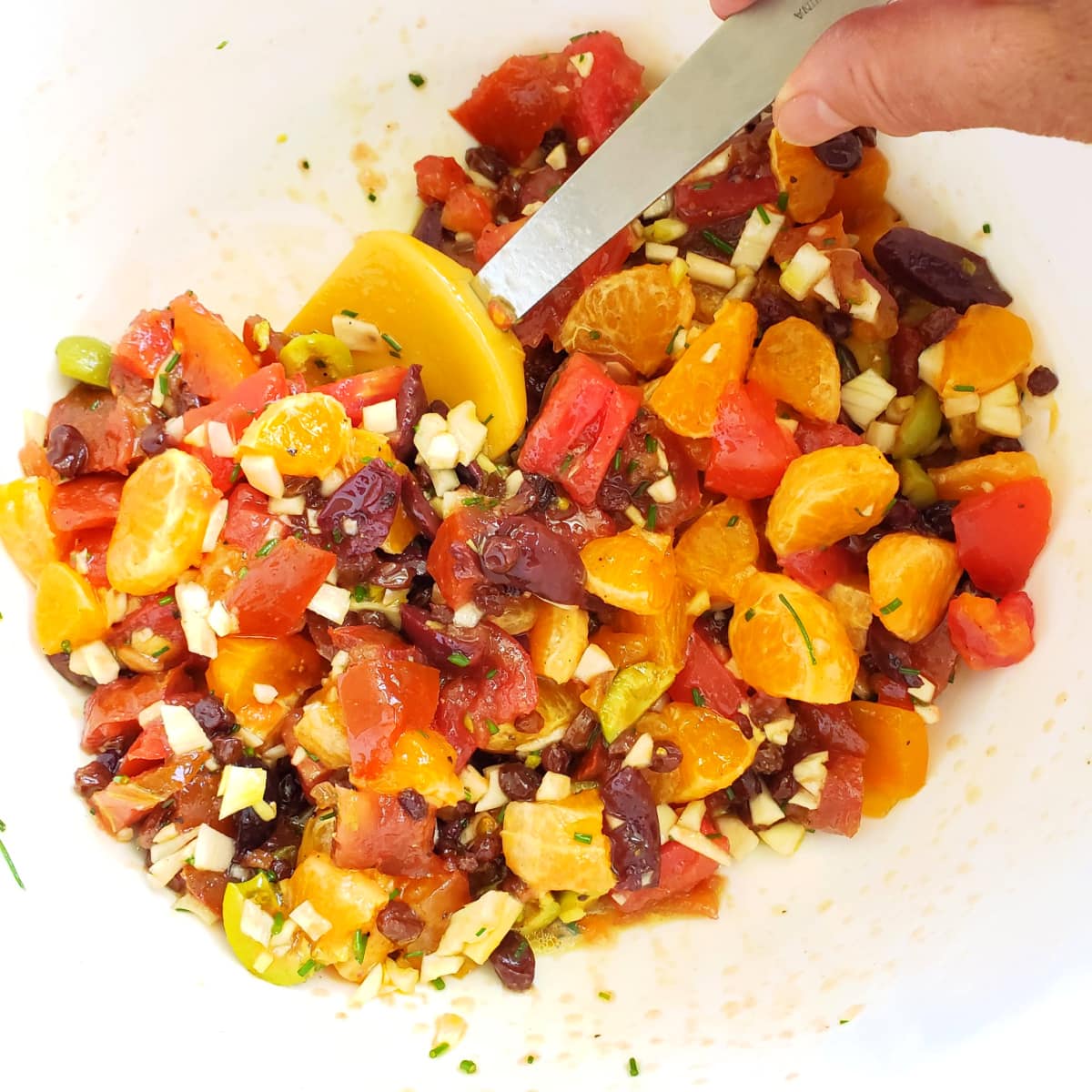 Mix gently.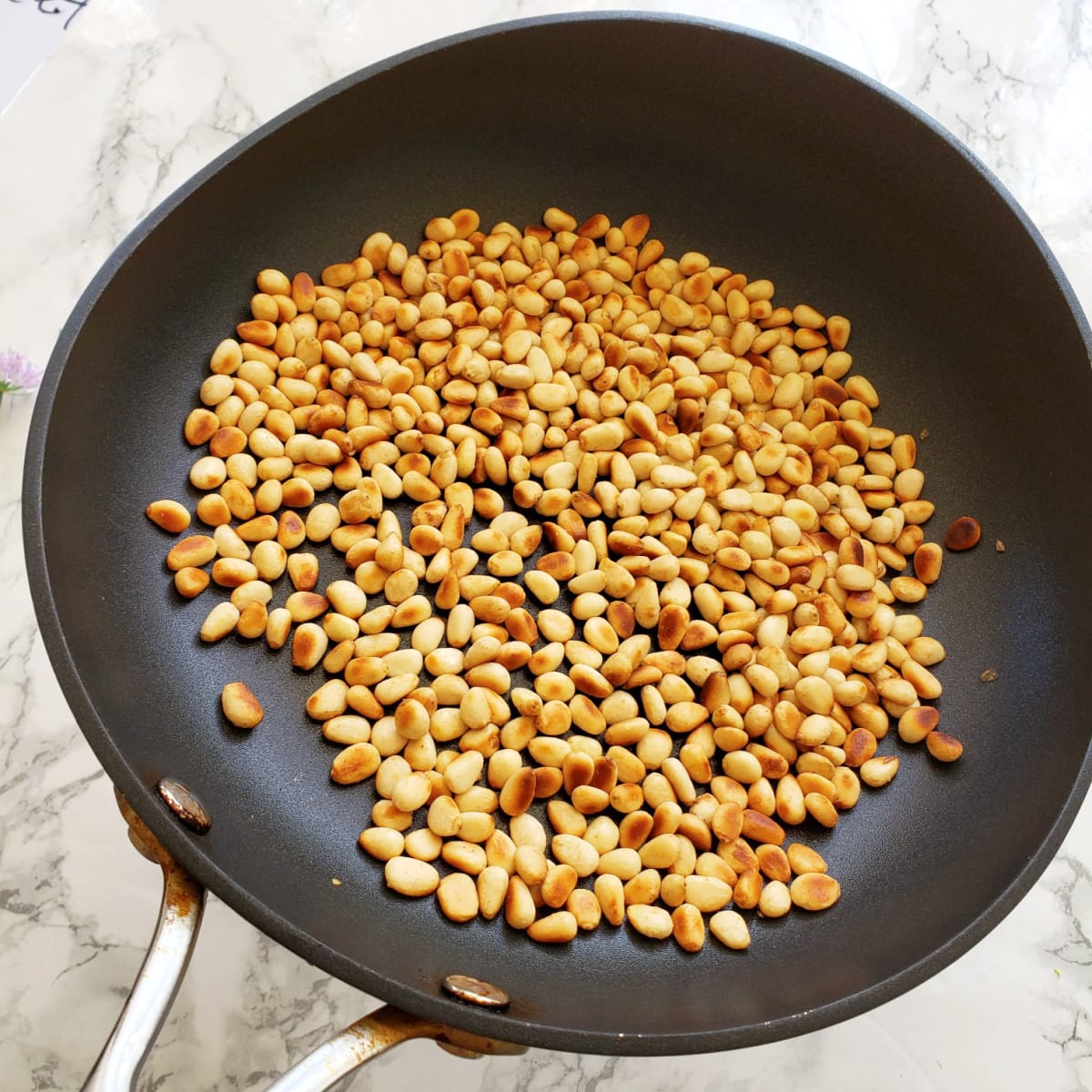 While the sauce is resting and flavors are marrying, toast your pine nuts in a hot, dry skillet. Don't walk away, they can burn quickly. Toss the pan frequently or use a spatula and move them around so they toast evenly. Toasted pine nuts are the best garnish!
What can you substitute in this recipe?
What we've learned very well during the last year is "the perfect is the enemy of the good enough." Don't let the lack of a specific ingredient get in the way of you making this. So it is important to be able to use what you have in your pantry. If you need to substitute, here are some ideas for you. All of these are my best guesses.
—Raisins instead of currants
—Orange juice instead of tangerine juice
—Garlic powder and ground ginger instead of fresh (it will taste different with the ground versions, but if it means you get to make this, then do it.
–I think you could omit the chives and use a finely chopped shallot
–An orange instead of the tangerine segments
—Castelvetrano olives instead of Kalamata or other varieties. Basically, you want something more pungent and flavorful than a typical canned ripe black olive
—Whatever shape pasta you have. You could cook a long pasta like linguine, but I really prefer a shorter pasta for this recipe. Suit yourself! Do you have elbows, bowties, gemelli, rotini? Use what you like.
—Whatever greens you like! You could also wilt some spinach or chard and use that as the base of this dish.
–If pine nuts are not available or too pricey, try toasted slivered almonds or hazelnuts, or whatever you have around.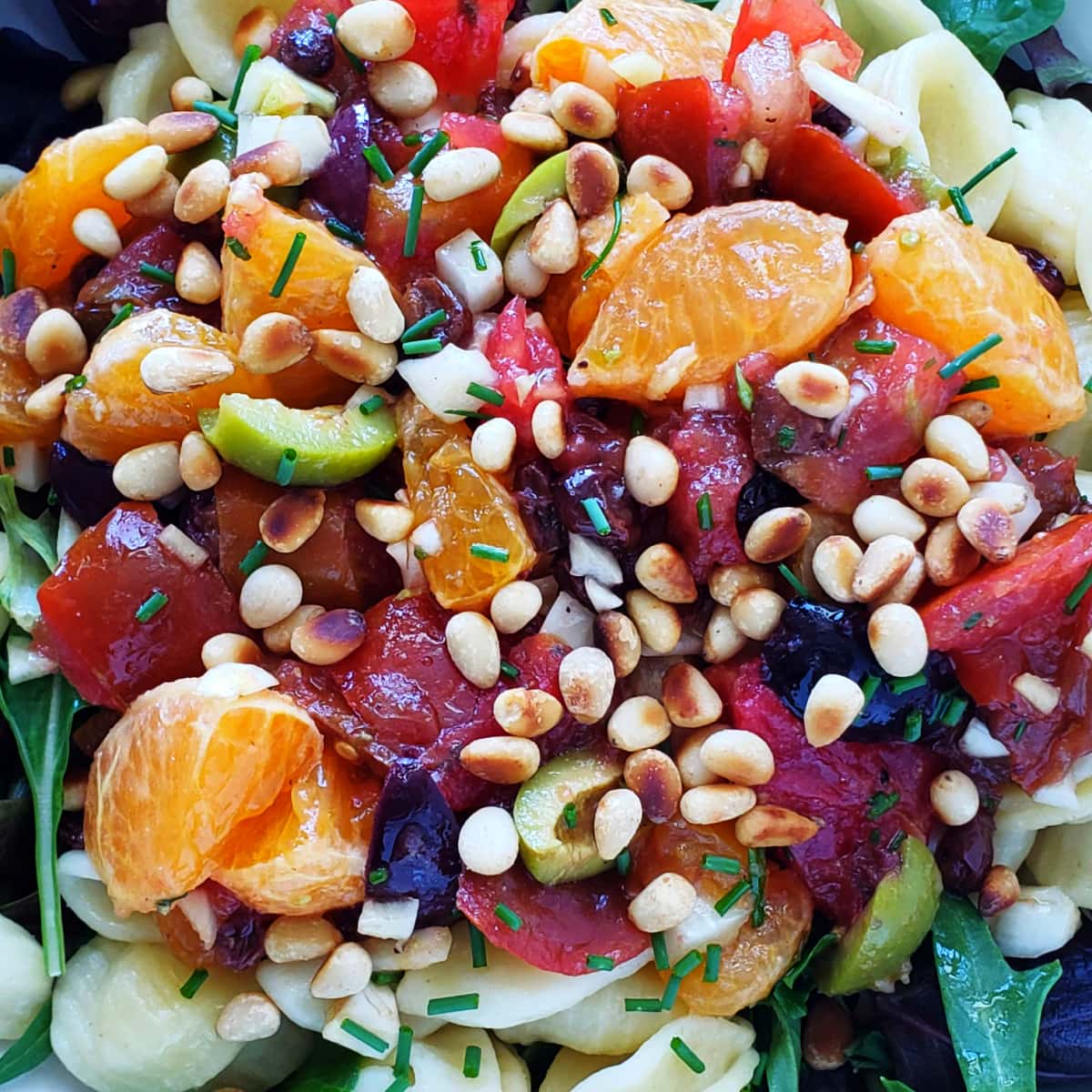 Now, who's ready for Pasta with Fresh Tomatoes and Tangerines, Fennel, Currants and Olives? How pretty is this close-up!
Let's go!
Pasta with Fresh Tomatoes, Tangerines, Fennel, Currants and Olives
Pasta with Fresh Tomatoes, Tangerines, Fennel, Currants and Olives is a sweet and tart pasta dish with a no-cook chunky chopped sauce served at room temperature.
Ingredients
1/4 cup currants
1/2 cup tangerine juice
4 ripe heirloom tomatoes, seeds and stem discarded, diced
2 cloves garlic, grated or finely minced
1 teaspoon grated or finely minced fresh ginger
1 fennel bulb, trimmed and cut into small dice
2 tablespoon snipped chives
2/3 cup olives, pitted (you can use oil-cured, salt-cured or Kalamata), sliced in half or quarters
2 -3 tangerines, peeled, separated into sections
1/4 cup extra-virgin olive oil
Freshly ground black pepper
Kosher salt
8 to 12 ounces pasta (I like a short shape, like orecchiette)
Radicchio or other greens
1/2 cup pine nuts, toasted
Directions
Put the currants in a small bowl or cup, and cover with the tangerine juice. Let them rest for 30 minutes.
Make the sauce: In a large bowl, add the tomatoes, garlic, ginger, fennel, chives and olives. Cut tangerine segments in half or thirds, and add to the bowl. Pour in olive oil, grind some black pepper over everything, and toss gently. Allow to rest until the currants are done soaking.
When currants are done, pour in the currants and the tangerine soaking juice. Toss gently again, and taste a bit. Season with a pinch of kosher salt if it needs a spark. (The amount of salt needed may depend on the type of olives you use, since some olives are saltier than others.) Let the sauce sit for about an hour at room temperature.
About 40 minutes before you want to serve, bring a pot of salted water to a boil. Boil the pasta according to package directions and timing. Drain, and put the pasta back into the pot, tossing it with a little squirt of olive oil so it doesn't stick together. (You can cook the pasta ahead of time and keep it at room temperature; be sure to toss with enough olive oil that it doesn't clump together.)
Set out 4 wide, shallow bowls, and line with spring mix, spinach, mixed baby lettuces or radicchio. Add pasta to each bowl, and then top with the sauce and divide the pine nuts among the bowls.
Serves 4.
Notes
Recipe slightly adapted from "The Good Cook's Book of Tomatoes," by Michele Anna Jordan. (Addison-Wesley Publishing Company, 1995.)
https://www.shockinglydelicious.com/pasta-with-tomatoes-and-tangerines/
Copyright Dorothy Reinhold | ShockinglyDelicious.com. All rights reserved.
Pin the image below for Pasta with Tomatoes and Tangerines to your Pinterest board to save this recipe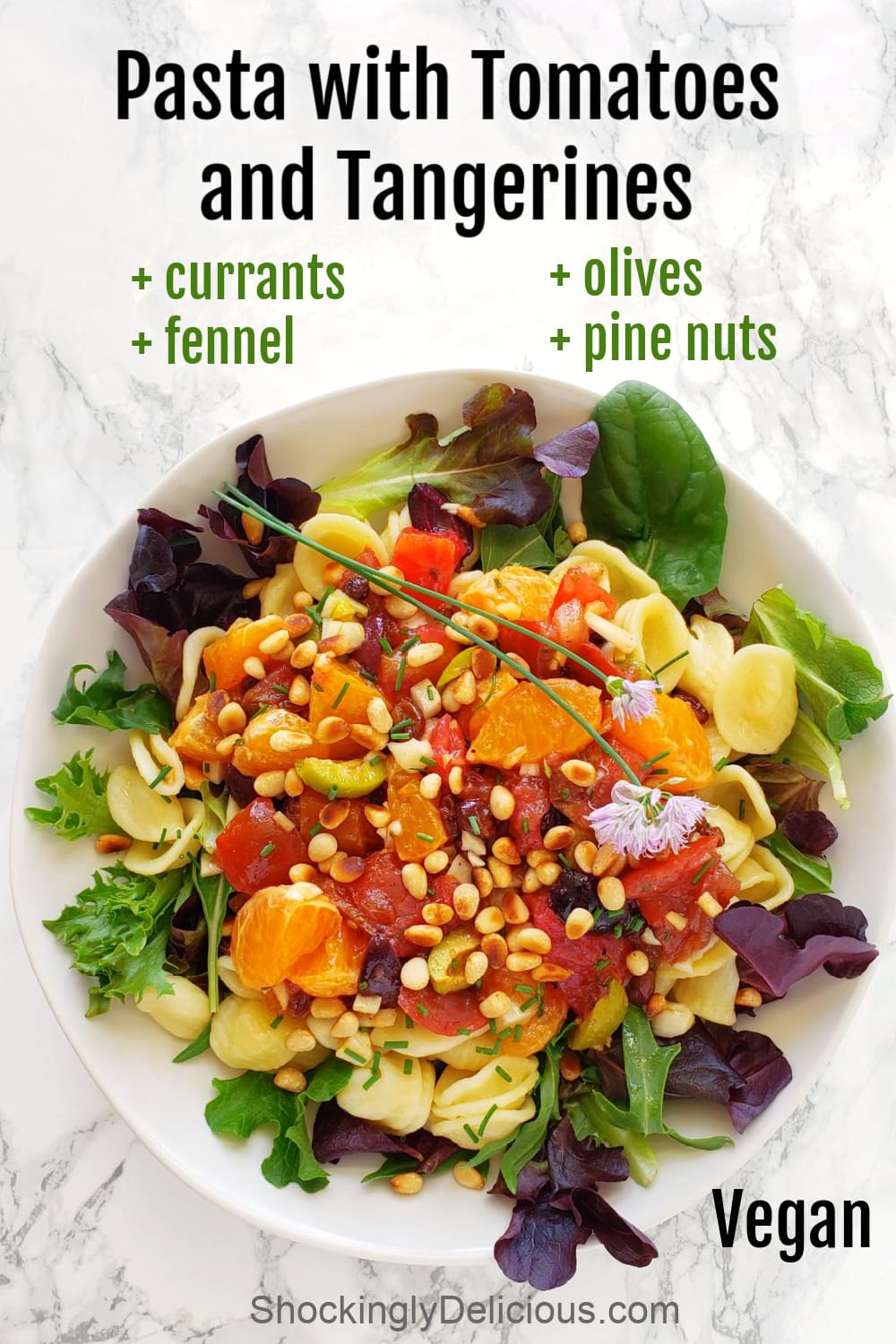 Thanks to Melissa's Produce for the tomatoes, currants, Pixie tangerines, garlic, ginger, fennel, pine nuts and radicchio to make this recipe.

Other recipes that showcase fresh tomatoes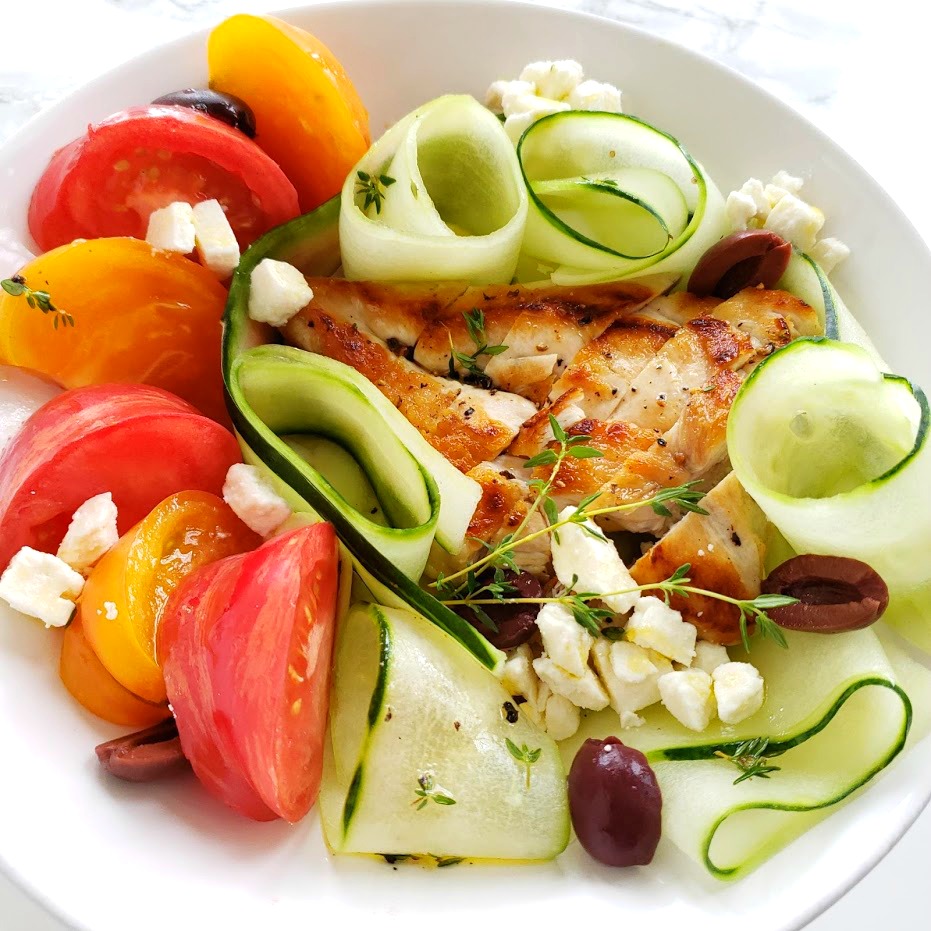 Weeknight Chicken, Tomato and Cucumber Dinner Salad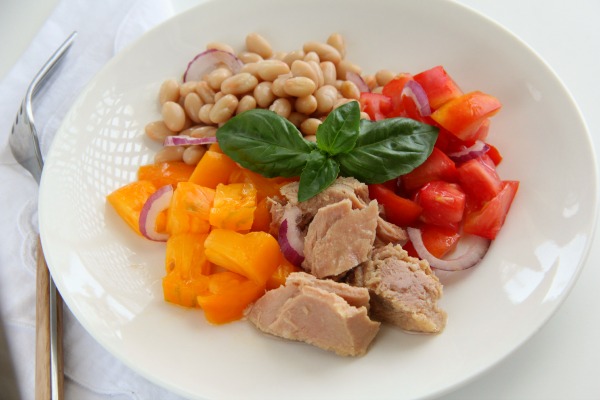 Tuna, Tomato, Bean and Basil Salad

Better Than Trader Joe's Bruschetta Sauce
Thanks for visiting…are you hungry for more? Follow Shockingly Delicious on…
FACEBOOK | PINTEREST | INSTAGRAM | TWITTER
…for all the latest recipes, ideas and updates!
This post may contain affiliate/referral links. It is a way for this site to earn advertising fees (at no cost to you) by advertising or linking to certain products and/or services that I approve and prefer. Thank you for using my affiliate link to shop, so I can continue to bring you shockingly delicious recipes!