Print This Post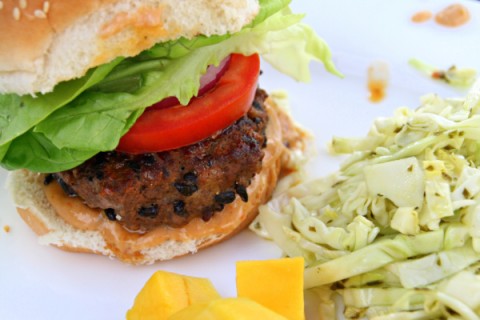 There are few things the Professor loves better than a delicious burger.
His kids, for one. Mountain biking and surfing, for another.
But mostly his kids, though.
So it is fitting that on Father's Day, I'll be serving him what he has eaten and dubbed the best burger in the world. Stuffed with a few smoky things, daubed with a little spicy sauce and pan-fried to perfection, this is the burger of your dreams.
Sitting on the patio, eating the best burger in the world, with your kids…that's all a Dad needs!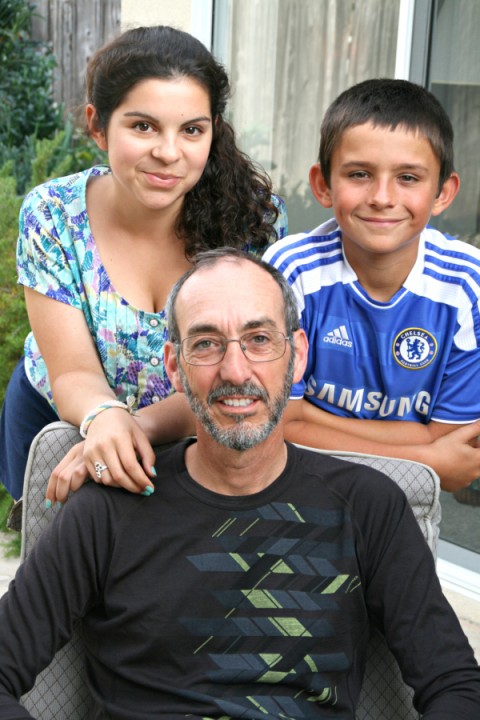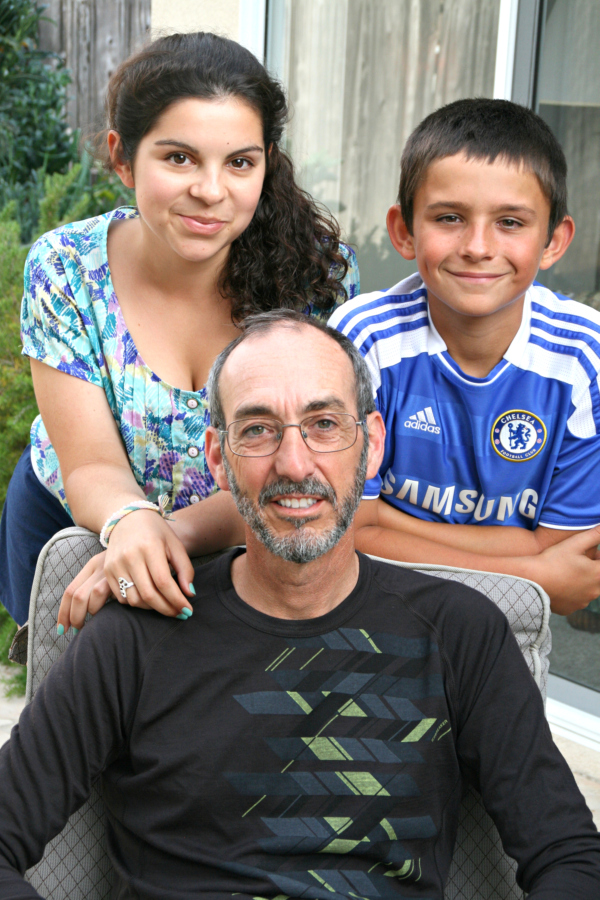 Recipe: World's Best Smoky Burger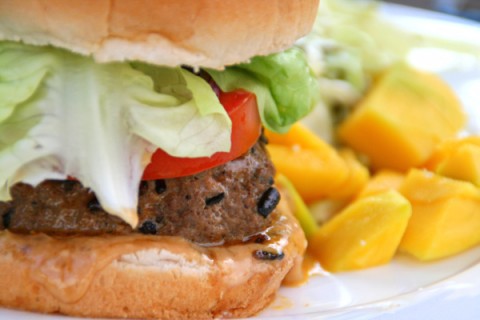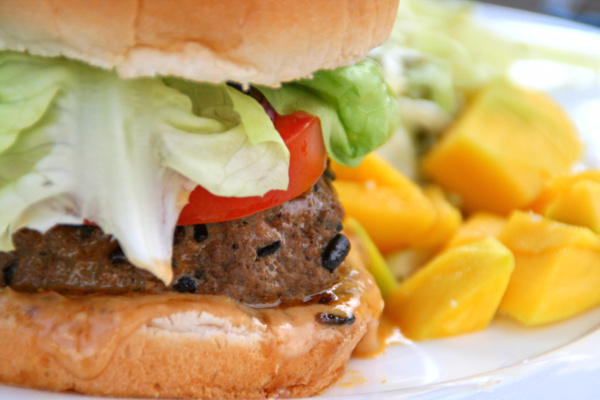 Summary: Smoky, cheesy flavors give this burger a touch of machismo, along with a just-spicy-enough sauce. The usual go-alongs of ripe tomato and crisp lettuce top it off, for the World's Best Smoky Burger.
Ingredients
1 pound ground beef

(10% fat preferred)

1/2 cup cooked wild rice

(I used wild sweet rice from the Asian market)

1/2 cup (2 ounces) shredded smoked cheese, such as Cheddar, gouda or mozzarella

(I used smoked chipotle cheddar one time, and a non-smoky Kerrygold Dubliner the next time)

1 tablespoons smoky barbecue sauce

(I like Bulls-Eye brand, but use your favorite)

1 tablespoon Sweet Hungarian paprika
¼ teaspoon smoked paprika (if you have it)
2 teaspoons Dijon mustard
2 cloves minced garlic (or about 1 teaspoon)
¼-½ teaspoon freshly ground pepper
1/4 teaspoon kosher salt
Sauce
3 tablespoons reduced-fat mayonnaise
1 tablespoon smoky barbecue sauce
1 tablespoon sweet pickle relish
2 teaspoons prepared horseradish
Assembly
4 hamburger buns, toasted
4 thick slices ripe tomato
4 thin slices Vidalia or red onion
Instructions
Place meat, rice, cheese, 1 tablespoon barbecue sauce, both paprikas, mustard, garlic, pepper and salt in a large bowl. Stir gently, until well mixed. Using your hands, form into 4 equal patties, 1/2 to 3/4 inch thick.
Make the sauce: Combine mayonnaise, 1 tablespoon barbecue sauce, relish and horseradish in a small bowl. Set aside.
Heat a 12-inch skillet over medium heat. Place the burgers in the hot skilled and pan-fry until done, a couple of minutes per side. (Alternatively, you may grill or broil the burgers, whichever way you prefer to cook them.)
Assemble the cooked burgers on toasted buns with the barbecue mayonnaise sauce, tomato and onion.
Serves 4.
Quick notes
Be sure to cook the wild rice the day before. It takes 40-50 minutes to cook, and will behave better in the recipe if you cook it, cool it and refrigerate it. Day-old rice works best! Or you may be able to find "quick" wild rice — a whole-grain rice that cooks in less than 30 minutes — or "instant" wild rice that takes 10 minutes.
Make ahead: You may assemble and shape the burgers a day ahead and refrigerate them. You may also make the mayo mixture 1-5 days ahead and refrigerate it.
Source
Adapted from Smoky Buffalo Burgers

Preparation time: 20 minutes
Cooking time: 10 minutes
Number of servings (yield): 4
My rating 5 stars:  ★★★★★