Print This Post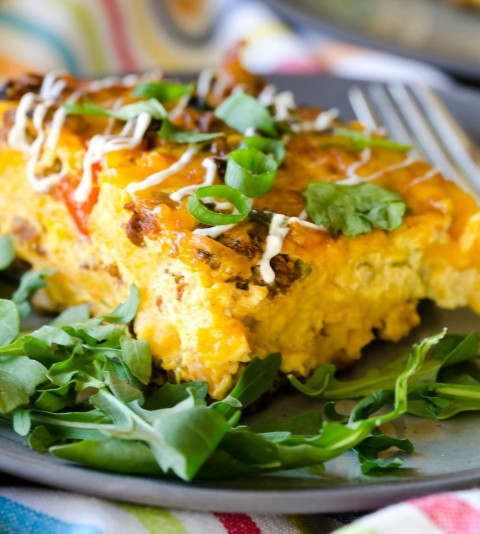 OVERNIGHT MEXICAN BREAKFAST CASSEROLE: A spicy, savory layered dish you assemble the night before, refrigerate, and bake up the next morning, for a crowd-friendly breakfast, brunch, lunch or dinner.
Here in Southern California, we eat Mexican food several times weekly, if not daily.
And if we aren't eating authentic Mexican food, we're eating what I think of as Mexican-ish food — meals that hint at the flavors and style, or fuse what are thought of as Mexican ingredients with other cuisines.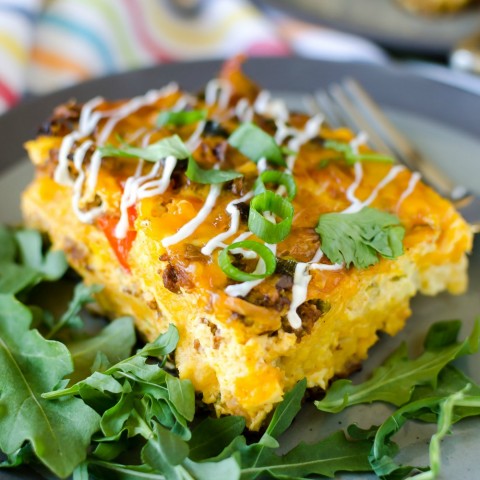 It all ends up to be a creative melting pot of delicious dinners. like today's Overnight Mexican Breakfast Casserole. Suitable for breakfast, brunch, lunch or dinner (with a green salad and some fruit on the plate), this is one versatile meal.
You assemble it the night before, put it in the fridge to mix, mingle and soak the tortillas, and bake it in the morning. It should serve 8-10, which makes it wonderful for a crowd, or perfect for a meal plus leftovers.
How to make Overnight Mexican Breakfast Casserole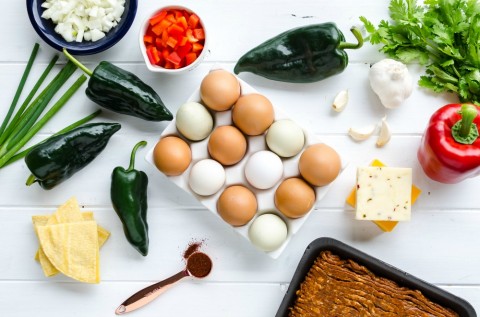 It's easy to put together. Gather all your ingredients.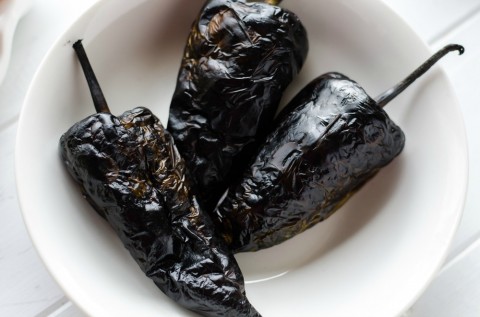 Roast the poblano peppers, let them steam, then peel off the blackened skin and remove seeds and stem.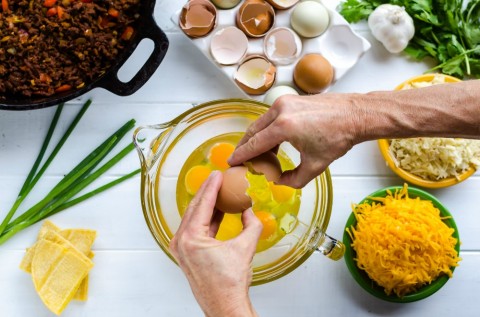 Mix the egg-milk part.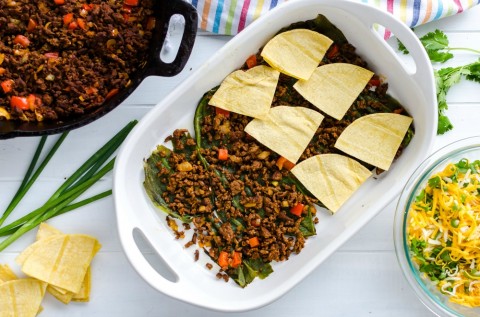 Layer the stuff in a casserole dish.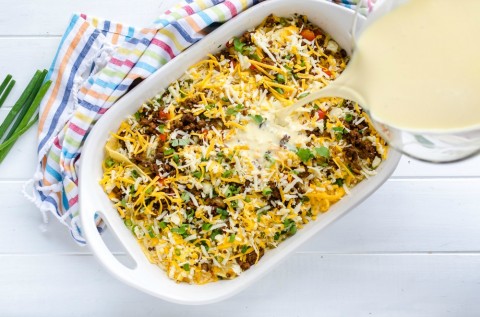 Pour in the eggy milk.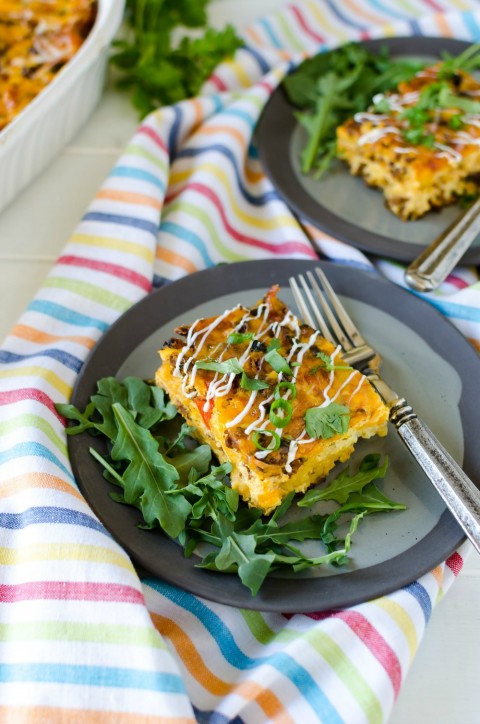 Voila!
This amazing recipe is from my food blogger friend Karen Kerr, who writes Karen's Kitchen Stories. She's known as a bread expert, but I needed to get an actual meal on the table, so I relied on her for this versatile dish!
Overnight Mexican Breakfast Casserole
OVERNIGHT MEXICAN BREAKFAST CASSEROLE: A spicy, savory layered dish you assemble the night before, refrigerate, and bake up the next morning, for a crowd-friendly breakfast, brunch, lunch or dinner.
Ingredients
6 poblano chile peppers (they may be called pasillas at your grocery store)
1 1/2 pounds Mexican chorizo, removed from casings (if you can't find that, you can use hot Italian sausage)
1 cup chopped onion
1/2 cup chopped red bell peppers
4 garlic cloves, finely minced or pressed
4 teaspoons chile powder
10 large eggs
3 cups half and half
1/2 teaspoon Tabasco
1/2 teaspoon black pepper
1 1/2 cups grated pepper jack cheese
1 1/2 cups grated Cheddar cheese
1/2 cup chopped green onion tops
1/4 cup chopped cilantro
7-8 corn tortillas, cut into quarters

GARNISHES

Sour cream
Some whole or chopped cilantro leaves
Tapatio or other picante sauce
Pico de Gallo or salsa
Directions
MAKE THE INDIVIDUAL COMPONENTS OF THE CASSEROLE:

Roast the poblanos by broiling them on a foil-lined baking sheet in the oven, turning them with a tongs when they turn black. (Can also be done on an outdoor grill, or over the stovetop burner.) Once they are blackened all over, place them in a plastic or paper bag and let them rest/steam for 15 minutes. Peel the blackened skin off the chiles, cut to spread them open and remove the stems and seed pods and discard those.
Mist a 9- by 13-inch baking dish with nonstick spray. Line the bottom of the baking dish with the chiles splayed open. Set aside.
In a large skillet over medium heat, cook the chorizo, breaking it up as you cook it. Add the onions and bell peppers, and cook for 4 minutes while continuing to stir occasionally. Add the garlic and chile powder and cook for 1 minute more. Remove from heat and set aside.
In a large bowl or 8-cup measuring cup, whisk together the eggs, half and half, Tabasco and black pepper. Set aside.
In a bowl, combine the pepper jack and Cheddar cheeses with the green onions and cilantro and toss together to evenly mix everything. Set aside.

ASSEMBLE THE CASSEROLE:

Spread 1/3 of the chorizo over the poblanos in the baking dish. Place a layer of the tortilla quarters on top of the meat (use about 1/3 of the tortilla quarters; don't worry if there are some gaps). Spread with 1/3 of the cheese mixture on top of the tortillas. Repeat with half the remaining chorizo, half the remaining tortillas, half the remaining cheese mixture, and then do a final layer of chorizo, tortillas and cheese. You should have used everything up. Pour the egg mixture evenly over the whole thing, cover, and refrigerate overnight (or at least 6 hours).

IN THE MORNING:

Bake uncovered at 350 F for 1 hour and 15 minutes, until a knife inserted into the center comes out clean. Remove from oven and let rest for 10-15 minutes.
Cut into squares and serve garnished with sour cream, cilantro, hot sauce and/or Pico de Gallo or salsa if you wish. You could put the garnishments in bowls at the table and let people serve themselves.
Serves 10.

Storage:

Store leftovers in refrigerator in a covered container. You may also freeze it; I suggest freezing in individual portions for each breakfasts later.

Heat level:

This recipe has chiles, chile powder, Tabasco and pepper jack cheese in it, so If you fear your eaters are on the sensitive side, I would start by omitting the Tabasco in the recipe; you can always squirt some on at the table. If you want it milder, sub plain jack cheese for the pepper jack.
Notes
https://www.shockinglydelicious.com/overnight-mexican-breakfast-casserole/
Copyright Dorothy Reinhold | ShockinglyDelicious.com. All rights reserved.
Pin the image below to your Pinterest board to save this recipe for Overnight Mexican Breakfast Casserole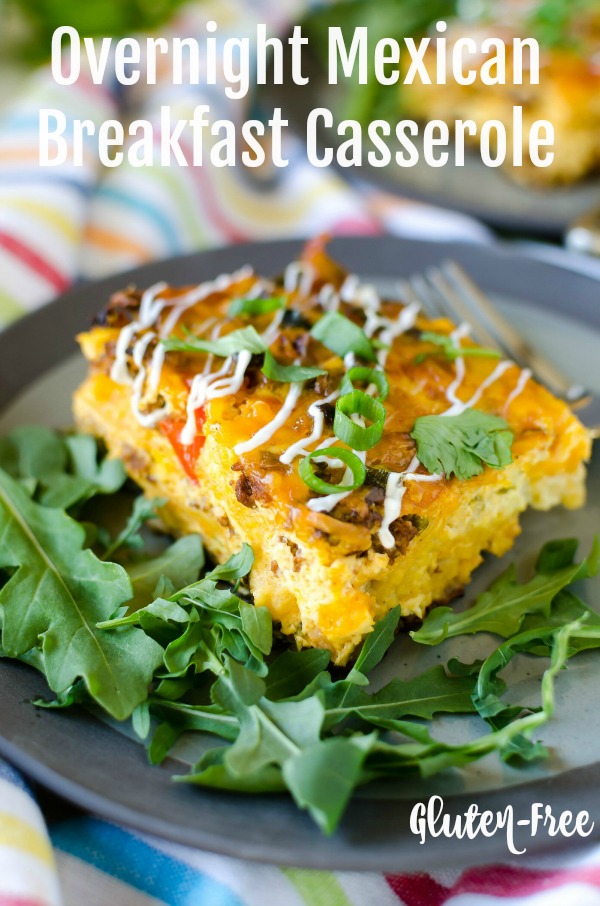 Here's another hearty breakfast-for-dinner option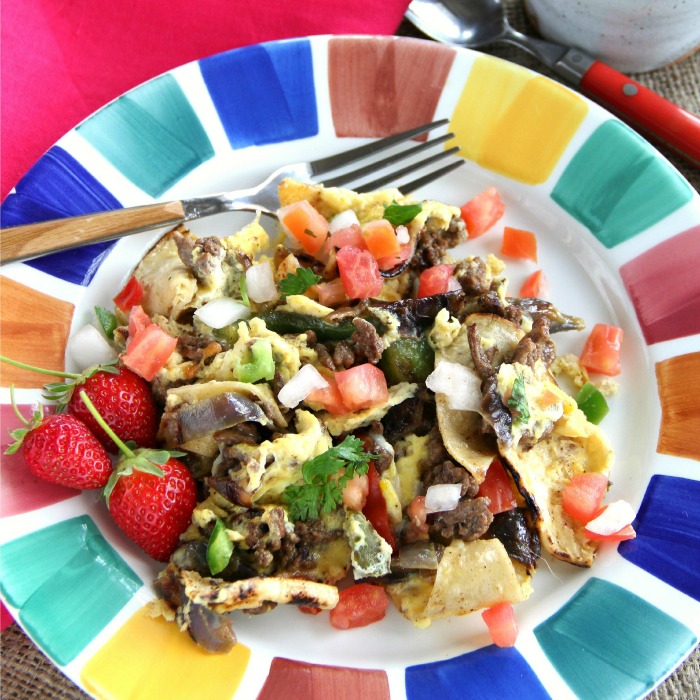 Beef Migas
Thanks for visiting…are you hungry for more? Follow Shockingly Delicious on…
FACEBOOK | PINTEREST | INSTAGRAM | TWITTER
…for all the latest recipes, ideas and updates!
This post was originally published April 15, 2018 and has been refreshed and republished today.
This post may contain affiliate/referral links. It is a way for this site to earn advertising fees (at no cost to you) by advertising or linking to certain products and/or services that I approve and prefer.