Print This Post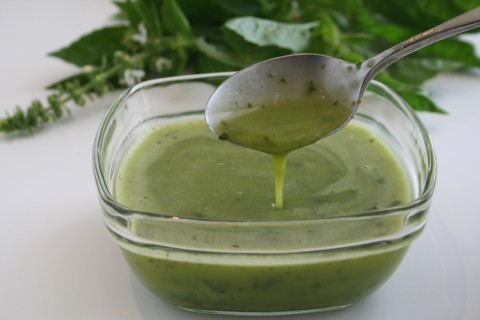 You know how your little black dress solves wardrobe problems? You can wear it here and there, dress it up or keep it simple, and it always looks good, and most importantly, makes YOU look good?
That's what this salad dressing does. It's the little black dress – the go-to, verdant, herbaceous, sweet-ish finishing touch on fresh baby greens, on a peppery arugula salad, on a plate of sliced heirloom tomatoes, even on cut up fruit. It awakens your dormant taste buds with a pleasant snap! Honey lightly sweetens it without turning it into dessert.
Basil is abundant right now. No excuses!
Note: I submitted this to the Grow Your Own project for September. You can see it along with other Grow Your Own dishes for the month at the lovely blog of Heather/Girlichef from Indiana.
Basil-Honey Dressing
Excellent on greens or fresh fruit for a sweet touch.
1/2 cup packed whole basil leaves
1/4 cup honey
1/3 cup olive oil (or vegetable oil)
1/4 cup cider vinegar
Pinch salt
Roughly chop or tear basil leaves (to give them a head start), and combine all ingredients in a blender and puree until dressing is smooth. There will be small basil flecks. (If you have an immersion blender, you can try that instead.)
Pour into a jar and refrigerate before serving. Keeps for a week or more in the refrigerator.