Print This Post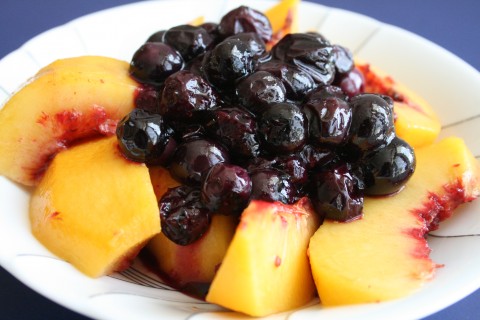 Smack in the middle of blueberry season, I am addicted to this quick sauce made from fresh bloobs.
Make it for the long Labor Day weekend and you'll have good eatin' for days.
Just sweet enough, lumpy with berrylicious goodness, and midnight purple in color, this sauce improves anything you have a mind to put it on. We are eating it over fresh sliced peaches for breakfast, over pancakes or waffles or oatmeal, over ice cream, over pound cake or angel food cake for dessert, and when I'm trying to be somewhat dietetically angelic 😉 , over non-fat cottage cheese. I haven't yet met anything it doesn't improve.
It's even good while standing in front of the fridge with a spoon at 10 p.m. Just don't drip any on your jammies like I did or you will be busted the next morning by the telltale stain.
Fresh Blueberry Sauce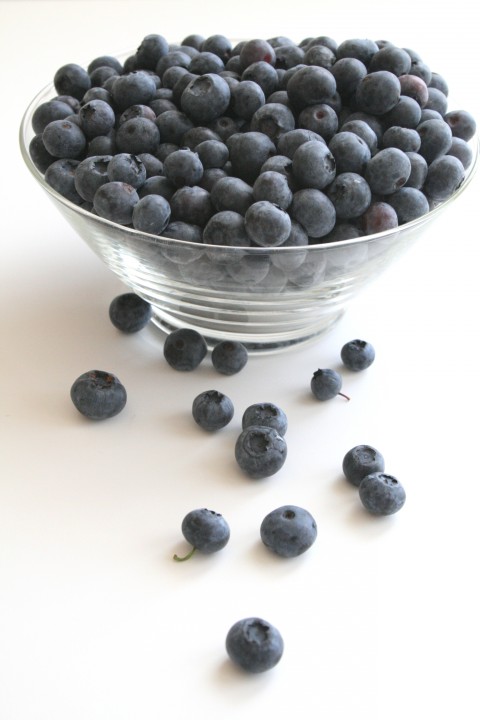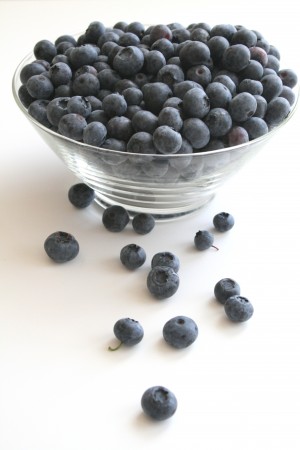 1/2 cup water
1/2 cup granulated sugar
1 tablespoon brown sugar
5 (3-inch long) strips fresh lemon zest, cut with a vegetable peeler (*see tip below)
2 dry pints fresh blueberries (about 4 cups, or about 24 ounces)
1 1/2 tablespoons fresh lemon juice
1 teaspoon vanilla extract
Boil water, sugar, and zest in a 1-quart heavy saucepan, uncovered, about 5 minutes. Fish out zest and discard. Stir in blueberries and simmer, covered, stirring occasionally, until a few blueberries begin to burst, about 3-5 minutes. Using a potato masher, mash once or twice and then stop. (Really, no matter how fun that is, stop mashing.) Remove from heat and stir in lemon juice and vanilla extract. Allow to cool somewhat and serve warm, at room temperature or even chilled. Store covered in refrigerator; stores well for up to a week or more.
Makes about 2 1/2 cups.
Zesting tip: Use your vegetable peeler to carve a couple of wide strips of zest from a lemon. The zest is the yellow, outermost part, not the underneath, white, pithy part of the skin.