Print This Post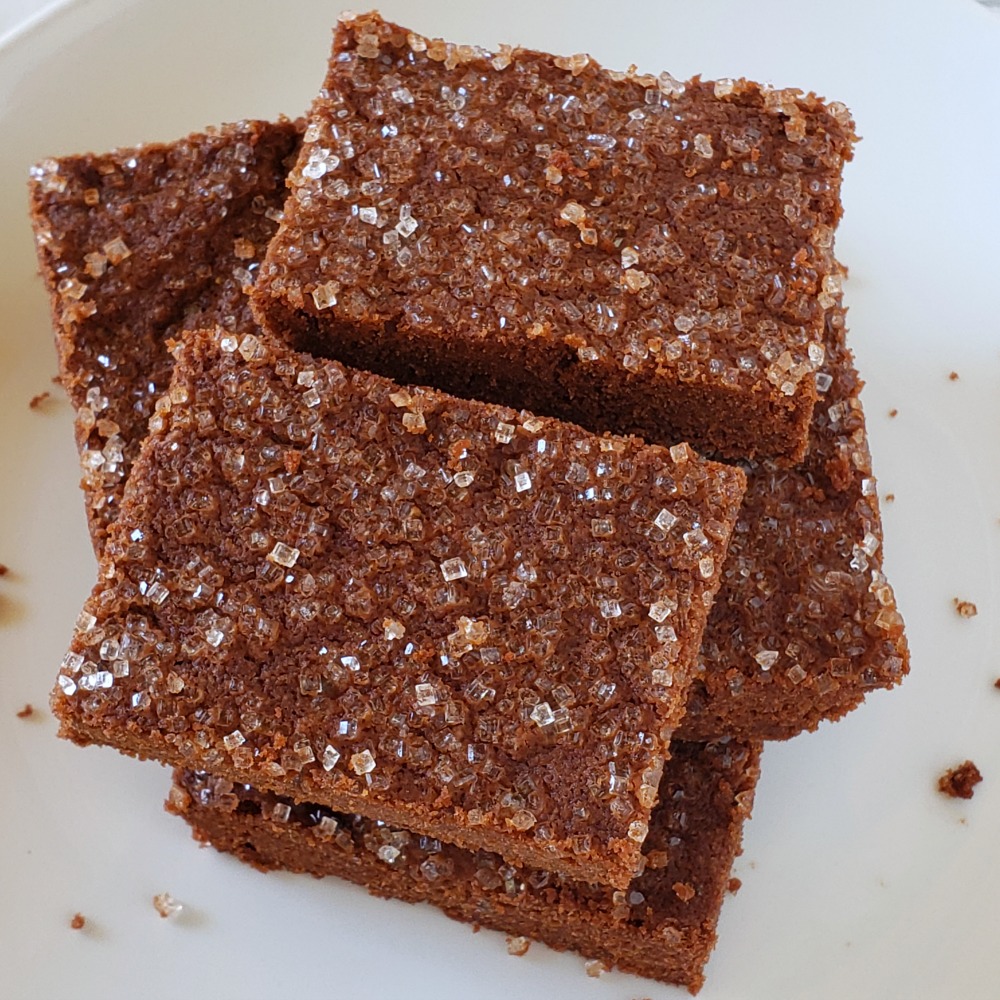 Rich Chocolate Shortbread Cookies have a secret — olive oil + butter! — and a super-satisfying crunch from coarse sugar on top. This is the grown-up cookie you want.
I'm on a bit of a shortbread kick….well, probably for my whole life, but who is counting? It's just such an easy cookie to make, with a big flavor payoff. Flour, sugar, butter….that's basically it. I often add an extract or some other flavoring, because I like to tweak recipes like that, but it's basically a simple recipe.
This Rich Chocolate Shortbread version is enriched with high-quality cocoa, and has a mixture of butter and light-flavored olive oil, for the best of both worlds. I'm a big fan of baking with olive oil. I keep two kinds in the pantry — an extra-light flavored version to bake with, and a full-bodied version for the skillet.

How to make Rich Chocolate Shortbread Cookies

It's easy! Flour, sugar, some kind of fat…shortbread is a breeze.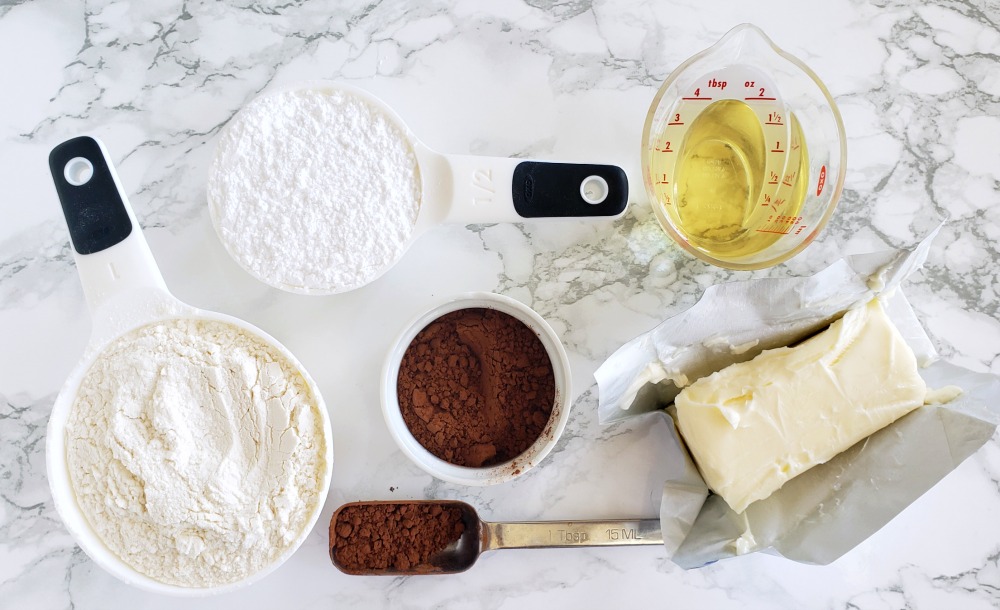 Assemble your ingredients, as with any recipe. This is a good practice to get into. For this recipe, we are using
Powdered sugar
Butter
Olive oil
Vanilla extract
Flour
Dark cocoa powder
Salt
Coarse sugar crystals for garnish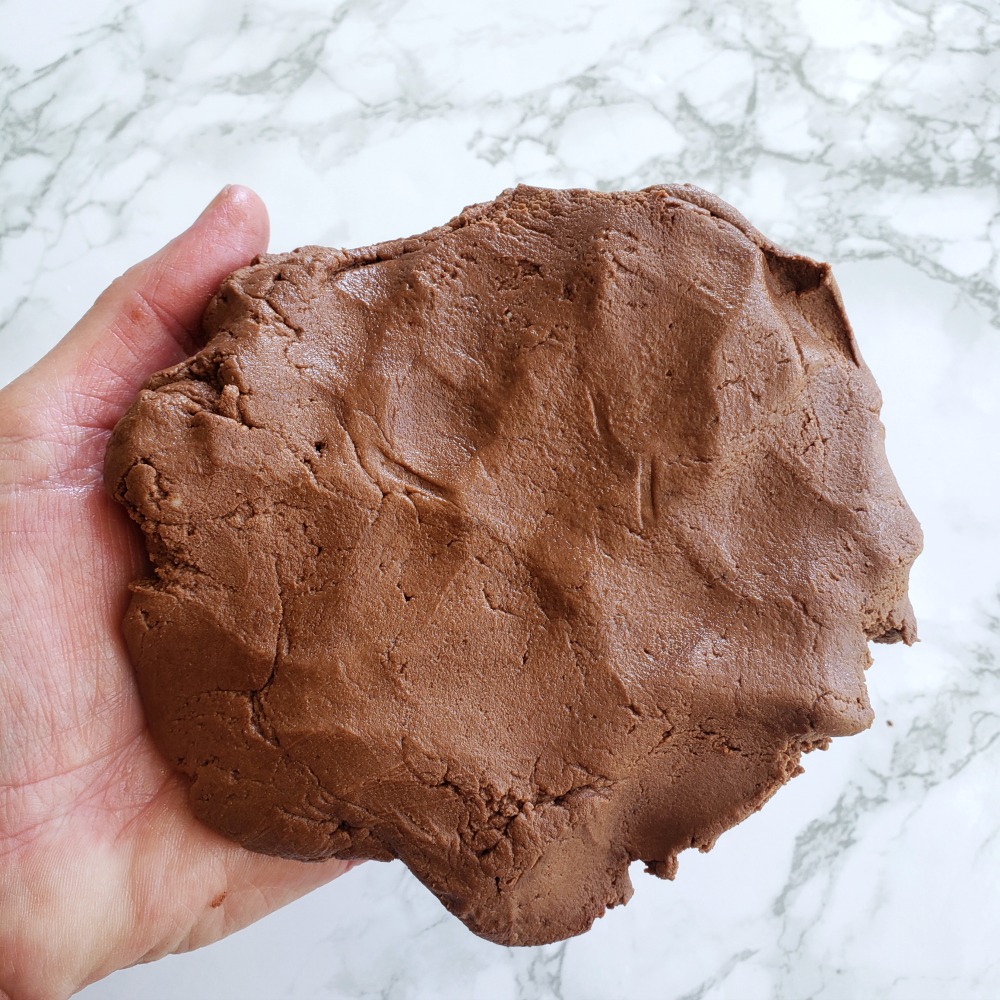 Mix up the dough. I do it with an electric mixer (I'm lazy that way), but you could do it by hand of course.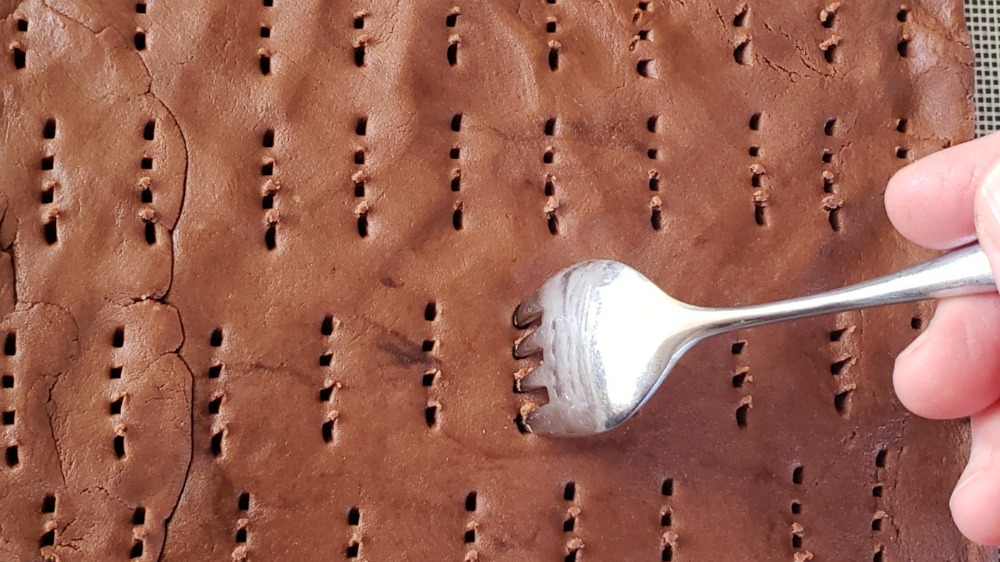 Refrigerate for 30 minutes, then pat or roll out and poke with a fork.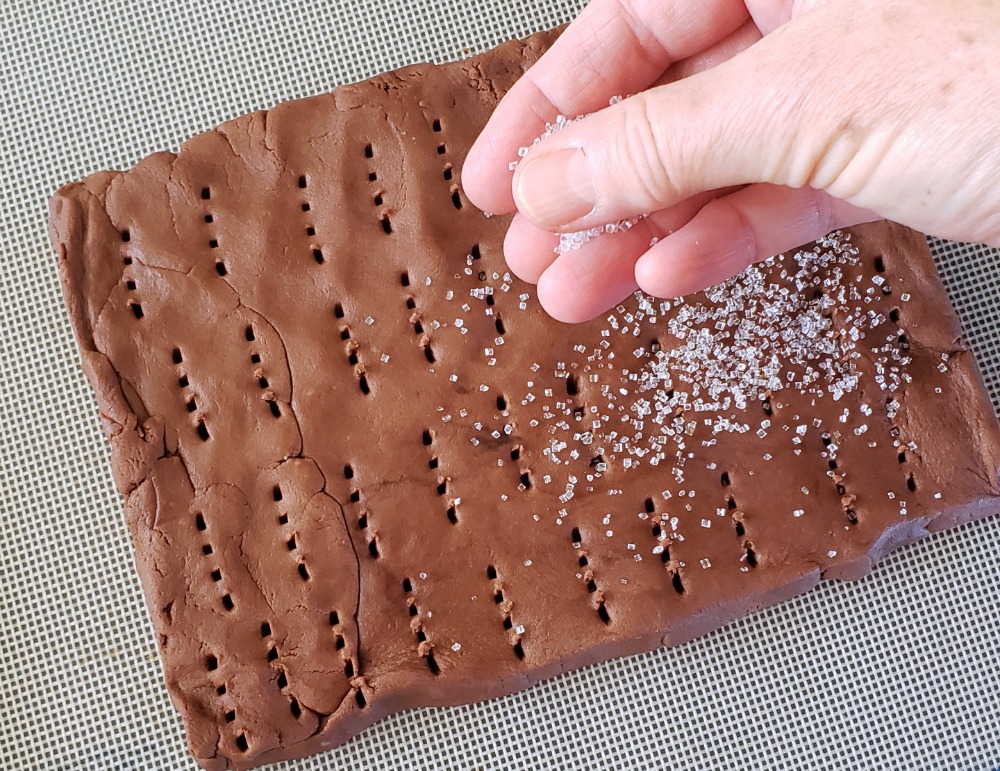 Sprinkle with coarse sugar crystals.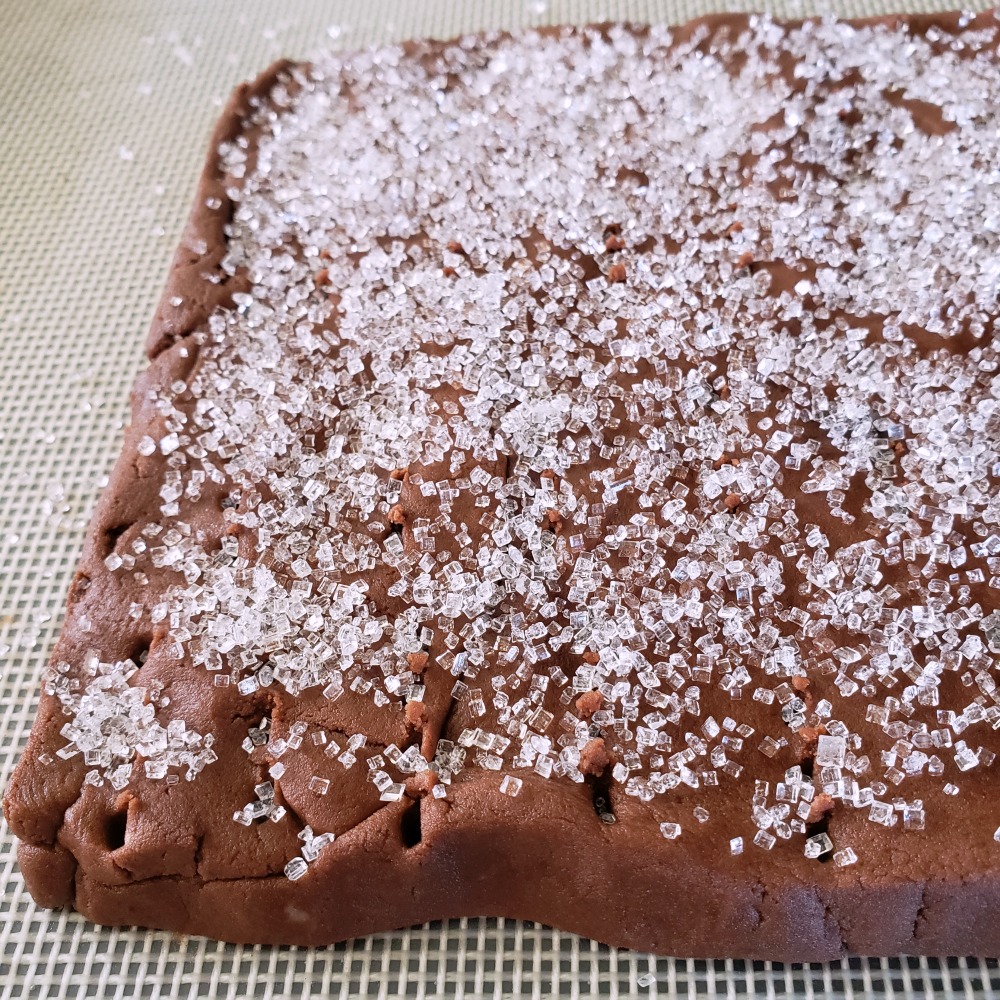 Don't be afraid to lay it on!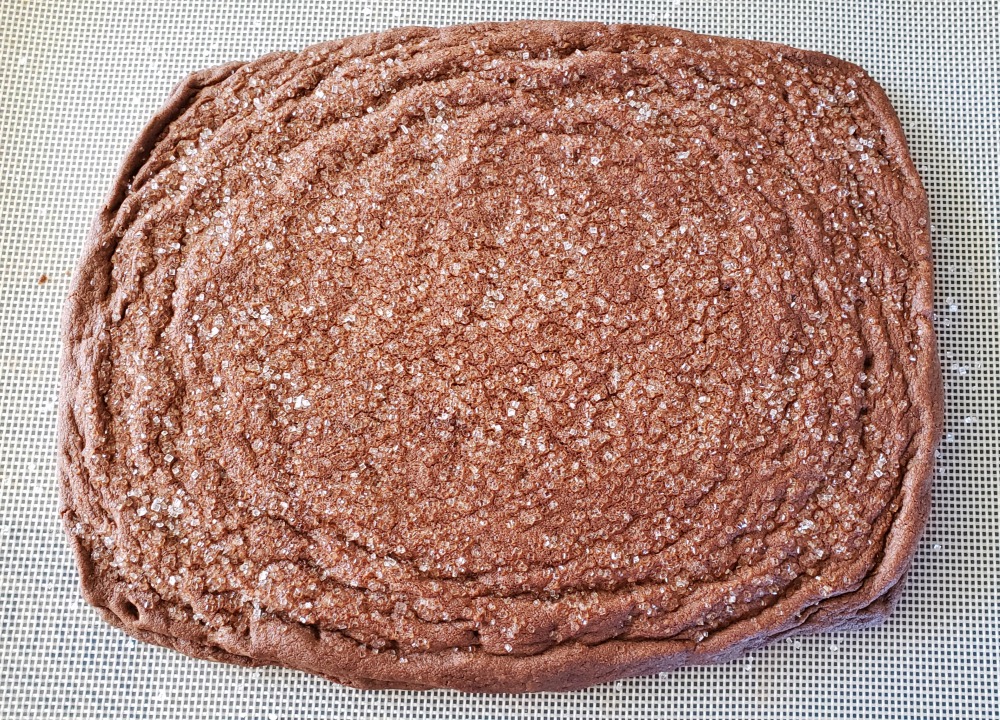 Here it is baked and out of the oven.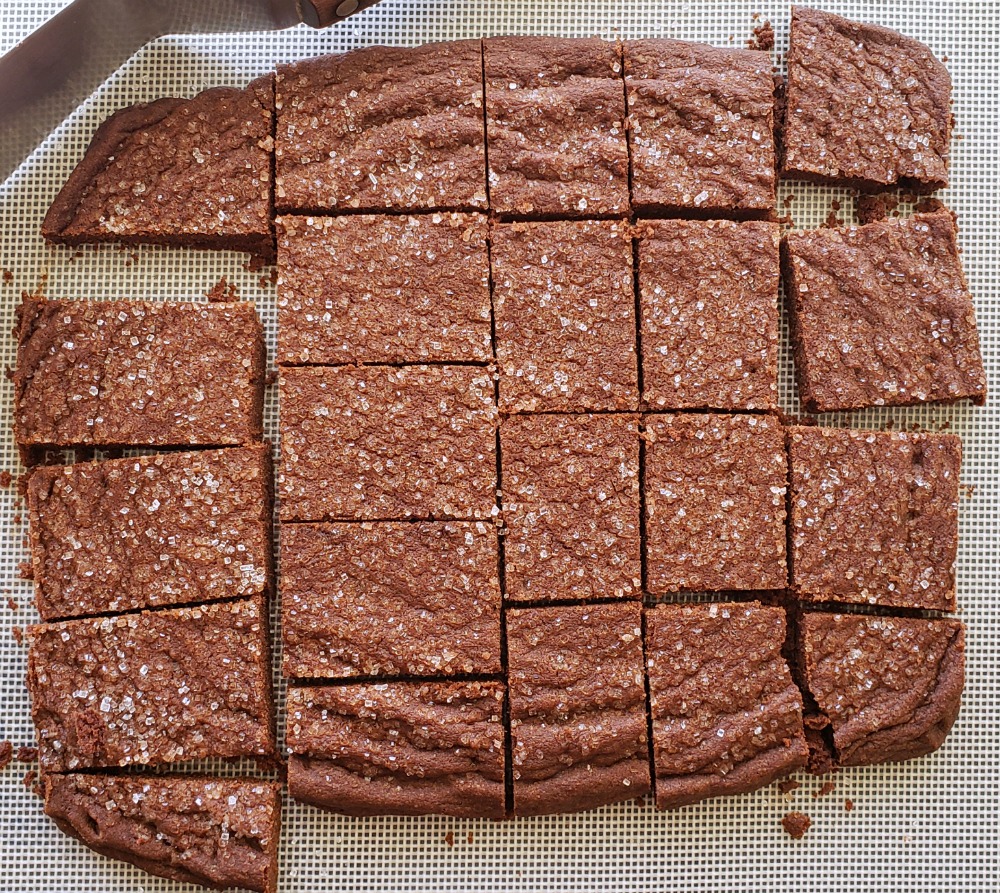 Cut while warm. I used the edge of a spatula to cut them so I don't slice my silicone baking mat with a knife.
Let's make Rich Chocolate Shortbread Cookies!
Rich Chocolate Shortbread Cookies
Rich Chocolate Shortbread Cookies have a secret -- olive oil + butter! -- and a super-satisfying crunch from coarse sugar on top. This is the grown-up cookie you want.
Ingredients
1/2 cup powdered sugar
5 tablespoons unsalted butter, softened
1/4 cup extra light-flavor olive oil
1/4 teaspoon vanilla extract
4. 5 ounces all-purpose flour (about 1 cup)
3 tablespoons unsweetened premium dark cocoa (I used Divine Chocolate Cocoa)
1/4 teaspoon salt
Garnish: Coarse sugar crystals for sprinkling on top
Directions
Turn oven to 325F degrees. Place a silicone mat or parchment paper on a baking sheet and set aside.
Place sugar, butter, olive oil and vanilla in a bowl, and mix well. I use an electric mixer to do this, but you may do it by hand.
Stir in flour, cocoa and salt.
Remove from bowl, pat into a square, wrap in plastic wrap and refrigerate for 30 minutes.
Remove from refrigerator and place dough onto the prepared cookie sheet. Press dough into an 8 x 5-inch rectangle, about 3/4-inch thick. Poke top surface with a fork. Sprinkle top liberally with coarse sugar. Bake for 30 minutes. Dough will be set.
Remove from oven, allow the pan to cool for about 10 minutes, and then cut with a spatula into 24 pieces. Allow to cool completely.
Makes 24 cookies.
Notes
Recipe source: Lightly adapted from Cooking Light, Nov. 2008
https://www.shockinglydelicious.com/rich-chocolate-shortbread-cookies/
Copyright Dorothy Reinhold | ShockinglyDelicious.com. All rights reserved.
Pin the image below for Rich Chocolate Shortbread Cookies to your Pinterest board to save it.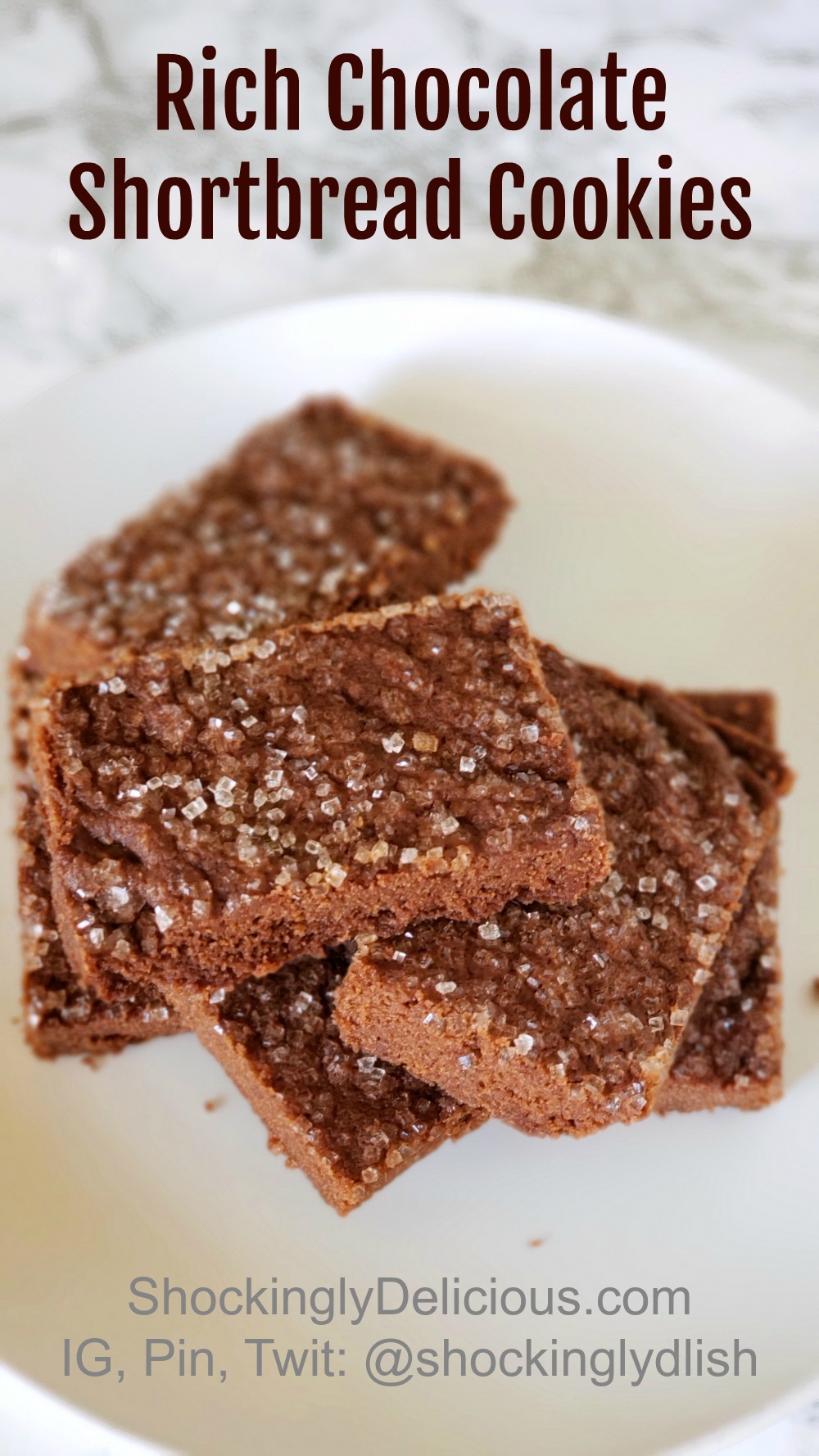 Looking for more shortbread? Try this Lemon Shortbread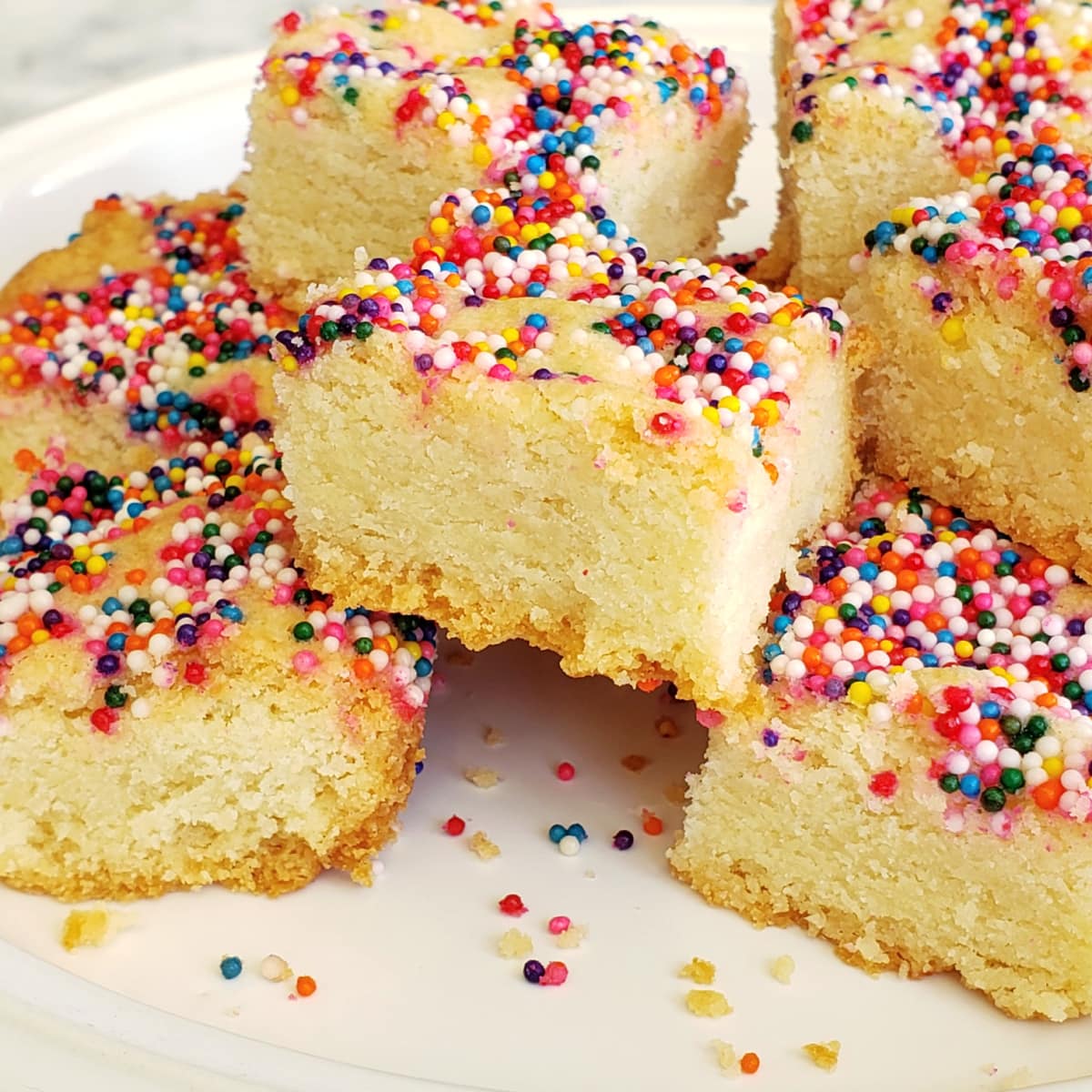 Lemon Shortbread with Sprinkles
Thanks for visiting…are you hungry for more? Follow Shockingly Delicious on…
FACEBOOK | PINTEREST | INSTAGRAM | TWITTER
…for all the latest recipes, ideas and updates!
This post may contain affiliate/referral links. It is a way for this site to earn advertising fees (at no cost to you) by advertising or linking to certain products and/or services that I approve and prefer. Thank you for using my affiliate link to shop, so I can continue to bring you shockingly delicious recipes!
This recipe was originally published Oct. 13, 2019 and has been refreshed and republished today.