Print This Post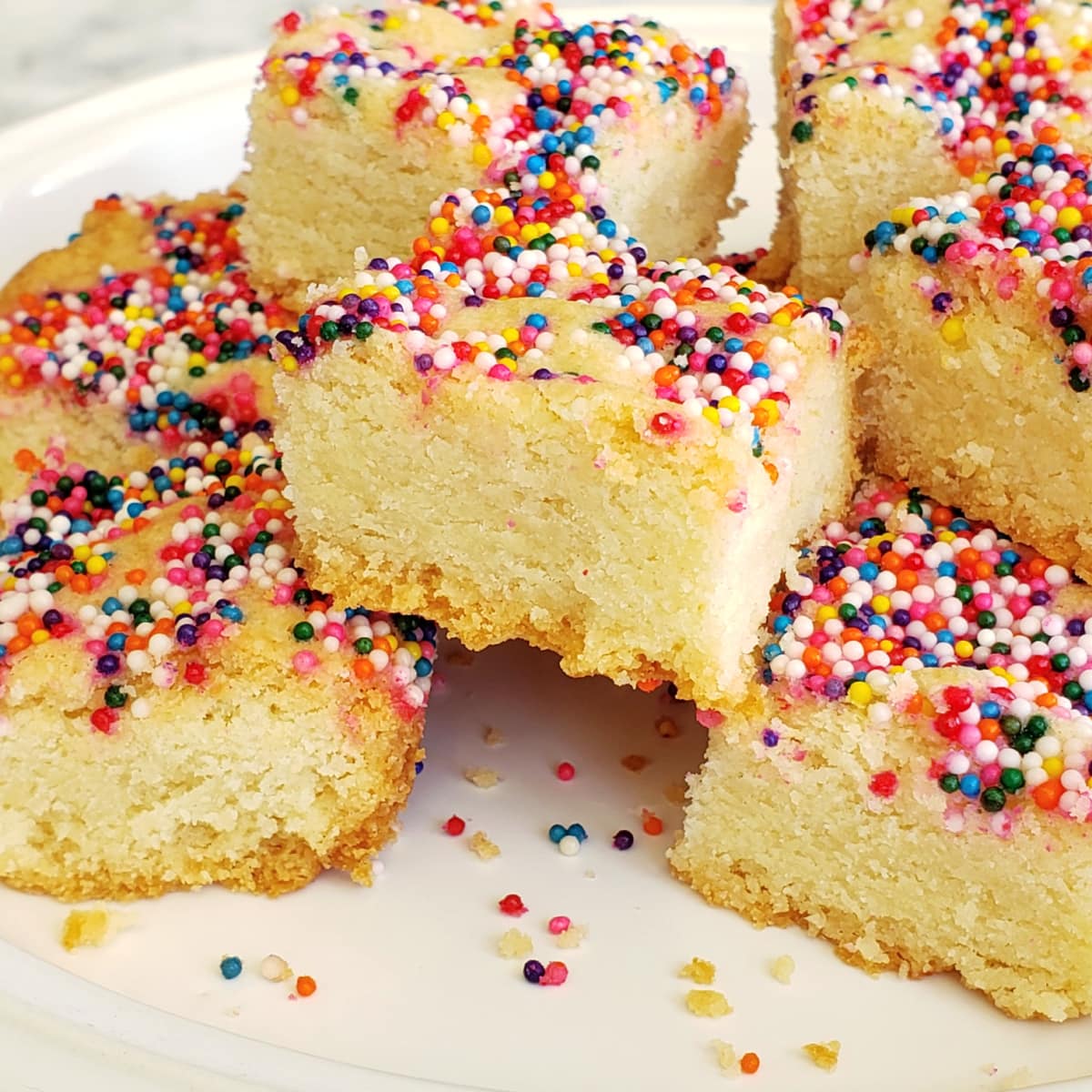 Lemon Shortbread with Sprinkles might be the perfect cookie — sandy, lightly sweet, lemon-scented and impossibly cute with seasonal sprinkles.
This post is sponsored in conjunction with #SpringSweetsWeek. I received product samples from sponsor companies to help in the creation of the #SpringSweetsWeek recipes. All opinions are mine alone.
If you only learn to make one cookie, I think it should be shortbread. It's simple to make, few ingredients, yet pays off with big flavor and delivers ultimate sweet satisfaction. I've never seen someone turn down a shortbread cookie.
First, it's easy to see that there aren't many ingredients. Second, they're usually cut in small squares, so if you like them, you can reach for another. And if someone needs a teacher gift, or has a baby, or a birthday, or gets some good news, they're easy to bake up and bring later that afternoon or the next day as a gift. When I send them to work with my husband, the container comes back with only crumbs.
I've made this as a small-batch recipe, because shortbread is basically a butter-and-sugar delivery system. You know? And there can be too much of a good thing, especially when it is delicious, so if we make a small-ish batch, we won't feel we have to finish the whole thing off ourselves. That's my story, and I'm sticking to it.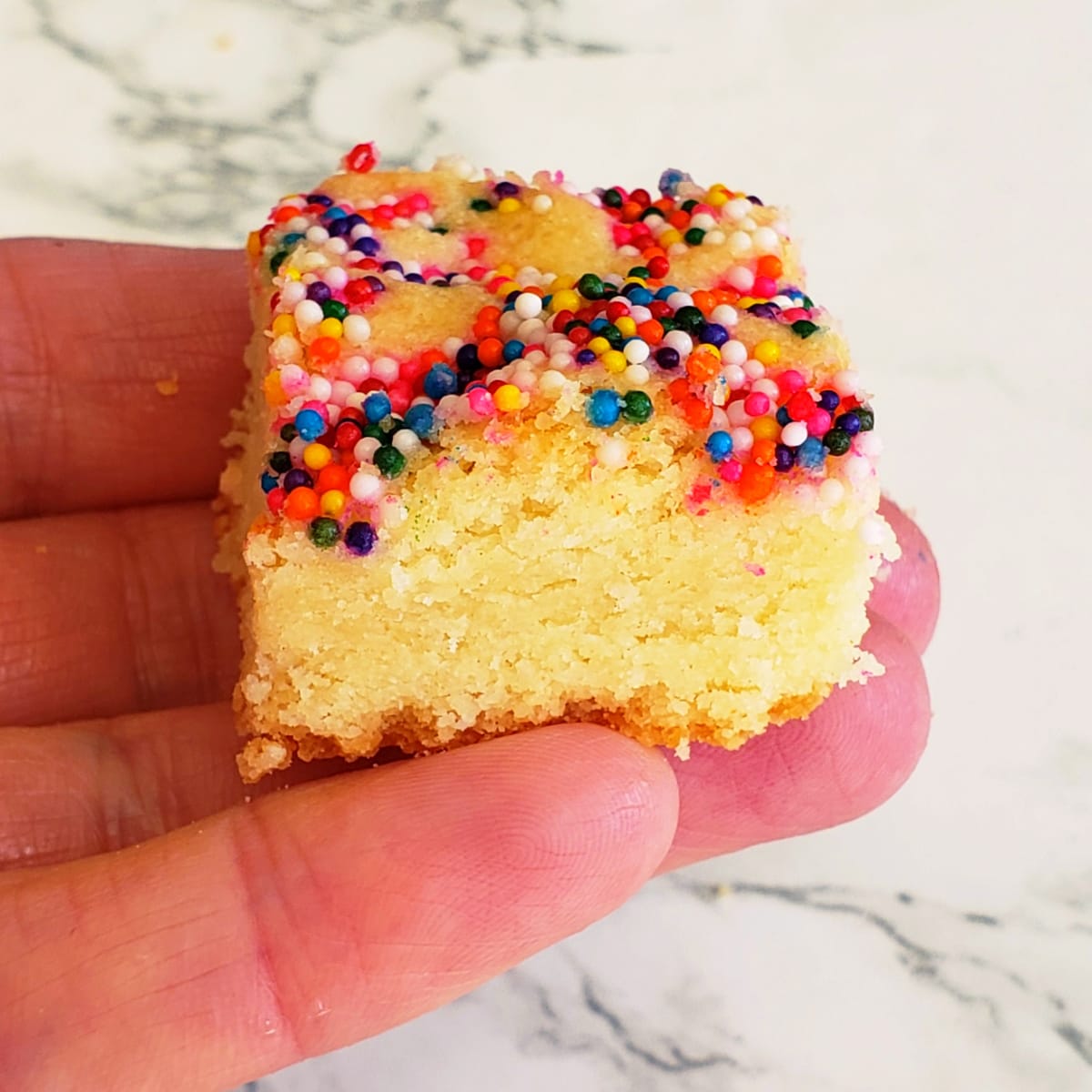 How to make Lemon Shortbread with Sprinkles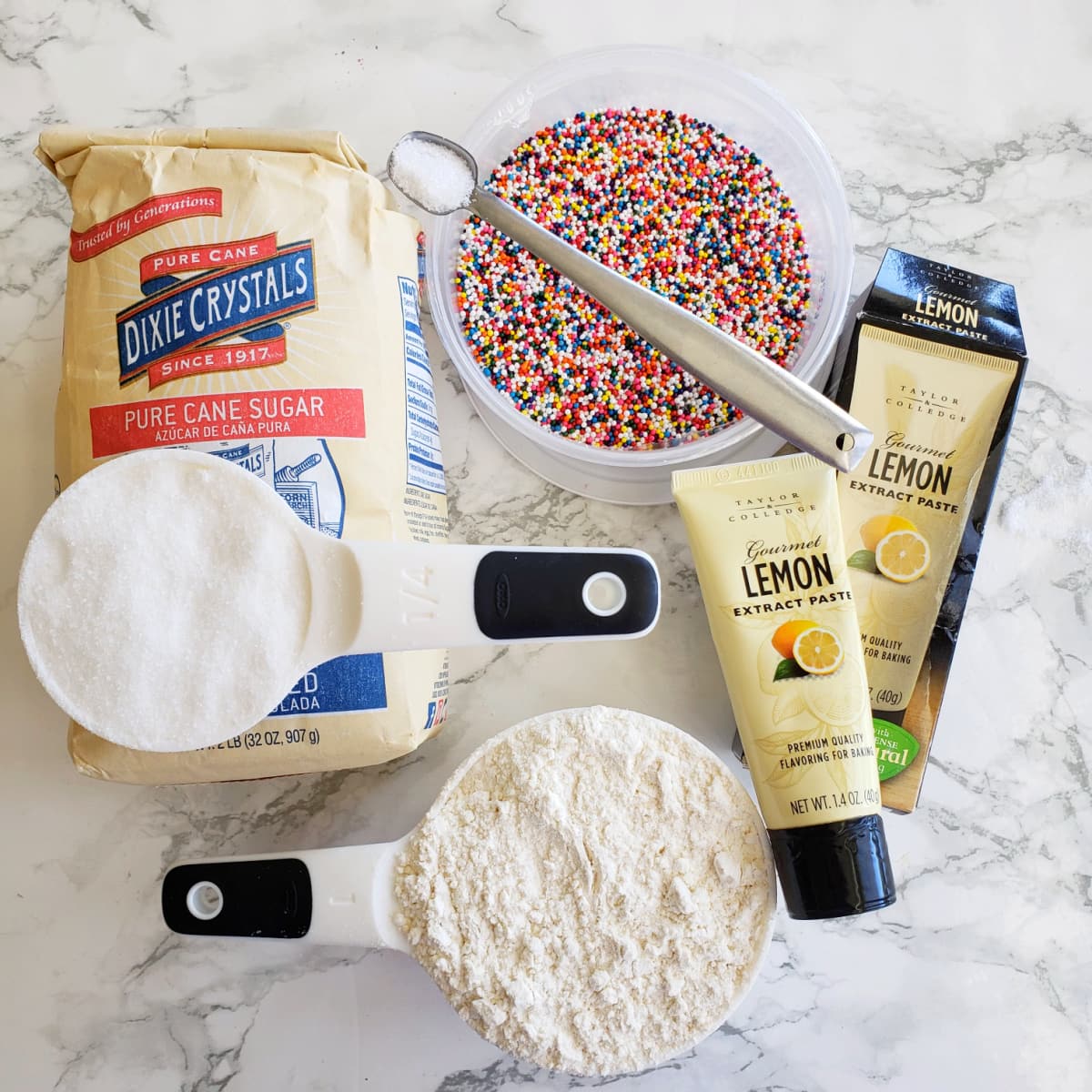 Gather your ingredients (oops, I am missing the butter from the photo above. Sigh.). This only has 5 ingredients, plus sprinkles if you are using them. (If you leave them off, that's your business. I am not the boss of you.) And since they have so few ingredients, use the best quality you can find or afford, because you'll be able to taste the difference!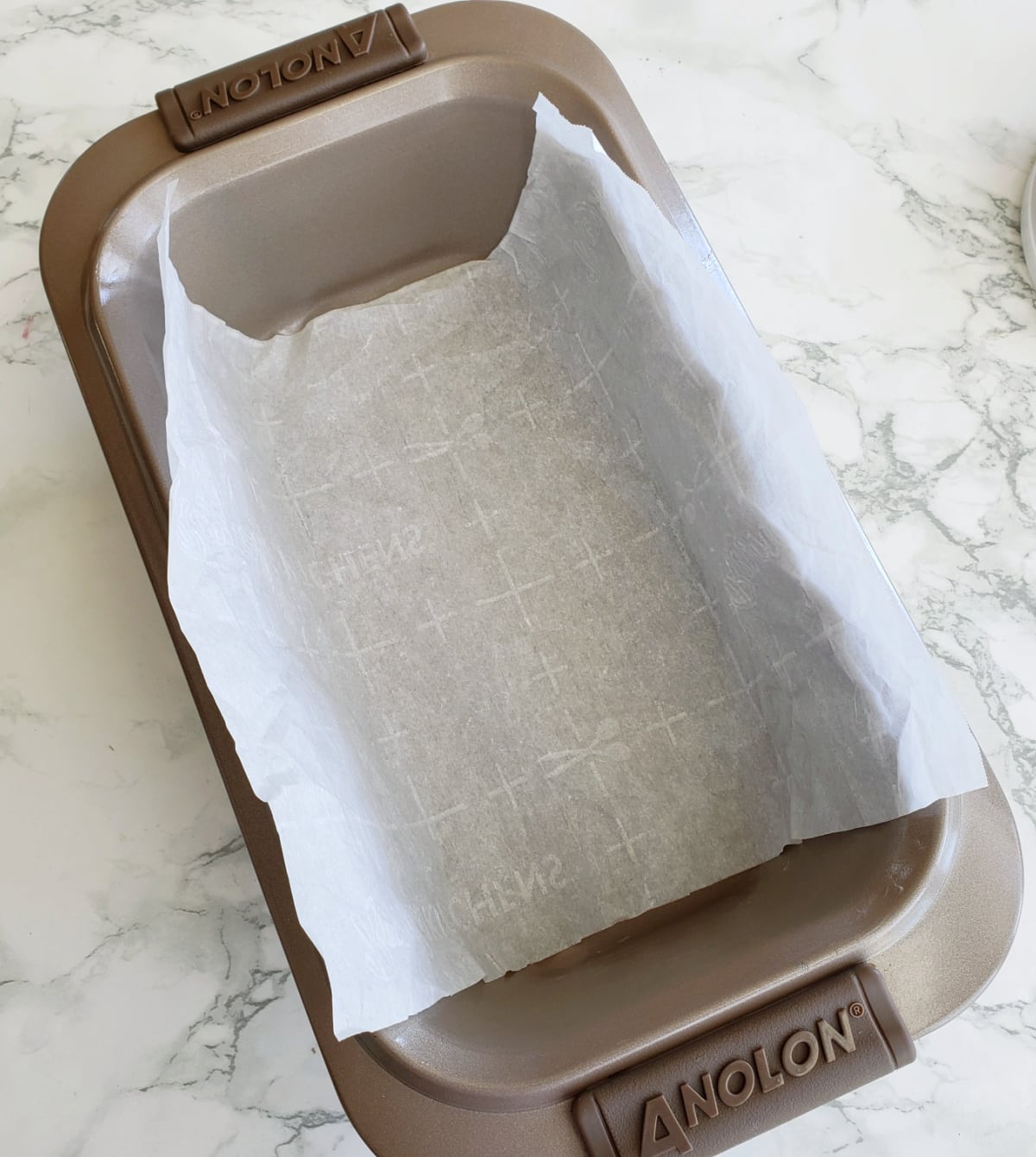 First you'll line your loaf pan with parchment paper, leaving the 2 long sides overhanging a bit. These will become handles later on, to lift the shortbread easily out of the pan after baking. I now use this technique nearly every time I bake something. With a nonstick pan, you don't have to grease the pan that way; it just pops out!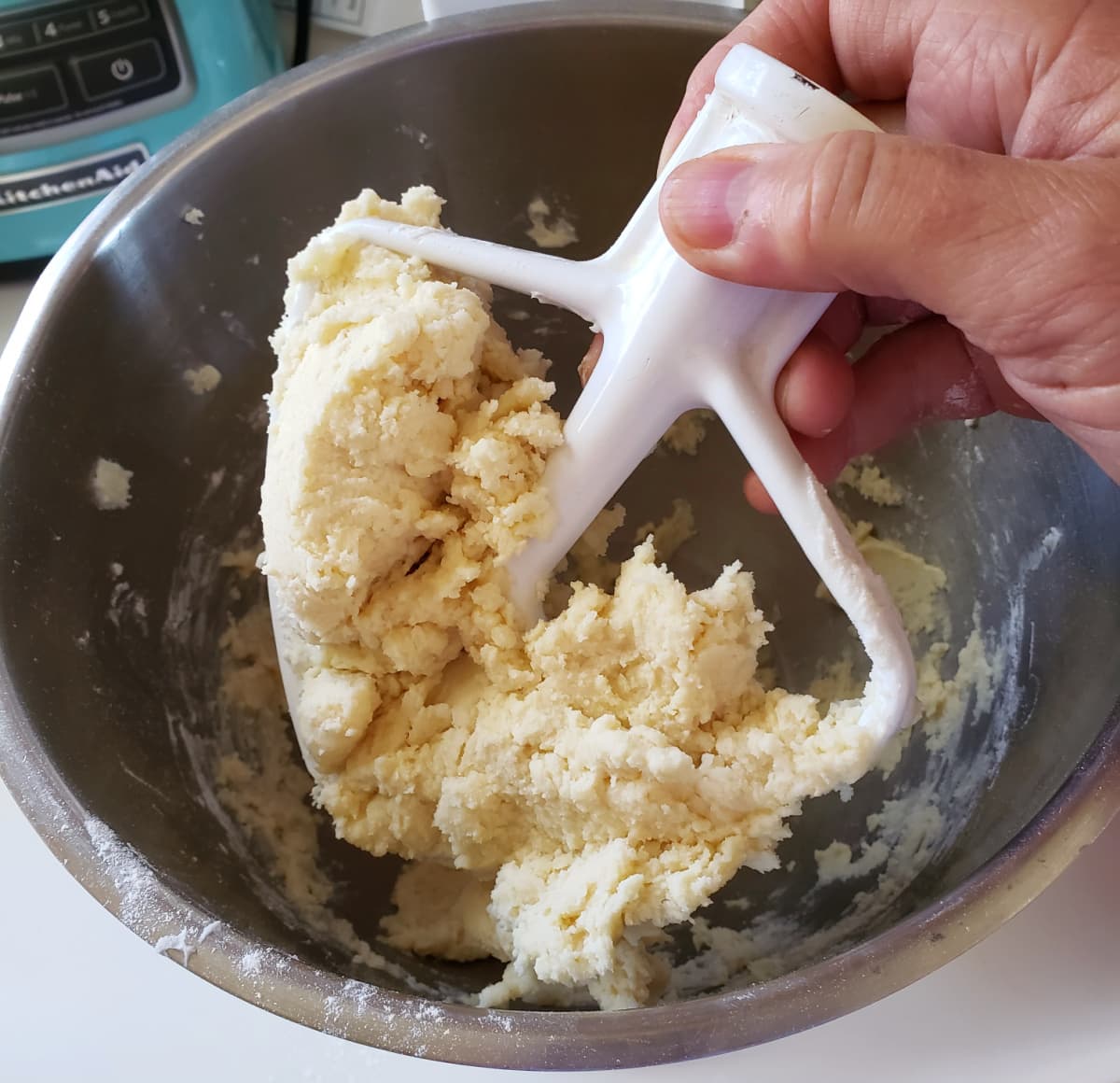 Mix the ingredients (except sprinkles) using an electric mixer, or you could stir it together by hand if you like. I'm lazy and I like my mixer, so I always use it. It will come together quickly into a thick dough.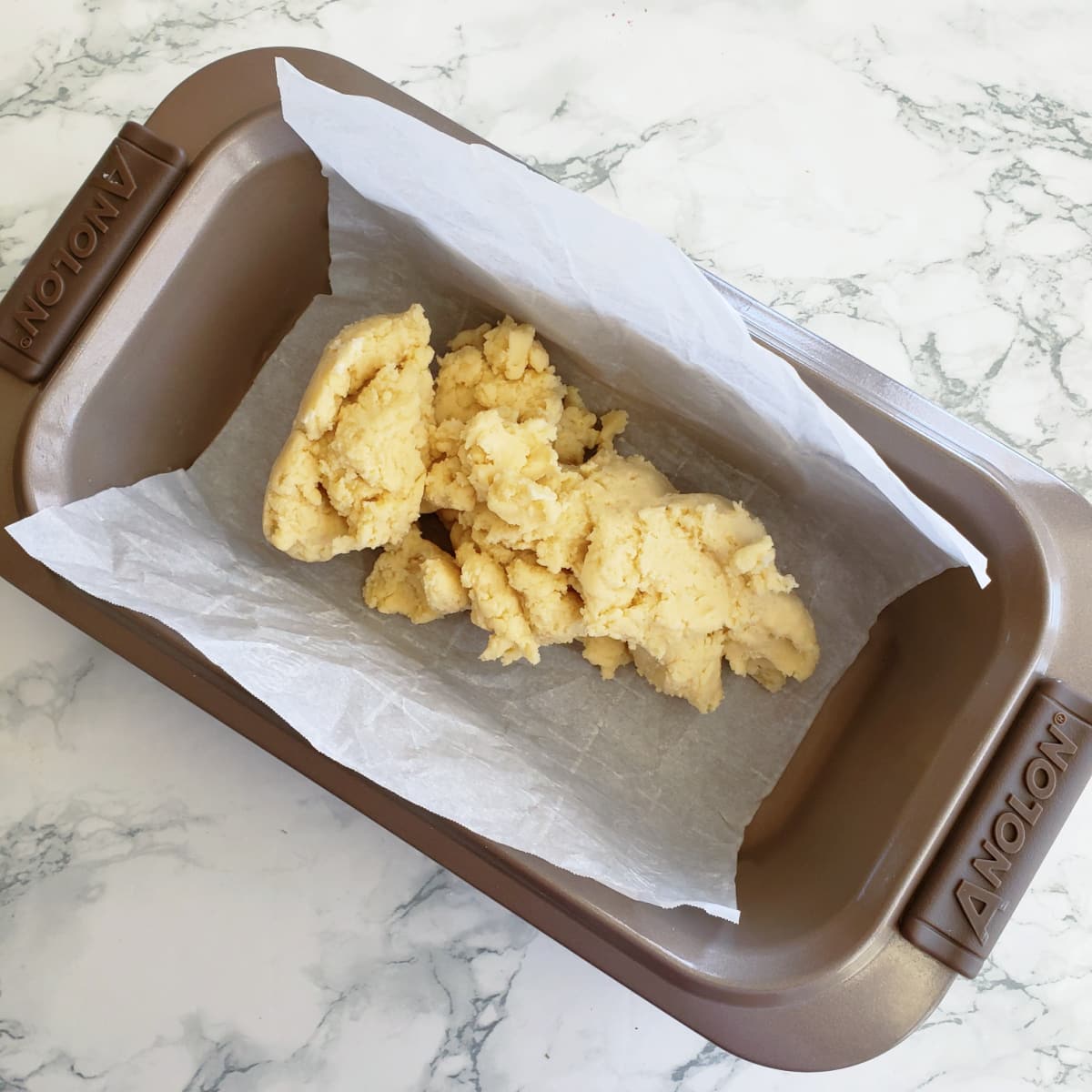 Put the dough into the prepared loaf pan. I'm using a metal pan, but use a glass or ceramic loaf pan if that's all you have. Use what you have!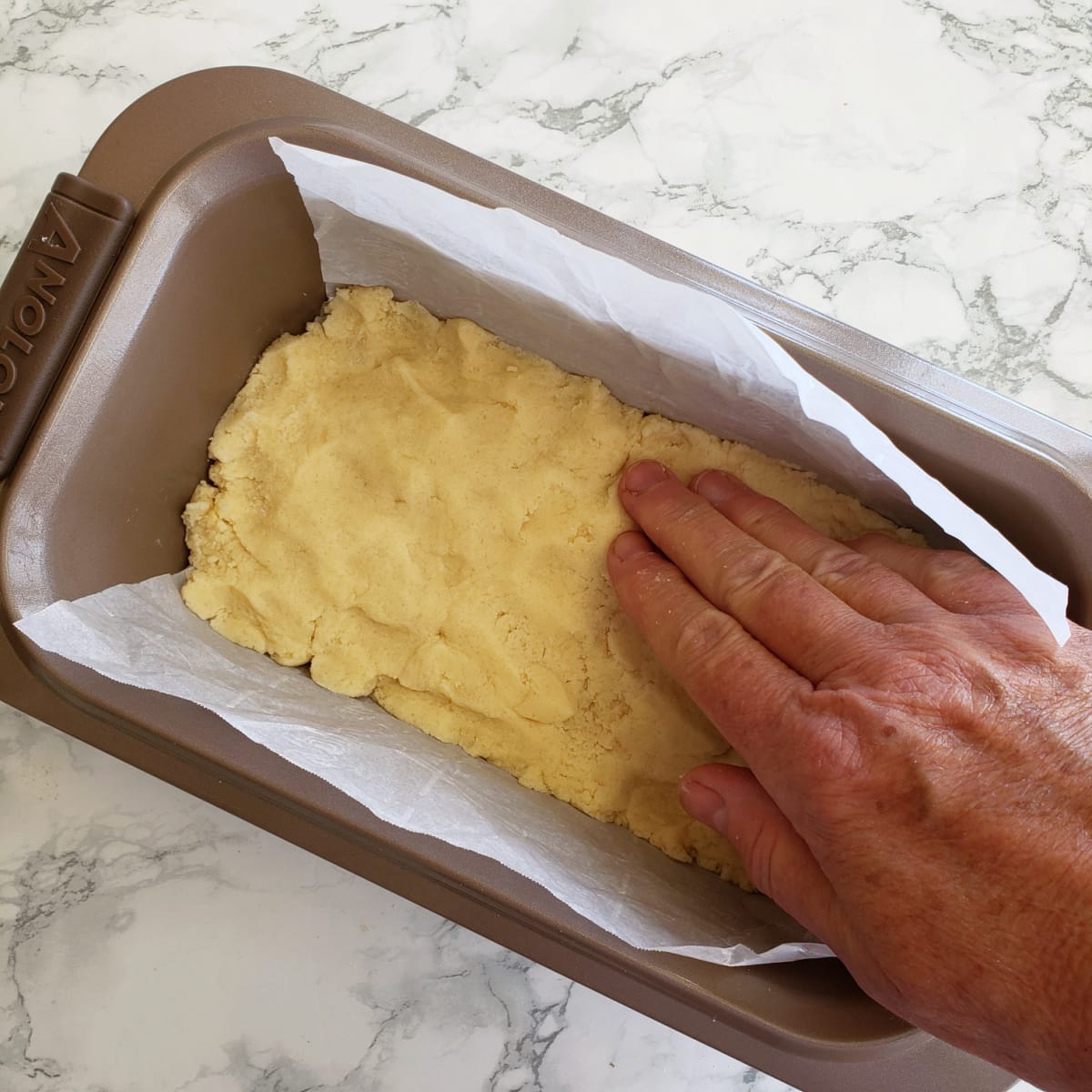 Use your hand to press the dough down. It is quite malleable.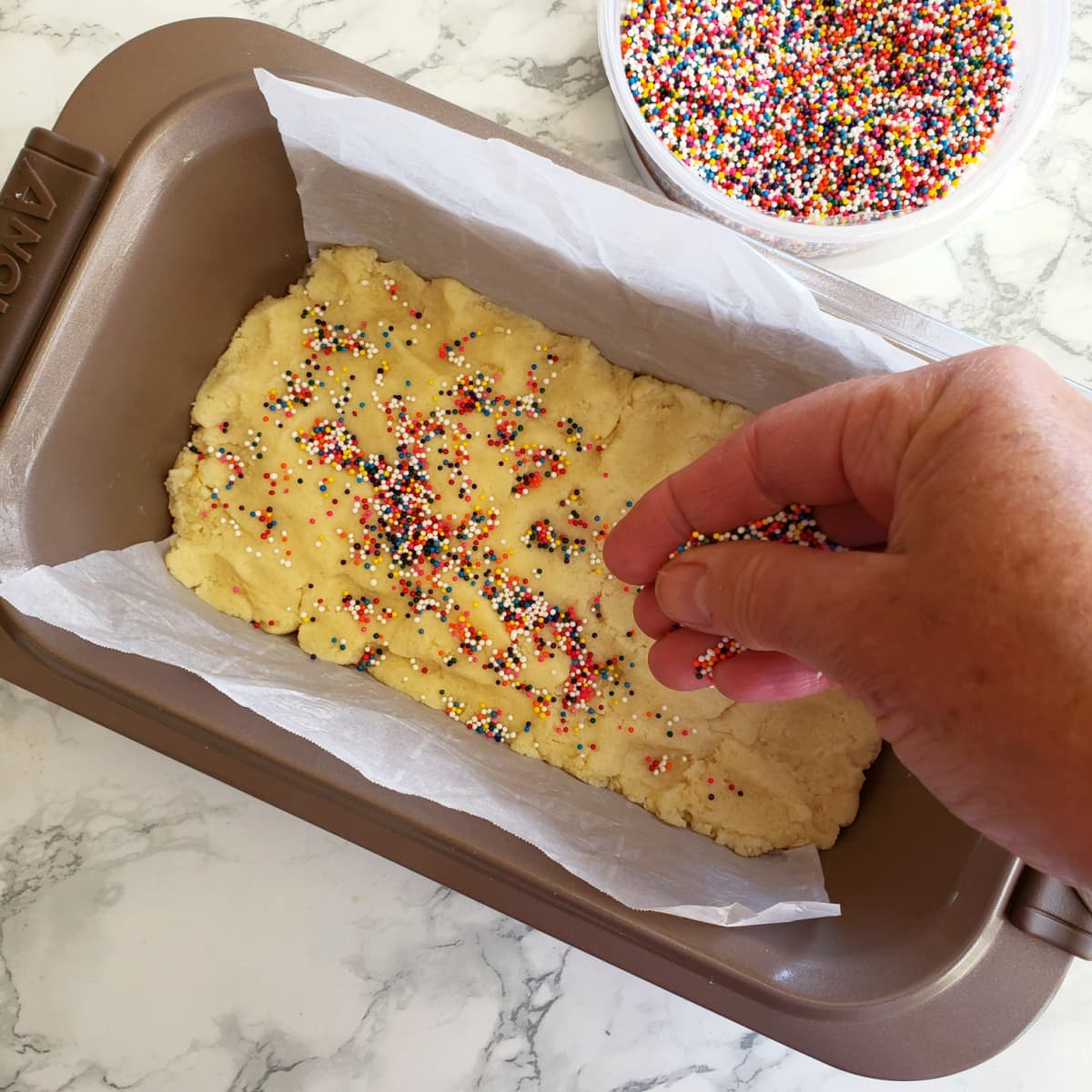 Apply sprinkles as liberally as you like! You're in charge. Tamp them down lightly so they adhere.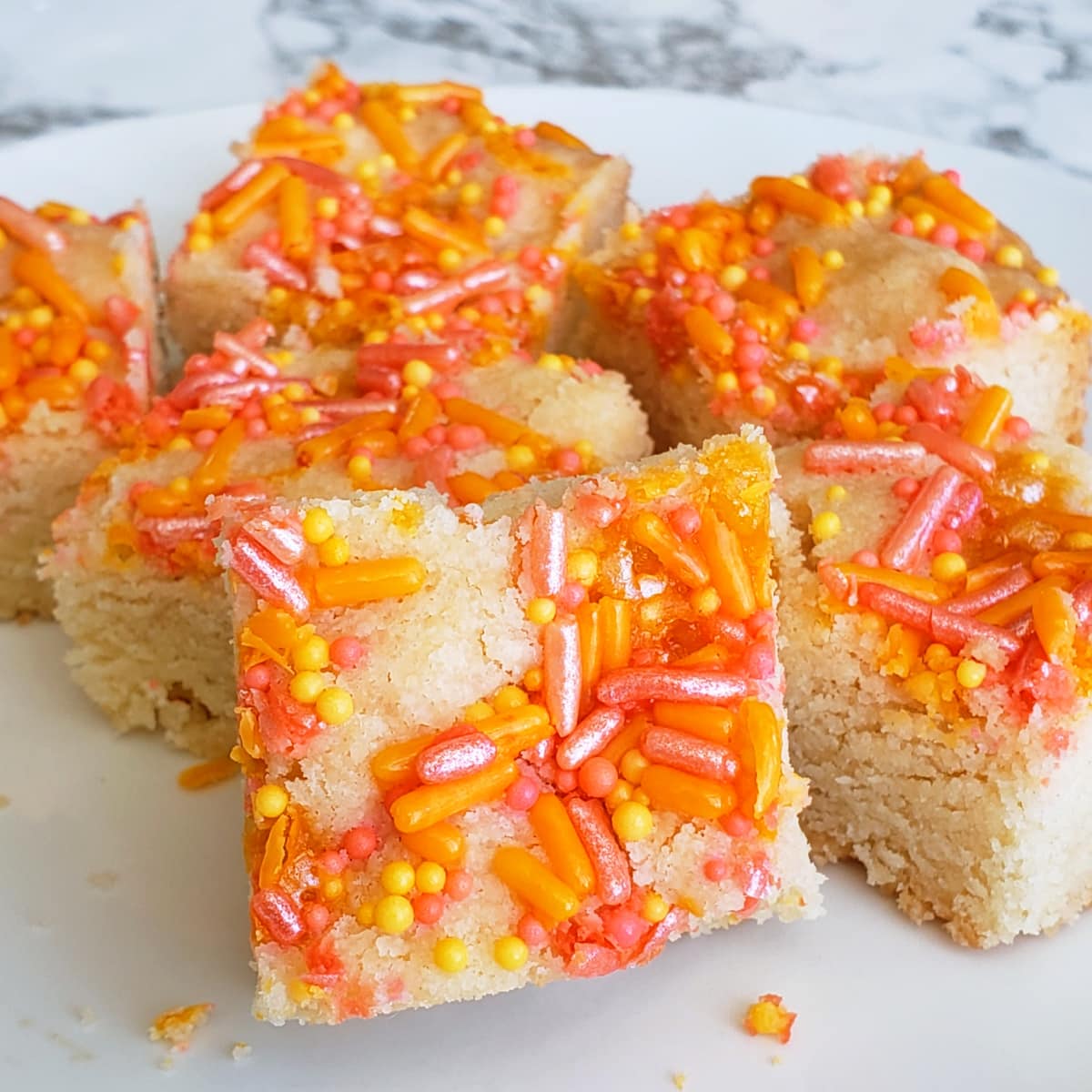 You can vary the look of it with different colored sprinkles. This batch looks particularly springy, doesn't it?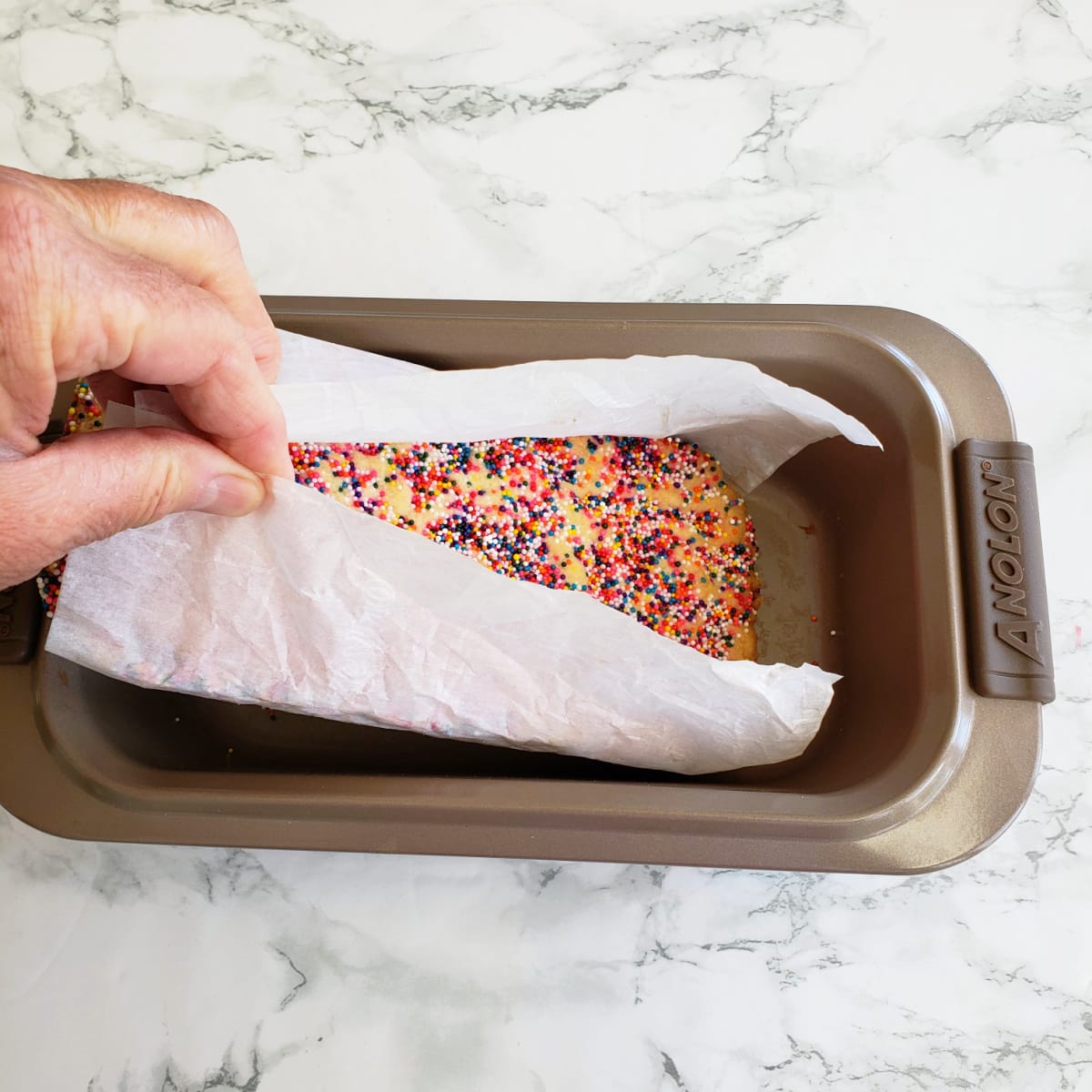 After it's baked, use the parchment to lift the whole thing out of the pan in one piece.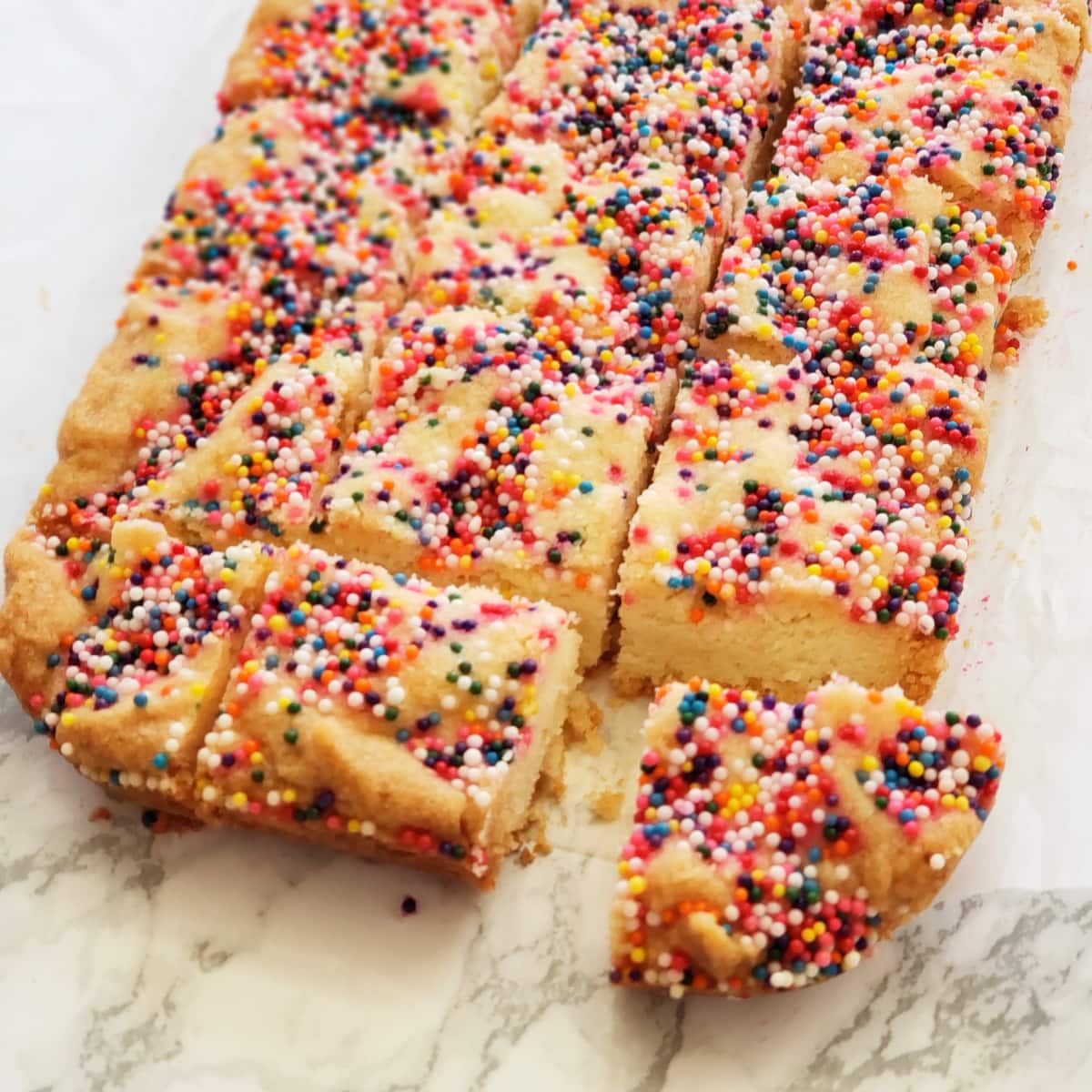 Cut it into 18 squares. Or hey, make it 12 pieces if you want to be a rebel. You do you.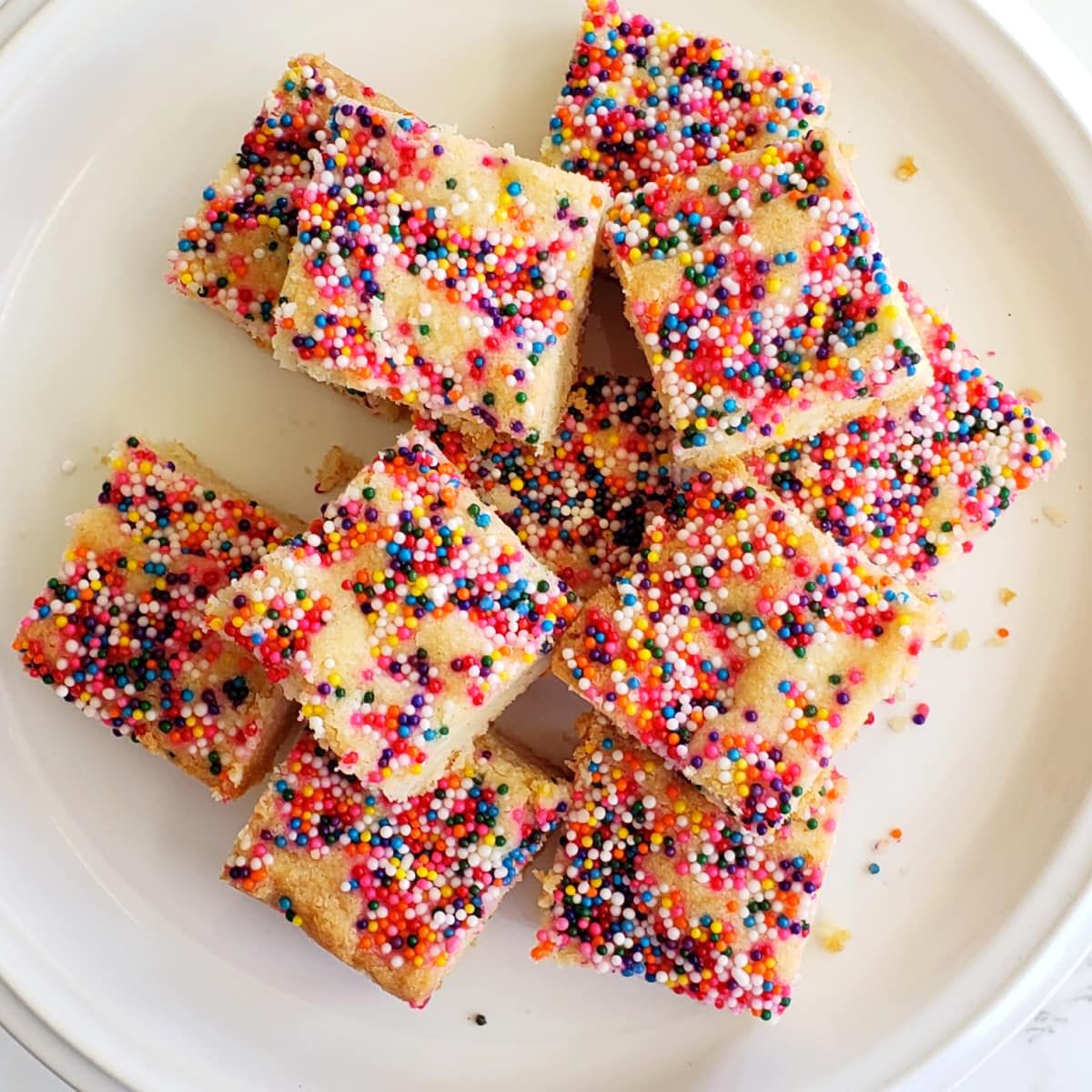 All right, let's GO!
Lemon Shortbread with Sprinkles
Lemon Shortbread with Sprinkles might be the perfect cookie -- sandy, lightly sweet, lemon-scented and impossibly cute with seasonal sprinkles. I use a mixer, but feel free to stir them together by hand. And since they have so few ingredients, use the best quality you can find or afford, because you'll be able to taste the difference!
Ingredients
1 stick (1/2 cup or 8 tablespoons) unsalted butter, at room temperature
1 cup all purpose flour
1/4 cup granulated sugar
3/4 teaspoon lemon extract paste
1/4 teaspoon fine sea salt (or table salt)
Sprinkles or coarse sugar crystals for topping
Directions
Heat oven to 350F degrees. Line a 9- by 5-inch loaf pan with parchment, allowing the parchment to protrude an inch or so up and out of the 2 long sides. These 2 long sides will be used later as handles to remove the shortbread as a single sheet, after baking. Set the pan aside.
In the bowl of an electric mixer, add the butter, flour, sugar, extract and salt. Mix on low until combined, 30-60 seconds. The mixture will come together as a ball of dough.
Take the dough out of the bowl and put it in the prepared loaf pan, pressing down with your fingers to spread it out evenly. You can also make a fist and press it down with the flat backside of your fist/fingers. Add sprinkles of your choice or coarse sugar to the top, lightly, and press down lightly so they adhere. They will bake into the top.
Bake 30 minutes. The top will be just slightly beginning to brown. Remove from oven and allow to cool in the pan for 10-15 minutes. Using the parchment handles, lift the shortbread in one piece out of the pan, and set it on a cooling rack to cool further.
When cool, use a sharp knife to slice 2 cuts lengthwise, and 5 horizontal cuts, so you'll have 18 pieces total. Alternately, you could make diagonal widthwise cuts to make slim wedges of shortbread, for an entirely different look.
Makes 18 pieces.
Notes
Recipe source: Dorothy Reinhold | Shockingly Delicious
FOR OTHER FLAVORS: --Use 1 to 2 teaspoons vanilla extract --Use 1 teaspoon vanilla extract and 1/2 teaspoon almond extract --Use 1/4 to 1/2 teaspoon Fiori di Sicilia (an intoxicating floral-vanilla extract)
https://www.shockinglydelicious.com/lemon-shortbread-with-sprinkles/
Copyright Dorothy Reinhold | ShockinglyDelicious.com. All rights reserved.
Pin the image below for Lemon Shortbread with Sprinkles to your Pinterest board to save it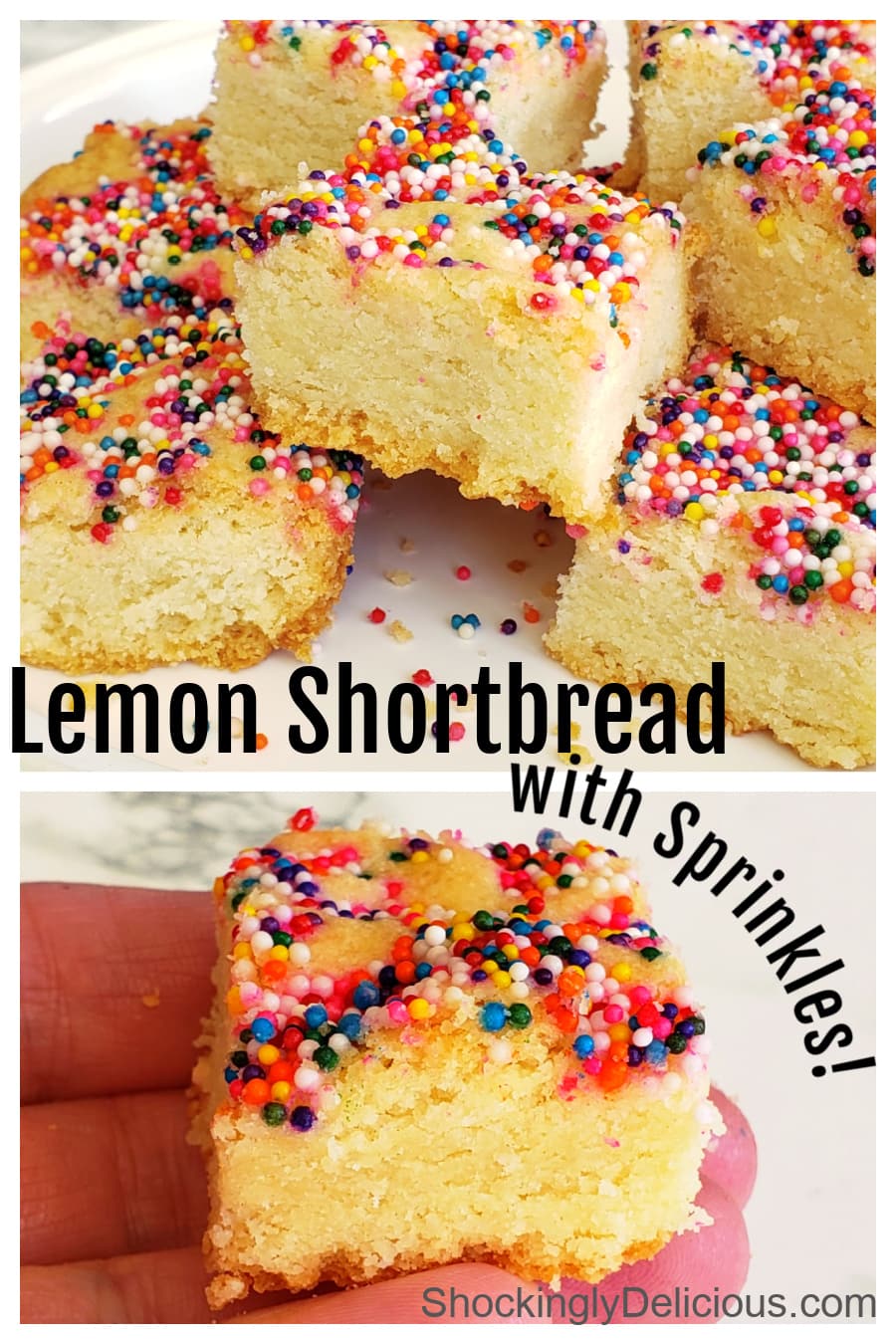 Sponsor products used in this recipe for Lemon Shortbread with Sprinkles
In this recipe, I've used Lemon Extract Paste from Taylor & Colledge, an Australian company that makes premium flavorings for baking. It's gluten-free, Kosher, suitable for vegetarians and vegans, GMO-free and comes in an easy-to-use tube.
I have also used Dixie Crystals sugar, a high-quality pure cane sugar.
It's Spring Sweets Week!
Welcome to #SpringSweetsWeek 2021 hosted by Heather from Hezzi-D's Books and Cooks! With the weather warming up and flowers beginning to bloom, let's celebrate with spring sweets and a fun giveaway! This year 24 food bloggers from around the country are sharing over 100 sweet recipes, so say goodbye to the snow and cold and get ready to enjoy the best spring treats like cupcakes, cookies, pies, dessert boards, and even a few beverages! Our #SpringSweetsWeek sponsors are helping us give away great prizes. Thank you to Dixie Crystals, Melissa's Produce, Door County Coffee, Circulon, Taylor and Colledge, and Nairn's for your generosity. We have an incredible giveaway with six amazing prizes and would love if you would take a moment to read about it and the prizes that you can win, below.
Wednesday #SpringSweetsWeek Recipes
We share recipes from #SpringSweetsWeek on Pinterest! Make sure you follow the board to see all the delicious recipes shared this week.
We have amazing prizes for our Spring Sweets Week Giveaway!
See all our fabulous prizes here donated by generous sponsors.
Enter the Giveaway right here ⇓
Thank you #SpringSweetsWeek sponsors: Dixie Crystals, Door County Coffee & Tea Co., Circulon, Melissa's Produce, Taylor and Colledge, and Nairn's for providing the prizes free of charge. These companies also provided the bloggers with samples and product to use for #SpringSweetsWeek recipes. All opinions are my own. The #SpringSweetsWeek giveaway is open to residents of the United States who are 18 years of age or older. All entries for the winner will be checked and verified. By entering you give the right to use your name and likeness. The number of entries received determines the odds of winning. Six (6) winners will be selected. The prize packages will be sent directly from the giveaway sponsors. The #SpringSweetsWeek bloggers are not responsible for the fulfillment or delivery of the prize packages. Bloggers hosting this giveaway and their immediate family members in their household cannot enter or win the giveaway. No purchase necessary. Void where prohibited by law. This promotion is in not sponsored, endorsed or administered by, or associated with Facebook, Instagram, Pinterest, Twitter or any other social channel mentioned in the #SpringSweetsWeek posts or entry.
Want to see my other recipes for Spring Sweets Week?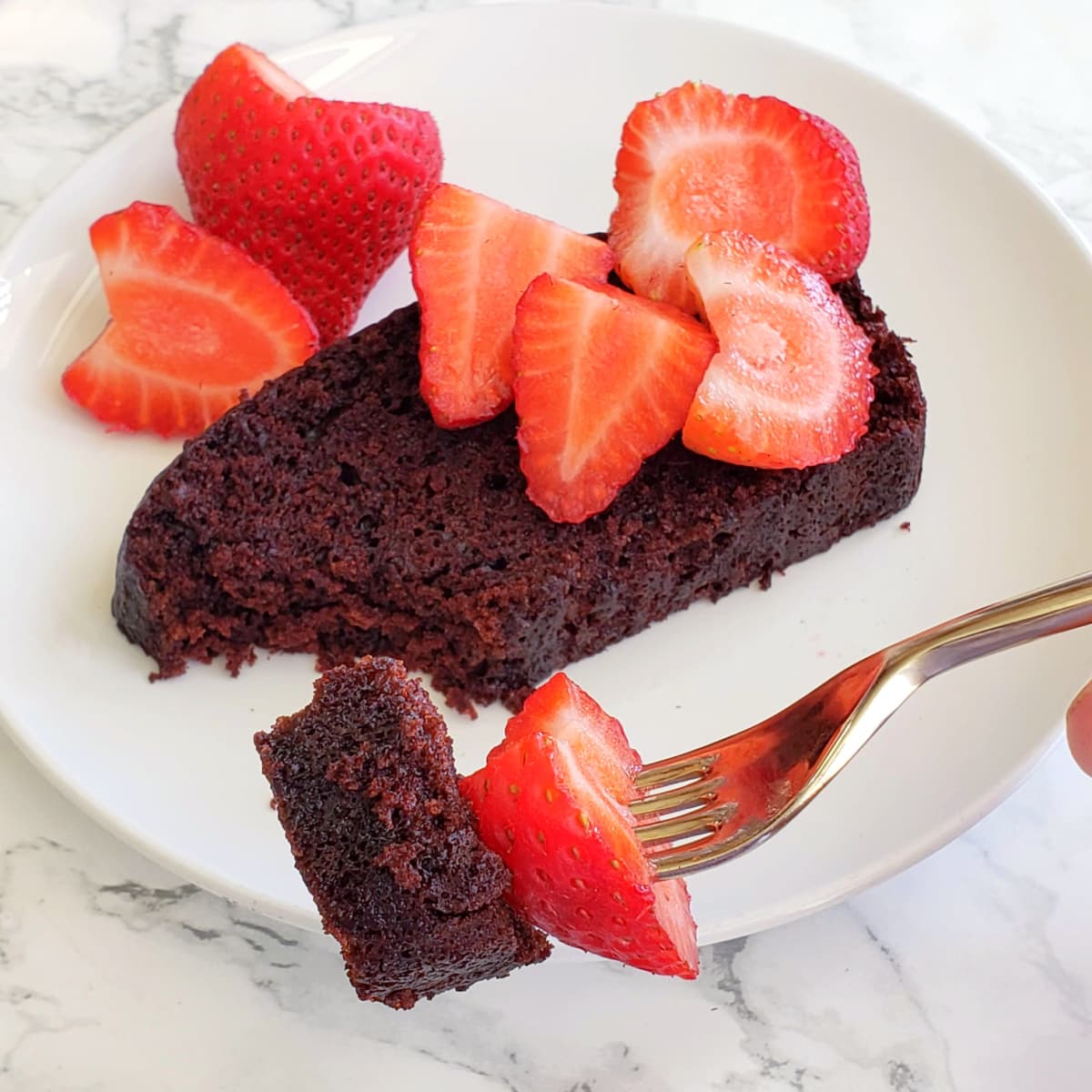 Vegan Chocolate Loaf Cake (Small Batch)
Thanks for visiting…are you hungry for more? Follow Shockingly Delicious on…
FACEBOOK | PINTEREST | INSTAGRAM | TWITTER
…for all the latest recipes, ideas and updates!
This post may contain affiliate/referral links. It is a way for this site to earn advertising fees (at no cost to you) by advertising or linking to certain products and/or services that I approve and prefer. Thank you for using my affiliate link to shop, so I can continue to bring you shockingly delicious recipes!