Rich Chocolate Shortbread Cookies have a secret — olive oil + butter! — and a super-satisfying crunch from coarse sugar on top. This is the grown-up cookie you want.
This post is sponsored by Divine Chocolate, which provided product samples for recipe development. All opinions are my own. 
I'm on a bit of a shortbread kick….well, probably for my whole life, but who is counting? It's just such an easy cookie to make, with a big flavor payoff. Flour, sugar, butter….that's basically it. I often add an extract or some other flavoring, because I like to tweak recipes like that, but it's basically a simple recipe.
This Chocolate Shortbread version is enriched with high-quality cocoa, and has a mixture of butter and light-flavored olive oil, for the best of both worlds. I'm a big fan of baking with olive oil. I keep two kinds in the pantry — an extra-light flavored version to bake with, and a full-bodied version for the skillet.

How to make Chocolate Shortbread
It's easy! Flour, sugar, some kind of fat…shortbread is a breeze.
Assemble your ingredients, as with any recipe. This is a good practice to get into.
 Mix up the dough. I do it with an electric mixer (I'm lazy that way), but you could do it by hand of course.
 Refrigerate for 30 minutes, then pat or roll out and poke with a fork.
 Sprinkle with coarse sugar crystals.
 Lay it on!
 Baked and out of the oven.
 Cut while warm. I used the edge of a spatula to cut them so I don't slice my silicone baking mat.
About the cocoa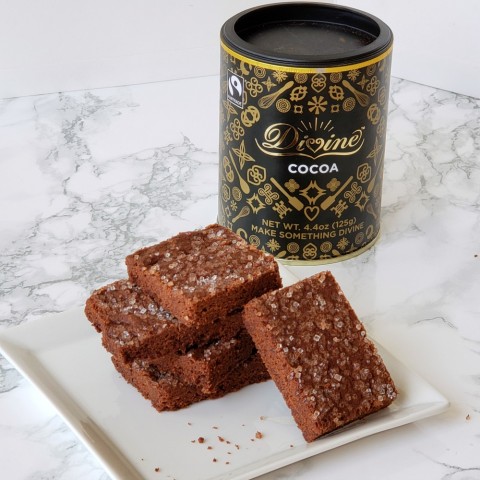 I used cocoa from Divine Chocolate [1], one of the sponsors of #Choctoberfest. Divine Chocolate's baking line is
non-GMO
Vegan Society-certified
Fairtrade
100% pure cocoa butter
without soy or palm oil
the only Fairtrade chocolate company in the world that is co-owned by cocoa farmers — a cooperative in Ghana co-owns the company, and gets the largest shares of the business.
I feel good about using their chocolate in my baking, and it is 100% shockinglydelicious! The cocoa smells rich and deeply chocolaty, and their chocolate baking bars have a rich consistency and utterly delicious flavor. I'm sold.
Let's make Chocolate Shortbread Cookies!
Rich Chocolate Shortbread Cookies
Ingredients
1/2 cup powdered sugar
5 tablespoons unsalted butter, softened
1/4 cup extra light-flavor olive oil
1/4 teaspoon vanilla extract
4. 5 ounces all-purpose flour (about 1 cup)
3 tablespoons unsweetened premium dark cocoa (I used Divine Chocolate Cocoa)
1/4 teaspoon salt
Garnish: Coarse sugar crystals for sprinkling on top
Directions
Turn oven to 325F degrees. Place a silicone mat or parchment paper on a baking sheet and set aside.
Place sugar, butter, olive oil and vanilla in a bowl, and mix well. I use an electric mixer to do this, but you may do it by hand.
Stir in flour, cocoa and salt.
Remove from bowl, pat into a square, wrap in plastic wrap and refrigerate for 30 minutes.
Remove from refrigerator and place dough onto the prepared cookie sheet. Press dough into an 8 x 5-inch rectangle, about 3/4-inch thick. Poke top surface with a fork. Sprinkle top liberally with coarse sugar. Bake for 30 minutes. Dough will be set.
Remove from oven, allow the pan to cool for about 10 minutes, and then cut with a spatula into 24 pieces. Allow to cool completely.
Makes 24 cookies.
Notes
Recipe source: Lightly adapted from Cooking Light, Nov. 2008
https://www.shockinglydelicious.com/rich-chocolate-shortbread-cookies/
[3]
Copyright Dorothy Reinhold | ShockinglyDelicious.com. All rights reserved.
Pin the image below to your Pinterest board to save it.