Print This Post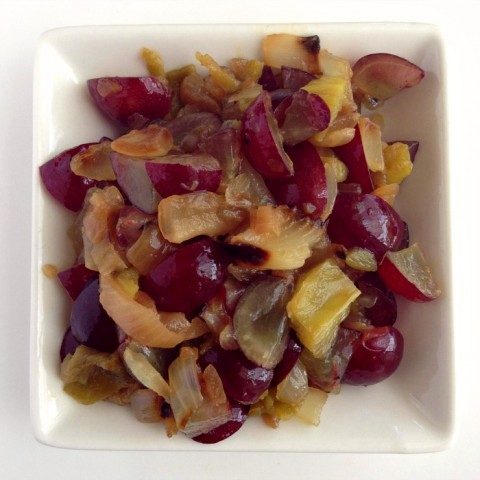 When you have two foods perfectly in season, you are in tall corn.
Right now, this very minute, Hatch chiles are showing up in markets across the land, on their yearly migration from the New Mexican valley where they're grown. Rich tasting, packed with green chile flavor and available in mild, medium and hot, these are the "it" chile of August. Come mid-to late-September, they'll be gone.
Pair Hatch with grapes – sweet, sweet candy orbs from California's Central Valley — and you have an unforgettable sweet-hot flavor combo. Add some grilled onions into the mix and suddenly you have deepened the flavor, the umami, and the addiction.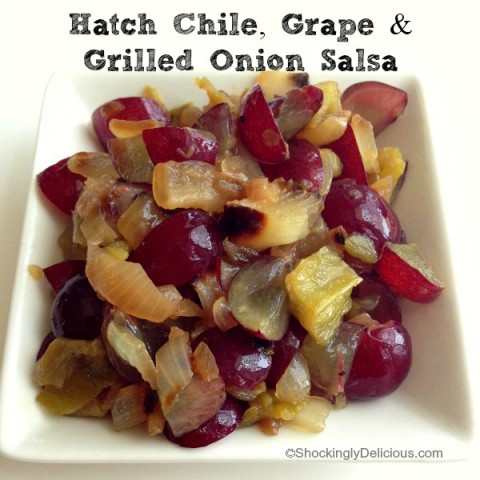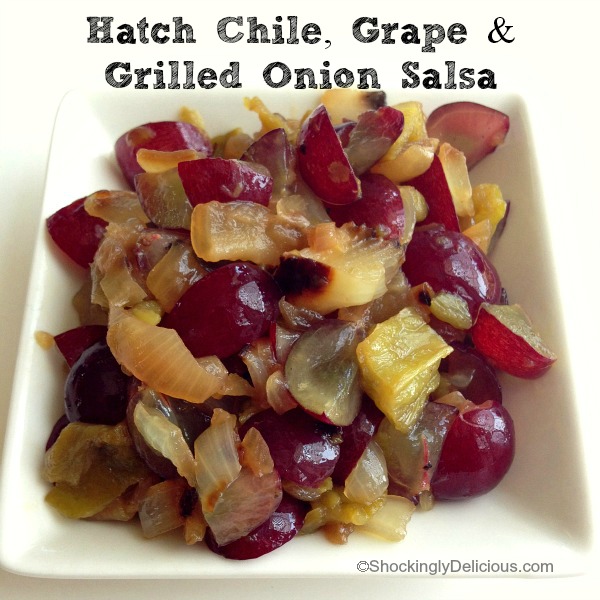 Voila — three fresh ingredients, one memorable salsa!
Eat this with roasted meats, with tortilla chips, as a relish to pep up a quiche or casserole – anywhere you need something with interest to perk up your plate.
Recipe: Hatch Chile, Grape and Grilled Onion Salsa
Summary: Sweet, hot, deeply flavored fresh Hatch chile salsa goes well with any roasted meats or poultry, simply with tortilla chips, or as a plate pepper-upper.
Ingredients
3 Hatch chiles
2 onions (yellow or white)
1 ½ cups red grapes (I used Red Muscato Grapes)
Instructions
Roast the Hatch chiles, allow them to steam and peel the skin off. (Read How to roast Hatch chiles if you are not certain how to do this.) Remove stem and seeds and chop finely. Add to a medium size mixing bowl.
Peel the onions and slice them into thick rounds. (Read how to grill onions on the George Foreman if you are not certain how to do this.) When they are cool enough to handle, chop them finely and add to the bowl.
Wash and dry grapes. Remove stems and cut each grape into 4ths or 8ths, depending on the size of the grape and your patience level. Add to the bowl and stir gently to combine all three ingredients.
Makes about 2 cups salsa.
These are bright, rosy red, crisp and very, very sweet. Although they have a small seed inside, it is so tiny as to not be noticeable. They are good in a fruit or green salad, perfect on a cheese plate, or tucked into a lunch. They're grown in California's Central valley.
Sunday Supper
See this page for all the wonderful #SundaySupper dishes I have made since I joined this group, and links to all the other delicious dishes made by my fellow cooks.
Preparation time: 10 minutes
Cooking time: 20 minutes
Diet type: Vegan
Diet tags: Reduced fat, Gluten free
Number of servings (yield): 6-8
Culinary tradition: USA (Nouveau)
My rating 5 stars:  ★★★★★

This week our #SundaySupper crew is spicing things up. Check out the variety of things we have cooked up for you! Try my newfangled Hatch Grape Onion Salsa, or find something else from the menu below that floats your boat:
Snappy Starters & Snacks
Hatch Chile, Grape & Grilled Onion Salsa from Shockingly Delicious
Spicy Tempeh Chips from The Urban Mrs
Sriracha Popcorn from The Girl In The Little Red Kitchen
Cheese, Smoked Paprika and Fennel Crackers from What Smells So Good?
Baked Banana Pepper Poppers from Daily Dish Recipes
Spicy Black Bean and Corn Stew from Mama's Blissful Bites
Caldo de Camaron y Pescado (Shrimp & Fish Soup) from girlichef
Bajia with Tomato and Chili Chutney from My cute bride
Shredded Buffalo Chicken Salad from Casa de Crews
Sriracha and Parmesan Fries from Mess Makes Food
Smoky Salmon Chowder from Cindy's Recipes and Writings
Hummus with Spicy Turkish Ezme Salad from Neighborfood
Goat Cheese Stuffed Peppedew Peppers from Healthy. Delicious.
Tofu Hariyali Kebabs-(Tofu Kebabs in Cilantro Sauce) from Soni's Food
Fiery Main Dishes
Spicy Stuffed Mexican Peppers from Peanut Butter and Peppers
Jalapeno Popper Fettuccine Alfredo from Chocolate Moosey
Baked Tilapia en Escabeche from La Cocina de Leslie
Spicy Grilled Chicken Wings with Two Dipping Sauces from Runner's Tales
Chorizo and Scallop Skewers from Jane's Adventures in Dinner
Buffalo Chicken Pizza from Cookin' Mimi
Thai Cashew Chicken from Doggie at the Dinner Table
Skillet Jambalaya from Hezzi-D's Books and Cooks
Firecracker Chicken from Juanita's Cocina
Spiced Turkey Burger Patties from Cook the Story
Aubergine and Chickpea Curry from Small Wallet, Big Appetite
Savory Tomato & Poblano Pie from An Appealing Plan
Venison Mole Rojo from Curious Cuisiniere
Za'atar Chicken with Fattoush from Food Lust People Love
Crispy Oven Fried Buffalo Chicken Tenders from In The Kitchen With KP
Skinny Buffalo Chicken Strips from Webicurean
BBQ Chicken Pizza with Poblano Peppers and Pepitas from The Wimpy Vegetarian
Spicy Thai Beef Salad from Magnolia Days
Buffalo Chicken Sloppy Joes from Cupcakes & Kale Chips
Spicy Lemon Paprika Chicken Thighs from Family Foodie
Searing Sauces & Seasonings
Homemade Buffalo Sauce from Growing Up Gabel
Whole grain Mustard recipe – Moutarde à l'ancienne from Masala Herb
Homemade Sriracha Sauce from kimchi MOM
Zesty Sweets & Sips
Cinnamon Streusel Scones from Killer Bunnies, Inc
Fiery Pomelo from My Other City By The Bay
Cinnamon Monkey Bread from That Skinny Chick Can Bake
Cinnamon Peanut Butter Skillet Blondies with Ice Cream from Vintage Kitchen Notes
Goldilocks and the 3 Asian-Fusion Bars from NinjaBaking.com
Disclosure: Melissa's Produce sent the Hatch chiles and grapes for recipe testing.