Print This Post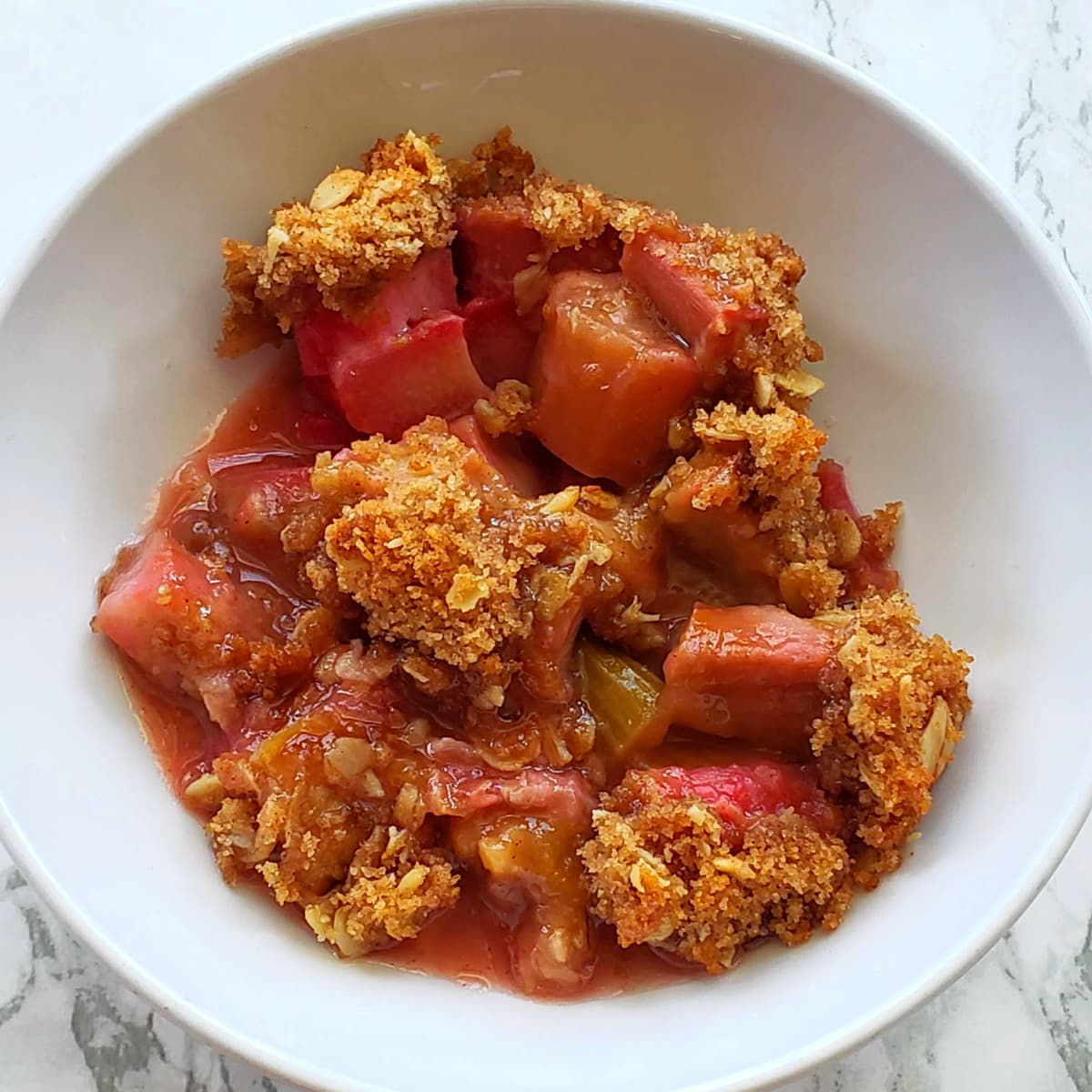 The Best Rhubarb Crumble is the most perfect way to eat rhubarb, with a tangy-sweet fruit filling topped by a hearty, chewy streusel.
This post and recipe was created for #SummerDessertWeek! I was sent samples by a sponsor company but as always opinions are 100% mine.
While rhubarb, which looks like big ruby stalks of celery, is technically, botanically a vegetable, it is legally considered a fruit because most people treat it that way. It needs plenty of sugar to sweeten up the astringently tart, red stalks as they cook. But once you sweeten them, the flavor payoff is huge!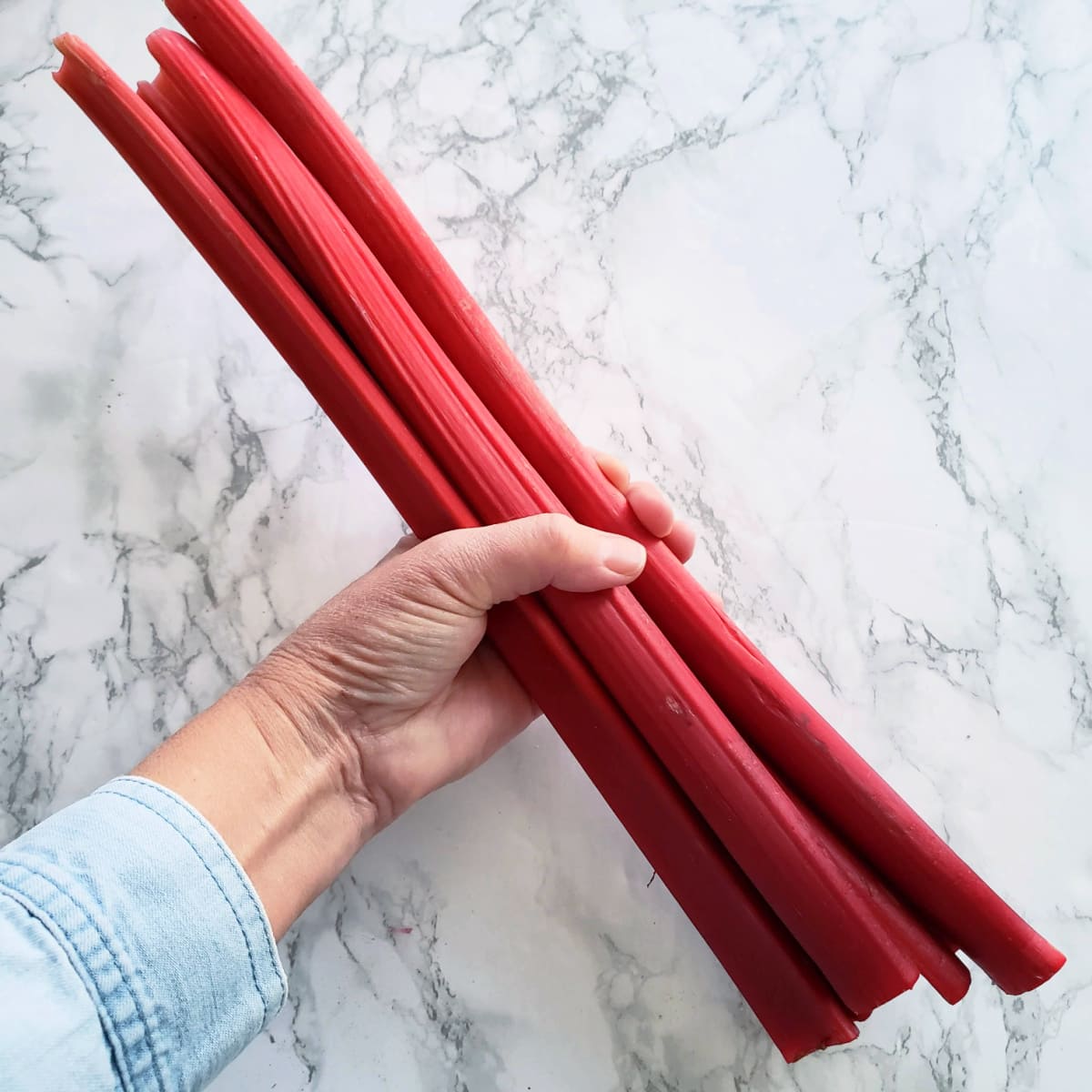 I learned to love it as a child while I lived in Pennsylvania, where people grew it in their gardens. We can't grow it in coastal Southern California where I now live (the winters generally don't get cold enough) but while growing up my mother kept us in the rhubarb loop by simply stewing it every year. We ate stewed rhubarb on toast, on yogurt or cottage cheese for breakfast, or just standing at the fridge with a spoon. And her rhubarb pies…oh my, the memory!
These days I rev up the rhubarb motor when I see it show up in my grocery store produce section in the spring. The last few years I've become particularly fond of The Best Rhubarb Crumble, which is just about the most perfect reason to eat rhubarb. I hope you try it!
How to make The Best Rhubarb Crumble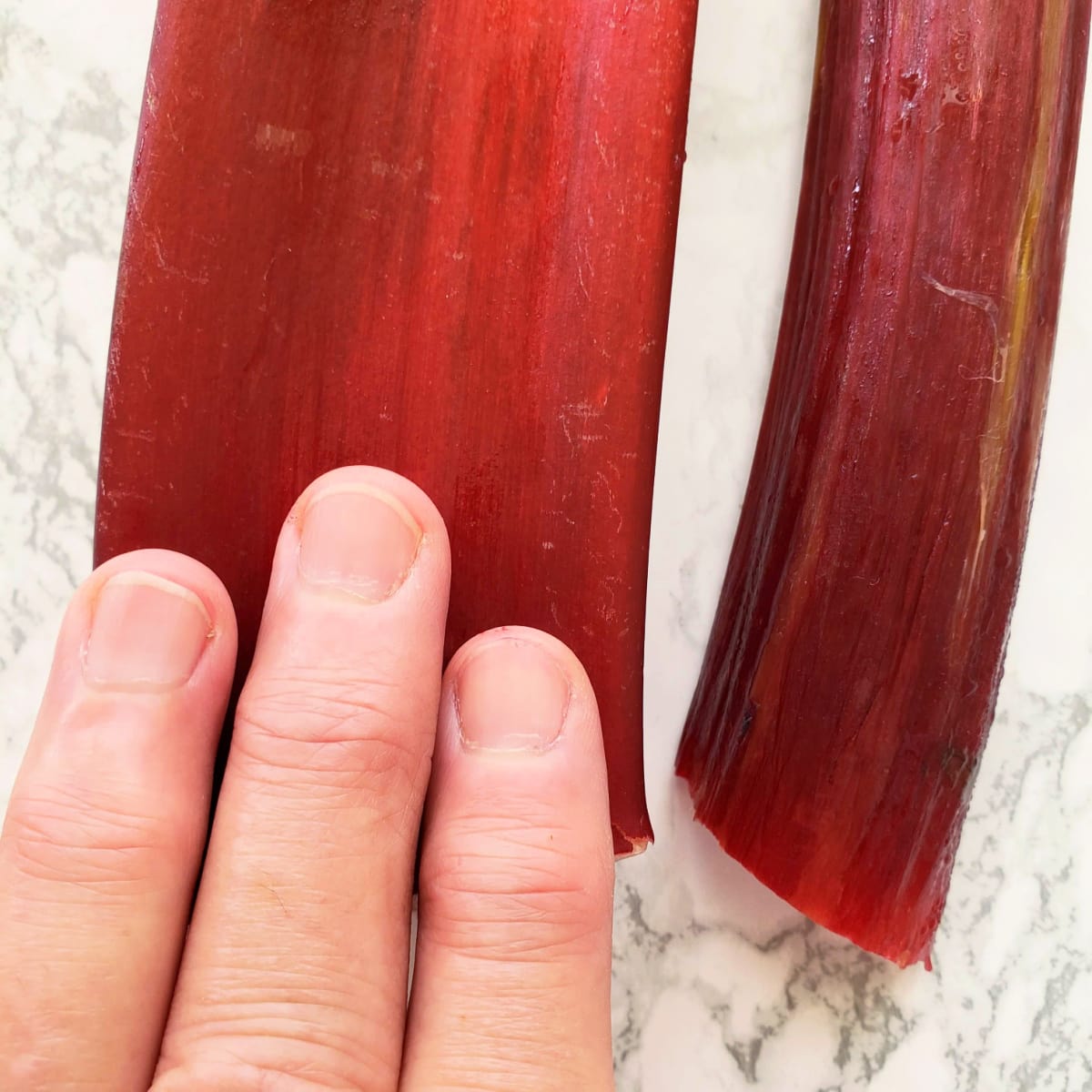 For this crumble, we'll be using
Fresh rhubarb. How many rhubarb stalks will you need? It kind of depends on how big they are. As you can see in the photo above, 1 rogue stalk I got is the width of 3 fingers while the one next to it is a more average size! It's more common for the stalks to be the size of large celery. If you run across super-wide stalks, feel free to slice them length-wise before you chop them width-wise.
Sugar (I used sugar from our sponsor, Dixie Crystals, which produces high-quality pure cane sugar)
Flour
Butter
Oats
Brown sugar
Cinnamon
Almond extract
Salt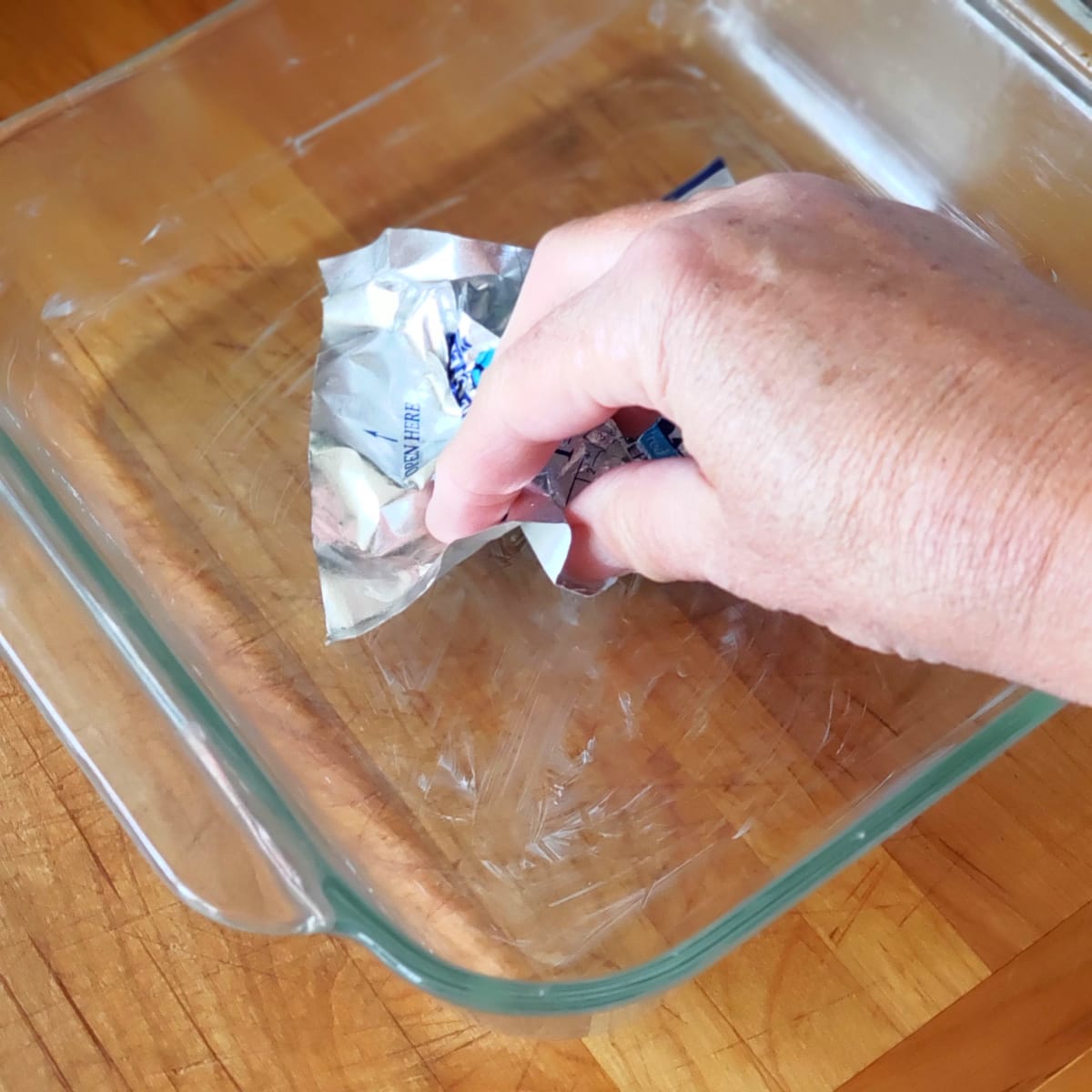 Grease the baking dish. You know the trick of greasing it with the butter wrapper (if the recipe calls for butter), right? Simply remove the butter from the wrapper and use your hand to rub the butter-side of the wrapper all over the inside of the dish. If there's no butter used in the recipe, you can always spray the dish with nonstick spray.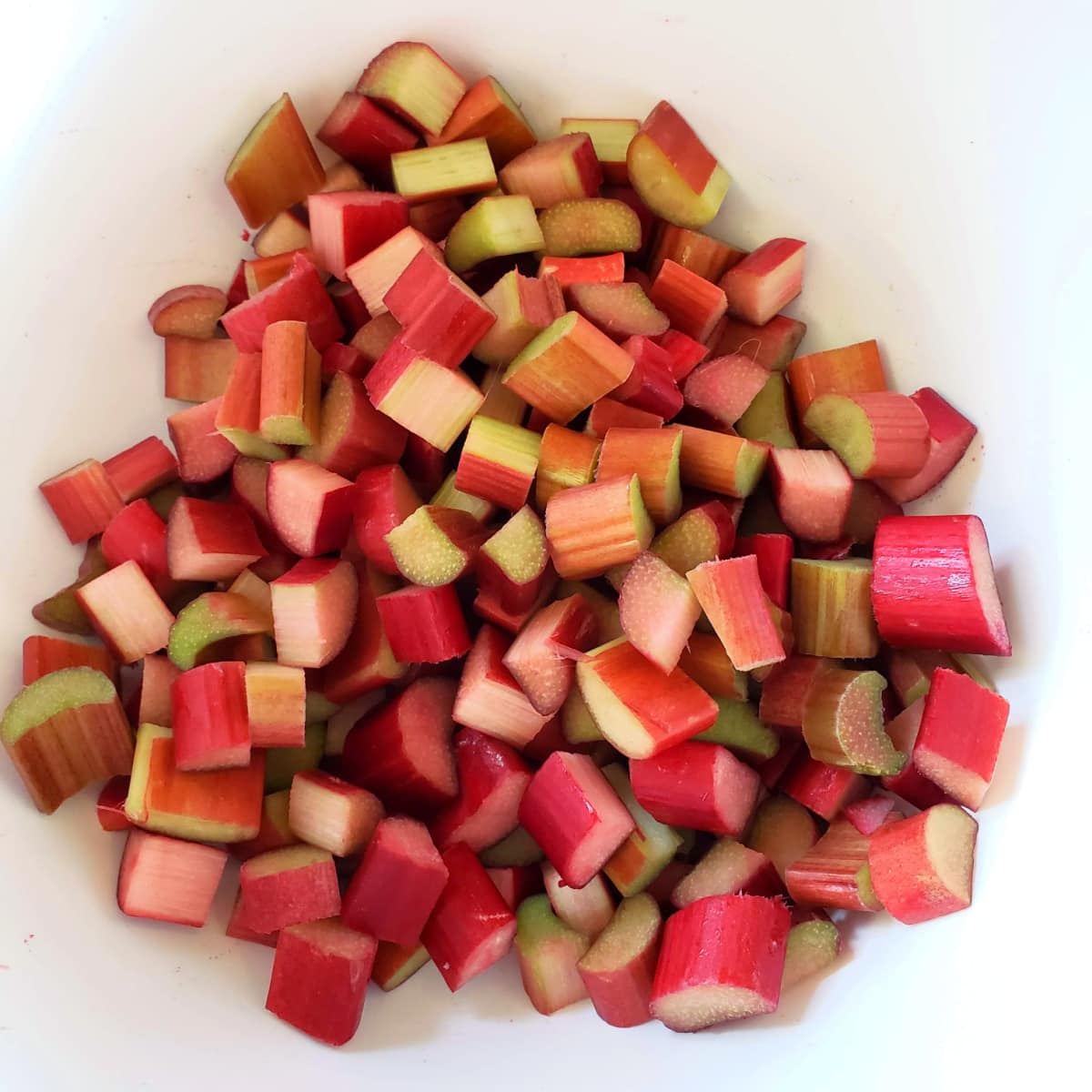 Chop the rhubarb into about 1-inch pieces.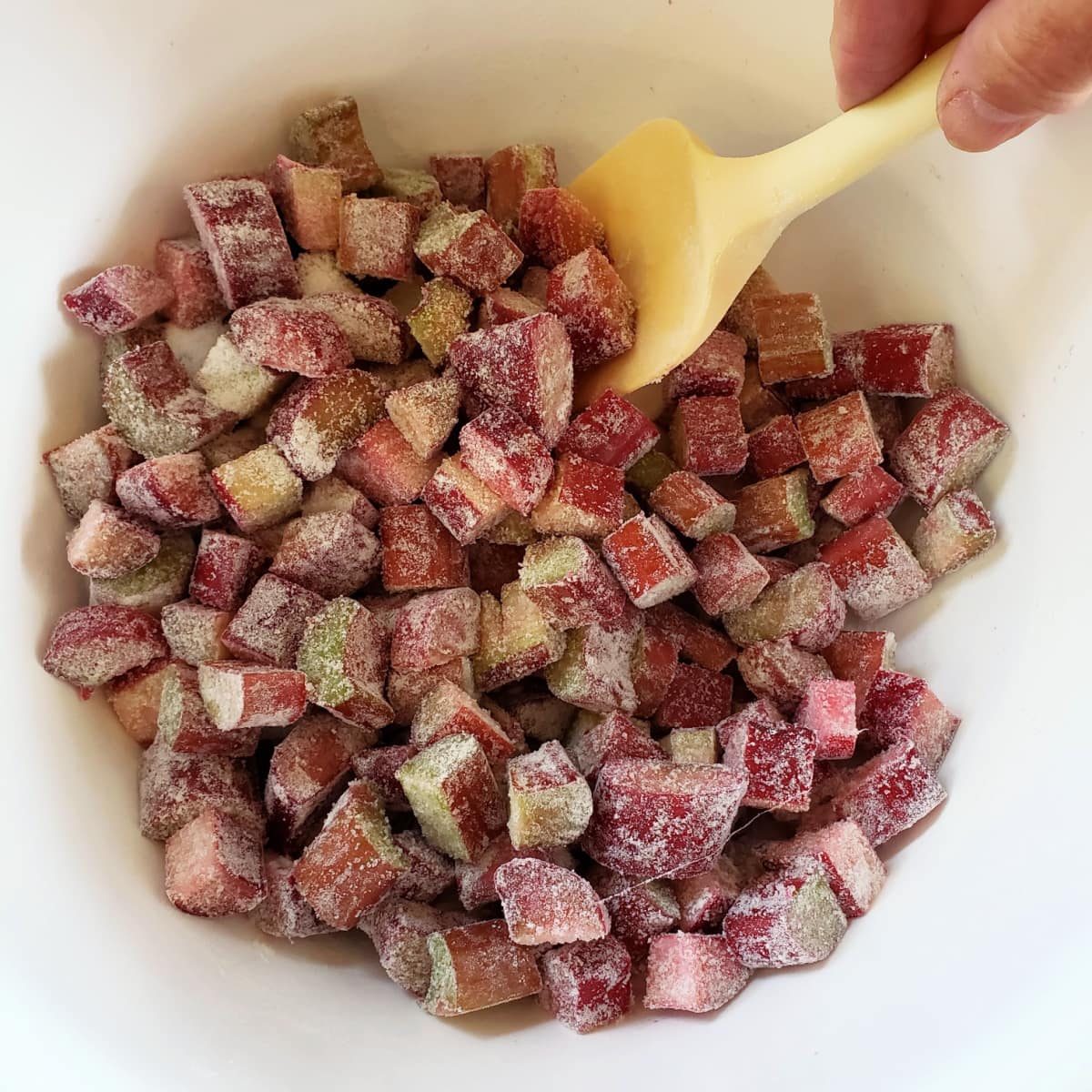 Mix with the granulated sugar and a couple of tablespoons of flour.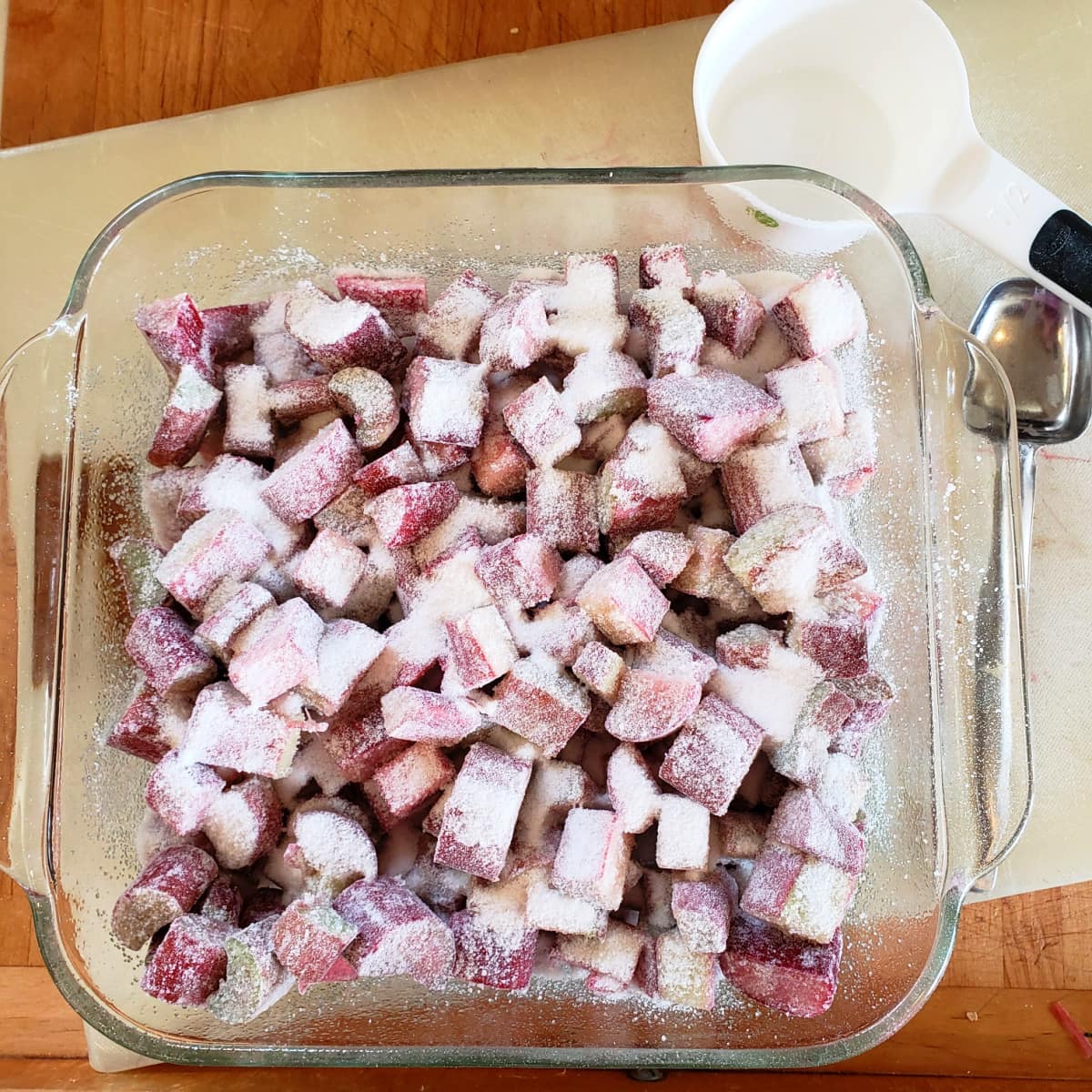 Put the rhubarb into the greased baking dish. If there is sugar-flour remaining at the bottom of the mixing bowl, pour that over the rhubarb. Don't leave any behind; your dessert will need it!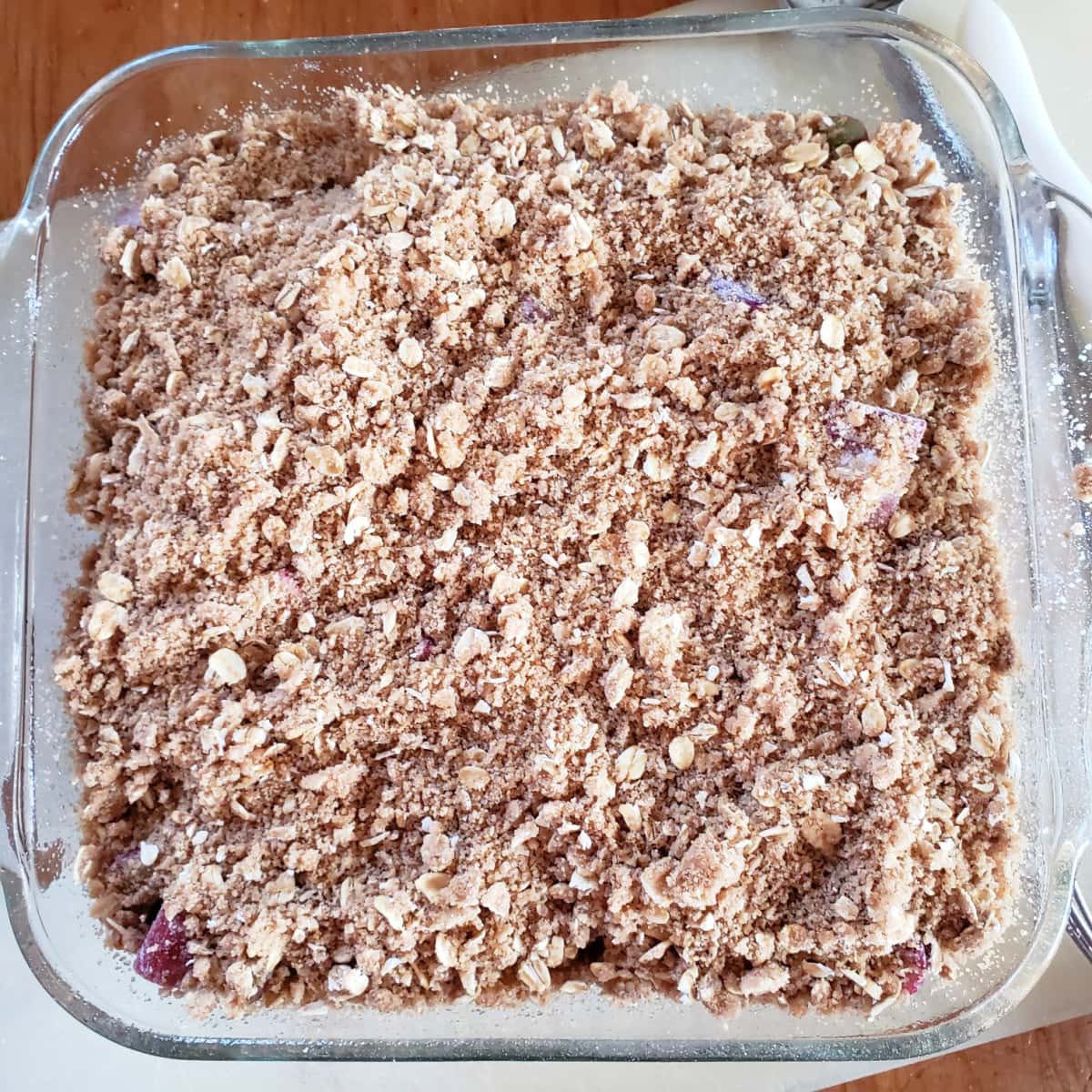 Mix the streusel together and put that on top of the fruit in the dish.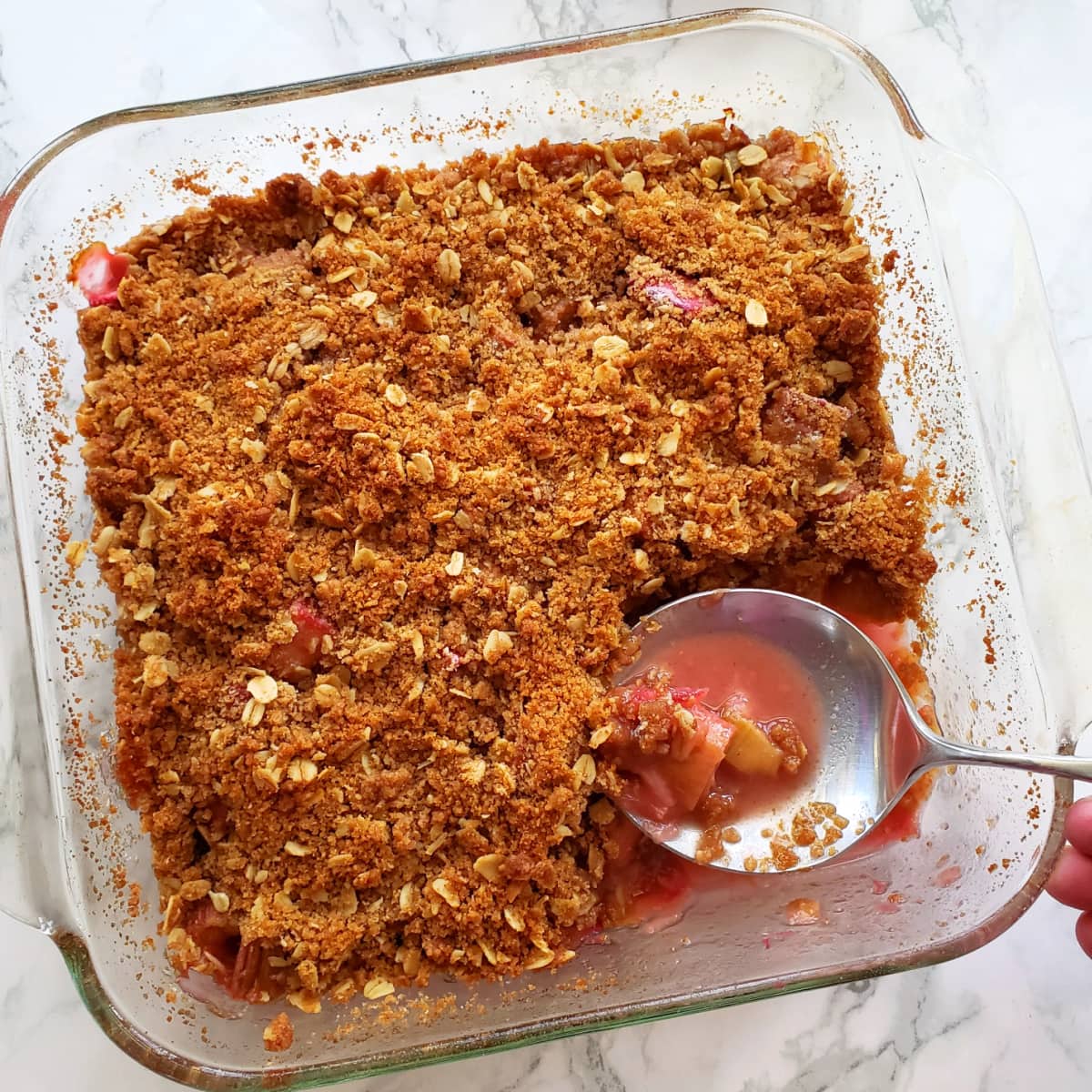 Bake it and let it cool before serving. Spoon it out into dishes and top with ice cream or whipped cream if you like. I like it plain.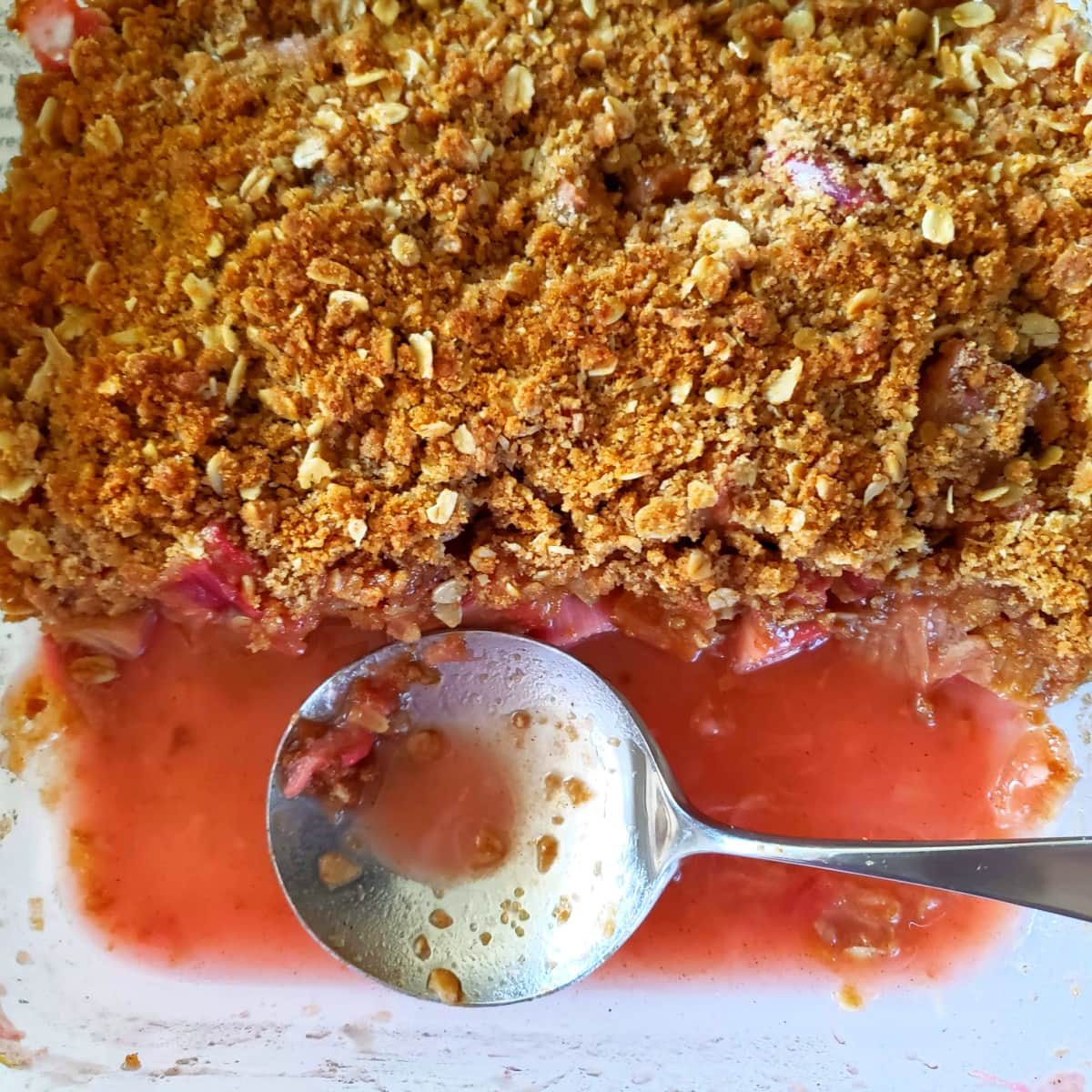 Nothing stops me from visiting the kitchen to "even out the edge" when no one is looking.
Or to eat the leftovers for breakfast the next day. Hey, it's fruit and oats!
Let's make The Best Rhubarb Crumble, shall we?
The Best Rhubarb Crumble is the most perfect way to eat rhubarb, with a tangy-sweet fruit filling topped by a hearty, chewy streusel. Top with whipped cream or vanilla ice cream if you must. I like it just like this!
Ingredients
Rhubarb

5 cups fresh rhubarb (cut into 1-inch pieces; about 6-7 big stalks should do it)
1/2 cup granulated sugar
2 tablespoons flour

Streusel

3/4 cup packed brown sugar
1/2 cup flour
1/2 cup quick oats
1 teaspoon ground cinnamon
1/4 teaspoon salt
1/2 teaspoon almond extract
4 tablespoons (1/2 of a stick) unsalted butter, cold and cut into cubes
Directions
Heat oven to 350F degrees. Grease an 8-inch square baking dish with butter (see tip above) or spray with nonstick spray and set dish aside.
In a large mixing bowl, stir together chopped rhubarb, sugar and 2 tablespoons flour. Pour into the prepared baking dish.
In the same mixing bowl (no need to wash it), add the brown sugar, 1/2 cup flour, oats, cinnamon and salt and stir to combine. Sprinkle on the almond extract and mix. Cut in the butter until you have a streusel-type crumb. You can do this with a pastry cutter, or with an electric mixer on low, or by rubbing it all together with your fingers. I most often do it with an electric mixer for speed and efficiency, but a pastry cutter works really well too.
Sprinkle the streusel over top of the rhubarb, and bake for about 35 minutes. Streusel will get a little brown and rhubarb will become soft and juicy.
Remove from oven, allow to cool, and spoon into small bowls to serve. It's great plain, or with a small scoop of vanilla ice cream.
Serves 6.
Notes
Recipe source: heritage recipe passed down in the Reinhold family.
https://www.shockinglydelicious.com/rhubarb-crumble/
Copyright Dorothy Reinhold | ShockinglyDelicious.com. All rights reserved.
Pin the image below for The Best Rhubarb Crumble to your Pinterest board to save this recipe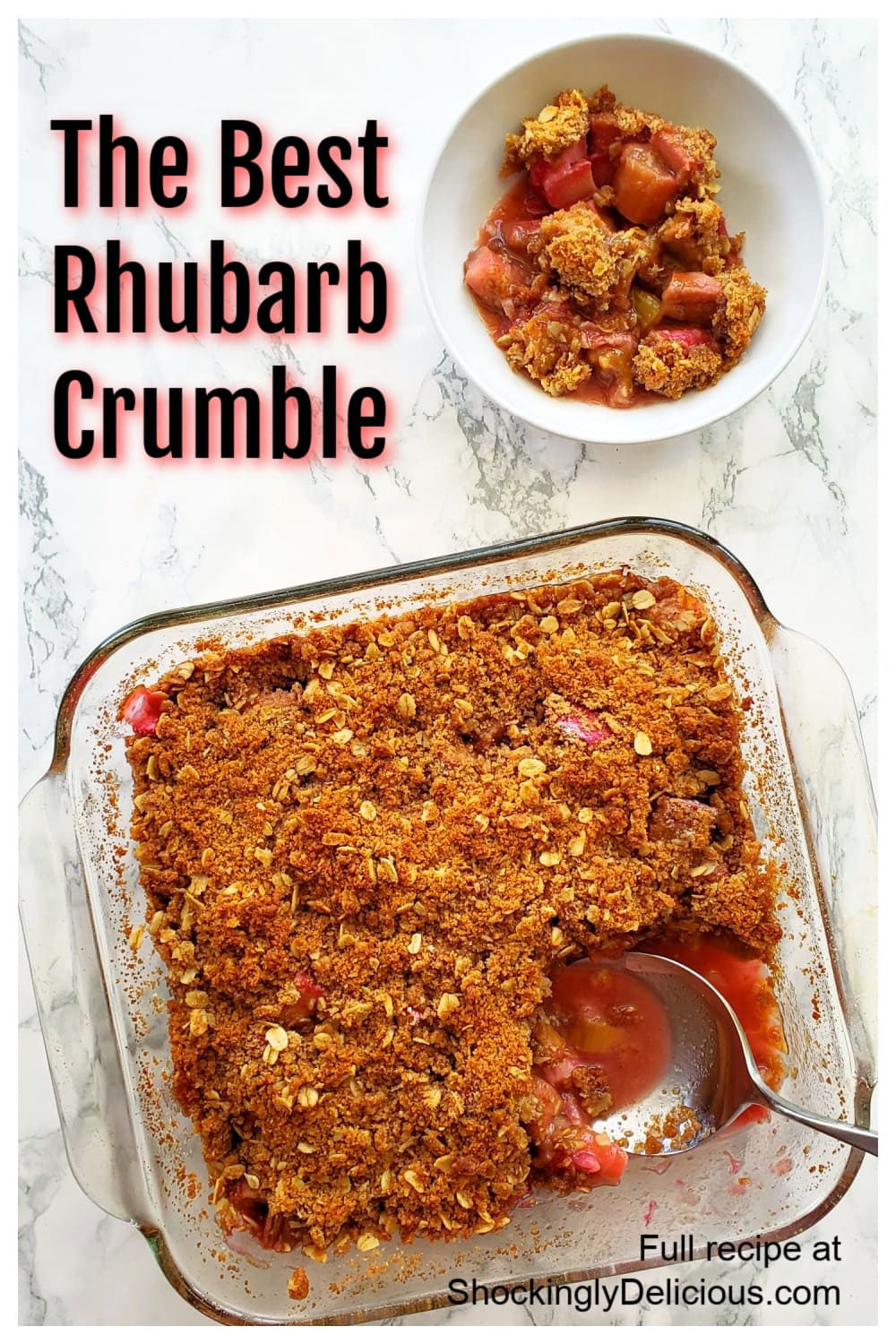 Prizes for the Giveaway
PRIZE #1: Dixie Crystals is giving away 1 (one) 4.2 Quart (4 Liter) Electric Air Fryer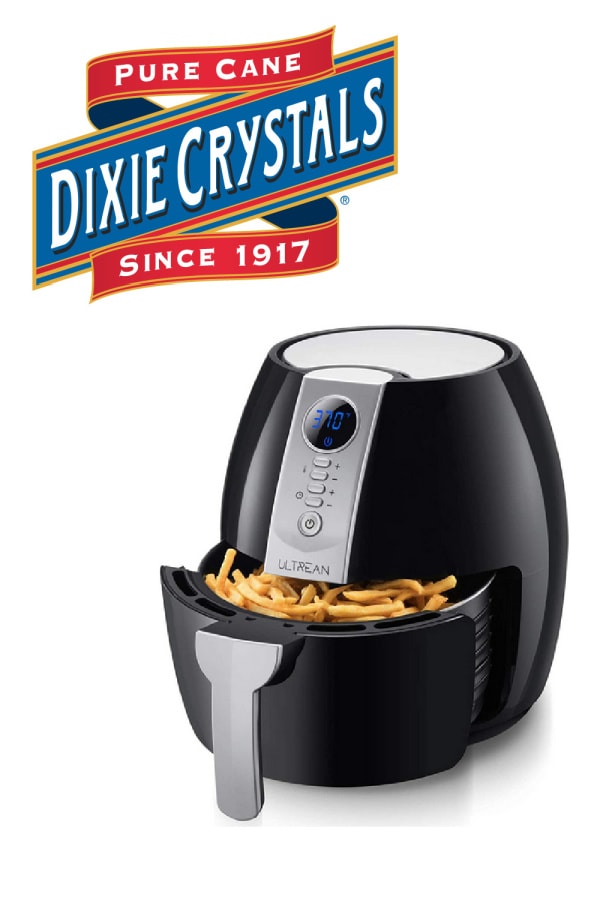 PRIZE #2 — Circulon is giving away a TOTAL BAKEWARE 6-Piece Nonstick Bakeware Set: Two 9-inch round cake pans, 9-inch square cake pan, 9-inch x 5-inch loaf pan, 9-inch x 13-inch rectangular cake pan, 10-inch x 15-inch cookie pan.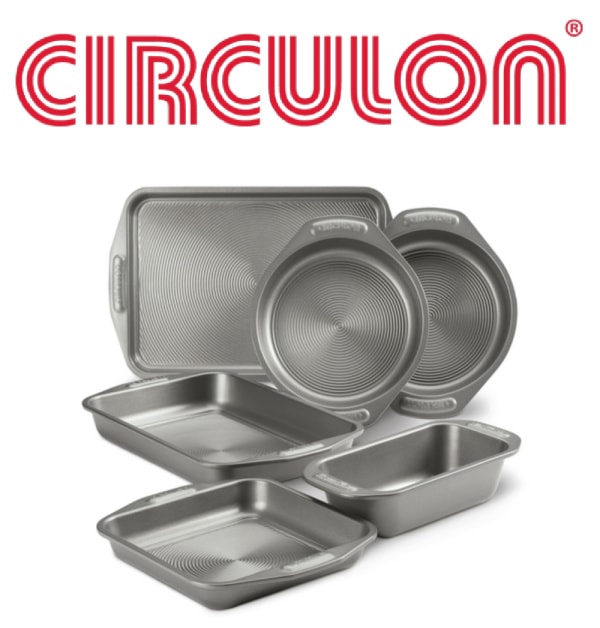 Giveaway open to U.S. residents 18 years or older. All entries will be verified. No P.O. boxes please. Prizes will be sent directly from sponsors to winners; bloggers are not responsible for prizes. This giveaway runs from July 26 until July 31 at 11:59 P.M. EST. Winners will be selected soon afterwards and contacted by e-mail. Winners will have 48 hours to respond or a new winner will be chosen. There are a total of 2 (two) prizes and therefore we will have a total of 2 (two) winners. No purchase necessary. Void where prohibited by law.
Disclaimer: These posts and recipes are part of the week-long event, #SummerDessertWeek, but all opinions are mine We would like to thank our amazing sponsors: Dixie Crystals and Circulon, who provided the prize packs for our giveaways and also sent samples and products to the #SummerDessertWeek bloggers to use in their recipes.
Thanks for visiting…are you hungry for more? Follow Shockingly Delicious on…
FACEBOOK | PINTEREST | INSTAGRAM | TWITTER
…for all the latest recipes, ideas and updates!
This post may contain affiliate/referral links. It is a way for this site to earn advertising fees (at no cost to you) by advertising or linking to certain products and/or services that I approve and prefer. Thank you for using my affiliate link to shop, so I can continue to bring you shockingly delicious recipes!