Print This Post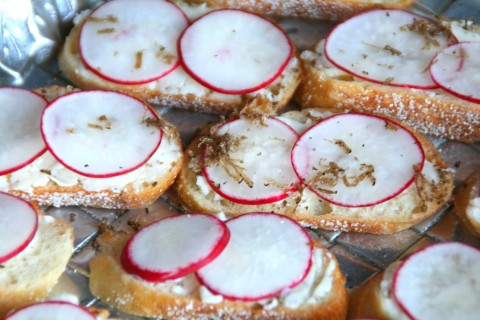 Lucky me, I was invited to a 13-course truffle party, with each course featuring black summer truffles from Italy. Called "Trufflepalooza 2010," it was 60ish people worshipping at the altar of one of the most earthy, pungent, woodsy, musky, nasty (in a good way!) foods ever to be discovered by a forager armed with a trained pig or a mongrel dog.
The party was originated, hosted and expertly cooked by Erika Kerekes of In Erika's Kitchen. Get this: We ate Corn Veloute (silky corn soup) with freshly grated truffles on top, drank, ate Radish and Truffle Butter Tartines, drank, ate Crostini with Ricotta and Truffle Honey, talked about food, ate Truffled Egg Salad, drank, ate Green Beans with Porcini Mushroom-Truffle Dip, gossiped, ate Risotto with truffles grated on top, drank, ate Grilled Fontina and Truffle on Brioche (yesss! grilled cheese sammies!), chatted, ate Open-Faced Filet Mignon Sandwiches with Truffle Butter (yesss! steak sammies!), drank, and those of us who could still breathe popped a Truffled Chocolate Truffle into our mouths. There may have been a truffled green salad with pancetta, some roasted baby potatoes with truffles, truffle-infused Brie with truffle honey, and a truffled macaroni and cheese, as well. Or was that just a dream?
My favorite OMG dish was perhaps the most simple: The Radish and Truffle Butter Tartines. Tartine means "toast" in French, so she simply toasted some baguette slices, made butter herself out of cream (Erika, are you Amish?), into it mixed grated truffle and a little truffle oil and truffle salt to taste, then spread that delicious truffle butter on the bread slice, topped with a couple of paper-thin radish slices and a finishing flourish of shaved truffle. (She offers a tutorial on how to make truffle butter yourself.)
I ate one, my eyes got WIDE, and I snatched another. As other dishes circulated, I tried and liked them, as well, but I kept sneaking back to the radish toast table. Confession to Erika: I must have eaten 10. Sorry! (Well, sorta sorry, in a fake-sorry way. Actually, not sorry at all, tra la!)
Her recipe for these truffled radish toasts is posted on her L.A. Examiner site, in case you want to follow along.
Radish and Truffle Butter Tartines
For an even easier version that doesn't involve churning your own butter (which is fun actually!), I suggest:
A La Brea Bakery baguette (my personal favorite, available in the supermarket)
Some truffle butter (from Bay Cities or Surfas if you are on the Westside of Los Angeles, or a gourmet food or cooking store if you are elsewhere)
Radishes from your garden (they are a cinch to grow!) or the farmers market
Make one, taste it, and if it needs salt, sprinkle a tiny bit of sea salt on top
Voila! This is going to be my go-to appetizer for the summer!
At the end of the evening, the party stragglers (yes, this would be me) were being fed cold slices of beef drizzled with truffle honey. Oh yes. That was good!
Thank you, Erika, for a Shockinglydelicious Trufflepalooza 2010. I can't wait for next year!